["Andre D. Bohanon","William Brown","Lafano Hall","George Washington","Illya Glover","Frank Meeks","Ramon Jackson","Andre Lane","Coak Cannon","Horatio Abraham","Dwight Davis","Cordero Starks","Humberto Davila","Antoine Edwards","John Falls","Gary Thomas","Pierce Watkins","Wilbert Moore","Harold Williams","Darryl White","Scott Sward","Jorge Granados","Damien Day","Marshawn Peterson","Jayvonnie Staples","Anthony Velazquez","Melody Green","Luis Laboy","Emanuel Corona","Clifton Lowe","Willie Williams","Kory Norris","","Theodus Spence","Charles Young","Sherri Petty","Benjamin Cole","Mark Dickey","Roy Raggs","C.J. Ether","Jorge Sotelo","Donald Gooch Jr.","Darren Taylor","Shentelle Jackson","Brandon Vasquez","Matthew Ramirez","Tivurcio Gutierrez","Rene Delrivero","Terrance Lynch","Armando Rivera","Teddy Gilbert","Starkesia Reed","Annie Mae Davis","Lorenzo Stanley","Gregory Dugar","Rene Perez","Kierra Pope","Cordell Harris","Jerry King","Shawn Sparks","Ryan Brown","Deanna Jackson","Shon Wooten","Eddie Brown","Walter Chandler","Wayne Carpenter","Dameon Gault","Albert McGee","Michael Avery","Hector Esparza","Jose Vargas","Torian Foster","Deontwan Abrams","Ricardo Viruet","Kyle Moore","Terry Monten","Miguel Ross","Roger Hunz","Thomas Cranfield","Manuel Fernandez","Carl Glasby","Dudley Vivetter","Joseph Nelson","Aaron McGlothin","Blake Foster","Lyntrell Heath","Jetoyne Seals","Aaron Barnett","Clyde Flowers","John Branom","James Cohen","Gregory Blalock","Kevin Strong","Rigoberto Salgado","Terrell Bosley","Antonio Skipper","Chauncey Cannon","Mark Evans","Maria Del Rocio Medina","Derris Pearson","Chauncey Carroll","Willie Smith Jr.","Eugene Church","Wendell Gooden","Dexter Smith","Jordan Wilkerson","Carmella Murphy","James Santana","David Janic","Michael Reyes","Edgar Sotelo","Lester Blackwell","Antonio Phillips","Kenyatta Norman","Victor Giles","Derrick Lowe","Angeles Parra","Larry Thurman","Pedro Hernandez","Ricky Martinez","Frederick Houston","Kenneth Jenkins","Andrew Jones","Larry Brown Jr.","Jovan Griffin","Everleana Brame","Joshua Cole","Juan Andrade","Michael Hynes","LaBryon Pinkney","Rodney Baskin Jr.","Gerald Whitaker","William Hope","Estella McDaniel","Steven Wilson","Crystal Moore","Forrest Brown","Dante Brown","Taki Hardin","Dennis Harris","Ismael Lopez","Billy Graham","Sonnie Wellington","Deontae Harris","Craig Wasp","Dorcey Davis","Daryl Simmons","Irving Stidhum","Jose Blanco","Gary Poter","Donte McChristian","Nancy Sanchez","Albert Allen","Steven Willis","Thomas Carter","David Rodriguez","Victor Santiago","Jesse Green","Martin Lynn","Dede Barnes","Cordius Clayton","David Jones","Cornelius Allen","Larry Henley","Clinton Ellis","Katasia Wooden","Eric Funches","Morgan Murillo","Walt Wilkerson","Veronica Taylor","Alto Brown","Samuel McKinley","Damien Cole","Denise McKinley","Tory White","DeAngelo Townes","Jarmel Wyatt","Darryl Banks","Stephen Hollimon","Latasha Miller","Rodney Dunn","Damani Arrington","Andrew Duran","Vonnal Warren","David McRay","Antwon Parson","Ricki Dillard","Kimani Muhammad","Raul Guijosa","Willie Miller","Corey Ebenezer","Vicky Kowal","Willie Johnson","Anthony Cook","Terrance Webber","Leonardo Avery","Jesse Franklin","Ralph Colon","Jose Galan","Lee Hughes","Gregory Hughes","Thomas Powell","Steven Lott","Calvin Wilson","Carlos Grear","Julius Birdine","Carl Vardaman","Antoinette Means","Pablo DeJesus","Peter Poole","Jesse Najera","Cedric Turner","Zachary Chamberlain","Derome Stovall","Raphael Rowell","Raydale Davenport","Donte Dixon","Reginald Gary","Cornelio Valadez","Kyle Jackson","Francisco Torres","Lamar Goodwin","Marcell McQueen","Leo McClelland","Chester Alexander","Davon Macy","Rodney Merrill","Richard Fernandez","Glen Russel","Maryia Udavichenka","Stanley Douglas","Larunsun Kellum","Jerome Falkner","Elnora White","Elnoria Countee","Curtis White","Tyrone Kirkpatrick","Damien Jackson","Benny Davis","Stanley Nevils II","Antoinette Simmons","Everett Durr","Henry Wright","Ron Clarke","Kenneth Hamilton","Miguel Aguayo","Cedric Adams","Alex Reed","Derek Crouther","Christopher Cline","Shundra Bonner","Ravarius Thomas","Ivan Fountaine","Willie Burgis","Calandra Harvey","Carl Armstrong","David Nelson","William Carroll","Carl Woods","David Isaeas","Derell Hurst","Rommell Mimms","Sam Martorana","Andre Lucas","Aldonis Powell","Ray Lee","Myron Murray","Alprease Grant","Marcin Strojny","Julian Malone","Oscar Angulo","Carlos Lopez","Stanislaw Piwowar","Jermaine Abney","Christopher Jackson","Betty Hadley","Mary Elizabeth Jernigan","Janet Biebel","Tanisha McCray","William Evans","Phillip Thomas","Marty Williams","Timothy Green","Darrin Harkins","Alexian Centeno","Khalid Mohammed","Rosa Mora","Jeremy Simmons","Decotis Kincaid","Darise Franklin","Devon Henderson","Helen Coronado","Jimmy Tillman","Ricardo Wilford","Michael McKenna","Allen Hoover","Paul Goodson","Urszula Sakowska","Henry Marshall","Kingsley Opara","Deamone McClellan","Ubaldo Salgado","Deandre Palmer","Andres Reyes","Keinya Brewer","Demetrius Austin","Lorne Moseley","Adam Saldivar","Duane Berry","Ethan Hamilton","Samuel Spicer","Robert Johnson","Edward Kurland","Shmar Stuckey","Barbara Wolf","Michael Kuforiji","Johnathan Bowman","Carol Johnson","Joshua Saucedo","Kevin Boozer","Carlton Hamilton","Gregory German","Eddy Burgos","Luis Hernandez","Eric Fowler","Marcus Washington","Thomas Lawson","Anthony Cooper","Noe Huerta","Janice Jackson","Kenmit Riley","Daniel Malone","John Sylvester","Deandre Davis","Steven West","Andrew Paraohinni","Michael Rachfal","Rickey Carpenter","Delmont Fulton","Kevin Thompson","Clarence Woods","Stephanie Lee","Troy Law","Rita French","Derrick Jiminez","Juan Aguilar","Geno Moffett","Tiger O'Neil","Jason Rodriguez","John Rondo","Luz Villegas","Terrence Palmer","Rafael Martinez","Kelly Sarff","Damion Kendricks","Enrique Renteria","Levor Gladney","Jelisa Baker","Larell Brewer","Tyrone Kendricks","Darrell Dowdy","Michael Arellano","Anthony Bell","Aaron Tyson","McKinley Walker","Sylvester McClinton","Raul Antunez","Latasha Hassell Brunt","Charles Marks","Glenn McLinnahan","George Fletcher","Joseph Ware","Fernando Maywood","Eulalio Ramirez","Robert Thompkins","Dionta Johnson","Steve Chrapusta","Carlos Mathias","Trevor Brice","Janice Ordidge","Curtis Cade","David Cornbleet","Marquel Harper","Luther Turner","Maria Martinez","Donald Dawson","Christopher Higgins","Mark Friend","Bryant Harrington","Aaron Webb","Bernard Norvell","Gabriel Lozano","Pablo Adame","Mark Capers","Siretha White","Miguel Ramierz","Southivone Prachack","Deandre Jackson","Jessica Allen","Myisha Samuels","Marcus Trambule","Miguel Contreras","Gustavo Varella","Michael Washington","Dante Curtis","Artelle Gholar","Antoine Dotson","Nicole White","Chesman Parks","Lenard Bunch","Clinton Cavin","Ricardo Magana","Ernie Silva","Elvis Chatman","Carlos Rivera","Lamont Logan","Bernard Hawkins","Cordell Peeples","William Atkins","Mario Cobb","Bobby Terry","Taureo Burks","Laura Joslin","Tanisha Cooks","Antonio Harris","Steven Bogozich","Charles Davis","Jeremiah Matos","Edward Delatorre","Steven Velasquez","Vandyke Johnson","Margaret Gomez","Willie Myles Jr.","Richard Wilkens","Joseph Golden","Earl Willis","Alexis Patton","Deonta Clay","","Keithan Barber","Hector Jimenez","Juliano Robles","Katrina Adams","Glen Tatum","Jacoby Ramsey","Dejuan Veal","Willie Posey","Marcell Collins","Gabriel Barba","Devin Standifer","Edward Watts","Marcus Hampton","Muhaimin Karim","Brian Holman","Timothy Hart","Brian McCoy","Timothy Neal","Miguel Delosantos","Larry Watkins","Quanairo Rene","Epifanio Santos","Ethan Smoot","Tyrice HIll","Raul Ramirez","Leon Thomas","Mario Allen","Challah Hall","Camerino Guzman","Angelo Brown","Marcus Travis","Kenji Moss","Antonio Hall","MaryAnn Szatowki","Jerimiah Hopson","Cordero Diggs","Michael Smith","Juan Orozco","James Collier","Dwayne Patterson","Du Doan","Kenneth Morrison","Terrance Anderson","Joseph Perez","Frank Root","Sherman Kern","Kleo Barrett","Freddie Martinez","Jerry Friend","Herbert Cosey","James Patterson","Richard Elias","Agustine Esteban","Eddie Romero","Russell Thompson","Michael Payton","Antonio Green","Gregory Neeley Jr.","Xavier Washington","Charles Williams","Charles Williams Jr","Rosa Hernandez","Richard Escobar","Ronald Phillips","Richard Capra","Tyrone Norales","Betty Smith","Jessica Lacy","Errald Williams","Frankie Banks","Diana Moran","Cornelius Robinson-Lockhart","Virgue Clair","Ronald Holloway","Shavon Miles","Charles Clark","Christopher Fulsher","Rami Abunimeh","Meredith White","Frank Lucas","Steven Tiggs","Mario Lopez","Enrique Chavez","Dearl Mitchell","Edlonzo Thomas","Anthony Spencer","Timothy Murphy","Brandon Rozelle","Israel Moralez","Edna Smith","Duboris Davis","Lavell Scott","Kylie Humphrey","Aaron Davis","Joseph Givens","Phillipi Larrnarri","James Lane","Rona Armand","Elmer Brown","Albert Birdsong","Arturo Flores Jr.","Kien Tran","Vincent Guerrero","Rigoberto Castaneda","Guillermo Ortega","Frederick Henderson","Willie McDonald","Benjamin McKinney","Lamont Jones","Christopher Knight","Esteban Aguilar","William Faulkner","LaShone Armstrong","Sotero Vargas","Steven Lyons","Leon Henry","Lajuana Odesanya","David Parker","Richard Gibbs","Cordero Washington","Jose Berrum","Ronald Heard Jr.","Ralph Wawrzyniak","Jeffrey Boler","Patrick Williams","Oliver Taylor","Christopher Watson","Julius Frierson","Edward Washington","Joe Lovering","Cory Dillard","Hassen Wali","Matthew Cannon","Carlos Nunez","Dominique Willis","Dennis Bell","Andrik Shaw","Cinque Mingo","Daniel Hernandez","Kendre Briscoe","Burt Walker","Crawford Caldwell","Isaac Thomas","Rodolfo Rivas","Balkis Bello","Brandy Ford","Jerel Smith","Russell Feggins","Antonio Lewis","Akeem Brown","Miguel Gomez","Frank Robinson","Terrance Woods","Ismael Santana","Michael Howell","Tommy Lane","Jessica Richardson","Bennie Henderson","Gerald Wilson","Victoria Dysart","Terrence Jackson","Melvin Talbert","Lenard Eggleston","Terrell Ewing","Mario McKay","Mario Reyes","Salvador Cisneros","Jennifer Carlson","Jason Bowers","Jerod Pilgreen","Joseph Schultz","Robert Emil","Almonte Kizer","Richard Chambers","Corey Southall","Miguel Salgado","Blair Holt","Sean Page","Latavius Wilson","Calvin Thompson","Elvis Whitehead","Willie Thomas","Mario Bell","Londrel Ayers","Thuran Bausley","Shirley Morgan","Ronnie Campbell","Levon McNeil","Dontay Gregory","Sergio Barba","Roberto Duran","Andrew Junious","Sanaqun Norman","Sergio Ojeda","Carl Walton","David Foster","Jayson McCullum","Stanley Williams","Robert Carter","Naja Denton","Jose Vazquez","Perry Jackson","Clinton Bradley","Jacqueline Bullock","Vincent Gordon","Danny Cattron","Stanford Scruggs","Mario Morgan","Arnester Johnson","Gerald Bucknor","Mario Lucious","Theresa Bunn","Jose Loyola","Martha Ortega","Jose Soberanis-Radilla","Jose Bravo","George Ward","Shepale Gray","Michael Rocha","Margaret Lee","Sotero Arce","JuJuan Robertson","Quincy Edwards","Cauhutemoc Silva","Leonardo Otero","Deonne Gholston","Juan Lebron","Clarence Harrington","Demarlon Jernigan","Joshua Alvidrez","Larry Franklin","Julius Tolliver","Daniel Rivera","Brian Harris","Roky Uriostegui","Isaiah Richmond","Milak Cooley","Larry Tucker","Lonnie Black","Byron Prude","Kaycee Fadiya","Carolyn Schranz","William Olivares","Roy Watson","Reginald Rogers","Gregory Gordon","Frederick Wilhelm","Billy Moore","Clarence T. Williams","Lorna Townes","Landa Ramirez","Rafael Villagrana","Elena Anderson","Thomas Andrewski","Karlton Wells","Laroy Franklin","Brandon Coleman","Israel Melendez","Corey Rucker","Corderro Douglas","Martece Glass","Dean Goldufsky","Eric Holmes","Jeffery Hughes","Denise Lawrence","John Sutton","Rogelio Calderone","Mauricio Gonzalez","Jose Garcia","Felipe Lopez Ruiz","Kadeidrah Marsh","Paris Bassett","Ruben Ivy","Channon Taylor","Terrell Thomas","Antoin Gates","Jason Katz","Marullas Daniel","Carlos Merrills","Shylon Gillen","Anthony Richardson","Anthony Robles","Paris Randolph","Salvador Contreras","Johnnie Johnson","Jameel Meeks","Lavandes Melton","David Harris","Lionel Bolden","Charles Lighthall","James Keyes","Derrick Franklin","Dezmal Gurzakovic","Akbar Meeks","Maggie Browder","Jaylen Brown","Miguel Pedro","Edubina Radilla","Reginald Reed","Chavez Clarke","Tommie Appleton","Shannon Brown","James Bush","Xavier Santiago","Danna McCowen-McCullough","Allen McCullough Jr.","Allen McCullough III","Makalah Rodgers","Diego Manriguez","Kevin Brown","Edwin Rivera","Albert Vaughn Jr.","Marcus Johnson","Mersaides McCauley","Wayne Jackson","Swantell McKinley","Timmy Russell","John Mendoza","Leon Brown","Bryant Harden","Jonathan Nieves","Marcus Greer","Brian Walker","Marcus Hendricks","Melvin Thomas","Rhonell Savala","Ricardo Sanchez","Michael Giles","Raul Lemus","Angel Ramirez","Edward Black","Sophia Garcia","Wesley Bonds","Cory Williams","Octavious Dandridge","Donovan Richardson","Reginald Walker","Anthony Scales Jr.","Whitney Flowers","Lakesha Doss","Michael Phipps","Rashad Wilkins","Willie Bloomingburg","Alfredo Perez","Otis Townsend","Motassem Said","Marcos Valencia","Gloria Gonzales","Santos Rivera","Ronnie L. Smith","Mark Sims","Bonje Cunningham","Jason Gill","Ishma Stewart","Tanika Mitchell-Hinton","Giovanni Santana","Henry Garcia","Luis Ortiz","Jermaine Price","Gary Hernet","Donte Wilkerson","Quentin Douglas","Robert Liggins Jr.","Victor Ortiz","Artese Herman","Donald Pickett","Kenneth Mosby","John Jones","Carlos Gonzalez","Malik Ousley","Calvin Porter","Charles Cortes","Romaz Lucas","Eric Brogan","Daniel Dupree Jr.","John Wadley","Maratta Walker","Francis Oduro","William Oillie","Michael Ward","Joel Newell","Jonathan Flores","Kiana Green","Shamon Ellis","Joseph Redman","Frederick Hogan","Sharkeila Taylor","Edgar Casbada","Byron Cole","Ivory Jackson","Rakeem Robinson","Jasem Razik","George Ramirez","Jeffery Jamerson","Gustavo Ramirez","Jesus Delarosa","Keenan Reno","Erika Prince","Michael Cooley","Charles Bradley","Tony Ramsey","Derrell Owens","Daniel Santoyo","Ingglace Johnson","Brandon Arnold","Ignacio Montano","Corey Smith","Gregory Scruggs","Keith Grant","James Davis","Santiago Ayala","Maurice Larry","Anthony Taylor","Benny Lynch","Gonzalo Hernandez-Guerta","Brendan Scanlon","Johnny Dudley","Morris Gandy","Lawaide Labon","Jonathan Swoope","Parris Harrison","Jose Regalado","Charles Rowry","Dorothy Taylor","Ulysses Simmons","Walter Jones Jr.","Jose Rivera","Jeremy Jones","Larry Pickens","Ronald Grant","Michael Tyner","Darryl Sawyer","Mario Butler","George Huff","Fredrene Brown","Isaac Sauceda","Jason Edwards","Rushawn Crum","Anthony Minor","Ebon Harris","Antonio Vargas","Cesar Lopez","Trichaul McMath","Harrison Ellis","Jorge Sotello","Gerald Perry","Corey Washington","Lawrence Jackson","Vanity Murff","Delores Myrick","Veda Dodds","Richard Francis","Brian Faber","Tommye Freeman","John Duncan","Martin Hoard","Courtney Thomas","Pierre Moore","Quenton Harvest","James Sorensen","George Davis","Rodolfo Salazar","Willis Graham","Willie Davis","Israel Arroyo Jr.","Frank Deblasio","Robert Washington","Baby Girl Johnson","Baby Boy Johnson","Tatiana Terrell","Robert White","Kevin Peggs","Juan Aguilera","Leon Turner","Marlowe Jones","Scotty Prater","Calvyn Howard","Mya Lyons","Jose Caballero","Randy Cedeno","Nicole Medina","Brandon Snype","Margarita Banuelos","Bennie Ross","Kimberly Foucher","Maurice Chears","Dalon Russell","Arnette Marshall","Emilio Tamayo","Carlos Swearengen","J.R. Steel","Percy Rounds","Julian Bell","Everett Tate","Michael Guyton","Gregory Jones","David Montgomery","Darryl Hart","Omar Meza","Michael Thomas","Thomas Thurman","Thomas Williams","Daniel McKenzie","Ramon Rolon","Alfonso Cintron","Mario Arteaga","Jaquice Lucas","Sean Agusto","Harold Beilstein","Toussaint Williams","Allan Komperda","Reginald Johnson","Flordeliza Tagle","Jamie Osby","Nawez Muhammed","Charles Jackson","James Brandon","Steven Nelson","Roderick Martinez","Terrance Thomas","Brandon Little","Orlando Elam","Ian Rush","Marshaun Melchor","Gregory Herndon","Paulette Thomas","Antoine Fountain","Jason Mueller","Jamale Houston","Joel Williams","Maurice McColler","Robert Soto","Kathryn Romberg","Martin Groves","Manthaniel Caldwell","David Valentin","Aramis Edwards Jr.","David Gomez","Paris Washington","Alexander Pearson","Sylvester Porch","Curtis Ellis","Harlan Hayes","Dominique Conyers","Antorrean Mayberry","Devon Taylor","Rakem Braylock","Robert Ferris","Easter Wright","Roy Barber","Herbert Balentine","Jeremy Wright","Anthony Webb","Timothy Pittman","Briahna Williams","Jimmie Ridley","Nikenya Spires","Woodrow Culverson","Eternity Gaddy","Paris Jackson","Terrence Jones","Nequiel Fowler","Alex Lewis","William Garriga","Orlando Thomas","Trensee Dickey","Andrew Mitchell III","Dexter Blaylock","Cory L. Hatter","Mark Mitchell","Ricky Grant","Shavel Monegan","Odero Hillard","Jacint Calderazzo","Romaine Binion","Gerald Brown","Douglas Edwards","Latodd Williams","Craig Robinson","Demetrius Alexander","Oscar Santana","Ivory Anderson","Garfield Rogers","Alizay Marchan","Anthony Marchan","Antonio Duenes","Rudy Ortiz","Vladimir Hernandez","Brent Wiley","Daniel Zaragoza","Andre Malcolm","Calvin Braxton","Bethel Tucker","Donovan Morris-Beverly","Robert Ulmer","Arthur Tyler","Rodney King","Jerrell Jackson","Veltann Wilkins","Montgomery Jackson","Patrick Smith","Myron Jeter","Erick Gonzalez","Pierre Young","Raymond Johnson","Ramon Franco","Isaiah Walker","Darrin Redditt","James Purifoy","Kevin Curtis","Nathaniel Taylor Jr.","Cardell Banks","Frederick Vortes","Keyon Sharp","Sameere Conn","Dawn Oquendo","Shaun Brown","Herman Wells","Brian McDonald","Sharron Wilkins","Shaun Bowens","Kiyanna Salter","Alex Chico","Mustafa Abdulrahim","Tyrice Griggs","Genevieve Mellas","Tyrese Harris","Jerome Lee","Isabel Gordillo","Joseph Hallom","Daniel Calderon","Ernest Williams","Efrain Fajardo","James Polchlopek","Christopher Sodaro","Bruce Peebles","Malander Jenkins","Jamoda Thomas","Donte Smith","Jonathan McGinnis","Ashley Cruz","Linda Morgan","Randall Hilderbrand","Shannon Stevenson","Timothy Foster","Craig Pope","Rashaan Hale","Elva Diaz","Darnell Donerson","Jason Hudson","Julian King","Christopher Prince","Stanley Gipson","Ranus Hall","Danny Lima","Ladevonne Thomas","Juan Rivera","Alejandro Auita","Abel Macedo","Andre Wilson","Bryant Smart","Hugo Gonzalez","Marvin Mannings","James Crosson","Anthony Murdock","Irvin Johnson","Brian Murdock","Quentin Buckner","Samuel Rodriguez","Odell Howard","Erick Watkins","Anthony White","Sedric Haskins","Tony Tatum","Alexander Batie","Dontea Dear","Michael Jung","Devour Robinson","Desmond White","Lonnell Hyde","Rashidi Butler","Johnathan Welsh","Eduardo Murphy","Arthur Tellez","Flavio Olivares","Tony Wilson","Donna Siano","Antonio Brandon","Shaunte Sardin","Everett Moore","Lamont Norwood","Neal Zarei","Jose Guiza","Floyd Thomas","Terrance Harris","Eureka Jackson","Cathy Lucas","Raul Valez","Charles Price","Andreas Garcia","Sergio Dukes","Christopher Hanford","Eduardo Toledo","Mario Washington","Terrell Dobbs","Jacoby Blake","Marcus Duke","Kamane Fears","Isaac Mobley","DeShawn Johnson","Cydrell Bragg","Isiah Stroud","Jose Gonzalez","Milagro Rials","Richard Harris","Andre Stephens Jr.","Leonardo Parker","Kermit Delashment","Esteban Martinez","Promise Hodges","Princeton Reed","Martece Colston","Gino Kuelbs","Lawrence Williams","Tyrone Chambers","Nahari Smith","David Earl Carney Jr.","Aldo Ruiz","David Garrett","Jojuan Miller","Famous Ware","Xavier Lawrence","David Hresil","Aaron Blanton","Tracy Barnard Hughes","Ronnie L. Gibbs","Greg Bryant","Bree Gregory","Luke Delaney","Nova Henry","Ava Henry","Romon Finch","Charles Binder","Ronald Hampton","James Smith","Michael Enriquez","Darcell Frazier","Ralph Turner","Brian King","Itzel Fernandez","Roxanne Ocampo","Morris Wilson","Abel Ruiz","Marlon Turnage","Melvin Sumler","Johnel Ford","Antonio Cole","Lenneth Suggs","Marcell Castle","Johnny Vasquez","Al Brown","Bryant Green","Milton Andrade","Michael Wolf","Juan Bonilla","Aaron Williams","Racheal Beauchamp","Johnny Edwards","Kendrick Pitts","Raheem Washington","David Haynes","Kamereon Foster","Terrence Ligon","Carnice Morgan","Saint Barton","Marcus Smith","Norman Nowling","Maurice Bickhem","Stephen Avery","Jerome Thompson","Jerry Jetters","Fidel Arevalo","Carnell Pitts","Otis Matthews","Franco Avila","Michael Dabney","Gregory Robinson","Jonathan Wilson","Jason Brown","Lee Miller","Oscar Salgado","Ricardo Lee","Juan Torres","Jerry Cathery","Walter McKeever","Larry Daniels","Trivon Williams","Charles Merritte","Rozene Redmond","Jose Velez","Tommie Williams","Steven Eaton","Marshun Love","Danny W. Taylor","Deonta Mansheck","Flora Thompson","Marquell Blake","Mark Cooper","Fertamia Smith","Jeremiah Porter","Maribel Moreno","Antonio Mosley","Juan Casarez","William Crawford","Arties Anderson","Melvin Crenshaw","Andre Jackson","Jason Burk","Tavaris White","Jaime Rivera","Renauld Darling","Regina Warren","Robert Murray","Lamont Johnson","Willie Parker","Christina Campos","Adrian Thompson","Raymond Washington","Michael Picon","Desmond George","Zachary Allmon","Jennifer Figueroa","Nathaniel Hoover","Florence McCollum","Deveus Johnson","Wayne Irvin","Damier Love","Moses Blumenberg","Alex Arellano","Nezery Porter","Cory Harris","Eric Mendoza","Jose Mejia","Nicole Mijares","Gabriella Almanza","Gregory Smallwood","Anthony Hopkins","Ramone Morris","Maurice Wright","Curtis Gipson","Kenneth Williams","Michael Norton","Clemon Webb","Jesus Sanchez","Terry Johnson","Raymond Parker","Jessica Bazan","Jessie Gaston","Anthony Thomson","Jaquan Reed","LaWanda Williams","Floyd Butler","Tammy McClellan","Michael Contreras","Brittany Barnes","Steven Robinson","Derrick Armstrong","Bernadette Turner","Eddrick Walker","Antonio Smith","Theodore Tramble","Marcel Mays","Erick Herrera","Kevin Clark","Anton Dean","Kenneth Meeks","Shannon Wilson","Demond Stansbury","Lorenzo Miguel","Justin Grover","Marcelino Rivera","Quincy Chaines","Demitrius Tyson","Randall Ewing","Ramil Celestin","Alejandro Valadez","Ricardo Brown","Marquis Lee","Trinidad Cuecass","Miguel Russell","Lewis Robinson","Lorenzo McKeithen","Daniel Damien","Humberto Collaguazo","Patrick Stribling","James Robinson","Zachery O'Conner","Leon Gonnigan","Charlene Miller","Demetrius Campbell","Abraham Tabani","Pedro Velazquez","Joseph Thompson","Keith Roberts","Shawn Wilson","Romell Overstreet","Jeff Daniels","Andres Yanez","Marciano Patterson","Will Harvey","Jose Galaviz","Robert Elliot","Dentifer Standley","Norman Maxey","Derrick Howard","Lee Floyd","Charles McClinton","Chastity Turner","Milissa Williams","Jovon Lee","Tijuan Edwards","Melvin Vallejo","Ricardo Valdez","Rodrick Scott","Willie Short","Freddy Vasquez","Johnathan Resto","Michael Allen","Fred Khoshaba","William Hallin","Terrance Green","LaToya Banks","Marchello Henderson","Andre Armstrong","Cleophus Parrow","Anthony Rosenthal","Dominic Barnes","Francisco Lopez","Travon Woods","Deonte Scott","Loweton Harmon","Leundra Phillip","Kenneth Hoskins","Christopher McClain","Terrance Binyon","Everette Snow","Kenneth Crawford","Tri Trinh","Georgia Atkins","Nathaniel Pierson Jr.","Keyewon Berry","Raymond Liggins","Eric Navarro","Jose Sanchez","Brian Puckett","Jose Zargas-Casarrubias","Reynaldo Ortiz","Elliot Thompson","Miguel Loreto","Angel Alvarez","Terrance Hollins","Aarian Bonds","Damion Roy","Anthony Jackson","Tomiko Ellis","Martez Powell","Michael McCyrine","Tyrone Bennett","Jose Corona","Gaurav Patel","Roslyn Tripp","Isaly Navia","Jeff Maldonado","Anthony Sanders","Fontaine Matthews","Jeremiah Range","Netisha Stroger","Marcus Howard","Noel Ruiz","Martin Rodriguez","Nashawn Lewis","Omar Sanchez","Paul Carswell","Tommie Haynes","Deontae Smith","James Gray","Stephanie Herrera","Patrick Cregan","Michael Hernandez","Unknown","Roy White","Arthur Johnson","Victorino Chavez","Jessica Fon","Antoine Harris","Shannon Williams","Ramon Posey","Dejuan Echols","Bernard Smith","Geraldine Simmons","Justin Daniels","Iris Ambrose","Ulises Patino","Marvin Poole","Maurice Willis","Alex Hernandez","Joshua Darnell","Kelei Forman","Dekago Price","Justin Silas","Lawrence Linton","Dajae Guy","Anton Tignor","Marcie Nichols","Jose Lopez","Carlton Ewing","Christine Johnson Tyler","Sylvester Martin","Garcia Anderson","Andres Cardona","Oswaldo Rangel","Alexis Allen","Derrick Harris","Demetrice Tabor","Phillip Johnson","Darnell Stamps","Andre Jamison","Mario Lloyd","Curtis Milliken","Carlos Bell","Adrian Maravilla","Kimyatta Courley","Alfred Hale","Eugien Morales","Anthony Johnson","LaTanya Davis","Nathaniel Pointer","Andrew Aleon","Eloy Gonzalez","William Stark","Aaron Harris","Jerome Grandberry","Corey Kemp","Prince Stith","Santiago Reyes","Luis Hernandez","Timothy Johnson","Clint Eatman","Dennis Davis","Richard Williams","Dieve Roberts","George Cruz","Edgar Salgado","Corey McClaurin","Rocco Lopez","Angelina Escobar","Alex Santiago","Maurice Smith","Joe Washington","Johnnie Washington","Cordero Falls","Derrion Albert","Jose Vargas","Phillip Manns","Tyrone Williams","Percy Day","Robert Velazco","Edgar Rodriguez","Derrick Williams","Oscar Baker","Alfredo Fortoso","Christopher Nettles","Edward Williamson","Jamale Coleman","William Wesley","Jorge Herrera","Ventura Colin","Rashaun Branch","Demetrius Watson","Robert Gonzales","Gerald French","Natasha Howliet","Philander Johnson","Brandon Chambers","Stacey Adams","Ronnie Dunkin","Jose Quinones","Ramiro Guevara","Deonte Williams","Aundra Bradford","Devin Holliman","Gamaliel Toscano","Terryn Collins","Dequarrius D. Cannon","James Hunter","Rance Mack","Frederick Lucas","Jamar Taylor","Kenyatae Collier-Brewer","Martel Barrett","Gerrod Thomas","Adrienne Coggs","Shane Burnett","Sharon Anderson","Jean Colbert","Desiree Holmes","Aurora Hall","Darryl Brown","Jennifer Clark","Darren Johnson","Manuel Roman","Thomas Tatum","Efrain Acevedo","Francisco Valencia","Bobby Shine","Dewan Smith","Terril Bell","Larry Redmond","Eleterio Malaca","Demetrius Madden","Carlos Aguirre","Sherrell Williamson","Andre Brooks","Clifford Edwards","Carlos Plascencia","Joaquin Martinez","Michael Vilella","Howard Hodges","Frederick Evans","Ronald Young","Jeremy Moore","Cecil Ward","Luis Garcia","Kevin Moore","Gregory Hampton","Shannon Moore","Claudette Coleman","Ricky Coleman","Robert Baber","Anthony Bryant","Corday Keys","Roy Williams","John Wilson","Jahmeshia Conner","Tanisha Edwards","Christopher Landers","Byron Odum","Frederick Collins","Teion Brown","Anthony Watts","Robert Watson","Vanessa Rojakovich","Jeff Stewart","Juan Davis","Troy Bannister","Ashton Wise","Stephanie Reed","Marcellous Nichols","Fernando Rodriguez","Edison Castillo","Deshawn Patton","Jepson Livingston","Stanley Bloodson","Lionel Smith","Luis Flores","Darnell Hayes","Terrell Brown","Gregory Tuck","Magnul Milly","Maria Worthon","Brian Glover","Barbara McComb","Michael DeFilippis Jr.","Ralph Elliott","Myron Thomas","Wilt Hellon","Rasaan McCord","Fred Couch","Brian Choi","Joyce Fulgium","Raul Barajas","Maurice Litzey","Cody Miller","Jovanni Ramirez","Martha Byrd","Justin Rosa","Lavelle Hardy","Sandra Viramontes","Leslie Brown","Anthony Coleman","Noor Surani","Antwan Peter","Williams Diaz","Alonzo Simmons","Alfonso Magana","Samuel Thomas","Brandon McCain","Elzie Johnson","Lytony Dawson","Ramone Washington","Eric Stevens","Maryrosa Green","Charles King","Andreaus Clark","Wayne Johnson","Luis Rodriguez","Vaughn T. Holeman","Samuel Fullilove","Christopher Neal","Brandon Berry","Antonio Melton","Steve Nabry","Baby girl Molina","Salvador Sanchez","Romel Stephens","Roger Escalante","Lance Lindsey","Raphead Dixon","Nathaniel Maxon","Krystal Zavala","Willie Anderson","Martin Cruz Jr.","David Davis","Gregory Bowen","Jovan Kelly","Jesse Smith","Linda Southard","Mario Hines","Cary Dupree","Eugene Hopsons Jr.","Shawn Miller","Jason Perkins","Tyrone Reynolds","David Sauls","Efrain Escutia","Charles Akers","Steven Lee","Clifford Evans","Novada Robinson","Quintin Hogan","Joshuma Allen","Kevin Simms","Daniel Crockett","Timothy McCampbell","Cordney Jackson","Michael Garza","Eric Harris","Siobhan Hampton","Nasar Husain Haidar","LaCharles Johnson","Joshua Spencer","Jarren Lindsey","Jermaine Streeter","Reggis Washington","Reginald Meyers","Antar Robinson","Regina McGraw","Darriusz Lubas","Robert Tate","Fasion Robinson","Quentin Merrick","Jihan Larry","Keleasha Larry","Keyshai Fields","Twanda Thompson","Leona Larry","Kewon Pettis","Warren Latchman","Ramone Cook","Bernard Hatcher","Anthony Williams","Anthony Lopez","DeAndre Morgan","Kristle Jackson","Kevin Mapp","Thais Suarez","Roger Walker","Maurice Stone","Jerel Love","Amos Bailey Jr.","Steven Pavlik","Treon Sanders","Damond Harris","Curtis Settles","Ronald Rosenthal","Cynia Cole","Crawford Davis","Tyrece Bailey","Stephen Bailey","Juan Mendez","Anthony Nutall","Jamar Moore","Narvell Johnson","Charles Smith","Curtis Green","Juan Daniels","Carmenda Woodards","Dayon Gaston","Romeo Bahena","Rodolfo Bahena","Jeffrey Banks","Alexander Lopez","Thomas Joiner","Tranesha Palms","Anthony Kyser","Lemont Williams","Maurice Densmore","Cleo Bratkins","Marcus Williams","Kirk Flowers","Anthony Welch","Ronnell Roberts","Jose Baltazar Alberto Cuellar","Lutelda Michelle Hudson","Hector Romero","Andres Butron","Ernesto Alequin","Elvia Alvarez","Miguel Angel Roman Chavez","Anthony Ballard","Lonnzie Suggs","Eric Herner","Jamal Milan","Thomas Wortham IV","Brian Floyd","Victor Diaz","Monica Baker","Leon Ordonez","James Powell","Eddie Cole","Kristopher Jackson","Joseph Powell","Pierre Beard","Darnisha Johnson","Anthony Nelson","Clara Bryant","Mark Pekovitch","Frankie Zamudio","Alan Oliva","Darius Murphy","Laird Marble","Quintin Sharp","Christopher Walton","William Allen","Jeremy Baggett","Nicholas Johnson","Patricia Clark","Napoleon Gilmore","Mark Johnson","Shannon Byars","Dwoyne Baker","Antoine Wright","Michael McMillan","Jeffrey Pinkerton","Patrick Evans","Julian Gutierrez","William Huntley","Frenchie Ford","Adrian Cantor","Brandon Brown","Ludjana Dido","Marques Betties","Jaime Sanchez-Negrete","Kevin Jones","Ernest Sanford","Michael Stanciel","Jorge Flores","Octavio Pena","Adrian Gates","Cojuan Harper","Darterius Madison","Larry Brown","Michelle Maldonado","Pierre York","Carl Anderson","Terrance Jackson","Waseem Smith","Barry Smith","Leon Smith","Durwin Hackman","Olayinka Ibitoye Jr.","Deante Coleman","Credale Woulard","Divai Serna","Darryl Dunn","Larry Johnson","DuJuan Johnson","James Taylor","Furda West","Ray Ressler","Richard McGill","Jamar Harris","Yusuf Yusuf","Kermit B. Dennis","Alan Penny","Walter Lampley","Xiaohong Song","Carl Roberson","Paul Garrette","Deandre Murphy","Jerry Seals","DeShawn McNeil","Andrew Hartrick","Shaudee Nance","Marquita Jamieson","Marshal Reed","Lajuan Webb","Michael Wade","Detrick Garrett","Thor Soderberg","Jamonie Richards","Eric Hughes","George Esco","Kemanuel Montgomery","Jerome Cole","Anthony Cox","Jeremiah Sterling","Jaymeon Wyatt","Emmanuel Leeks","Myron Farris","Reggie Coles","Harvey Space","Michael Bailey","Terrance Dishman","Kevin Banks","Dwight Miller","Kirklinn Fowlkes","Keith King","Aaron Carter","Robert Freeman","Jeremy Johnson","Miguel Vasquez","Louis Wilson","Aniya Crockett","Michael Chatman","Reginald Riley","Samuel Coleman","Andre Williams","James Evans","Steven Bell","Dionte Young","Cesar Rosales","Tufan Muhammed","Marshall Bennett","David Buckner","Troy Brown","James Gardner","Tito Lindsey","Parnell Shumate","Tanaja Stokes","Demetrius Pitts","Isaac Davis III","Phillip Baldwin","Kimora Roberson","Kamari Roberson","Krystal Rodney","D'Angelo Jackson","Mobolaji Osho","Anthony Martinez","Karen Salino","Damien Turner","Brian Daniel","Domingo Hernandez","Alexander Mercado","Angel Rebolledo","Anthony Clemons","Terrance Cooper","Marshalla Johnson","Olutosin Bajomo","Jaime Ramirez","Roger Kizer","Schirron Hoskins","Anthony Anglin","Julio Castrumita","Bennie Madison","Ronnie Peterson","Donzel Swanigan","Kirk McCullough","Tyrone Clark","Linton Goldsmith","Luis Perez","Debra Haywood-Hughes","Laverick Marshall","Adolfo Guijardo-Soria","Darrell McKinney","Edward Ramos","Wesley Taylor","David Johnson","Paul Harris","Jovanni Gudino","Johnnie Dyer","Marcus Marshall","Shawntell Harris","Jeremy Brooks","Roberto Rivera","Luis Santillian","Noel Casares","Alonso Villarreal","Theresa Russell","Jennifer Alvarado","Myrick Diggles","Salomon Abonce","Joel Bainter","Deantonio Goss","Michael Pierce","Christopher Travis","Chorelynn Johnson-Roth","Patrick Blevins","Harvey Sanders","Michael Hawthorn","Jeremy Marshall","Francis Walton","Alexia Teague","William Luttrel","Cecil Cooper Jr.","Darnell Choice","Franko Martinelli","Marlon Dubose","Jajuan Brooks","Andrew Powell","Sylvester Williams","Trevor Green","Patrick Butler","John Trass","Marcus Owens","Dontrell Johnson","Andres Alvarez","Vidal Motino","Michael Steel","Marcus Gross","Nancy Rojo","Juan Campos","Angel Hill","Stanley Letkiewicz","John Griffin","Lawrence Stubbs","Terry Pettigree","Bassam Naoum","Cordoa Leyva","Cornell Henderson","Nick Seay","Deno Wooldridge","Ronald Collier","Terrell Sykes","Jorge Palacios","Jesus Correra","Jeremy Harris","Shai Miller","Michael Socki","David Rodger Jr.","Robert Vela","Alonzo Jones","Marlos Canteberry","Jerrod Benton","Keonte Barney","Isiah Mendez","Damien Cesar","Michael Frazier Jr.","Zohntil Lemon","Bryant Howse","Jonathan Gonzalez","Ana Rosa Gonzalez","Alfred Reese","Dimitry Ratcliff","James Daniels","Cordaro Nash","Isaiah Carter","Bacilio Flores","Kara Murray","David Goodson","Oscar Harris","Jalil Muhammad","Montreal Montgomery","David Blake","Bobby Butler","Norberto Velez","Jesus Monreal","Michael Flisk","Stephen Peters","Marcus Miller","Luis Salvador","Jade Cochran","Stacy Cochran Hill","Joi Cochran","Melvin Terry","Justin Handcox","Demarion Brewer","Arthur Burgess","Marcus Bassett","Solomon Dunwoody","Shaun Leaks","Frank Hart","Titus Mitchell","Francisco Favela","Kiley Murray","Steven Billups","Vernell Anderson","Johnny Maldonado","Johnny Washington","Varick Hines","Jerome Michaels","Jacinto Crisanto","Vickie Myers","Daniel Delorean","Ronald Gillerson","Cesar Salgado","Jose Orozco","Michael Pope","Henry Jones","Bryant Glass","Emmitt Suddoth","Benjamin West","Brian Green","Larry Lee","Erika Greene","Kirk Orellana","Derrick Ross","Erik Thompson","Wartonka Stevenson","Shonele Gregory","Pedro Velez","Brian Moore","Alberto Quinto","Michael Robinson","Antwan Shelton","Samuel Washington","Willie Harris","Renee Torres","Harry Ousley Jr.","Jimmy Townsend","Thedrick Bryant","Lorenzo Beck","Patrick Starks","Antonio Ramos","James Wilson","Margarita Garcia","Milagro Marchant","Derrick Gray","Jonathan Hayes","Julius Goodman","Princess Streeter","David Mason","Colin Thies-Keogh","Jermaine Mays","Everett Burnett","Antonio Williams","DeAngelo Alexander","Brandon Williams","Fernando Pineda","Vincent Fleming Jr.","Rodolfo Castro","Victor Golden","Rozelle Phillips","Jesus Hernandez","Ramito Mendoza","Joel Diaz","Marqarita Navarette","Christopher Williams","Jeffery Selmon","Dewayne Sykes","Rashad Robinson","Willie Ross","Marcus Richmond","Devin Dyer","Edward Townsend","Jonathan Jackson","David Corral","Peter Yalda","Karl McKinney","Clint Eldridge","Carlos Morales","Phillip McGee","Demetris Cribbs","Barbara Ann Smith","Alex Brand","James Williams","Maurice Sanders","Mokece Brown","Thurman Williams","Sally Katona-King","Marvin Flanagan","Larry Gore","Kenneth Rochelle","Quintin Turner","Michael Lee","Jesus Arellanos","Khristopher Daniels","Christopher Young","Ricardo Ortega","Armando Collar","Timothy Collins","Arturo Santana","Andre Green","Omar Mendez","Jamar Conner","Luis Cordova","Cedric Davis","Vince Hernandez","King-Quintaz Davis-Ringgold","Michael Lewis","Josephine Martinez","Dushawn Davis","Darrius Green","Kabiru Adewunmi","Alex Mojica","Marcus Hurley","Ismail Robinson","Kenneth Sims","Cedric Allen","Robert Barr","Edward Jernagin","Terry McNeal","Timothy Wordlow","Lonnie Garrett","Julian Montejano","Donnell LeFlore","Shawn Carter","Michael Redmond","Bruce Lee","Myron Smith","Jesus Gamboa","Christopher Hale Jr.","Omar Estrada","Christopher Hall","Henry Taylor","Heriberto Barajas","Markell Stribling","Terrance Boyd","Franciszek Opiela","Teresa Cygan","Antwaun Price","Kevin Hellon","Willie Cole III","Christian Pichardo","Emigdio Ortega","Larry Parks","Otis Sanders","Jason Mann","Lavarro Taylor","Aeyanuna Rogers","Karla Allen","Brandon Shannon","Elliot Alexander","Malik Dunlap","Stephen Hill","Andrew Hall","Jimmy Parker Jr.","Raul Medina","Peter Jones","Randall Cummins","Javaris Walker","Lionel Rattler","Henry Tellis","Devjuea Crittenden","Jeanette Brown","Lemont Gogins","Victor Ramirez","Tristen Reese","Cezar Waskowski","Henryka Waskowski","Hakeem Graham","Harry Hardy","Rondell Moore","Dante Smallwood","Daryl Davis","Jovan Richardson","Aaron Brown","Jonathon Banks","Nicole Robinson","Dennis Praten","Earl Smith","Torrence Wright","Jovany Diaz","Estavion Green","James Thomas","Dwayne Spraggins","Niko Santiago","Asad Almhana","Edward Jackson","Jeremy Colanto","Richard Gutierrez","Cynthia Funches","David Lopez","Lazaro Enriquez","Tony Morgan","Kent Richardson","Adonis Bright","Christopher Clark","Aaron Leonard","Juan Bautista","Derrick Featherstone","Javone Oliphant","David Cardine","Charles Bell","Jose Maldonado","Ricardo Hall","Martel Field","Scott Butvilas","Alexis Garcia","Devonte Childress","Tory Wilson","Demetrius Crystal","Jeffrey Butler","Deonre Douglas","Jeffrey X. Butler","Holly Hieber","Louis Nieto","Roosevelt Wiley III","Reginald Thomas","Errol Grant","Raleigh Pritchett","Calhoun Paris","Joshua Hudgins","Cordre Hayes","Dante McKinney","Dante Lawrence","Gartania Prince","Walter Brown","Nathan Thomas","Dawn Scott","Trevon Randolph","Aiki Muhammad","Stanley Washington","Tony McCoy","Lorenzo Beasley","Marcus London","Philon Watson","Theodore Thomas","Sergio Torres","Marquis Strong","Robin Winston","Sean Avery","Cynthia Barnes","Floyd Peterson","Beto Rodriguez","Raul Hernandez","Dazaray Brent","Jennifer Jiles","Jose Gallardo","Ewonte Butler","Kenneth Taylor","Moneet Baker","Blair Davis","Maurice Thomas","Maurice Fletcher","Cory King","Jose Cuevas Guevara","Daniel Johnson","Kenny Garner","Cornelius Jordan","Larry Dumas","Darius Brown","Ianah Sherrod","Jermaine Smith","Robert Solomon","Jose Serrano","Curtis Canino","Antonio McCann","Marshaun Taylor","Arianna Gibson","Lawrence Wilson","William Sturgeon","Odee Perry","Cleveland Collins","Daryl Loving","Alfredo Cuellar Chavez","Ricardo Vasquez","Rick Szewka","Darius Jones","Charinez Jefferson","David Thomas","Mandeep Bedi","Joseph Price","Enrique Rodriguez","Curtis Connor","Christopher Pinkins","Luis Herrera","Antonio Campbell","Ricky Randolph","Marvin Baker","Elroy Williams","Keith Slugg","Brian Gill","Henrietta Miles","Davares Robinson","Ragan McDougle","Michael Jones","Jaivon Sandifer","Tyrone Robertson","Martez Benson","David Lucas","Devonne Polk","Deandre Boatman","Rodney Kyles Jr.","Nicholas Jackson","Sadarius Sims","Alejandro Betancourt","Kiwian Ashford","Frank Qualls","Juan Guzman","Santos Rodriguez","Alexander McDonald","Dominique Blackmon","Hershel Phillips","Joseph Hernandez","Michael Justo","Devon Varner","Andre Ephrame","Phillip Cartledge","Thelma Watkins-Cato","Gumaro Chavez","Marcus Winsley","Marvis Brown, Jr.","Salvador Rodriguez","Dwayne Wilks","Steven McGee","Cordell Brown","Omaria Beckon","Antione Lavender","Antonio Johnson","Kedron Jones","Carl Spencer","Lenwood Hearon","Leonard Woods","Xavier Silva","Darryl McWilliams","Victory Island","Robert Blackman","Mayberry Porter","Ray Gibson","William Newell","Louis Cotto","Isabella Martinez","Dennis Fox","Victor Ybarra","Jose Cisneros","Laurel Brown","Ivan Kelly","Jayden Tufele","Sarai Michaels","Antonio Common","Darius Knowles","Richard Burnette","Dyshawn Turnage","Odie Henry","Marqwell Seabron","Andre Vasquez","Edward Riley","Michael Harris","Orlando Davis","Virginia Perillo","August Ayala","Harry Rodriguez","Carlos Cartagena","Armando Aguirre","Darnell Price","Leonard Smith","Delvonta Porter","Tienne Pinson","Stephen Carson","Xavier Bell","Christopher Abernathy","Omar Gonzalez","Marcus Nunn","Isaac Dotson","Webster Gater","Kyle Matthews","Robert Wesley","Darius Link","Daniel Cisneros","Silvia Campos-Bahena","Maria Adams","Ravon Martin","Ihab Arafen","Michael Banks","Weam Salem","Alex Spikes","Maria Santiago","Raslan Raslan","Hester Scott","Lamaro Parker","Levi Stubblefield","Shawn Russell","Cortez Champion","Chanda Thompson","Emandrell Crum","Juan Sanchez","Victor Martinez","Jermaine Reynolds","Aries Shorter","Reginald Lanier","Tarik Mahdie","Carlton Archer","George Gandara","DeWitt Wright","Oscar Cervantes","Jebb Williams","Gerald Fisher","Arvon Grays","Trevor Williams","James Sweezer","Sean Cambric","Christopher Valdez","Angela Bonds","Robert Anderson","Darius Parish","Jovan Saffore","David Delatorre","Bernard Welch","Anthony Brown Jr.","Valente Barrera-Gallado","Lorenzo Johnson","Dale Fisher","Kevin Branch","Edward Clark","Jesse Carswell","Steve Oppelt-Hollendeck","Rasheda Tucker","Micah Williams","Damien Simmons","Solomon Coleman","Abraham Perez","Leon Deakyne","Onay Lundy","Cometra Hollins","Karrieem Dixon","Cevoun Elston","Charles Williams","Martell Wesley","Patrick Carter","Miguel Rios","Jo Jo James","Robert Warren","Jose Duckins","Dantril Brown","Jawan Ross","Deontae Malone","Jewels Selvie","Clifton Lewis","Maurice Vortes","Zentonio Bolian","Jermaine Baskin","Earl Warren","Efren Madrigal","Khalifa Hicks","Carlos Martin","Nicholas Camacho","Christina Thomas","Willie Cunnings Jr.","Kenneth Bowens","Marcus Tucker","Richard Lengyel","Mark Watts","Lionel Lane","Olufeimi Abdulai","Craigory Clark","Anthony Diaz","Soraya Gibson","Valentin Bahena","Christian Peggs","Juan Melendez","Aaron Price","Shannon Walton","Pamela Valenzuela","Cory Campbell","Vernon Cummings","Brian Hawkins","Ruben Colunga","Omar Vargas","Artemio Silva","Jason Gatewood","James Maca","Samuel Patterson","Kurtis Stanton","Devonte Pippen","Troy Cameron","Anton Sanders","Linear Caballero","Antonio Cobbins","Derrick Holliday","Dion Miller","Jonathan Bell","Deandre Alexander","Untre Johnson","Robin Davis","Johnny Henderson","Shaquille L. Rush","Deshun Winfert","Terance Franklin","Lyn Ward","Matthew Zavala","Raymond Jerz","Anthony Linnear","Sheroid Liggins","Martrell A. Raggs","Edgar Delgado","Clifton Harlson","Tytus Harris","Rogelio Servantes","Jamal Harris","Gregory Glinsey","Asif Memon","Damion Rolle","Reginald Weems","Mark Steve","Candace Butts","Nathaniel Brown","Bernard Arnold","Anthony Harrell","George Howard","Albert Guyton","Omar Kebbeh","Quinton Davis","Shurron Hawkins","Chris Wormely","Taki Crews","Quentin Johnson","Reginald Ivy","Mario Montes","John E. Atkinson","Frankie Baity","Eddie Coleman","Reginald Smith","Joshua Williams","Cordarryl Mitchell","George Dunn","Romel Robinson","Erick Williams","Jorge Valdez","Ronald Guidry","Gustavo Reyes","Johnny Vargas","Joel Sanroman","Anthony Scott","Adrian Cruz","Vincent Fitts","Luis Saucedo","Aliyah Shell","Jeremy Anthony","Celestino Nuevo","Bert Lindsey","George Marrero","Equilla Coleman","Andre Pierce","Michael Gillespie","Ricky Brown","Ramon Salgado","Deon Freeman","Terrence McDougie","Keland Robertson","Daniel Walker","Timothy Scott","Randy Streeter","Joel Verdugo","Jordan Dawson","Julio Cintron","Cedric Bell","Sonia Burke","Terry Brown","Julius Benford","Michael Nowels","Shawndell Harris","Isaac Hopgood","Leroy Williams","David Gulley","Elaine Nerone","Juan Hernandez","Ulysses Martin","Romell Collins","James Brown","Priscilla Mercado","Jalen Armstrong","Roberto Luna","Patrick Swinney","Tonya Gist","Harold Howell","Teddance Steele","Niven Beluso","Lamont Coleman","Adegboye Oguntade","Armaney Cotton","Michelle Gregory","Erik Loggins","David Loggins","Brandon Miles","Kimberly Harris","Darryl Turner","Darryl Davidson","Samuel Clay","Marvin Clay","James Reddick","Fidel Benitez","Dorsey Liberty","Andre Myrick","Alexander Mendoza","John Cepeda","Archie Lee Chambers Jr.","Nikolaus Douzopoulos","Rudy Correa","Brian O'Neal","Kenneth McCurty","Roberto Atkins","Brian Jones","Marlon Monroe","Tyrone Morris","Emanuel Badillo","Luprentice Mathis","Armando Garza","Maurice Mathews","Christopher Cooper","DeJuan Dennis","Wardrick Watts","Lennie Brownlee","Donnel Rankin","Denise Ayers","Devon Paramore","Henry Howard","Racshell Harris","Akeem Morris","Max Vallejo","Travis Perkins","William Herron-Junius","Lamont Matticx","Leon Poe","Christopher Reeves","Felix Lares","James Tatum","Sean Martin","Lekiah White","Marek Kaczmarczyk","Joshua Gonzalez","Larry McGee","Sergio Hernandez","Sidney McDowell","Alejandro Jaime","David Brown","Nazia Banks","Melvin Jacobs","Joseph Owens","Dwayne Billingsley","Estaban Alvarez","Alejandro Munoz","Tyrell White","Rashard Wilson","Kenneth Reaves","Varren Brown","Marcus Morgan","Lorrie Heidrick","Mario Tempana-Vena","Jeffrey Triplett","Jaylin Johnson","Jaleel Beasley","Robert McNear","Marley Collins","Melissa Woods","Natalie Brady","Malcolm Dowdy","Ivan Alanis","Floyd Newell","Andre Brown","Jermaine Arnold","Jamal Lockett","Willie Stallworth","Darius Farley","Gueterris Thomas","Mario Jackson","Rashaun Stephany","Joseph Briggs","Kenneth Jones","Derrick Wilkerson","Donnell Smith","Jonathan Duncan","Shondell Adams","Dante Kyles","Davonte Flennoy","James Thompson","Henry Williams","David Cocroft","Kenneth Snulligan","Curtis James","Lewis Garcia","Romelo Golden","Antonio Buck","Bernardo Hernandez","Shakaki Asphy","Daniel Dilce","Jaime Ocampo","Santiago Delgado","Tiffany Edwards","John Hughes Jr.","Henry Soyege","Shavez Wilson","Roy Smith","Antonio Davis","Althea McGee","Hansen Jackson","Anthony Jones","Tyquan Tyler","Donald Ellens","Heaven Sutton","Jamel Shepard","Darnell Walker","William Cook","Lenard Trust","John Kouzios","Jose Galvan","Demarcus Ervin","Kelly Vann","Myrion Currie","Demetrius Tribett","Christopher Banks","Isaiah Prentis Hutsona","Corey Parker","Antonio Givan","Robert Snipes","Ricardo Alcantara","Adeniyi Adesida","Anthony Suarez","Sergio Garcia","Zachary Berrios","Phillip Finley","Delfino Mora","Anthony Collazo","Elle Mills","Maurice Wilson","Martin Tejeda","Andrew Jackson","Mark Carney","James Bell","Daniel Green","Ricky Hankins","Marshall Knights","Jamauri Askew","Ancelmo Solis","Nathaniel Gonzalez","Urooj Khan","Akil Partee","Roshone Eldridge","Gerry Woods","Pablo Hernandez","Dennis Jones","Shannon Clay","Alixi Johnson","Janeen Hancock","Ashley Ferguson","Douglas Bufford","Dominique Ollie","Michael Haynes","Christopher Jones","Michael Hanes","Baker Farhat","Iyonna Davis","Curtis Brown","Victor Coleman","Quincey Simmons","Dominque Green","Sherman Harris","Cornell Ferguson","Johnqualus Turner","Jorge Jarmillo","Ricky Pike","Eric Lopez","Sameer Barakat","Chateau Mercier","Frederick Giles","Dante Young","Perry Williams","Terrell Joshua","Tony Dunn","Yusef Allen","Levertis Williams","Damien Richardson","Donta Gooden","Mario Brooks","Brianna Gardner","Cordarryl HIll","Anthony Brooms","L.C. Robinson III","Carlos Marshall","Emonie Beasley-Brown","Lorenzo Wiley","Nancy Nathan","Richard Johnson","Alonzo Powell","Jason Smith","Anthony Carter","Taylor Diorio","Claude Bowman","Derrick Baker","Alex Ruiz","Darryl Manns Jr.","Alejandro Valdez","Jaime Ruvalcaba","Howard Hill","Freddie Williams","Noah Cruz","Lucian Dreux","Phillip McCall","Jamal Clayton","Christopher Spraggins","Aaron Gaithan","Stephin Wilkins","Rashad Pratt","Johnny Howell","Brian Nailer","Gary Brown","Chun Xiao Lee","Jamari Minor","Kenneth Alexander","Jalen Stogner","Jeffrey Smith","Yolanda Holmes","Joseph Coleman","Marcus Harrell","Eduardo Acosta","Julia Duda","Larry Porter","Muhammed Kebbeh","Jose Melendez","Jesus Garcia","Mark Woodson","Ornette Massey","Katrina Rogers","Miguel Cruz","Alex Benison","Francisco Gutierrez","Brian Cherney","Jerrell Butler","Devon Fields","Keith Bonds","Delon Brandon","David White","Travon Watkins","Damien Clayton","Efrain Cruz","Dantrell Winford","Delwin Harkness","Thaddeus Tucker","Robert Munn","Richard Walker","Joseph Sallas","Gerard Glover","Antonio Singleton","Quiltavia Patterson","Jermaine Carter","Marlon Lee","Dejuan Jackson","Edgar Ortiz","Francisco Merino","Hector Castenada","Porifinio Lopez","Derrick Davis","Mushun Franklin","Jose Escobar","Marvin McFerren","Parrish Flournoy","Britney Colvin","Hector Cruz","Jonathan Williams","Gary Clarke","Michael Griffin","Ingram Scott","Rakiem Douman","Lafayette Johnson","William Thomas","Nawal Aysheh","Bernard Kolin","Modell McCambry","Jamiere Brown","Bai Wei Wang","Clinton Smith","Dejuan Thurman","Terrance Wright","Eric Saunders","Terrance Johnson","Claude Snulligan","Denzell Williams","Reginald Robinson","Patrick Robinson","Darrius Boyd","Michael White","Kenton Morgan","Devon Greer","Darnell Jackson","Johnny White","Marcus Freeman","Marzel Hicks","Fitz Bariffe","Elizabeth Pabon","Carlos Alexander","Walter McLemore","Earl Cunningham","Derrick Johnson","Devin Harris","Brandon Johnson","Tre Henry","David Kitka","Travis Henry","Michael Morgan","Ismael Perez","Rodolpho Hernandez-Bey","Joshua Lowe","Rodney Stewart","Darrell Austin","Anthony Bagsby","Taylor Fitting","Elahmadi Goba","Bryan Lopez","Joshua Albert","Sergio Oliva","Bruce Bennett","Darius McGraw","Freddie Hernandez","Eric Ross","Emilio Palomo","James Holman","Keith Shaw","Keith Noceda","William Terry","Jonathan Belton","Billie Daniels","Leonard Phillips","Porshe Foster","Sherman Miller","Tyrone Scott","Raymond Ogara","Darius Hartfield","Timothy Kinds","Tremayne Franklin","William Martin","Aswell Selmon","Walter Pate","Shemara Fitzpatrick","Marlon Vaughn","Keith Nabars","Alexis Stevens","Rene Reyna","Jeffrey Stewart","Anton Baker","Gavin Williams","Sherman Horton","Derrick Woodhouse","Kentan Scott","Della Cotton","Edward Phelps","Hakeem Walton","Chad Carrasco","Cintrail Williams","Federico Martinez","Joshua Davis","Nathaniel Jackson","Taniya Johnson","Neriyah Beller","Christopher Thomas","Devante Watts","Junior Estudillo","Octavius Lamb","Kelvin Jemison","Devonta Grisson","Myron Brown","Ezquiel Velasquez","Ulysses Gissendanner","Michael Kozel","Demetrio Jiminez","David Kartzmark","Christopher Lattin Jr.","Angela Welch","Taison Moore","Lavonshay Cooper","Marcus Turner","Darvelle Brown","Tyshawn Blanton","Michael Santiago","Johnny Taylor","Brian Cross","Tyrone Soleberry","Marcus Wallace","Rey Dorantes","Victor Vega","Damian Barnes","Gregory Bady","Curtis Porter","Tyrone Lawson","Claudia Martinez","Jorge Valdez-Benitez","Marshall Fields-Hall","Jovantay Alexander","Layla Stewart","Elton Johnson","Ronald Peters","Ronnie Chambers","Allen Smiley","Peter Joseph","Willie Wilson","Norman Stokes","Dimitri Buford","Antonio Fenner","Gino Angotti","Devin Common","Hadiya Pendleton","Michelle Smith","Manuel Hernandez","Salvador Ponce","Sergio Mora","Christopher Roundtree","Marquis Anderson","Frances Colon","Oscar Marquez","Michael Powell","Cherie Adams","Curtria Duncan","Deshaun Williams","Donald Price","Ricardo Rivera","Andreas Avitia","William Strickland","Ramon Colon","Raymond Tucker","Jonylah Watkins","Edwin Obazuaye","Sanchez Mixon","Arrell Monegan","Victor Damian","Zeon Hernandez","Eber Ochoa-Deleon","Antonio Grey","Kenneth Johnson","Dowanda Williams","Antoine Lewis","Eugenio Solano","Akeem Manago","Johnathan Hoskins","Charles Bush","Dantario White","D'Angelo Simmons","Rollins Stamps","Michael Orozco","Robert Gholson","Cortney Young","Julius Campbell","Angelina Rodriguez","Kevin Sanders","Jonathan Santiago","Miguel Cancel","Larry Ranole","Donald Holman","Lucas Zimmerman","Andrew Prather","Ricardo Carlin","Cornelius German","Dane Whitfield","Dionta West","Andre Velazquez","Henry Atkins","Tytrell Jackson","Darrin Rodgers","Pierre Howelett","Eduardo Jaramillo","Denise Warfield","Kendrick Wright","Kevin Ambrose","Ricky Robertson","Blake Ross","Catherine Glenn","Ronald Baskin","Keith Spencer","Brandon Byars","Deandre Calahan","Jaelin Lusk-Slaughter","Jarell Dotson","Kyle Arrington","Marqui Thompson","Clifton Barrney","Ramar Bonner","Quintana Love","Keith Johnson","Shaneda Lawrence","Edward Jordan","Amy Martinez","Torri Stewart","Miguel Delaluz","Jose Reyes","Angel Cano","Antwon Price","Trevin Hullum","Willie Wimberly","Leetema Daniels","Tevin Kirkman","Gregory Dixon","Fearro Denard","Lino Diaz","Charles Jones","Malcolm Dobbey","Jauan Lewis","Freddie Walton","Michael Kizer","Scottie Cartledge","Vaughn Allison","Linda Williams","Patrick Sykes","Isaac Bolanos","Dionte Maxwell","Keith Sutton","Raphael Smith","Alberto Valencia","Miguel Villegas","Jessie Clark","George Anderson","Jeremiah Moore","Fredrick Taylor","Derrick Burrows","Virginia Spaulding","April McDaniel","Miguel Tharpe","Dwayne Duckworth","Fernando Mondragan","Brandon Cage","Robert Allen","McGregory Porter","Ricardo Herrera","Todd Wood","Kevin Rivera","Jamal Jones","Cortez Wilberton","Edward James Scott","Alexander Lagunas","Luis Santana","Vincent Mayes","Rene Segundo Soto","Uriel Guadarramo","James Wright","Carl Austin","Justin Jackson","Eduardo Venagas","Sarah Kresilova","Marissa Boyd-Stangley","Cortez Bailey","Robert Douglas","Tracey Gipson","Freddy Lara","Aaron Knox","Chavonne Brown","Sterling Sims","Malcolm Whitney","Shannon Ware","Jordan Jefferson","Stephon Miller","Terrence Graves","Ashley Hardmon","Damani Henard","William Jones","Rayford Brown","Ernest McMullen","Marlon Obanner","Steve Mabins","Theodis Young","Juan Zavala","Shavonte Howard","Elliott Frazier","Aurelia Wilborn","Jerimiah Milsap","Terry Patterson","Patricia Martin","Ramone Godfrey","Ed Cooper","Georgina Randell","Marquise Chandler","Baby Girl Martinez","Marlon Young","Jeremiah Brown","Darryl Green","Tommie Bates","Jeremy Morris","Gizzell Ford","Fernando Sanchez","Ernest Carter","Blake Lamb","Joseph Brewer, Jr.","Devonte Pearson","Alexander Mayo","Andre Bunton","Maurice Gibson","Carlos Barron","Wiliam Brown","Eugene Clark","Marcus Holden","Donald Lewis","Jose Ibarra","Kassandra Castillo","Carl Blackman","Tyrone Hart","Coby Bridgeman","Andrew Turner","Sterling McKenzie","Richard Pierce","Lterrick Benion","Cauirece Graham","Dovone Jackson","Anthony Price","Kevin Williams","Willie Clark","Francisco Chairez-Munoz","Clifton Balentine","Jonathan Murray","LeAndre Cooper","Demetrius Cooper","Jason Scott","Ricky Tolbert","Harold Cornell","Lamarius Tatum","Kenneth Barbour","Jacoby Herron","Ralph McNeal","Antonio Alves","Kelly Coca","Karla Eguez","Eric Chism","Lorenzo Feliciano","Dequantay Bingmon","Carlton Brown","Alameen Muhammad","Kyle Hogan","Jose Delafuenti","Daquan Boyd","Willie Bush","Antione Green","Bearling Robinson","Jeremy McGrone","Jerrell Brooks","Darius Oliver","Lenardo Allison","Ronald Henry","Omar Castel","Lavender Hearnes","Telkia Burns","Tayshaun Dyson","Ernest Pritchett III","Lakeisha Tate","Pierce Curry","James Haarman","Andre Bradford","Elvis Canfield","Dwan Long","Anthony Dickerson","Nina Rogers","Lamont Larkins","Rico Lawrence","Robert Gonzalez","Daniel Ortiz","John Atkins","Ramaine Hill","Carl Pate","John Wallace","Maurice Knowles","Frederick Brown","Jerome Howard","Burnadine Kinsey","Jeffrey Montgomery","Geanni Boyd","Emmanuel Bass","Allen Ross","Adrian Sianez","Joanna Lopez","Olawale Giwa","Jerelle Samuels","Ismael Rangel","Antonio Calhoun","Brian Rollins","Isaac Nkrumah","Miguel Delgado","Brandon Williams","Billy Sergent","Johnny Tinsey","Rubin Austin","Shawntina Purpo","Tommy McNeal","Jaleel Pearson","Brendan Temple","Robert Hart","Jamal Coleman","Mary Ann Urban-Danno","Theresa Urban","Alphonso Love","Geremy Hoover","April Dixon","Leonard Anderson","Demari Brown","Shouyna Burnett","Marcus Rush","Aiden Duke","Phillip Henderson","Jesse Gonzalez","Donnerick McGee","Louis Wherry","Arlanders Watkins","Cory Atwater","Jamal Harmon","Tavache Kizer","Salomon Morales","Eddie Murphy","Marjorie Ivy","Abdullah Trull","Darrius Morris","Sylvester Solomon","Ashton Pugh","Reginald Jackson","Jasmin Salas","Lionel Johnson","Anthony Williamson","Robert Murphy III","Demarcus Brandon","Martellis Griffis","William Aikens","Robert Franklin","Jonathan Neal","Fredrick Ollie","Erin Ziemendorf","Dante Mondragon","Todd Coleman","Steven Noble","Gregory Daniel","Sheldon McCraven","Bobby Pruitt-Williams","Marcus Gaiter","Saul Salgado","Luis Villasenor","Antonio Cooper","Jason Jernigan","Lady Diana Sanabria","Jose Rodriguez","Demarco Powell","Steven Marshall","Phillip Curtis","Aaron Hubbard","Uriel Quinones","Michael Sullivan","Divorite Diggins","Michael Walker","Amanda Fitch","Javier Gonzalez","Latasha Amos","Brandon Torres","Irbinzon Gonzalez","Rosa Maria Perez","Christopher Jacobs","Jeffery Whiters","Tyshon Anderson","Jeffrey Whiters","LaChris Hendricks","Mark Villanueva","Maria Gonzalez","Gentilis Williamson","Sherod Nesbitt","Mensa Kifle","Jeremy Bafunsho","Mason Smith","Jah'niyah White","Rafael Robinson","Demarco Lyons","Kevin Johnson","Deonte Womack","Demarcus Brandon","Anthony Rivers","Darnell Williams","Cayetano Sandoval","Michael Turner","Deangelo Shelton","Louis Berry","Kahlin Holloway","Ladarius Brisco","Christopher Ramirez","Willie Cooper","Eric Davis","Andre Hunter","Barnett Adams","Salvador Diaz","Jeffrey Anderson","Luciano Torres","Leroy Griffin","Donavan Turnage","Christopher Lang","Alexander Rodriguez","Natasha Green","Silvestre Diaz-Hernandez","Eric Hunt","Dennis Glover","Elijiah Johnson","Jermale Richardson","Craig Williams","Ronald Sawyer","Raymond Galloway","Stephanie Serrano","Willie Smith","Joseph Brittman","Marquise Harris","Kendre Davis","Geo Martinez","Kevin Baker","Lester Jones","Timothy Travis","Tremaine Scott","Salah Yousef Jaber Muhieddin","Harb Ibraihim Yousef Mohyddin","Alex Anderson","Edward Caridine","Jonathan Johnson","Elsaleem Mannie-El","Jose Nunez","Elsaleem Mannie-El,","Miguel Naverrette","Danny Melendez","Danny Melendez,","Tevin Bryant","Francisco Rufino","Mario Viramontes","Sixto Roman","Willie Buie","Markeyo Carr","Corey Williams","Lucy Wrobel","John Serpe","Ronald Hayes","Venzel Richardson","Andre Hughes","Adonta McCoy","Raymond Robinson","Regimond Maxwell Jr.","Davy Easterling","Davy Easterling,","Velma Howard","Michael Redmond","Javan Boyd","Eric Woods","Regimond Maxwell Jr","Cleotha Brooks Jr.","Theresa Spearman","Cleotha Brooks Jr","Robert Udrow","Herbert Goode","Rachel Garcia","Maurice Coleman","Lavita Jones","Michael Munoz","Deandre Baber","Chad Collins","Bernard Catalan","Terrell Wilson","Michael Stewart","Amierah Roberson","Paul Carter","Anthony Higgins","Gregory Shanks","Michael Tingling","Leannia Hall","Alonzo Williams","Jaquinton Walker","Eugene Matheny","Dorothy McGee","Anthony Morris","Marc Campbell","Jareem Jackson","Valentino Taylor","Omar Maslat","Michael Flournoy","Jordan Harris","Darnall Gordon","Adrian Soto","Mario Hess","Andres Servantes","Gakirah Barnes","Shannon Mack","Joshua Martinez","Corey Brownlee","Keno Glass","Trevolus Pickett","Anthony Bankhead","Baby Boy Mora","John Myles","Nicholas Ramirez","Darren Ray","Jordan Means","Veronica Rizzo-Acevedo","Juan Ocon","Timmy Bermudez","Quinton Jackson","Darius Kelly","Demario Collins","Joe Huff Jr.","Leonore Draper","Martavarian Emery","Jaquez Williams","Artez McBride","Cindy Bahena","Benito Juarez","Marvin Turner","Jacob Klepacz","Endia Martin","Larry Martin","Jeromy Ellis","Rickey Hayes","Antonio Mendez","Terrance McNeal","William Bailey","Jabari Davis","Jerald Calhoun","Jajuan Porter","Chasteddy Blocker","William Lomax","Summer Ann Moore","Cesar Nieves","Xavier Tripp","Vaughn Holeman","Victoria McManus","Gabriel Rios","Kevin Roberson","Charles Lee","Kendall Floyd","Aaron Rushing","Ashley Mendoza","Juwan Williams","Richard Miller","Kayshaun Hall","Leonard Goldman","Lewis Jenkins","Maurice Paschal","Robert Waldon","Brian McKinney","Kevin Diaz","Kenneth Anthony","Corteze Reed","Dashawn Johnson","Aaron Feazell","Lance Stanton","Vincent Simmons","Monte Tillman","Paul Pyron","Malcolm Stuckey","Craig Mitchell","Malcolm Stucky","Betty Howard","Malcolm Stuckey","Charles Short","McArthur Swindle","Nicholas Keener","De Angelo Russell","Debra Escobedo","Denero Appleton","Erik Kall","David Hernandez","Donald Williams","Darrien Jordan","Ronald Holliman","Derrick Bowens","Alante Vallejo","Carnesha Fort","Brian Weekly","Kennyone Pendelton","Laquisha Hickman","Nicole Loving","Paris Brown","Brett Ewing","Damian Williams","Dewey Knox","Brandon Peterson","Louis Winn","Brian Johnson","Daniel Jones","Mickel Brown","DeMarcus Boswell","DeKarlos Scott","Taurus Williams","Stanley Levy","Christopher Jones","Ovadiyah Chandler","Tony Purnell","Alan Campbell","Alfred Barnett","Andre Knight","Sharon Bonds","Eddie Jones","Albert Glover","Sonnie Ortiz","Tony Ervin","Ronnie Amos","Michael Patton","Lafayette Walton","Dakari Pargo","Jimero Starling","Shambreyh Barfield","Corey Hudson","Robert Cotton","Joel Bentley","Deandre Brown","Shaquille Ross","William Allen","Anthony Hobson","Kezon Lamb","Donald Ray","Shiquille Salter","Tonya Gunn","Joey Henderson","Cassius White","Jaynisha Scheffer","Marcel Pearson","Bruce Wright","Jasmine Curry","Damion Bryant","Addarius Thompson","William Lewis","Lawndale Nutall","Adam Lara","Nicholas Vaughan","Shamiya Adams","Kajaunce Morton","Brandon Wilson","Jaquan Hardy","Richard Velasquez","Eric Langham","Demond Parnell","Antwan James","Sam Aguilar","Darren Foggey","Anthony Edwards","Samuel Walker","Alvin Ivy","Sam Walker","Steven LaVoie","Orlando Lomax","Antonio Valentine","Devin Pope","Ramon Breceda Jr.","James Watson","Martrell Ross","Jerome Harris","Brian Davis","Vincente Obregon","Darryl Allison","Gabe Stevens","Kashif Tillis","Jeremiah Shaw","Jabari Scurlock","Dearies Arnold","Julio Perkins","Devonte Carthan","LaDarryl Walters","Walter Neely","Sherita Smith","Shaquise Buckner","Damian Rodriguez","Jason Seballos","Kardeon Glover","Amy Holmes-Sterling","Joel Wade","Seadl Commings","Dorval Jenkins","Hsin Su","Antonio Smith","Jadon Johnson","Michael Clark","Andre Byrd","James McCoy","Quentin Graham","Victor Martinon","Marcus McCarty","Amelio Johnson","Joseph Lewis","Arthur Shanklin","Antonio Goode","Erenbira Pimentel-Hernandez","Antonio Hobson","Johnny White","Darius Sept","Ernesto Garcia","Victor Ramirez","Paul Land","Antoine Stewart","Oscar Rodriguez","Nigell Vazquez","Raphael Watts","Giovanni Galindo","Desmond Gunawardana","Miran Cerimagic","Decari Spivey","Nabil Batroukh","Christopher Guadarrama","Shaquille Holmes","Edward Davis","Martell Robinson","Juan Carlos Villalobos Avila","Malcolm Warnsby","Terry Cook","Gabriel Meneses","Michael Wright","Glenford Johnson","Michael Bloodson","Charles Labon","Tamica Riley","Christopher McGhee","Kawantis Montgomery","Justin Marcado","Kamaal Burton","Devonshay Lofton","Dimitre Beck","Leon Austin","Markise Darling","Cortez Rivers","Davontae Harrison","Richard Johnson","Mondele Heard","Arthur Hearn","Deandre Ellis","Malachi Baldwin","Jose Rios","Leroyce Noel","Victoria Kotlinski","Ania Kosinska","Demureya Macon","Miguel Hernandez","Stanley Macon Jr.","Shandel Adams","Camerion Blair","Raymond Murray","Tony McIntosh","Hezekiah Harper-Bey","Milan Lekich","Torrente Pickens","Jackie Roberson","Daniel Jackson","Larry Lee","Damani Chenier","Roddy Comer","Eddie Taylor","Juan Mercado","Joseph Kamen","Alexander Smith","Rodney Wilson","Travis Wright","Genorel Martin","Alexandra Burgos","Laquan McDonald","Matthew Stanton","Stanley Bobo","Reginald Boston","Tepete Davis","Denzell Franklin","Charles Wright","Marc Williams","David Morgan","Bobby Moore","Darryl Owens Jr.","Owen Spears","Oduro Yeboah","Thomas Sanchez","Pierre Peters","Chang Qui","Rayvon Little","Andre Johnson Jr.","Andre Brown","Doug Chambliss","Darrell Tolbert","Gregory McKinney","Joseph Lewis","Lydell Lynch","Donnell Coakley","Kyle Robertson","Deon Gilbert","Johnathan Cartwright","Rogelio Margil","Willis Jefferson","Luis Zuniga","Abylbek Yzabekov","Walter Velez","Aaron Starling","Jataris Arnold","Anthony Jackson","Zoraida Feliciano","Nacurvie Smith","Kendall Warren","Dalon Mobley","Robert Leverett","Larry Thomas","Derick Coopwood","Tyris Ferguson","Krystal Jackson","David Kennedy","Jeffrey Daniels","Ladarius Edwards","Leroy Stinson","Jahakel Clark","Joshua Rockett","Nadia Ezeldein","Oscar Garcia","Darnell Williams","Demond Avant","Mutahir Rauf","James Sweeten","Cedric Goodwin","Tyler Ellis","Guillermo Ocampo","Guvonni Johnson","Leonardo Matias","Marrecus Garrett","Timothy Quirk","Rolando Leon","Tyrece Stornes","Demario Bailey","Shamar Thompson","Torrance Bell","Tyrone Johnson","Matthew Dowdell","Omar Flores","Jose Hernandez","Donatello Herrera","Drequan Archie","Yvonne Augustus","Johnny Coria","Miguel Haro","Ron Hernandez","Ricardo Ruvalcaba","Youman McKenzie","Hakizimana Scott","Trevon Williams","Abraham Cooper","Glenn Houston, Jr.","Dennis Jones","David Drayton","Danial Zaffar","Dominic Delk","James Bradley","Bobby Norwood","Jonathan Lewis","Reginald Jones","Randy James","Marsalis Holman","Damita Collins","Larry Edwards","Joe Bennett","Corie Williams","Chinedu Madu","Johnny Kimble","Michael Harrison","Rene Arredondo","Terrell Campbell","Terrence Harris","Walter Wright","Cornelius Hunter","Bernard Pippen","Shawn Holloway","Derrick McIntyre","Heath Huntspon","Edwin Cook","Darriel Woods","Tyree Harris","Anfernee Durant","Arturo Olivera","Alexander Villafane","Angelo Porter","Mayron Collier","Israel Pena","Leandrew Harper","Savoy Young","Abraham Burgos","Antonio Gamboa","Cierra Moore","Linda Sanders","Curtis Lyons","Kenneth Guise","Janice Coleman","Anthony Diaz","Jamaine McDaniel","Robert Smith","Sherrell Wayne","Jorge Ruiz","Cleveland Head","Lynell Bradley Jr.","Julio Ramos","Malcolm Tompkins","Demarcus Adams","Swan Lockhart","Demarcus Nelson","Derrius Drakes","Bernard Monroe","Albert Turnage","Antinino Walker","Deonte Hoard","Santos Bueno","Jonathan Martinez","Juan Martinez","Linda Soto","Margaret Noble","Rose Herrera","Troy Phelon","Odell Branch","Larry Hardwin","Talal Aljohani","Giovanni Matos","Andre Chatman","Carey Hollis","Elijiah Moore","Deonta Jackson","Juan Warrior","Joseph Burdine","Fabian Echevarria","James White","Terrell Foster","Alexander Colon","Delia Colunga","Dushanti Hassell","Anthony Hayes","Edgar Muneton","Antoine Coney","Uchenna Agina","Michael Ricks","Ronnie Finch Jr.","Keith Stokes","Savon Davis","Susan Mangino-Watson","DuJuane Hall","Joyce Terrel","Charles Gray","Juan Simpson","Quentin Thompson","Jerome Anderson","Azun Buckner","Martell Lawrence","Carvis Milon","Mikal Johnson","Devante Warnsby","Sandra Fellows","David Finney","Christopher Johnson","Brent Nelson","Jennifer Ponton","Bernadette Glomski","Courtney Jackson","Hermenegildo Vilchis","Michelle Malave","Jimmy Madrid","Luis A. Perez","Marshawn Fleming","D'Montre Smith","Jeremy Collins","Mechelle Lewis","Jaquille Reams","Amari Sutton","Rashad A. Abdullah","Nicole Towns","Javante Linson","Timothy Triplett","Ivan S. Kennedy","Eric Washington","Ismael Lopez","Boshaun Jackson","Justin Blanks","Joseph Wayne Luttien","Brian Pridgeon","Kelvin L. Davis","Erica D. Blackman","Nyrere Lloyd","Jerren Jackson","Joseph Williams","Antonio Galtney","Verna Tobicoe","Theo Hike","Marcus D. Franklin","Frankie Smith","Louis Walker","Terrance Canady","Shamari Salter","Jonathan Garcia","Alvin Randolph","Ronnie Montgomery","Laphonso Harrison","Morial Ewing","Maria Sadelski","Edward Maslon","Terrion Mitchell","Ramon Gartman","Eric Magna","Daniel Rivera","Charlie R. Weathers","Carlos Marino","Darius Lee","Ruben Feliciano","Raheem Dameron","Deja Atwood","Lasean Barnes","Xavier Shannon","Robert Richmond","Ronnie Shaw","Felix Diaz","John Rainey","Maria Herrera","Carlos Herrera","Shaquon Thomas","Rudy Avina","Demetrius Hill Jr.","Kristopher Claybon","Kevin O'Malley","Jose L. Velasquez","Byron Driver","Donald Hall","Odell Brown","Master G. Roberson","Graig Stewart","Steven Delatorre","Kenneth L. Williams","Demetrius M. Peebles","Juan Ugalde","Laurance Boyd","Richard Edwards","Jossean Rueda","Richard Rodriquez","Kevin Ross","Jeremy Salinas","Arkeem Shepherd","Devonte Terry","Marquis Chamberlain","Abdula Tate","Dennis Hoosier","Benson Collins","Arthur Wyatt","Kelly Burrell","Thomas Sawyer","David Martinez Jr.","Byron Floyd","Lawrence M. Cox","Demetrius R. Bottom","Martese Gentry","Kimon De'Shon Wheeler","Sam Johnson","Clifton Frye","Shannon Harper","Hammond Dawoudi","Lynell Simmons","Chad Harris","James Jones","Nija Richardson","Cordelro McGee","Lucille T. Barnes","Christan Barlow","Devon Davis","Negeal Smith","Devone Matthews","Eric Turner","Joaquin Rocha","Joseph Rivera","Martell L. Smith","Angelica Escamilla","Adrian Campos","Avery Williams","Vanessa V. Taylor","Edgar Colon","Joseph Gutierrez","Moses Van Pelt","Vonzell Banks","Jose Hernandez","Grover Tate","Anthony Strong","Willie Hunter","John L. Hunter","Dominic Fairley Jr.","John Perry","Amari Brown","Jeremy Spivey","Abayomi Okanlawon","Samson Pension-Smith","Joseph Gaithers","Timothy T. Williams","Kimythe Hubbard","Jovan Dovantae Hopkins","Amon D. Shannon","Keith C. Dixon","Dillan Harris","Tarvares Herron","Eric Loyd","Marvin Carr","Pierre M. Dobyne","Abel Ruvalcaba","Jose Neri","Dimarkiss Scott","Malcolm Willie","Jesus Cervantes","Joel Cervantes","Manuel Arizaga","Marsean Lofton","Vallan K. Francis","Jose Luzianos Jr.","Latoya Jackson","Jemel OBrien","Elbert Farris","Charzelle Harris","Kevin Davis","Cass Singleton","Donell Morrison","Joshua Moore","Joseph Campbell","David Moreno","Darron Thomas","Kenneth J. Wallace","Mujahadeen Muhammad","Corey Wallace","Alprentiss Nash","Jesse Diaz","Taylor J. Lewis","Spencer Stewart","Chris Green","Honorio Hernandez","Vaughn King Jr.","Elton Buie","Adarius D. Hayes","Pierre Resse","William L. Drake","Briona O. White","Paul King","Michael George Walton","Torri Williams","Marquise Mitchell","Marlin J. Dixon III","Marlon Dixon","Demetrius Wooten","Ricardo Mendez-Bucio","Leroy Kelly Jr.","Alma Hernandez","Alex Malone","Cassanova West","Jerome Phelps","Christopher Doyle","Tavaris Heightie","William D. Andrews Jr.","Caprice McCollum Jr.","Dwayne L. Thomas","Randy Leavell","Isaac Acevedo Jr.","Michael Lomec","Cory Fisher","Adriana Reyes","Jorge Vargas","Leonardo Morales","David Caston","Raul Lagunas","James Douthard","Margaret Silas","Willie Owens","Hughvon Polk","William Carter","Marshaun Black","Reginald Sanson","Kortney Blakes","John Short","Wesley Kelly","Calvin McConnell","Lester Weatherspoon","DeJaun Pitchford","Adrian Jeffries","Lloyd White","Kevin Nichols","Tyris R. Jackson","Orlando Calderon","Dan Rance","Ira Washington","Robert Anderson","Jimmy Tripp","Daniel Guerra","Marcus Weathers","Michael Gibbs","Troy Burtin","Craig Bannister","Vuan Evans","John Stewart","Claudia Mister","Antwan D. McCray","Emmett Marsh","Kyrian Knox","Leonard J. Williams-Tate","Jamaal Barney","Shaquandra Ratliff","Lavell Southern","Reba Wagner","Deandre Myles","Derrick Simpson","Rocky Weekes","Wilfred Santiago","Laneesha Miller","Ashton Simpson","Akim Gaddis","Jaylyn D. Rounsaville","Jarrel Lovelace","Timothy D. Lawrence","Izzah Readus","Albert Gonzalez","Armonni Nelson","John Buckner","John Davis","Anthony Galvan","Zika Urosevic","Tyjuan Poindexter","Deionte D. Harris","Phillip Floro","Torrence Bearden","Charles Lewis","Marquis Adams","Tyjuan Lewis","Joseph Smith","Marsolino White","Jermel Clay","Darian Gunn","Neal Bratcher","Alexander Velazquez","Joshua Dean","Courtney Caldwell","Quinton D. Goins","Marcus Cox","Abraham Barrera","Patricia Chew","Lolita Wells","Dwayne Frazier Jr.","Tyrone Spikes","Timothy Jones","Ayanna Northern","Antian Hardmon","Laprentis Cudjo","Hector Navarro","Craig Curry","Jonathan Pulido","DeAngelo Birge","Davion Funches","Lance Braxton","Kiyon Evans","Eric Garth","Alston Ronnie McNeal","Kevin Hughes","Juan Cardenas","Tracey Morgan","Michael Fenner Jr.","Henry R. Hayes","Dameon Williams","David Thomas","Eian Santiago","Dwayne Richardson","Dwayne Robinson","Brianna Jenkins","Terontay Atkinson","Derrick Smith","Malek Taylor","James K. Graham","Fredrick Dockery","Maria Moreno","Ryan Nicholson","Perry Burrell","Rashad Stokes","Josephine Johnson","Dorian D. Smith","Eric T. Jones","Tyshawn Lee","Kaylyn Pryor","Marlon Spivey","Jerald Strong","Jamar Jackson","Felex McGhee","J'Quantae Riles","Bernard Howard","Michael A. Johnson","Mark Anthony Hayes","James Mitchell","Terrell Peterson","Baby Jane Uddin","Lee M. Fields","Eric Jordan","Noel Burrell","Quina L. Jackson","Rashad Taylor","Lamar Battle","Juan Harris","Jacques Barnes","Antonio Williams","George Carrero","Tamar Moore","Mysean Dunning","Kenneth Noble","Jontaye Walker","Christopher Williams","Hommy Vega","Tyris Washington","Carlos Romo","Elliana Claiborne","Antone Lavail Sims","Jimmy Jenkins","Maurice Jackson","Ty'Sean Rollins","Gabriel Claudio","Anthony Bowers","Jose Arreola","Lamont Alexander","Frankie Gutierrez","Brandon Miles","Kenneth Turner","Joseph Graves","Andre D. Donner Jr.","Robert Parra","Javier Enriquez","Brandon McKnight","Christopher Keys","Willie Clifton","Lutredze Evans","Lawrence Pitts","Fredell Bryant","Deovolente Simmons","Ieshea N. Abdullah","Randy Kimball","Nathan Smith","Christopher Ruffin","Craig Harris","Eugene Bailey","Angelo Frazier","Jose L. Lopez","Jacquez Price","Ashley Eddings","Tyree White","Keith West","Xavier Thornton","Deandre Holiday","Roderick Snowden","Donzell M. Davis","Antwan McBee","Jeffrey A. Mattix","Jose Rodriguez","Donta Parker","Sakinah Reed","Jonathan Jimenez","Ronald Jerome Clarke","Franklin Carlos Aguilar","Eskin Palm","David Gonzalez","Matthew Ehrenberg","Raymon Blount","Pablo Ulloa","Darius C.E. Brown","Erick L. Lacey","Keshawn Marzette","William Larson","Ronell Andrews","Elliott Brown","Phillip Dupree","Antonio Pollards","Michael L. Fernandez","George Anderson","Henry Cruz","Quante Little","Corey Ferguson","Rene Ramirez","Giovanni Salgado","Lionell Williams","Martel Howard","Juan C. Gonzalez","Deante Dale","Courtney Taylor","Derrius Lares","Alphonzo Guinyard","Orlando McArther","Trevon Stiger","Torrence Dortch","Davon Horace","David Martinez","Senclair Hill","Robert Howard","Cory Brown","Claude Cannon","Allen R. Levin","Jermiron Morris","Algie Ferguson","Martice White","Damon Allen Jr.","Floyd Hodges","Demorrow Stephens","Alan Garcia","Roberto Sanchez","Charles Smith","Reginald Brown","Edward Flowers","Paul Sappington","Matabias Biles","Hector Del Rio","Martel Anderson","Maria Ramos","Noe Martinez Sr.","Leonardo Cruz","Rosaura Hernandez","Alexis Cruz","Noe Martinez Jr.","Maria Herminia Martinez","John Mackey","Tony Jones","Aaren O'Connor","Matthew M. Williams","Marques Gaines","Dwight Hughes Jr.","James Lewis","Hassan Childs","Lazane Clark","Reginald Bonner","Latania Anderson","Terrell Peters","Vincente Avila","Lorenzo Garcia","Jeremy D. Hunter","Steven Tate","Lawrence Campbell III","Iaron Brooks","Rashawn Gooden Jr.","Jonathan Luna","Tiana Brown","Richard Thrasher","Terrell Sykes","Raheem L. Robinson","Brian Johnson","Maricela Villegas","Carlos James Hemphil","Nicholas Sion Robinson","Jesus Reyes-Ortiz","Kamil Shamji","Diamond Garner","Shandale Neal","Djuan Williams","Shari Graham","Eric D. Henry Jr.","Frederick L. Brown","William Bustos","Darrin Joss","Tommie Pledge","Natyia K. Bowen","Wavey Brown","Courtney Copeland","Maurice K. Cavin","Gerardo Rodriguez","Ronald Thomas","Cesar Perez","Daysha Wright","Askie Wajd","Paul Woods","Orlando Porter","Tarell Adams","William Smith","Ricardo Montes","Andre Taylor","Marvelle Arnold","Charis Vernell Eaton","Kenneth Renaldo Brown","Antoine Crowder","Taylor Flowers","Lamar Harris","Victor Navarrette","Lucas Spicer","Jeannette Laureano","Tyree D. Grant","Lorenzo Lonnell Lancaster","Jeanette Laureano","Christian Ortiz","Marteace Tiffith","Eric O'Reilly","Marcus Smith","Alcaraz C. Reyes","Jarvis Coleman","Antonio Robert Johnson","Mario Ramirez Jr.","Armani Dickinson","Andrew Love","Cordero Mosley","Cashes McCree","Brion Barlow","Luis Gonzalez","Alejandro Velazquez-Perez","Dejenaba Altman","Demetrius Tolliver","Mario E. Guzman","William George","Petro Rymar","Angel Ortiz","Anthony Heatherly","Babette Miller","Gerwancey Rambus","Aurelio Guzman","Marvin Lee","Deandre D. Trotter","Jonathan Sanchez-Rosales","Marcus Smith","Ramon Ramirez","Lauren Membreno","Diangelo Black","Dennis Bradford III","Arturo Pina","Pierre Loury","Davion Spivey","Pierre Payne","Raymond Pryor","Andrew H. Haynes","Fredrick Lee Blount","Jason Napoles","Michael Williams Jr.","Damond A. Dawson","Kenneth Allen","Kimberly Schnackenberg","Tiara Parks","Gino Carrasco","Justin T. Bowman","Devin Hamb","Darrell Wilson","Davon Barrett","Davharea Wilson","Pierre Island","Glenn Wheeler","Deitrick Stogner","Guadalupe Chavez","Lamar Watson","Willie Pratt","Robert Roseneau","Leonardo Betancourt","Randle Young","Karina Soria-Bautista","Antonio White","Jeremy Parker","Jesus Juarez","Devan Watson","Timothy Hill","Eddy Brooks","Dandre E. Johnson","Terrell Berkhart","Najee Williams","Andres Rivera","Keon Lewis","Michael Montgomery","Carl Handley","Nathan Hicks","Deshawn Thompson","Kourtney Young","Ladarrius Jackson","Michael Cunningham","Jeremy Hosey","Michael Johnson","Kimble Knox","Deangelo Diggines","Marquel Sharp","Ira Cotton","Jerome Wright","Markeesha Starks","Lee McCullum III","Kiara Kinard","Michael Harmon","Mark Vargas","De'Kayla Dansberry","Kevin Milton","Albert Hurd","Willie Jones","Camille Cooley","Marco Mendez","Stacey Fluckes","Eric Nieves","Ashraf Sennouni","Maurice Johnston","James Hooks","Romaine May","Marcus Patrick","Damarcus Williams","Yvonne Nelson","Prince Wilson","David Lee Easley","Michael Wickliffe","Semial Sigle","Gregory Carr","Trevonne Austin","Gerald Sias","Mark Lindsey","Shawn Euing","Kevin Larry","Marshawn Cooper","Veronica Lopez","Damien Cionzynski","Garvin Whitmore","James Taylor","Johan Jean","Fabian Lavinder","Pamela Johnson","Kevin M. Atkins","Kaysar Chako","Victor Felix","Marshawn Clinkscale","Jamaal Bellamy","Henry S. McCann Jr.","Daniel Alcantana","Christian Bandemer","Anthony Howard","Bryson Holman","William Palmer","Darnell Hardeman","Kori O. Sellers","Carmen Maria Vanegas","Dontay Murray","Anreco D. Nichols","Anthony Williams","Sami Talab Salaymeh","Lanarris Webster","Paul Webster","Jeremy H. Ray","Terry Bates Jr.","Christopher Field","Travell Montgomery","Dwayne T. Triplett","Javil Nunn","Antwon Brooks","Jordan Liggins","Steven Edwards","Darryl M. Ferguson","Adrian Watson","Davion Barron","Antoine Randle","Antonio Perkins","Angelo Davis","Demetrius Archer","Denzel D. Thornton","Jeremy Rogers","Victor Robinson","Evette West","Charles Wiley","Melvin Cook","Margaret Shanahan","Alejandro Fuentes","Eric Knox","Latrell McMahon","Michael Brown","Carlton Hall","Eric Smith","George Morgan","Salvador Suarez","Otis Richmond","Ramal Hick","Eugene Singleton","Stanley Boston","Trevell Parker","Eric Burgin","Reginald Turner","Brandon Nolls","Jeremy Clark","Trayvon Wilson","Wondale Collier","Selton Ellis","Frederick Johnson","Lonnie King","Dujuan Williams","Alfondia Kelly","Larry Lawrence","Chanda Foreman","Kenneth D. Whitaker","Robert Vaughn","Hector Badillo Jr.","Travon Clemmons","Michael Griffin","Mecahel Holder","Laron McCoy","Derion Smith","JQuinn McCune","Carlos De Lourdes","Kendall Smith","Leander E. Winford II","Demetrius Warren","Glennell Fairley","James R. Moore","Rodney Wayne Phillips Orr","Daniel Watkins","Anthony Thomas","Kensuan Ward","Marwan Sadeq","Bryan Cooley","Rachee Williams","Loyd Daniel","Carlos Harding","Chureno Gatewood","Raygene Jackson","Travon D. Smith","Aetiris Gladney","Darrell Peden","Kashawn Johnson","Anthony J. Nicholas","Jamie Varvaris","Kyara Newell","Ernest Hudson","Katana Symone Greenlee","Kristopher Weiss","Taylon Hughes","Jonathan Mills","Vincent Davis Sr.","Keon Boyd","Africa S. Bass","Demetrius Paskel","Keith Jackson","Demarius Roseman","Denzel M. Childs","Kayana Q. Armond","Johnathan Lane","Paul Farlinger","Denear Dashaun Scott","Mbiganyi Lashan","Ural J. Durant","Marteace Rhone","Roy Bergman","Jeffery Arnold Jr.","Latrell Gipson","Miguel Diaz","Donta J. Lee","Manuel Aguilar","Ronnie Hutchen","Penelope Gearhart","David J. Plank","Michael Montgomery","Toryius Keefer","Delance Price","Miguel Bahena","Maurice Selvy","Mario Venegas Jr.","Corey Buckner","Luis Marin","Victor Alvarado","Everick Coleman","Cory Hughes","Ireal C. Mitchell","William Villa","Lee Martin","John Hosey Jr.","Erik L. Williams","Michael Lucas","Denzell Mickiel","Demarco Kennedy","Andre Jackson","Anthony Hatchett","Cortez Tate","Demarco V. Kennedy","Julius Maurice Coleman","Stephan Triplett","Jamie Williams","Dontae Roberts","Winston Delaney","David McCray","Johnny J. Butler","Johnathan L. Stewart","Abner B. Garcia","Louis Carrasquillo","Yanong Woods","Alfonso R. Kyles","Derrick Canady","Antoine Johnson","Anthony Nelson","Ladrell Brown","Arshell Dennis III","Vincent Winkfield","Chavaris D. Guider","Aaron Marquise Brown","Kenneth Carrington","Mikel Maragh","Kirino Fabian","Tyshun Jones","Chavrone Finley","Martel McCary","Miles Alexander Kent","John Alexander","Mario Mojica-Rios","Daniel Delgado","Malik Causey","Jesus Valois","Kendrick Thorton","Darius Brownlee","Mario Cousins","Tykina Ali","Christopher Hibbler","Madison Watson","Kirk Johnson","Melanie Watson","Shaniya Staples","Victor Mata","Johnell Johnson","Travis Allen","Rashon Purnell","Nykea Aldridge","Robert Kraft","Corey Strothers Jr.","Ramon M. Tolbert","Dylan N. Dent","Mahadi Hering","Danny Darling","Demarco Richards","Terrence Murphy","Omar Kent","William C. Smith","Raheem Gray","Roberto Rodriguez Jr.","Othijah Mooney","Jamarh Carter","Elijah Sims","Brian B. Winters","DeLon Sims","Hani Yousef","Armani Fierro","Malik Philpot","Stephen Toplin","Juan Pita-Rosas","Jerry Lee Cummings","Louis Rodriguez","John McKinley","Tony Saffore","Salvador Muniz","KeeKee Fleming","Sergio Zaragoza","Michael Buckner","Alixander Townsend","Ahmad N. Morgan","Shaquille Alexander","Venancio Veracruz Benitez","Demetrius Griffin Jr.","Tontrice Weathersby Jr.","Parasha M. Beard","Kiev Dobbins","Marquese Fleming","Maurice McKnight","Eddie Huff","Miguel Williams","Donald Carter Bruson","Miguel Williams","Eric Bank","Bruce E. Smith","Lee Stemley","Izael McKenzie","Jose Vizcarra","Jewneus Clifford Wilson","Nathan V. Watson","Peter Fabbri","Reginald Fleming Jr.","Jevon OBrien","Alvonta Pinex","Arian J. Smith","Byron C. Walker","Jonathan Ortiz","Naome Zuber","Lazerrick Ratliff","Corvus Humphries","Samuel Michael Rockett Jr.","Adrianna Mayes","Tyrone White","Antonio Lee","Julia Martin","Martell Rhodes","Tommie Darling","Rolando Gamino","Raheem Dismukes","Maurice L. Hilliard","Aaron M. Smith","Devante Norwood","Aaron Jackson","Tony Hussaini","Jarmale Richardson","Trasean Stokes","Jeffrey Brinson","Jermale Richardson","Faizon Smith","Jamal Thomas","Davon P. Smith","Vincent Zarco","Gene Williams","Gregory Dion Tucker Jr.","Latwon A. Rogers","Ronald McBee","Timothy Agnew","Jamar Robinson","Luis Romero","Marilyn Duffie","Alejandro Morales","Christopher Walters","Giovanni Galvan","Jason Balboa","DeAndre Walton","Hernando Lamont Caster","Brian Fields","Chiquita Ford","Steven Cowan","Aaron Bennett","Demarco Webster Jr.","Martell Turner","Tyrice Anderson","Luis Corona","Edward Bryant","Edwin Bryant","Raqkown Ricks","Lindsey Anderson","Walter McCurry","Gilbert Leroy Wainwright III","Kevin Wilson","Mark Higgins Jr.","Gerald Gordon","Donald Dockery","Douglas Bowman","Raymond D. Griffin","Tidarrius Smith","Richard Porter","Terrell Griffin","Larry Matthews","Gregory Wong","Emoni House","Elijah House","Aliser Maldonado","Solomon Walker","Francisco Guzman","Seneka Harrison","Steven Hicks","Deon Virges","Cynthia D. Richardson","Joshua Beal","Elijah Terry","Rushun Markis Gaddis","Adama Moye","Raiylana Vasquez","Kevin Faulkner","Keith Hayes Jr.","Travis R. Harris","Luis Villa","Orpheus Washington","Jeremiah Parker","Manuel Vega","Clarence Coakley","Giovanni Garcia","Javoun Burnes","Louis Antonio Torres","Lorenzo Dixon","Darian Tyler","Tridell Parker","Grayson Langdon","Harry Cannon Jr.","Taurus Williams","Victor Fernando Garcia","Aaron Perez","Renee M. Davis","Roy Love","David Martinez","Michael Anderson","Joseph Anderson","Jarod Morris","Elijah Murphy","Eddie King","Javon Wilson","Darius Jones","Guadalupe Saucedo-Garcia","Simion Jackson","Kevin Shorter","Michael M. Gipson","Odell Jones","Abimbola Sheleru","Paul Cruz","Matthew Rodgers","Zenan Hernandez","Ketrell Hill","Deshawn Adams","Kajuan Raye","Moises Antonio Gonzalez","Diego Alvarado","Thomas Smith","Jeffery J. Banks","Cleotha Mitchell","Dequan M. Barnett","Gregory Thomas-Bell","Richard Grimes","Rickey J. King","Delvon Weston","Erik Peoples","Jamie Cervantes","Leny Cervantes","Charles Johnson","Addonis Johnson","Gregorio Aguilar","Trayvon Dickerson","Mandle Lee Johnson III","Marqual Donell Bailey","Reginald G. Smith","Ronald L. Allen","Curtis Nowells","Carl Jones","Christopher B. Lucket","Ed Brown","Antron Young","Bartiomiej Barczyk","Deangelo Martin","Darren Smith","Lafayette Montgomery","Elijah Jones","Sylvester Rainge","Timothy Harmon","Nathaniel Lewis-Edwards","Otis Hatchett","Derrick Swanigan","Shaqwon I. Stidhun","Anthony Barr","Lawrence T. Matchem","Quenten Wright","Anthony Shorter","Antonian T. Mixon","Antonian T. Mixon","Crispin Coliz Jr.","Lavaris Johnson","Michael Newell","Corey Martin","Arturo Zizumbo","Daniel H. Torres","Nateyah Hines","Elijah Jackson","Shacora Jackson","Scott Thompson","Joel Planas","Richard Chambers","Derrick Jones","Stephen Tucker","Juan Gonzalez","Demetrius L. Newell","James Gill","Roy Gill III","Jamil Farley","Jerry Thomas","Niko L. Walker","David McClure","Fabian Ortega","Jamil Al-Shaubi","Christopher D. Brown","Matthew L. Herring","Yuri Hardy","Gregory Livingston III","Andre D. Lacaze","Louis Pena","Carlos James","Karonda Hill-Meyers","Carlos R. Fitz","Willie Woodus","Clavonte Eubanks","Geovani Mexicano","Edwin Chuy Cutzal","Pricilla Gloria Reyes","Walter Long Jr.","Alvin Stoll","Aliya Acosta","Michelle Robey","Keenan Turner","Tenisha Mallet","Taurins Pope","Steven C. Jackson","Ryan Ellis","Malike Ellis","James Johnson","Lazarec Collins","Lavontay White Jr.","Takiya Holmes","Eddie Wade","Chad Robertson","Iveill Hudson","Maximiliano J. Arroyo","Willie Cook","Eddie Thomas","Travis Joseph","John Gonzalez","Delray Talbert","Michael Harrington","Justin Thomas","Tiara Richmond","Devell L. Coleman","Malik Bingham","Wilteeah Jones","Bobbie Jackson","Jose Correa","Willie Shaw","Jon Shupe","A\u2019Miracle Jones","Lance A. Jefferson","Samuel Head","James Morris","Jose Rosas","Janylah Mack","Diamond Turner","Antoine D. Watkins","Kamari Belmont","Clarence Thart","Darrius Ellis","Daryn Beach","Lavelle D. Morgan","Emanuel Ruff","Alex Strong","Lavelle Cox","Jawon C. Carter","Rolan T. Johnson","Jarrod Johnson","Miguel Cabrales Vasquez","Chaz Johnson","Quentin Payton","Robert Crenshaw","Devontae Watson","Vogels Anderson","Ryan Hamilton","Donovan Swint","Joanna Stawiarska","Titus Jackson","Charles Luckett","Ishmael Jackson","Jason Barrett","Cedric Adkins-Malone","Tomorry Hill","Laquan Allen","Tanisha Jackson","Darmayah Smith","Cornell M. Patrick","Dominique Victoria Scott","Jerry Jacobs","Patrice L. Calvin","Emmanuel C. Stokes","Edwin Davis","Raheam Jackson","Dillon Jackson","Romille McCall","Terry D. Torrence","Robert L. Cox","Courtney Lewis","Peir Charvell Minor","Deonta Turner","Lemont Davis","Diego Villada","George Dehart","Ronnie Smith Jr.","Kahari Stovall","Arsennial Allen","Byron McKinney","Loren Flensborg","Carlos Rosas","Shane Collier","Adam Salas","Alfonso Calderon","Donald Johnson","Eric Kellum","Dorian Tompkins","Emmauel Reid","Raymond Myles","Keshawn Slaughter","Fontaine T. Sanders","Darian Cobbs","Tywan Anderson","Javontay Tolliver","Christopher Reed","Marcus Triplett","Jacquetta Pearson","Brittany Leflore","Jeremy Scullark","Hassan R. Sutton","Armani Horton","Fredrick Stewart","Marcel Spivey Jr.","Ryan D. Thornton","Isaiah Sanchez","Santwon D. Mobley","Tony Britton Jr.","Taurean D. Tyler","Willy A. Franklin","Darlis Nkolomoni","David Haynes Jr.","Ulysses Pole III","Adrian Nieves","Alfred Stovall Jr.","Robert Homes","Xavier Soto","Johnta McComb","Edgar Romero","Harry Davis","Michael Williams","Adriana Williams","Daniel Cordova","Jesus Escobar","Jaime Arceo","Jermaine Brown","Kaveon Walton","Jesse Woods III","Jacobie James","Derrick Nelson","Terrance Bingham","Tatyanna Lewis","Jerry William Austin","Zieyeal Easterling","Donnell Hudson","Breyon K. Cowans","DeShawn Johnson","Jamari Richmond","Devonta Brownlee","Warren Delton","Antonio Vaughn","Terrance Johnson","Jonathan Green","Melvin McCray","Rashad Wells","Naisha Weems","Tashika Manuel-Dunbar","James D. King","Rayshon Price","Cortez Brown","Juan Carlos Olivarez","Tina Brown","Jerrell Johnson Jr.","Johnny Graves","Antoine Alexander","Jamie Jones","Jose Gomez","Lamanta Reese","Alandis Allison","Bobby Lloyd","Chastity Johnson","Scott Coleman","Brandon Phipps","Oscar Bravo","Daishawn Moore","Tiara Goodman","Oscar Clay","Jaywan Freeman","Jervon Morris","Tevin Davis","Krystoffer Kelly","Marcus Childs","Antonio Larry","Marcus Jackson","Davion Tony","Antonio Wilson","Anthony Galvin Jr.","Corsean Lewis","Jamal Webb","Marshall Palm","Novajah Ringgold","Quinton Flowers","Mauriaze Cossom","Shantae Nevith","Edward Mason","Trevontez Morris","Devonta Dorsey","Bruce Williams","Malcolm Gayles","Tryce Caver","Kyra Young","Corey Hill Jr.","Jacques Mack","James Rice","Xavier O. Joy","Isaac Reed","Louis Chamness","Romaine L. Elkins","Ivan Gutierrez","Dontae Thomas","Christian Rodriguez","Fredrick Vasquez","Alexis Stubbs","Jose D. Maldonado","Julio Garcia-Lara","Dana Matthews","Clancy Beasley","Bruce Crosby","Emon S. Oneal","Roy Winters","Demonis Johnson","Christopher Johnson","Deandre Smith","Jesus Menviola","Charles Smith Jr.","Ahmad Smith","Gene Gordon","Deshawn Boswell","Sherrod Rhyme","Nicholas Smith","Dario Balderrama","Raven Lemons","Tiara Viramontes","Jazebel Aleman","Johnnie Ervin","Shirley Ervin","Jaquarius Davis","Christian Fulgham","Joseph Henderson","Deandre Robinson","Antwon High","Duan Armfield","Lisa Fisher","Chris Williams","Mishawn Green","Catherine Saterfield-Buchanan","Deangelo Pleasant","Andre Baker","Maurice Purnell","Alfredo Loza","David Hobson Jr.","Ira Johnson","Arthur McGraw","Romeo Edwards","Antone Jackson","Deshawn Martin","Hakeem Howard","Sammy McGowan","Curtis S. Posey","Juard Ford","Benjamin Herron","Jeanine Dowell","Juliet Washington","Jose Mendoza Jr.","Arteco Rhodes","Sedrick Ringer","Javon Jackson","John Hunter","Gloria Aguilar","Alfonso Toro Jr.","Quentica Locke","Jermaine Blandin","Robert Cooley","Arthur L. Smith","Aaron Gordon","Devonte M. Morgan","Tyrone Burdine","Jerame E. Moore","Kelvin Harper","Maurice Willis","Derwin Moore","Robert Hicks","Shedrick McPherson Jr.","Francine Lowery","William D. Moore","Jonathan Halbert","Gregory D. Johnson","Michael Gonzalez","Corvel Brown","Brayant Alvarez","Shaundel Wimberly","Cedron Doles","Rhonda Hughes","Norman W. White","Robert Warren","Alejandro Montalvo","Trebor Williams","Derrick Murray","Laquante Smith","Gregory Williams","Maurice Hunter","Vincent Hubbard","Michael Whitford","David Marin","Cercy Robinson","Dante T. Neely","Dautreau P. Bates","Robert Sharpe","Christopher Johnson Jr.","William Cooper II","Gustavo Garcia","Alex Gonzalez","Rashaad H. Crawford","Michael Ferguson","Jermaine Robinson","Stanley Mack","Tony Haywood","Michael Peterman","Marcelle P. Rey","LeRoy Moore","Izat Morrar","Jaron Jackson","Brendon Frazier","Tayvion Roberson","Joseph Campbell","Lavondell C. Noble","Damijwan Bonds","Michael Carter","Jessica Kall","Anthony White","Darius Gavin","Diego Sandoval","Glen Ingram","Dayvy Rivas","Sydney Caldwell","Darrel Wilson","Gregory Jackson","Zaire Benjamin","Trenton Cornell-Duranheau","Dominick Black","Eugene Winters","Nikia Betts","Richard Harrison","Kennatay Leavell","Demetrius Miller","Ramon Flores","Delano Jones","Kenyon Hill","Abel Melesio","Marvin Hines","Damien Hernandez","Damien Santoyo","Steven Gaines","Alfred Mitchell Jr","Thaddeus Dean","Aristeo Soriano","Jonathan D. Brown","Donald L. McNamara","Jesus Angel-De-La-O","Andres Davila","Jesus Bernabe","Emmanuel Fleming","Michael Swift","Antonio Lopez","Narcisco Ledesma","Jabari Feazell","Celeste Cockriel","Demica Porter","Rakeem Simmons","Javier Pantoja","Kejuan Thomas","Kenneth Williams","Levell M. Moore","Jerrell J. Perkins","Cornell Verner","Quienten Tucker","Benjamin Robles","Remus Campbell","Damien Rowden","Kolby Craig","Jose Hernandez","Aaron Clemons","Charles K. Macklin","Calvin Robinson","Laquesha L. Holmes","Joaquin Clara","Derrick Nabors Jr.","Theotis Luckett","Gerard Mayo","Adrian Lopez","Brandon Cathey","Joshua Bates","Monticello Scott","John Smith","Jermaine Jones","James E. McChristian","Marrio Battles","Jeremy Tang","Felipe Batista Jr.","Felipe Bautista","Gregory McDaniels Jr.","Antwon Green","Ashley Harrison","Melvin James","Erick Charles Jr.","James Posey Jr.","Terrence Johnson","Patrick Thompson Jr","Carlos Cortez","Tyson White","Dominic Morris","Jacquell Mosley","Steven Reid","Isaac Hughes Allen","Angelo Terrell","Antonio Monteza","Juan Bahena Jr.","Jawon Garrett","Dantrell Marquell Morgan","Ida Arvizu","Michelle Adrian Cano","Joel Sandoval","Miguel Sandoval","Micah Brown","Darrius Buckley","Maurice King","Juan Bahena Jr","Anthony White","Catherine Barnett","Jesse Bennett","Joshua Rayborn","John Bolden","Issac Royal Harper","Perry L. Stroger","Manuel J. Hernandez","Donzell L. Brewster","Guy Lopez","Darius Edwards","Dashawn Townes","Andrew Dehart","Anthony Oliver","Michael Hickingbottom","Terry Barry","Tony Goodrich","Christopher Hardrick","Marques Lewis","Charnella Lemon","Terrence Carter","Michael Hillard","Juan Vargas","David Lucious","Gregory Petty","Fred Anderson","Juan Flores","Jose Rico","Tommie L. Jones","Jenae Lemon","Lloyd Westbrook","Patrick Stegmueller","Anthony D. Henry","Antonio Moore","Semaj Berry","Ian Ashford","Adonis L. Johnson"]

Warning: count(): Parameter must be an array or an object that implements Countable in /home/nevewgha/public_html/wp-content/plugins/meta-data/meta-data.php on line 259

Warning: in_array() expects parameter 2 to be array, boolean given in /home/nevewgha/public_html/wp-content/plugins/meta-data/meta-data.php on line 265

Warning: in_array() expects parameter 2 to be array, boolean given in /home/nevewgha/public_html/wp-content/plugins/meta-data/meta-data.php on line 273

Warning: in_array() expects parameter 2 to be array, boolean given in /home/nevewgha/public_html/wp-content/plugins/meta-data/meta-data.php on line 293

Warning: in_array() expects parameter 2 to be array, boolean given in /home/nevewgha/public_html/wp-content/plugins/meta-data/meta-data.php on line 298

Warning: in_array() expects parameter 2 to be array, boolean given in /home/nevewgha/public_html/wp-content/plugins/meta-data/meta-data.php on line 313

Warning: in_array() expects parameter 2 to be array, boolean given in /home/nevewgha/public_html/wp-content/plugins/meta-data/meta-data.php on line 317

Warning: in_array() expects parameter 2 to be array, boolean given in /home/nevewgha/public_html/wp-content/plugins/meta-data/meta-data.php on line 321

Warning: in_array() expects parameter 2 to be array, boolean given in /home/nevewgha/public_html/wp-content/plugins/meta-data/meta-data.php on line 322

Warning: in_array() expects parameter 2 to be array, boolean given in /home/nevewgha/public_html/wp-content/plugins/meta-data/meta-data.php on line 313

Warning: in_array() expects parameter 2 to be array, boolean given in /home/nevewgha/public_html/wp-content/plugins/meta-data/meta-data.php on line 317

Warning: in_array() expects parameter 2 to be array, boolean given in /home/nevewgha/public_html/wp-content/plugins/meta-data/meta-data.php on line 321

Warning: in_array() expects parameter 2 to be array, boolean given in /home/nevewgha/public_html/wp-content/plugins/meta-data/meta-data.php on line 322

Warning: in_array() expects parameter 2 to be array, boolean given in /home/nevewgha/public_html/wp-content/plugins/meta-data/meta-data.php on line 313

Warning: in_array() expects parameter 2 to be array, boolean given in /home/nevewgha/public_html/wp-content/plugins/meta-data/meta-data.php on line 317

Warning: in_array() expects parameter 2 to be array, boolean given in /home/nevewgha/public_html/wp-content/plugins/meta-data/meta-data.php on line 321

Warning: in_array() expects parameter 2 to be array, boolean given in /home/nevewgha/public_html/wp-content/plugins/meta-data/meta-data.php on line 322

Warning: in_array() expects parameter 2 to be array, boolean given in /home/nevewgha/public_html/wp-content/plugins/meta-data/meta-data.php on line 313

Warning: in_array() expects parameter 2 to be array, boolean given in /home/nevewgha/public_html/wp-content/plugins/meta-data/meta-data.php on line 317

Warning: in_array() expects parameter 2 to be array, boolean given in /home/nevewgha/public_html/wp-content/plugins/meta-data/meta-data.php on line 321

Warning: in_array() expects parameter 2 to be array, boolean given in /home/nevewgha/public_html/wp-content/plugins/meta-data/meta-data.php on line 322

Warning: in_array() expects parameter 2 to be array, boolean given in /home/nevewgha/public_html/wp-content/plugins/meta-data/meta-data.php on line 313

Warning: in_array() expects parameter 2 to be array, boolean given in /home/nevewgha/public_html/wp-content/plugins/meta-data/meta-data.php on line 317

Warning: in_array() expects parameter 2 to be array, boolean given in /home/nevewgha/public_html/wp-content/plugins/meta-data/meta-data.php on line 321

Warning: in_array() expects parameter 2 to be array, boolean given in /home/nevewgha/public_html/wp-content/plugins/meta-data/meta-data.php on line 322

Warning: in_array() expects parameter 2 to be array, boolean given in /home/nevewgha/public_html/wp-content/plugins/meta-data/meta-data.php on line 313

Warning: in_array() expects parameter 2 to be array, boolean given in /home/nevewgha/public_html/wp-content/plugins/meta-data/meta-data.php on line 317

Warning: in_array() expects parameter 2 to be array, boolean given in /home/nevewgha/public_html/wp-content/plugins/meta-data/meta-data.php on line 321

Warning: in_array() expects parameter 2 to be array, boolean given in /home/nevewgha/public_html/wp-content/plugins/meta-data/meta-data.php on line 322

Warning: in_array() expects parameter 2 to be array, boolean given in /home/nevewgha/public_html/wp-content/plugins/meta-data/meta-data.php on line 313

Warning: in_array() expects parameter 2 to be array, boolean given in /home/nevewgha/public_html/wp-content/plugins/meta-data/meta-data.php on line 317

Warning: in_array() expects parameter 2 to be array, boolean given in /home/nevewgha/public_html/wp-content/plugins/meta-data/meta-data.php on line 321

Warning: in_array() expects parameter 2 to be array, boolean given in /home/nevewgha/public_html/wp-content/plugins/meta-data/meta-data.php on line 322

Warning: in_array() expects parameter 2 to be array, boolean given in /home/nevewgha/public_html/wp-content/plugins/meta-data/meta-data.php on line 313

Warning: in_array() expects parameter 2 to be array, boolean given in /home/nevewgha/public_html/wp-content/plugins/meta-data/meta-data.php on line 317

Warning: in_array() expects parameter 2 to be array, boolean given in /home/nevewgha/public_html/wp-content/plugins/meta-data/meta-data.php on line 321

Warning: in_array() expects parameter 2 to be array, boolean given in /home/nevewgha/public_html/wp-content/plugins/meta-data/meta-data.php on line 322

Warning: in_array() expects parameter 2 to be array, boolean given in /home/nevewgha/public_html/wp-content/plugins/meta-data/meta-data.php on line 313

Warning: in_array() expects parameter 2 to be array, boolean given in /home/nevewgha/public_html/wp-content/plugins/meta-data/meta-data.php on line 317

Warning: in_array() expects parameter 2 to be array, boolean given in /home/nevewgha/public_html/wp-content/plugins/meta-data/meta-data.php on line 321

Warning: in_array() expects parameter 2 to be array, boolean given in /home/nevewgha/public_html/wp-content/plugins/meta-data/meta-data.php on line 322

Warning: in_array() expects parameter 2 to be array, boolean given in /home/nevewgha/public_html/wp-content/plugins/meta-data/meta-data.php on line 313

Warning: in_array() expects parameter 2 to be array, boolean given in /home/nevewgha/public_html/wp-content/plugins/meta-data/meta-data.php on line 317

Warning: in_array() expects parameter 2 to be array, boolean given in /home/nevewgha/public_html/wp-content/plugins/meta-data/meta-data.php on line 321

Warning: in_array() expects parameter 2 to be array, boolean given in /home/nevewgha/public_html/wp-content/plugins/meta-data/meta-data.php on line 322

Warning: in_array() expects parameter 2 to be array, boolean given in /home/nevewgha/public_html/wp-content/plugins/meta-data/meta-data.php on line 313

Warning: in_array() expects parameter 2 to be array, boolean given in /home/nevewgha/public_html/wp-content/plugins/meta-data/meta-data.php on line 317

Warning: in_array() expects parameter 2 to be array, boolean given in /home/nevewgha/public_html/wp-content/plugins/meta-data/meta-data.php on line 321

Warning: in_array() expects parameter 2 to be array, boolean given in /home/nevewgha/public_html/wp-content/plugins/meta-data/meta-data.php on line 322

Warning: in_array() expects parameter 2 to be array, boolean given in /home/nevewgha/public_html/wp-content/plugins/meta-data/meta-data.php on line 313

Warning: in_array() expects parameter 2 to be array, boolean given in /home/nevewgha/public_html/wp-content/plugins/meta-data/meta-data.php on line 317

Warning: in_array() expects parameter 2 to be array, boolean given in /home/nevewgha/public_html/wp-content/plugins/meta-data/meta-data.php on line 321

Warning: in_array() expects parameter 2 to be array, boolean given in /home/nevewgha/public_html/wp-content/plugins/meta-data/meta-data.php on line 322

Warning: in_array() expects parameter 2 to be array, boolean given in /home/nevewgha/public_html/wp-content/plugins/meta-data/meta-data.php on line 313

Warning: in_array() expects parameter 2 to be array, boolean given in /home/nevewgha/public_html/wp-content/plugins/meta-data/meta-data.php on line 317

Warning: in_array() expects parameter 2 to be array, boolean given in /home/nevewgha/public_html/wp-content/plugins/meta-data/meta-data.php on line 321

Warning: in_array() expects parameter 2 to be array, boolean given in /home/nevewgha/public_html/wp-content/plugins/meta-data/meta-data.php on line 322

Warning: in_array() expects parameter 2 to be array, boolean given in /home/nevewgha/public_html/wp-content/plugins/meta-data/meta-data.php on line 313

Warning: in_array() expects parameter 2 to be array, boolean given in /home/nevewgha/public_html/wp-content/plugins/meta-data/meta-data.php on line 317

Warning: in_array() expects parameter 2 to be array, boolean given in /home/nevewgha/public_html/wp-content/plugins/meta-data/meta-data.php on line 321

Warning: in_array() expects parameter 2 to be array, boolean given in /home/nevewgha/public_html/wp-content/plugins/meta-data/meta-data.php on line 322

Warning: in_array() expects parameter 2 to be array, boolean given in /home/nevewgha/public_html/wp-content/plugins/meta-data/meta-data.php on line 313

Warning: in_array() expects parameter 2 to be array, boolean given in /home/nevewgha/public_html/wp-content/plugins/meta-data/meta-data.php on line 317

Warning: in_array() expects parameter 2 to be array, boolean given in /home/nevewgha/public_html/wp-content/plugins/meta-data/meta-data.php on line 321

Warning: in_array() expects parameter 2 to be array, boolean given in /home/nevewgha/public_html/wp-content/plugins/meta-data/meta-data.php on line 322

Warning: in_array() expects parameter 2 to be array, boolean given in /home/nevewgha/public_html/wp-content/plugins/meta-data/meta-data.php on line 313

Warning: in_array() expects parameter 2 to be array, boolean given in /home/nevewgha/public_html/wp-content/plugins/meta-data/meta-data.php on line 317

Warning: in_array() expects parameter 2 to be array, boolean given in /home/nevewgha/public_html/wp-content/plugins/meta-data/meta-data.php on line 321

Warning: in_array() expects parameter 2 to be array, boolean given in /home/nevewgha/public_html/wp-content/plugins/meta-data/meta-data.php on line 322

Warning: in_array() expects parameter 2 to be array, boolean given in /home/nevewgha/public_html/wp-content/plugins/meta-data/meta-data.php on line 313

Warning: in_array() expects parameter 2 to be array, boolean given in /home/nevewgha/public_html/wp-content/plugins/meta-data/meta-data.php on line 317

Warning: in_array() expects parameter 2 to be array, boolean given in /home/nevewgha/public_html/wp-content/plugins/meta-data/meta-data.php on line 321

Warning: in_array() expects parameter 2 to be array, boolean given in /home/nevewgha/public_html/wp-content/plugins/meta-data/meta-data.php on line 322

Warning: in_array() expects parameter 2 to be array, boolean given in /home/nevewgha/public_html/wp-content/plugins/meta-data/meta-data.php on line 313

Warning: in_array() expects parameter 2 to be array, boolean given in /home/nevewgha/public_html/wp-content/plugins/meta-data/meta-data.php on line 317

Warning: in_array() expects parameter 2 to be array, boolean given in /home/nevewgha/public_html/wp-content/plugins/meta-data/meta-data.php on line 321

Warning: in_array() expects parameter 2 to be array, boolean given in /home/nevewgha/public_html/wp-content/plugins/meta-data/meta-data.php on line 322

Warning: in_array() expects parameter 2 to be array, boolean given in /home/nevewgha/public_html/wp-content/plugins/meta-data/meta-data.php on line 313

Warning: in_array() expects parameter 2 to be array, boolean given in /home/nevewgha/public_html/wp-content/plugins/meta-data/meta-data.php on line 317

Warning: in_array() expects parameter 2 to be array, boolean given in /home/nevewgha/public_html/wp-content/plugins/meta-data/meta-data.php on line 321

Warning: in_array() expects parameter 2 to be array, boolean given in /home/nevewgha/public_html/wp-content/plugins/meta-data/meta-data.php on line 322

Warning: in_array() expects parameter 2 to be array, boolean given in /home/nevewgha/public_html/wp-content/plugins/meta-data/meta-data.php on line 313

Warning: in_array() expects parameter 2 to be array, boolean given in /home/nevewgha/public_html/wp-content/plugins/meta-data/meta-data.php on line 317

Warning: in_array() expects parameter 2 to be array, boolean given in /home/nevewgha/public_html/wp-content/plugins/meta-data/meta-data.php on line 321

Warning: in_array() expects parameter 2 to be array, boolean given in /home/nevewgha/public_html/wp-content/plugins/meta-data/meta-data.php on line 322

Warning: in_array() expects parameter 2 to be array, boolean given in /home/nevewgha/public_html/wp-content/plugins/meta-data/meta-data.php on line 313

Warning: in_array() expects parameter 2 to be array, boolean given in /home/nevewgha/public_html/wp-content/plugins/meta-data/meta-data.php on line 317

Warning: in_array() expects parameter 2 to be array, boolean given in /home/nevewgha/public_html/wp-content/plugins/meta-data/meta-data.php on line 321

Warning: in_array() expects parameter 2 to be array, boolean given in /home/nevewgha/public_html/wp-content/plugins/meta-data/meta-data.php on line 322

Warning: in_array() expects parameter 2 to be array, boolean given in /home/nevewgha/public_html/wp-content/plugins/meta-data/meta-data.php on line 313

Warning: in_array() expects parameter 2 to be array, boolean given in /home/nevewgha/public_html/wp-content/plugins/meta-data/meta-data.php on line 317

Warning: in_array() expects parameter 2 to be array, boolean given in /home/nevewgha/public_html/wp-content/plugins/meta-data/meta-data.php on line 321

Warning: in_array() expects parameter 2 to be array, boolean given in /home/nevewgha/public_html/wp-content/plugins/meta-data/meta-data.php on line 322

Warning: in_array() expects parameter 2 to be array, boolean given in /home/nevewgha/public_html/wp-content/plugins/meta-data/meta-data.php on line 313

Warning: in_array() expects parameter 2 to be array, boolean given in /home/nevewgha/public_html/wp-content/plugins/meta-data/meta-data.php on line 317

Warning: in_array() expects parameter 2 to be array, boolean given in /home/nevewgha/public_html/wp-content/plugins/meta-data/meta-data.php on line 321

Warning: in_array() expects parameter 2 to be array, boolean given in /home/nevewgha/public_html/wp-content/plugins/meta-data/meta-data.php on line 322

Warning: in_array() expects parameter 2 to be array, boolean given in /home/nevewgha/public_html/wp-content/plugins/meta-data/meta-data.php on line 313

Warning: in_array() expects parameter 2 to be array, boolean given in /home/nevewgha/public_html/wp-content/plugins/meta-data/meta-data.php on line 317

Warning: in_array() expects parameter 2 to be array, boolean given in /home/nevewgha/public_html/wp-content/plugins/meta-data/meta-data.php on line 321

Warning: in_array() expects parameter 2 to be array, boolean given in /home/nevewgha/public_html/wp-content/plugins/meta-data/meta-data.php on line 322

Warning: in_array() expects parameter 2 to be array, boolean given in /home/nevewgha/public_html/wp-content/plugins/meta-data/meta-data.php on line 313

Warning: in_array() expects parameter 2 to be array, boolean given in /home/nevewgha/public_html/wp-content/plugins/meta-data/meta-data.php on line 317

Warning: in_array() expects parameter 2 to be array, boolean given in /home/nevewgha/public_html/wp-content/plugins/meta-data/meta-data.php on line 321

Warning: in_array() expects parameter 2 to be array, boolean given in /home/nevewgha/public_html/wp-content/plugins/meta-data/meta-data.php on line 322

Warning: in_array() expects parameter 2 to be array, boolean given in /home/nevewgha/public_html/wp-content/plugins/meta-data/meta-data.php on line 313

Warning: in_array() expects parameter 2 to be array, boolean given in /home/nevewgha/public_html/wp-content/plugins/meta-data/meta-data.php on line 317

Warning: in_array() expects parameter 2 to be array, boolean given in /home/nevewgha/public_html/wp-content/plugins/meta-data/meta-data.php on line 321

Warning: in_array() expects parameter 2 to be array, boolean given in /home/nevewgha/public_html/wp-content/plugins/meta-data/meta-data.php on line 322

Warning: in_array() expects parameter 2 to be array, boolean given in /home/nevewgha/public_html/wp-content/plugins/meta-data/meta-data.php on line 313

Warning: in_array() expects parameter 2 to be array, boolean given in /home/nevewgha/public_html/wp-content/plugins/meta-data/meta-data.php on line 317

Warning: in_array() expects parameter 2 to be array, boolean given in /home/nevewgha/public_html/wp-content/plugins/meta-data/meta-data.php on line 321

Warning: in_array() expects parameter 2 to be array, boolean given in /home/nevewgha/public_html/wp-content/plugins/meta-data/meta-data.php on line 322

Warning: in_array() expects parameter 2 to be array, boolean given in /home/nevewgha/public_html/wp-content/plugins/meta-data/meta-data.php on line 313

Warning: in_array() expects parameter 2 to be array, boolean given in /home/nevewgha/public_html/wp-content/plugins/meta-data/meta-data.php on line 317

Warning: in_array() expects parameter 2 to be array, boolean given in /home/nevewgha/public_html/wp-content/plugins/meta-data/meta-data.php on line 321

Warning: in_array() expects parameter 2 to be array, boolean given in /home/nevewgha/public_html/wp-content/plugins/meta-data/meta-data.php on line 322

Warning: in_array() expects parameter 2 to be array, boolean given in /home/nevewgha/public_html/wp-content/plugins/meta-data/meta-data.php on line 313

Warning: in_array() expects parameter 2 to be array, boolean given in /home/nevewgha/public_html/wp-content/plugins/meta-data/meta-data.php on line 317

Warning: in_array() expects parameter 2 to be array, boolean given in /home/nevewgha/public_html/wp-content/plugins/meta-data/meta-data.php on line 321

Warning: in_array() expects parameter 2 to be array, boolean given in /home/nevewgha/public_html/wp-content/plugins/meta-data/meta-data.php on line 322

Warning: in_array() expects parameter 2 to be array, boolean given in /home/nevewgha/public_html/wp-content/plugins/meta-data/meta-data.php on line 313

Warning: in_array() expects parameter 2 to be array, boolean given in /home/nevewgha/public_html/wp-content/plugins/meta-data/meta-data.php on line 317

Warning: in_array() expects parameter 2 to be array, boolean given in /home/nevewgha/public_html/wp-content/plugins/meta-data/meta-data.php on line 321

Warning: in_array() expects parameter 2 to be array, boolean given in /home/nevewgha/public_html/wp-content/plugins/meta-data/meta-data.php on line 322

Warning: in_array() expects parameter 2 to be array, boolean given in /home/nevewgha/public_html/wp-content/plugins/meta-data/meta-data.php on line 313

Warning: in_array() expects parameter 2 to be array, boolean given in /home/nevewgha/public_html/wp-content/plugins/meta-data/meta-data.php on line 317

Warning: in_array() expects parameter 2 to be array, boolean given in /home/nevewgha/public_html/wp-content/plugins/meta-data/meta-data.php on line 321

Warning: in_array() expects parameter 2 to be array, boolean given in /home/nevewgha/public_html/wp-content/plugins/meta-data/meta-data.php on line 322

Warning: in_array() expects parameter 2 to be array, boolean given in /home/nevewgha/public_html/wp-content/plugins/meta-data/meta-data.php on line 313

Warning: in_array() expects parameter 2 to be array, boolean given in /home/nevewgha/public_html/wp-content/plugins/meta-data/meta-data.php on line 317

Warning: in_array() expects parameter 2 to be array, boolean given in /home/nevewgha/public_html/wp-content/plugins/meta-data/meta-data.php on line 321

Warning: in_array() expects parameter 2 to be array, boolean given in /home/nevewgha/public_html/wp-content/plugins/meta-data/meta-data.php on line 322

Warning: in_array() expects parameter 2 to be array, boolean given in /home/nevewgha/public_html/wp-content/plugins/meta-data/meta-data.php on line 313

Warning: in_array() expects parameter 2 to be array, boolean given in /home/nevewgha/public_html/wp-content/plugins/meta-data/meta-data.php on line 317

Warning: in_array() expects parameter 2 to be array, boolean given in /home/nevewgha/public_html/wp-content/plugins/meta-data/meta-data.php on line 321

Warning: in_array() expects parameter 2 to be array, boolean given in /home/nevewgha/public_html/wp-content/plugins/meta-data/meta-data.php on line 322

Warning: in_array() expects parameter 2 to be array, boolean given in /home/nevewgha/public_html/wp-content/plugins/meta-data/meta-data.php on line 313

Warning: in_array() expects parameter 2 to be array, boolean given in /home/nevewgha/public_html/wp-content/plugins/meta-data/meta-data.php on line 317

Warning: in_array() expects parameter 2 to be array, boolean given in /home/nevewgha/public_html/wp-content/plugins/meta-data/meta-data.php on line 321

Warning: in_array() expects parameter 2 to be array, boolean given in /home/nevewgha/public_html/wp-content/plugins/meta-data/meta-data.php on line 322

Warning: in_array() expects parameter 2 to be array, boolean given in /home/nevewgha/public_html/wp-content/plugins/meta-data/meta-data.php on line 313

Warning: in_array() expects parameter 2 to be array, boolean given in /home/nevewgha/public_html/wp-content/plugins/meta-data/meta-data.php on line 317

Warning: in_array() expects parameter 2 to be array, boolean given in /home/nevewgha/public_html/wp-content/plugins/meta-data/meta-data.php on line 321

Warning: in_array() expects parameter 2 to be array, boolean given in /home/nevewgha/public_html/wp-content/plugins/meta-data/meta-data.php on line 322

Warning: in_array() expects parameter 2 to be array, boolean given in /home/nevewgha/public_html/wp-content/plugins/meta-data/meta-data.php on line 313

Warning: in_array() expects parameter 2 to be array, boolean given in /home/nevewgha/public_html/wp-content/plugins/meta-data/meta-data.php on line 317

Warning: in_array() expects parameter 2 to be array, boolean given in /home/nevewgha/public_html/wp-content/plugins/meta-data/meta-data.php on line 321

Warning: in_array() expects parameter 2 to be array, boolean given in /home/nevewgha/public_html/wp-content/plugins/meta-data/meta-data.php on line 322

Warning: in_array() expects parameter 2 to be array, boolean given in /home/nevewgha/public_html/wp-content/plugins/meta-data/meta-data.php on line 313

Warning: in_array() expects parameter 2 to be array, boolean given in /home/nevewgha/public_html/wp-content/plugins/meta-data/meta-data.php on line 317

Warning: in_array() expects parameter 2 to be array, boolean given in /home/nevewgha/public_html/wp-content/plugins/meta-data/meta-data.php on line 321

Warning: in_array() expects parameter 2 to be array, boolean given in /home/nevewgha/public_html/wp-content/plugins/meta-data/meta-data.php on line 322

Warning: in_array() expects parameter 2 to be array, boolean given in /home/nevewgha/public_html/wp-content/plugins/meta-data/meta-data.php on line 313

Warning: in_array() expects parameter 2 to be array, boolean given in /home/nevewgha/public_html/wp-content/plugins/meta-data/meta-data.php on line 317

Warning: in_array() expects parameter 2 to be array, boolean given in /home/nevewgha/public_html/wp-content/plugins/meta-data/meta-data.php on line 321

Warning: in_array() expects parameter 2 to be array, boolean given in /home/nevewgha/public_html/wp-content/plugins/meta-data/meta-data.php on line 322

Warning: in_array() expects parameter 2 to be array, boolean given in /home/nevewgha/public_html/wp-content/plugins/meta-data/meta-data.php on line 313

Warning: in_array() expects parameter 2 to be array, boolean given in /home/nevewgha/public_html/wp-content/plugins/meta-data/meta-data.php on line 317

Warning: in_array() expects parameter 2 to be array, boolean given in /home/nevewgha/public_html/wp-content/plugins/meta-data/meta-data.php on line 321

Warning: in_array() expects parameter 2 to be array, boolean given in /home/nevewgha/public_html/wp-content/plugins/meta-data/meta-data.php on line 322

Warning: in_array() expects parameter 2 to be array, boolean given in /home/nevewgha/public_html/wp-content/plugins/meta-data/meta-data.php on line 313

Warning: in_array() expects parameter 2 to be array, boolean given in /home/nevewgha/public_html/wp-content/plugins/meta-data/meta-data.php on line 317

Warning: in_array() expects parameter 2 to be array, boolean given in /home/nevewgha/public_html/wp-content/plugins/meta-data/meta-data.php on line 321

Warning: in_array() expects parameter 2 to be array, boolean given in /home/nevewgha/public_html/wp-content/plugins/meta-data/meta-data.php on line 322

Warning: in_array() expects parameter 2 to be array, boolean given in /home/nevewgha/public_html/wp-content/plugins/meta-data/meta-data.php on line 313

Warning: in_array() expects parameter 2 to be array, boolean given in /home/nevewgha/public_html/wp-content/plugins/meta-data/meta-data.php on line 317

Warning: in_array() expects parameter 2 to be array, boolean given in /home/nevewgha/public_html/wp-content/plugins/meta-data/meta-data.php on line 321

Warning: in_array() expects parameter 2 to be array, boolean given in /home/nevewgha/public_html/wp-content/plugins/meta-data/meta-data.php on line 322

Warning: in_array() expects parameter 2 to be array, boolean given in /home/nevewgha/public_html/wp-content/plugins/meta-data/meta-data.php on line 313

Warning: in_array() expects parameter 2 to be array, boolean given in /home/nevewgha/public_html/wp-content/plugins/meta-data/meta-data.php on line 317

Warning: in_array() expects parameter 2 to be array, boolean given in /home/nevewgha/public_html/wp-content/plugins/meta-data/meta-data.php on line 321

Warning: in_array() expects parameter 2 to be array, boolean given in /home/nevewgha/public_html/wp-content/plugins/meta-data/meta-data.php on line 322

Warning: in_array() expects parameter 2 to be array, boolean given in /home/nevewgha/public_html/wp-content/plugins/meta-data/meta-data.php on line 313

Warning: in_array() expects parameter 2 to be array, boolean given in /home/nevewgha/public_html/wp-content/plugins/meta-data/meta-data.php on line 317

Warning: in_array() expects parameter 2 to be array, boolean given in /home/nevewgha/public_html/wp-content/plugins/meta-data/meta-data.php on line 321

Warning: in_array() expects parameter 2 to be array, boolean given in /home/nevewgha/public_html/wp-content/plugins/meta-data/meta-data.php on line 322

Warning: in_array() expects parameter 2 to be array, boolean given in /home/nevewgha/public_html/wp-content/plugins/meta-data/meta-data.php on line 313

Warning: in_array() expects parameter 2 to be array, boolean given in /home/nevewgha/public_html/wp-content/plugins/meta-data/meta-data.php on line 317

Warning: in_array() expects parameter 2 to be array, boolean given in /home/nevewgha/public_html/wp-content/plugins/meta-data/meta-data.php on line 321

Warning: in_array() expects parameter 2 to be array, boolean given in /home/nevewgha/public_html/wp-content/plugins/meta-data/meta-data.php on line 322

Warning: in_array() expects parameter 2 to be array, boolean given in /home/nevewgha/public_html/wp-content/plugins/meta-data/meta-data.php on line 313

Warning: in_array() expects parameter 2 to be array, boolean given in /home/nevewgha/public_html/wp-content/plugins/meta-data/meta-data.php on line 317

Warning: in_array() expects parameter 2 to be array, boolean given in /home/nevewgha/public_html/wp-content/plugins/meta-data/meta-data.php on line 321

Warning: in_array() expects parameter 2 to be array, boolean given in /home/nevewgha/public_html/wp-content/plugins/meta-data/meta-data.php on line 322

Warning: in_array() expects parameter 2 to be array, boolean given in /home/nevewgha/public_html/wp-content/plugins/meta-data/meta-data.php on line 313

Warning: in_array() expects parameter 2 to be array, boolean given in /home/nevewgha/public_html/wp-content/plugins/meta-data/meta-data.php on line 317

Warning: in_array() expects parameter 2 to be array, boolean given in /home/nevewgha/public_html/wp-content/plugins/meta-data/meta-data.php on line 321

Warning: in_array() expects parameter 2 to be array, boolean given in /home/nevewgha/public_html/wp-content/plugins/meta-data/meta-data.php on line 322

Warning: in_array() expects parameter 2 to be array, boolean given in /home/nevewgha/public_html/wp-content/plugins/meta-data/meta-data.php on line 313

Warning: in_array() expects parameter 2 to be array, boolean given in /home/nevewgha/public_html/wp-content/plugins/meta-data/meta-data.php on line 317

Warning: in_array() expects parameter 2 to be array, boolean given in /home/nevewgha/public_html/wp-content/plugins/meta-data/meta-data.php on line 321

Warning: in_array() expects parameter 2 to be array, boolean given in /home/nevewgha/public_html/wp-content/plugins/meta-data/meta-data.php on line 322

Warning: in_array() expects parameter 2 to be array, boolean given in /home/nevewgha/public_html/wp-content/plugins/meta-data/meta-data.php on line 313

Warning: in_array() expects parameter 2 to be array, boolean given in /home/nevewgha/public_html/wp-content/plugins/meta-data/meta-data.php on line 317

Warning: in_array() expects parameter 2 to be array, boolean given in /home/nevewgha/public_html/wp-content/plugins/meta-data/meta-data.php on line 321

Warning: in_array() expects parameter 2 to be array, boolean given in /home/nevewgha/public_html/wp-content/plugins/meta-data/meta-data.php on line 322

Warning: in_array() expects parameter 2 to be array, boolean given in /home/nevewgha/public_html/wp-content/plugins/meta-data/meta-data.php on line 313

Warning: in_array() expects parameter 2 to be array, boolean given in /home/nevewgha/public_html/wp-content/plugins/meta-data/meta-data.php on line 317

Warning: in_array() expects parameter 2 to be array, boolean given in /home/nevewgha/public_html/wp-content/plugins/meta-data/meta-data.php on line 321

Warning: in_array() expects parameter 2 to be array, boolean given in /home/nevewgha/public_html/wp-content/plugins/meta-data/meta-data.php on line 322

Warning: in_array() expects parameter 2 to be array, boolean given in /home/nevewgha/public_html/wp-content/plugins/meta-data/meta-data.php on line 313

Warning: in_array() expects parameter 2 to be array, boolean given in /home/nevewgha/public_html/wp-content/plugins/meta-data/meta-data.php on line 317

Warning: in_array() expects parameter 2 to be array, boolean given in /home/nevewgha/public_html/wp-content/plugins/meta-data/meta-data.php on line 321

Warning: in_array() expects parameter 2 to be array, boolean given in /home/nevewgha/public_html/wp-content/plugins/meta-data/meta-data.php on line 322

Warning: in_array() expects parameter 2 to be array, boolean given in /home/nevewgha/public_html/wp-content/plugins/meta-data/meta-data.php on line 313

Warning: in_array() expects parameter 2 to be array, boolean given in /home/nevewgha/public_html/wp-content/plugins/meta-data/meta-data.php on line 317

Warning: in_array() expects parameter 2 to be array, boolean given in /home/nevewgha/public_html/wp-content/plugins/meta-data/meta-data.php on line 321

Warning: in_array() expects parameter 2 to be array, boolean given in /home/nevewgha/public_html/wp-content/plugins/meta-data/meta-data.php on line 322

Warning: in_array() expects parameter 2 to be array, boolean given in /home/nevewgha/public_html/wp-content/plugins/meta-data/meta-data.php on line 313

Warning: in_array() expects parameter 2 to be array, boolean given in /home/nevewgha/public_html/wp-content/plugins/meta-data/meta-data.php on line 317

Warning: in_array() expects parameter 2 to be array, boolean given in /home/nevewgha/public_html/wp-content/plugins/meta-data/meta-data.php on line 321

Warning: in_array() expects parameter 2 to be array, boolean given in /home/nevewgha/public_html/wp-content/plugins/meta-data/meta-data.php on line 322

Warning: in_array() expects parameter 2 to be array, boolean given in /home/nevewgha/public_html/wp-content/plugins/meta-data/meta-data.php on line 313

Warning: in_array() expects parameter 2 to be array, boolean given in /home/nevewgha/public_html/wp-content/plugins/meta-data/meta-data.php on line 317

Warning: in_array() expects parameter 2 to be array, boolean given in /home/nevewgha/public_html/wp-content/plugins/meta-data/meta-data.php on line 321

Warning: in_array() expects parameter 2 to be array, boolean given in /home/nevewgha/public_html/wp-content/plugins/meta-data/meta-data.php on line 322

Warning: in_array() expects parameter 2 to be array, boolean given in /home/nevewgha/public_html/wp-content/plugins/meta-data/meta-data.php on line 313

Warning: in_array() expects parameter 2 to be array, boolean given in /home/nevewgha/public_html/wp-content/plugins/meta-data/meta-data.php on line 317

Warning: in_array() expects parameter 2 to be array, boolean given in /home/nevewgha/public_html/wp-content/plugins/meta-data/meta-data.php on line 321

Warning: in_array() expects parameter 2 to be array, boolean given in /home/nevewgha/public_html/wp-content/plugins/meta-data/meta-data.php on line 322

Warning: in_array() expects parameter 2 to be array, boolean given in /home/nevewgha/public_html/wp-content/plugins/meta-data/meta-data.php on line 313

Warning: in_array() expects parameter 2 to be array, boolean given in /home/nevewgha/public_html/wp-content/plugins/meta-data/meta-data.php on line 317

Warning: in_array() expects parameter 2 to be array, boolean given in /home/nevewgha/public_html/wp-content/plugins/meta-data/meta-data.php on line 321

Warning: in_array() expects parameter 2 to be array, boolean given in /home/nevewgha/public_html/wp-content/plugins/meta-data/meta-data.php on line 322

Warning: in_array() expects parameter 2 to be array, boolean given in /home/nevewgha/public_html/wp-content/plugins/meta-data/meta-data.php on line 313

Warning: in_array() expects parameter 2 to be array, boolean given in /home/nevewgha/public_html/wp-content/plugins/meta-data/meta-data.php on line 317

Warning: in_array() expects parameter 2 to be array, boolean given in /home/nevewgha/public_html/wp-content/plugins/meta-data/meta-data.php on line 321

Warning: in_array() expects parameter 2 to be array, boolean given in /home/nevewgha/public_html/wp-content/plugins/meta-data/meta-data.php on line 322

Warning: in_array() expects parameter 2 to be array, boolean given in /home/nevewgha/public_html/wp-content/plugins/meta-data/meta-data.php on line 313

Warning: in_array() expects parameter 2 to be array, boolean given in /home/nevewgha/public_html/wp-content/plugins/meta-data/meta-data.php on line 317

Warning: in_array() expects parameter 2 to be array, boolean given in /home/nevewgha/public_html/wp-content/plugins/meta-data/meta-data.php on line 321

Warning: in_array() expects parameter 2 to be array, boolean given in /home/nevewgha/public_html/wp-content/plugins/meta-data/meta-data.php on line 322

Warning: in_array() expects parameter 2 to be array, boolean given in /home/nevewgha/public_html/wp-content/plugins/meta-data/meta-data.php on line 313

Warning: in_array() expects parameter 2 to be array, boolean given in /home/nevewgha/public_html/wp-content/plugins/meta-data/meta-data.php on line 317

Warning: in_array() expects parameter 2 to be array, boolean given in /home/nevewgha/public_html/wp-content/plugins/meta-data/meta-data.php on line 321

Warning: in_array() expects parameter 2 to be array, boolean given in /home/nevewgha/public_html/wp-content/plugins/meta-data/meta-data.php on line 322

Warning: in_array() expects parameter 2 to be array, boolean given in /home/nevewgha/public_html/wp-content/plugins/meta-data/meta-data.php on line 313

Warning: in_array() expects parameter 2 to be array, boolean given in /home/nevewgha/public_html/wp-content/plugins/meta-data/meta-data.php on line 317

Warning: in_array() expects parameter 2 to be array, boolean given in /home/nevewgha/public_html/wp-content/plugins/meta-data/meta-data.php on line 321

Warning: in_array() expects parameter 2 to be array, boolean given in /home/nevewgha/public_html/wp-content/plugins/meta-data/meta-data.php on line 322

Warning: in_array() expects parameter 2 to be array, boolean given in /home/nevewgha/public_html/wp-content/plugins/meta-data/meta-data.php on line 313

Warning: in_array() expects parameter 2 to be array, boolean given in /home/nevewgha/public_html/wp-content/plugins/meta-data/meta-data.php on line 317

Warning: in_array() expects parameter 2 to be array, boolean given in /home/nevewgha/public_html/wp-content/plugins/meta-data/meta-data.php on line 321

Warning: in_array() expects parameter 2 to be array, boolean given in /home/nevewgha/public_html/wp-content/plugins/meta-data/meta-data.php on line 322

Warning: in_array() expects parameter 2 to be array, boolean given in /home/nevewgha/public_html/wp-content/plugins/meta-data/meta-data.php on line 313

Warning: in_array() expects parameter 2 to be array, boolean given in /home/nevewgha/public_html/wp-content/plugins/meta-data/meta-data.php on line 317

Warning: in_array() expects parameter 2 to be array, boolean given in /home/nevewgha/public_html/wp-content/plugins/meta-data/meta-data.php on line 321

Warning: in_array() expects parameter 2 to be array, boolean given in /home/nevewgha/public_html/wp-content/plugins/meta-data/meta-data.php on line 322

Warning: in_array() expects parameter 2 to be array, boolean given in /home/nevewgha/public_html/wp-content/plugins/meta-data/meta-data.php on line 313

Warning: in_array() expects parameter 2 to be array, boolean given in /home/nevewgha/public_html/wp-content/plugins/meta-data/meta-data.php on line 317

Warning: in_array() expects parameter 2 to be array, boolean given in /home/nevewgha/public_html/wp-content/plugins/meta-data/meta-data.php on line 321

Warning: in_array() expects parameter 2 to be array, boolean given in /home/nevewgha/public_html/wp-content/plugins/meta-data/meta-data.php on line 322

Warning: in_array() expects parameter 2 to be array, boolean given in /home/nevewgha/public_html/wp-content/plugins/meta-data/meta-data.php on line 313

Warning: in_array() expects parameter 2 to be array, boolean given in /home/nevewgha/public_html/wp-content/plugins/meta-data/meta-data.php on line 317

Warning: in_array() expects parameter 2 to be array, boolean given in /home/nevewgha/public_html/wp-content/plugins/meta-data/meta-data.php on line 321

Warning: in_array() expects parameter 2 to be array, boolean given in /home/nevewgha/public_html/wp-content/plugins/meta-data/meta-data.php on line 322

Warning: in_array() expects parameter 2 to be array, boolean given in /home/nevewgha/public_html/wp-content/plugins/meta-data/meta-data.php on line 313

Warning: in_array() expects parameter 2 to be array, boolean given in /home/nevewgha/public_html/wp-content/plugins/meta-data/meta-data.php on line 317

Warning: in_array() expects parameter 2 to be array, boolean given in /home/nevewgha/public_html/wp-content/plugins/meta-data/meta-data.php on line 321

Warning: in_array() expects parameter 2 to be array, boolean given in /home/nevewgha/public_html/wp-content/plugins/meta-data/meta-data.php on line 322

Warning: in_array() expects parameter 2 to be array, boolean given in /home/nevewgha/public_html/wp-content/plugins/meta-data/meta-data.php on line 313

Warning: in_array() expects parameter 2 to be array, boolean given in /home/nevewgha/public_html/wp-content/plugins/meta-data/meta-data.php on line 317

Warning: in_array() expects parameter 2 to be array, boolean given in /home/nevewgha/public_html/wp-content/plugins/meta-data/meta-data.php on line 321

Warning: in_array() expects parameter 2 to be array, boolean given in /home/nevewgha/public_html/wp-content/plugins/meta-data/meta-data.php on line 322

Warning: in_array() expects parameter 2 to be array, boolean given in /home/nevewgha/public_html/wp-content/plugins/meta-data/meta-data.php on line 313

Warning: in_array() expects parameter 2 to be array, boolean given in /home/nevewgha/public_html/wp-content/plugins/meta-data/meta-data.php on line 317

Warning: in_array() expects parameter 2 to be array, boolean given in /home/nevewgha/public_html/wp-content/plugins/meta-data/meta-data.php on line 321

Warning: in_array() expects parameter 2 to be array, boolean given in /home/nevewgha/public_html/wp-content/plugins/meta-data/meta-data.php on line 322

Warning: in_array() expects parameter 2 to be array, boolean given in /home/nevewgha/public_html/wp-content/plugins/meta-data/meta-data.php on line 313

Warning: in_array() expects parameter 2 to be array, boolean given in /home/nevewgha/public_html/wp-content/plugins/meta-data/meta-data.php on line 317

Warning: in_array() expects parameter 2 to be array, boolean given in /home/nevewgha/public_html/wp-content/plugins/meta-data/meta-data.php on line 321

Warning: in_array() expects parameter 2 to be array, boolean given in /home/nevewgha/public_html/wp-content/plugins/meta-data/meta-data.php on line 322

Warning: in_array() expects parameter 2 to be array, boolean given in /home/nevewgha/public_html/wp-content/plugins/meta-data/meta-data.php on line 313

Warning: in_array() expects parameter 2 to be array, boolean given in /home/nevewgha/public_html/wp-content/plugins/meta-data/meta-data.php on line 317

Warning: in_array() expects parameter 2 to be array, boolean given in /home/nevewgha/public_html/wp-content/plugins/meta-data/meta-data.php on line 321

Warning: in_array() expects parameter 2 to be array, boolean given in /home/nevewgha/public_html/wp-content/plugins/meta-data/meta-data.php on line 322

Warning: in_array() expects parameter 2 to be array, boolean given in /home/nevewgha/public_html/wp-content/plugins/meta-data/meta-data.php on line 313

Warning: in_array() expects parameter 2 to be array, boolean given in /home/nevewgha/public_html/wp-content/plugins/meta-data/meta-data.php on line 317

Warning: in_array() expects parameter 2 to be array, boolean given in /home/nevewgha/public_html/wp-content/plugins/meta-data/meta-data.php on line 321

Warning: in_array() expects parameter 2 to be array, boolean given in /home/nevewgha/public_html/wp-content/plugins/meta-data/meta-data.php on line 322

Warning: in_array() expects parameter 2 to be array, boolean given in /home/nevewgha/public_html/wp-content/plugins/meta-data/meta-data.php on line 313

Warning: in_array() expects parameter 2 to be array, boolean given in /home/nevewgha/public_html/wp-content/plugins/meta-data/meta-data.php on line 317

Warning: in_array() expects parameter 2 to be array, boolean given in /home/nevewgha/public_html/wp-content/plugins/meta-data/meta-data.php on line 321

Warning: in_array() expects parameter 2 to be array, boolean given in /home/nevewgha/public_html/wp-content/plugins/meta-data/meta-data.php on line 322

Warning: in_array() expects parameter 2 to be array, boolean given in /home/nevewgha/public_html/wp-content/plugins/meta-data/meta-data.php on line 313

Warning: in_array() expects parameter 2 to be array, boolean given in /home/nevewgha/public_html/wp-content/plugins/meta-data/meta-data.php on line 317

Warning: in_array() expects parameter 2 to be array, boolean given in /home/nevewgha/public_html/wp-content/plugins/meta-data/meta-data.php on line 321

Warning: in_array() expects parameter 2 to be array, boolean given in /home/nevewgha/public_html/wp-content/plugins/meta-data/meta-data.php on line 322

Warning: in_array() expects parameter 2 to be array, boolean given in /home/nevewgha/public_html/wp-content/plugins/meta-data/meta-data.php on line 313

Warning: in_array() expects parameter 2 to be array, boolean given in /home/nevewgha/public_html/wp-content/plugins/meta-data/meta-data.php on line 317

Warning: in_array() expects parameter 2 to be array, boolean given in /home/nevewgha/public_html/wp-content/plugins/meta-data/meta-data.php on line 321

Warning: in_array() expects parameter 2 to be array, boolean given in /home/nevewgha/public_html/wp-content/plugins/meta-data/meta-data.php on line 322

Warning: in_array() expects parameter 2 to be array, boolean given in /home/nevewgha/public_html/wp-content/plugins/meta-data/meta-data.php on line 313

Warning: in_array() expects parameter 2 to be array, boolean given in /home/nevewgha/public_html/wp-content/plugins/meta-data/meta-data.php on line 317

Warning: in_array() expects parameter 2 to be array, boolean given in /home/nevewgha/public_html/wp-content/plugins/meta-data/meta-data.php on line 321

Warning: in_array() expects parameter 2 to be array, boolean given in /home/nevewgha/public_html/wp-content/plugins/meta-data/meta-data.php on line 322

Warning: in_array() expects parameter 2 to be array, boolean given in /home/nevewgha/public_html/wp-content/plugins/meta-data/meta-data.php on line 313

Warning: in_array() expects parameter 2 to be array, boolean given in /home/nevewgha/public_html/wp-content/plugins/meta-data/meta-data.php on line 317

Warning: in_array() expects parameter 2 to be array, boolean given in /home/nevewgha/public_html/wp-content/plugins/meta-data/meta-data.php on line 321

Warning: in_array() expects parameter 2 to be array, boolean given in /home/nevewgha/public_html/wp-content/plugins/meta-data/meta-data.php on line 322

Warning: in_array() expects parameter 2 to be array, boolean given in /home/nevewgha/public_html/wp-content/plugins/meta-data/meta-data.php on line 313

Warning: in_array() expects parameter 2 to be array, boolean given in /home/nevewgha/public_html/wp-content/plugins/meta-data/meta-data.php on line 317

Warning: in_array() expects parameter 2 to be array, boolean given in /home/nevewgha/public_html/wp-content/plugins/meta-data/meta-data.php on line 321

Warning: in_array() expects parameter 2 to be array, boolean given in /home/nevewgha/public_html/wp-content/plugins/meta-data/meta-data.php on line 322

Warning: in_array() expects parameter 2 to be array, boolean given in /home/nevewgha/public_html/wp-content/plugins/meta-data/meta-data.php on line 313

Warning: in_array() expects parameter 2 to be array, boolean given in /home/nevewgha/public_html/wp-content/plugins/meta-data/meta-data.php on line 317

Warning: in_array() expects parameter 2 to be array, boolean given in /home/nevewgha/public_html/wp-content/plugins/meta-data/meta-data.php on line 321

Warning: in_array() expects parameter 2 to be array, boolean given in /home/nevewgha/public_html/wp-content/plugins/meta-data/meta-data.php on line 322

Warning: in_array() expects parameter 2 to be array, boolean given in /home/nevewgha/public_html/wp-content/plugins/meta-data/meta-data.php on line 313

Warning: in_array() expects parameter 2 to be array, boolean given in /home/nevewgha/public_html/wp-content/plugins/meta-data/meta-data.php on line 317

Warning: in_array() expects parameter 2 to be array, boolean given in /home/nevewgha/public_html/wp-content/plugins/meta-data/meta-data.php on line 321

Warning: in_array() expects parameter 2 to be array, boolean given in /home/nevewgha/public_html/wp-content/plugins/meta-data/meta-data.php on line 322

Warning: in_array() expects parameter 2 to be array, boolean given in /home/nevewgha/public_html/wp-content/plugins/meta-data/meta-data.php on line 313

Warning: in_array() expects parameter 2 to be array, boolean given in /home/nevewgha/public_html/wp-content/plugins/meta-data/meta-data.php on line 317

Warning: in_array() expects parameter 2 to be array, boolean given in /home/nevewgha/public_html/wp-content/plugins/meta-data/meta-data.php on line 321

Warning: in_array() expects parameter 2 to be array, boolean given in /home/nevewgha/public_html/wp-content/plugins/meta-data/meta-data.php on line 322

Warning: in_array() expects parameter 2 to be array, boolean given in /home/nevewgha/public_html/wp-content/plugins/meta-data/meta-data.php on line 313

Warning: in_array() expects parameter 2 to be array, boolean given in /home/nevewgha/public_html/wp-content/plugins/meta-data/meta-data.php on line 317

Warning: in_array() expects parameter 2 to be array, boolean given in /home/nevewgha/public_html/wp-content/plugins/meta-data/meta-data.php on line 321

Warning: in_array() expects parameter 2 to be array, boolean given in /home/nevewgha/public_html/wp-content/plugins/meta-data/meta-data.php on line 322

Warning: in_array() expects parameter 2 to be array, boolean given in /home/nevewgha/public_html/wp-content/plugins/meta-data/meta-data.php on line 313

Warning: in_array() expects parameter 2 to be array, boolean given in /home/nevewgha/public_html/wp-content/plugins/meta-data/meta-data.php on line 317

Warning: in_array() expects parameter 2 to be array, boolean given in /home/nevewgha/public_html/wp-content/plugins/meta-data/meta-data.php on line 321

Warning: in_array() expects parameter 2 to be array, boolean given in /home/nevewgha/public_html/wp-content/plugins/meta-data/meta-data.php on line 322

Warning: in_array() expects parameter 2 to be array, boolean given in /home/nevewgha/public_html/wp-content/plugins/meta-data/meta-data.php on line 313

Warning: in_array() expects parameter 2 to be array, boolean given in /home/nevewgha/public_html/wp-content/plugins/meta-data/meta-data.php on line 317

Warning: in_array() expects parameter 2 to be array, boolean given in /home/nevewgha/public_html/wp-content/plugins/meta-data/meta-data.php on line 321

Warning: in_array() expects parameter 2 to be array, boolean given in /home/nevewgha/public_html/wp-content/plugins/meta-data/meta-data.php on line 322

Warning: in_array() expects parameter 2 to be array, boolean given in /home/nevewgha/public_html/wp-content/plugins/meta-data/meta-data.php on line 313

Warning: in_array() expects parameter 2 to be array, boolean given in /home/nevewgha/public_html/wp-content/plugins/meta-data/meta-data.php on line 317

Warning: in_array() expects parameter 2 to be array, boolean given in /home/nevewgha/public_html/wp-content/plugins/meta-data/meta-data.php on line 321

Warning: in_array() expects parameter 2 to be array, boolean given in /home/nevewgha/public_html/wp-content/plugins/meta-data/meta-data.php on line 322

Warning: in_array() expects parameter 2 to be array, boolean given in /home/nevewgha/public_html/wp-content/plugins/meta-data/meta-data.php on line 313

Warning: in_array() expects parameter 2 to be array, boolean given in /home/nevewgha/public_html/wp-content/plugins/meta-data/meta-data.php on line 317

Warning: in_array() expects parameter 2 to be array, boolean given in /home/nevewgha/public_html/wp-content/plugins/meta-data/meta-data.php on line 321

Warning: in_array() expects parameter 2 to be array, boolean given in /home/nevewgha/public_html/wp-content/plugins/meta-data/meta-data.php on line 322

Warning: in_array() expects parameter 2 to be array, boolean given in /home/nevewgha/public_html/wp-content/plugins/meta-data/meta-data.php on line 313

Warning: in_array() expects parameter 2 to be array, boolean given in /home/nevewgha/public_html/wp-content/plugins/meta-data/meta-data.php on line 317

Warning: in_array() expects parameter 2 to be array, boolean given in /home/nevewgha/public_html/wp-content/plugins/meta-data/meta-data.php on line 321

Warning: in_array() expects parameter 2 to be array, boolean given in /home/nevewgha/public_html/wp-content/plugins/meta-data/meta-data.php on line 322

Warning: in_array() expects parameter 2 to be array, boolean given in /home/nevewgha/public_html/wp-content/plugins/meta-data/meta-data.php on line 313

Warning: in_array() expects parameter 2 to be array, boolean given in /home/nevewgha/public_html/wp-content/plugins/meta-data/meta-data.php on line 317

Warning: in_array() expects parameter 2 to be array, boolean given in /home/nevewgha/public_html/wp-content/plugins/meta-data/meta-data.php on line 321

Warning: in_array() expects parameter 2 to be array, boolean given in /home/nevewgha/public_html/wp-content/plugins/meta-data/meta-data.php on line 322

Warning: in_array() expects parameter 2 to be array, boolean given in /home/nevewgha/public_html/wp-content/plugins/meta-data/meta-data.php on line 313

Warning: in_array() expects parameter 2 to be array, boolean given in /home/nevewgha/public_html/wp-content/plugins/meta-data/meta-data.php on line 317

Warning: in_array() expects parameter 2 to be array, boolean given in /home/nevewgha/public_html/wp-content/plugins/meta-data/meta-data.php on line 321

Warning: in_array() expects parameter 2 to be array, boolean given in /home/nevewgha/public_html/wp-content/plugins/meta-data/meta-data.php on line 322

Warning: in_array() expects parameter 2 to be array, boolean given in /home/nevewgha/public_html/wp-content/plugins/meta-data/meta-data.php on line 313

Warning: in_array() expects parameter 2 to be array, boolean given in /home/nevewgha/public_html/wp-content/plugins/meta-data/meta-data.php on line 317

Warning: in_array() expects parameter 2 to be array, boolean given in /home/nevewgha/public_html/wp-content/plugins/meta-data/meta-data.php on line 321

Warning: in_array() expects parameter 2 to be array, boolean given in /home/nevewgha/public_html/wp-content/plugins/meta-data/meta-data.php on line 322

Warning: in_array() expects parameter 2 to be array, boolean given in /home/nevewgha/public_html/wp-content/plugins/meta-data/meta-data.php on line 313

Warning: in_array() expects parameter 2 to be array, boolean given in /home/nevewgha/public_html/wp-content/plugins/meta-data/meta-data.php on line 317

Warning: in_array() expects parameter 2 to be array, boolean given in /home/nevewgha/public_html/wp-content/plugins/meta-data/meta-data.php on line 321

Warning: in_array() expects parameter 2 to be array, boolean given in /home/nevewgha/public_html/wp-content/plugins/meta-data/meta-data.php on line 322

Warning: in_array() expects parameter 2 to be array, boolean given in /home/nevewgha/public_html/wp-content/plugins/meta-data/meta-data.php on line 313

Warning: in_array() expects parameter 2 to be array, boolean given in /home/nevewgha/public_html/wp-content/plugins/meta-data/meta-data.php on line 317

Warning: in_array() expects parameter 2 to be array, boolean given in /home/nevewgha/public_html/wp-content/plugins/meta-data/meta-data.php on line 321

Warning: in_array() expects parameter 2 to be array, boolean given in /home/nevewgha/public_html/wp-content/plugins/meta-data/meta-data.php on line 322

Warning: in_array() expects parameter 2 to be array, boolean given in /home/nevewgha/public_html/wp-content/plugins/meta-data/meta-data.php on line 313

Warning: in_array() expects parameter 2 to be array, boolean given in /home/nevewgha/public_html/wp-content/plugins/meta-data/meta-data.php on line 317

Warning: in_array() expects parameter 2 to be array, boolean given in /home/nevewgha/public_html/wp-content/plugins/meta-data/meta-data.php on line 321

Warning: in_array() expects parameter 2 to be array, boolean given in /home/nevewgha/public_html/wp-content/plugins/meta-data/meta-data.php on line 322

Warning: in_array() expects parameter 2 to be array, boolean given in /home/nevewgha/public_html/wp-content/plugins/meta-data/meta-data.php on line 313

Warning: in_array() expects parameter 2 to be array, boolean given in /home/nevewgha/public_html/wp-content/plugins/meta-data/meta-data.php on line 317

Warning: in_array() expects parameter 2 to be array, boolean given in /home/nevewgha/public_html/wp-content/plugins/meta-data/meta-data.php on line 321

Warning: in_array() expects parameter 2 to be array, boolean given in /home/nevewgha/public_html/wp-content/plugins/meta-data/meta-data.php on line 322

Warning: in_array() expects parameter 2 to be array, boolean given in /home/nevewgha/public_html/wp-content/plugins/meta-data/meta-data.php on line 313

Warning: in_array() expects parameter 2 to be array, boolean given in /home/nevewgha/public_html/wp-content/plugins/meta-data/meta-data.php on line 317

Warning: in_array() expects parameter 2 to be array, boolean given in /home/nevewgha/public_html/wp-content/plugins/meta-data/meta-data.php on line 321

Warning: in_array() expects parameter 2 to be array, boolean given in /home/nevewgha/public_html/wp-content/plugins/meta-data/meta-data.php on line 322

Warning: in_array() expects parameter 2 to be array, boolean given in /home/nevewgha/public_html/wp-content/plugins/meta-data/meta-data.php on line 313

Warning: in_array() expects parameter 2 to be array, boolean given in /home/nevewgha/public_html/wp-content/plugins/meta-data/meta-data.php on line 317

Warning: in_array() expects parameter 2 to be array, boolean given in /home/nevewgha/public_html/wp-content/plugins/meta-data/meta-data.php on line 321

Warning: in_array() expects parameter 2 to be array, boolean given in /home/nevewgha/public_html/wp-content/plugins/meta-data/meta-data.php on line 322

Warning: in_array() expects parameter 2 to be array, boolean given in /home/nevewgha/public_html/wp-content/plugins/meta-data/meta-data.php on line 313

Warning: in_array() expects parameter 2 to be array, boolean given in /home/nevewgha/public_html/wp-content/plugins/meta-data/meta-data.php on line 317

Warning: in_array() expects parameter 2 to be array, boolean given in /home/nevewgha/public_html/wp-content/plugins/meta-data/meta-data.php on line 321

Warning: in_array() expects parameter 2 to be array, boolean given in /home/nevewgha/public_html/wp-content/plugins/meta-data/meta-data.php on line 322

Warning: in_array() expects parameter 2 to be array, boolean given in /home/nevewgha/public_html/wp-content/plugins/meta-data/meta-data.php on line 313

Warning: in_array() expects parameter 2 to be array, boolean given in /home/nevewgha/public_html/wp-content/plugins/meta-data/meta-data.php on line 317

Warning: in_array() expects parameter 2 to be array, boolean given in /home/nevewgha/public_html/wp-content/plugins/meta-data/meta-data.php on line 321

Warning: in_array() expects parameter 2 to be array, boolean given in /home/nevewgha/public_html/wp-content/plugins/meta-data/meta-data.php on line 322

Warning: in_array() expects parameter 2 to be array, boolean given in /home/nevewgha/public_html/wp-content/plugins/meta-data/meta-data.php on line 313

Warning: in_array() expects parameter 2 to be array, boolean given in /home/nevewgha/public_html/wp-content/plugins/meta-data/meta-data.php on line 317

Warning: in_array() expects parameter 2 to be array, boolean given in /home/nevewgha/public_html/wp-content/plugins/meta-data/meta-data.php on line 321

Warning: in_array() expects parameter 2 to be array, boolean given in /home/nevewgha/public_html/wp-content/plugins/meta-data/meta-data.php on line 322

Warning: in_array() expects parameter 2 to be array, boolean given in /home/nevewgha/public_html/wp-content/plugins/meta-data/meta-data.php on line 313

Warning: in_array() expects parameter 2 to be array, boolean given in /home/nevewgha/public_html/wp-content/plugins/meta-data/meta-data.php on line 317

Warning: in_array() expects parameter 2 to be array, boolean given in /home/nevewgha/public_html/wp-content/plugins/meta-data/meta-data.php on line 321

Warning: in_array() expects parameter 2 to be array, boolean given in /home/nevewgha/public_html/wp-content/plugins/meta-data/meta-data.php on line 322

Warning: in_array() expects parameter 2 to be array, boolean given in /home/nevewgha/public_html/wp-content/plugins/meta-data/meta-data.php on line 313

Warning: in_array() expects parameter 2 to be array, boolean given in /home/nevewgha/public_html/wp-content/plugins/meta-data/meta-data.php on line 317

Warning: in_array() expects parameter 2 to be array, boolean given in /home/nevewgha/public_html/wp-content/plugins/meta-data/meta-data.php on line 321

Warning: in_array() expects parameter 2 to be array, boolean given in /home/nevewgha/public_html/wp-content/plugins/meta-data/meta-data.php on line 322

Warning: in_array() expects parameter 2 to be array, boolean given in /home/nevewgha/public_html/wp-content/plugins/meta-data/meta-data.php on line 313

Warning: in_array() expects parameter 2 to be array, boolean given in /home/nevewgha/public_html/wp-content/plugins/meta-data/meta-data.php on line 317

Warning: in_array() expects parameter 2 to be array, boolean given in /home/nevewgha/public_html/wp-content/plugins/meta-data/meta-data.php on line 321

Warning: in_array() expects parameter 2 to be array, boolean given in /home/nevewgha/public_html/wp-content/plugins/meta-data/meta-data.php on line 322

Warning: in_array() expects parameter 2 to be array, boolean given in /home/nevewgha/public_html/wp-content/plugins/meta-data/meta-data.php on line 313

Warning: in_array() expects parameter 2 to be array, boolean given in /home/nevewgha/public_html/wp-content/plugins/meta-data/meta-data.php on line 317

Warning: in_array() expects parameter 2 to be array, boolean given in /home/nevewgha/public_html/wp-content/plugins/meta-data/meta-data.php on line 321

Warning: in_array() expects parameter 2 to be array, boolean given in /home/nevewgha/public_html/wp-content/plugins/meta-data/meta-data.php on line 322

Warning: in_array() expects parameter 2 to be array, boolean given in /home/nevewgha/public_html/wp-content/plugins/meta-data/meta-data.php on line 313

Warning: in_array() expects parameter 2 to be array, boolean given in /home/nevewgha/public_html/wp-content/plugins/meta-data/meta-data.php on line 317

Warning: in_array() expects parameter 2 to be array, boolean given in /home/nevewgha/public_html/wp-content/plugins/meta-data/meta-data.php on line 321

Warning: in_array() expects parameter 2 to be array, boolean given in /home/nevewgha/public_html/wp-content/plugins/meta-data/meta-data.php on line 322

Warning: in_array() expects parameter 2 to be array, boolean given in /home/nevewgha/public_html/wp-content/plugins/meta-data/meta-data.php on line 313

Warning: in_array() expects parameter 2 to be array, boolean given in /home/nevewgha/public_html/wp-content/plugins/meta-data/meta-data.php on line 317

Warning: in_array() expects parameter 2 to be array, boolean given in /home/nevewgha/public_html/wp-content/plugins/meta-data/meta-data.php on line 321

Warning: in_array() expects parameter 2 to be array, boolean given in /home/nevewgha/public_html/wp-content/plugins/meta-data/meta-data.php on line 322

Warning: in_array() expects parameter 2 to be array, boolean given in /home/nevewgha/public_html/wp-content/plugins/meta-data/meta-data.php on line 313

Warning: in_array() expects parameter 2 to be array, boolean given in /home/nevewgha/public_html/wp-content/plugins/meta-data/meta-data.php on line 317

Warning: in_array() expects parameter 2 to be array, boolean given in /home/nevewgha/public_html/wp-content/plugins/meta-data/meta-data.php on line 321

Warning: in_array() expects parameter 2 to be array, boolean given in /home/nevewgha/public_html/wp-content/plugins/meta-data/meta-data.php on line 322

Warning: in_array() expects parameter 2 to be array, boolean given in /home/nevewgha/public_html/wp-content/plugins/meta-data/meta-data.php on line 313

Warning: in_array() expects parameter 2 to be array, boolean given in /home/nevewgha/public_html/wp-content/plugins/meta-data/meta-data.php on line 317

Warning: in_array() expects parameter 2 to be array, boolean given in /home/nevewgha/public_html/wp-content/plugins/meta-data/meta-data.php on line 321

Warning: in_array() expects parameter 2 to be array, boolean given in /home/nevewgha/public_html/wp-content/plugins/meta-data/meta-data.php on line 322

Warning: in_array() expects parameter 2 to be array, boolean given in /home/nevewgha/public_html/wp-content/plugins/meta-data/meta-data.php on line 313

Warning: in_array() expects parameter 2 to be array, boolean given in /home/nevewgha/public_html/wp-content/plugins/meta-data/meta-data.php on line 317

Warning: in_array() expects parameter 2 to be array, boolean given in /home/nevewgha/public_html/wp-content/plugins/meta-data/meta-data.php on line 321

Warning: in_array() expects parameter 2 to be array, boolean given in /home/nevewgha/public_html/wp-content/plugins/meta-data/meta-data.php on line 322

Warning: in_array() expects parameter 2 to be array, boolean given in /home/nevewgha/public_html/wp-content/plugins/meta-data/meta-data.php on line 313

Warning: in_array() expects parameter 2 to be array, boolean given in /home/nevewgha/public_html/wp-content/plugins/meta-data/meta-data.php on line 317

Warning: in_array() expects parameter 2 to be array, boolean given in /home/nevewgha/public_html/wp-content/plugins/meta-data/meta-data.php on line 321

Warning: in_array() expects parameter 2 to be array, boolean given in /home/nevewgha/public_html/wp-content/plugins/meta-data/meta-data.php on line 322

Warning: in_array() expects parameter 2 to be array, boolean given in /home/nevewgha/public_html/wp-content/plugins/meta-data/meta-data.php on line 313

Warning: in_array() expects parameter 2 to be array, boolean given in /home/nevewgha/public_html/wp-content/plugins/meta-data/meta-data.php on line 317

Warning: in_array() expects parameter 2 to be array, boolean given in /home/nevewgha/public_html/wp-content/plugins/meta-data/meta-data.php on line 321

Warning: in_array() expects parameter 2 to be array, boolean given in /home/nevewgha/public_html/wp-content/plugins/meta-data/meta-data.php on line 322

Warning: in_array() expects parameter 2 to be array, boolean given in /home/nevewgha/public_html/wp-content/plugins/meta-data/meta-data.php on line 313

Warning: in_array() expects parameter 2 to be array, boolean given in /home/nevewgha/public_html/wp-content/plugins/meta-data/meta-data.php on line 317

Warning: in_array() expects parameter 2 to be array, boolean given in /home/nevewgha/public_html/wp-content/plugins/meta-data/meta-data.php on line 321

Warning: in_array() expects parameter 2 to be array, boolean given in /home/nevewgha/public_html/wp-content/plugins/meta-data/meta-data.php on line 322

Warning: in_array() expects parameter 2 to be array, boolean given in /home/nevewgha/public_html/wp-content/plugins/meta-data/meta-data.php on line 313

Warning: in_array() expects parameter 2 to be array, boolean given in /home/nevewgha/public_html/wp-content/plugins/meta-data/meta-data.php on line 317

Warning: in_array() expects parameter 2 to be array, boolean given in /home/nevewgha/public_html/wp-content/plugins/meta-data/meta-data.php on line 321

Warning: in_array() expects parameter 2 to be array, boolean given in /home/nevewgha/public_html/wp-content/plugins/meta-data/meta-data.php on line 322

Warning: in_array() expects parameter 2 to be array, boolean given in /home/nevewgha/public_html/wp-content/plugins/meta-data/meta-data.php on line 313

Warning: in_array() expects parameter 2 to be array, boolean given in /home/nevewgha/public_html/wp-content/plugins/meta-data/meta-data.php on line 317

Warning: in_array() expects parameter 2 to be array, boolean given in /home/nevewgha/public_html/wp-content/plugins/meta-data/meta-data.php on line 321

Warning: in_array() expects parameter 2 to be array, boolean given in /home/nevewgha/public_html/wp-content/plugins/meta-data/meta-data.php on line 322

Warning: in_array() expects parameter 2 to be array, boolean given in /home/nevewgha/public_html/wp-content/plugins/meta-data/meta-data.php on line 313

Warning: in_array() expects parameter 2 to be array, boolean given in /home/nevewgha/public_html/wp-content/plugins/meta-data/meta-data.php on line 317

Warning: in_array() expects parameter 2 to be array, boolean given in /home/nevewgha/public_html/wp-content/plugins/meta-data/meta-data.php on line 321

Warning: in_array() expects parameter 2 to be array, boolean given in /home/nevewgha/public_html/wp-content/plugins/meta-data/meta-data.php on line 322

Warning: in_array() expects parameter 2 to be array, boolean given in /home/nevewgha/public_html/wp-content/plugins/meta-data/meta-data.php on line 313

Warning: in_array() expects parameter 2 to be array, boolean given in /home/nevewgha/public_html/wp-content/plugins/meta-data/meta-data.php on line 317

Warning: in_array() expects parameter 2 to be array, boolean given in /home/nevewgha/public_html/wp-content/plugins/meta-data/meta-data.php on line 321

Warning: in_array() expects parameter 2 to be array, boolean given in /home/nevewgha/public_html/wp-content/plugins/meta-data/meta-data.php on line 322

Warning: in_array() expects parameter 2 to be array, boolean given in /home/nevewgha/public_html/wp-content/plugins/meta-data/meta-data.php on line 313

Warning: in_array() expects parameter 2 to be array, boolean given in /home/nevewgha/public_html/wp-content/plugins/meta-data/meta-data.php on line 317

Warning: in_array() expects parameter 2 to be array, boolean given in /home/nevewgha/public_html/wp-content/plugins/meta-data/meta-data.php on line 321

Warning: in_array() expects parameter 2 to be array, boolean given in /home/nevewgha/public_html/wp-content/plugins/meta-data/meta-data.php on line 322

Warning: in_array() expects parameter 2 to be array, boolean given in /home/nevewgha/public_html/wp-content/plugins/meta-data/meta-data.php on line 313

Warning: in_array() expects parameter 2 to be array, boolean given in /home/nevewgha/public_html/wp-content/plugins/meta-data/meta-data.php on line 317

Warning: in_array() expects parameter 2 to be array, boolean given in /home/nevewgha/public_html/wp-content/plugins/meta-data/meta-data.php on line 321

Warning: in_array() expects parameter 2 to be array, boolean given in /home/nevewgha/public_html/wp-content/plugins/meta-data/meta-data.php on line 322

Warning: in_array() expects parameter 2 to be array, boolean given in /home/nevewgha/public_html/wp-content/plugins/meta-data/meta-data.php on line 313

Warning: in_array() expects parameter 2 to be array, boolean given in /home/nevewgha/public_html/wp-content/plugins/meta-data/meta-data.php on line 317

Warning: in_array() expects parameter 2 to be array, boolean given in /home/nevewgha/public_html/wp-content/plugins/meta-data/meta-data.php on line 321

Warning: in_array() expects parameter 2 to be array, boolean given in /home/nevewgha/public_html/wp-content/plugins/meta-data/meta-data.php on line 322

Warning: in_array() expects parameter 2 to be array, boolean given in /home/nevewgha/public_html/wp-content/plugins/meta-data/meta-data.php on line 313

Warning: in_array() expects parameter 2 to be array, boolean given in /home/nevewgha/public_html/wp-content/plugins/meta-data/meta-data.php on line 317

Warning: in_array() expects parameter 2 to be array, boolean given in /home/nevewgha/public_html/wp-content/plugins/meta-data/meta-data.php on line 321

Warning: in_array() expects parameter 2 to be array, boolean given in /home/nevewgha/public_html/wp-content/plugins/meta-data/meta-data.php on line 322

Warning: in_array() expects parameter 2 to be array, boolean given in /home/nevewgha/public_html/wp-content/plugins/meta-data/meta-data.php on line 313

Warning: in_array() expects parameter 2 to be array, boolean given in /home/nevewgha/public_html/wp-content/plugins/meta-data/meta-data.php on line 317

Warning: in_array() expects parameter 2 to be array, boolean given in /home/nevewgha/public_html/wp-content/plugins/meta-data/meta-data.php on line 321

Warning: in_array() expects parameter 2 to be array, boolean given in /home/nevewgha/public_html/wp-content/plugins/meta-data/meta-data.php on line 322

Warning: in_array() expects parameter 2 to be array, boolean given in /home/nevewgha/public_html/wp-content/plugins/meta-data/meta-data.php on line 313

Warning: in_array() expects parameter 2 to be array, boolean given in /home/nevewgha/public_html/wp-content/plugins/meta-data/meta-data.php on line 317

Warning: in_array() expects parameter 2 to be array, boolean given in /home/nevewgha/public_html/wp-content/plugins/meta-data/meta-data.php on line 321

Warning: in_array() expects parameter 2 to be array, boolean given in /home/nevewgha/public_html/wp-content/plugins/meta-data/meta-data.php on line 322

Warning: in_array() expects parameter 2 to be array, boolean given in /home/nevewgha/public_html/wp-content/plugins/meta-data/meta-data.php on line 313

Warning: in_array() expects parameter 2 to be array, boolean given in /home/nevewgha/public_html/wp-content/plugins/meta-data/meta-data.php on line 317

Warning: in_array() expects parameter 2 to be array, boolean given in /home/nevewgha/public_html/wp-content/plugins/meta-data/meta-data.php on line 321

Warning: in_array() expects parameter 2 to be array, boolean given in /home/nevewgha/public_html/wp-content/plugins/meta-data/meta-data.php on line 322

Warning: in_array() expects parameter 2 to be array, boolean given in /home/nevewgha/public_html/wp-content/plugins/meta-data/meta-data.php on line 313

Warning: in_array() expects parameter 2 to be array, boolean given in /home/nevewgha/public_html/wp-content/plugins/meta-data/meta-data.php on line 317

Warning: in_array() expects parameter 2 to be array, boolean given in /home/nevewgha/public_html/wp-content/plugins/meta-data/meta-data.php on line 321

Warning: in_array() expects parameter 2 to be array, boolean given in /home/nevewgha/public_html/wp-content/plugins/meta-data/meta-data.php on line 322

Warning: in_array() expects parameter 2 to be array, boolean given in /home/nevewgha/public_html/wp-content/plugins/meta-data/meta-data.php on line 313

Warning: in_array() expects parameter 2 to be array, boolean given in /home/nevewgha/public_html/wp-content/plugins/meta-data/meta-data.php on line 317

Warning: in_array() expects parameter 2 to be array, boolean given in /home/nevewgha/public_html/wp-content/plugins/meta-data/meta-data.php on line 321

Warning: in_array() expects parameter 2 to be array, boolean given in /home/nevewgha/public_html/wp-content/plugins/meta-data/meta-data.php on line 322

Warning: in_array() expects parameter 2 to be array, boolean given in /home/nevewgha/public_html/wp-content/plugins/meta-data/meta-data.php on line 313

Warning: in_array() expects parameter 2 to be array, boolean given in /home/nevewgha/public_html/wp-content/plugins/meta-data/meta-data.php on line 317

Warning: in_array() expects parameter 2 to be array, boolean given in /home/nevewgha/public_html/wp-content/plugins/meta-data/meta-data.php on line 321

Warning: in_array() expects parameter 2 to be array, boolean given in /home/nevewgha/public_html/wp-content/plugins/meta-data/meta-data.php on line 322

Warning: in_array() expects parameter 2 to be array, boolean given in /home/nevewgha/public_html/wp-content/plugins/meta-data/meta-data.php on line 313

Warning: in_array() expects parameter 2 to be array, boolean given in /home/nevewgha/public_html/wp-content/plugins/meta-data/meta-data.php on line 317

Warning: in_array() expects parameter 2 to be array, boolean given in /home/nevewgha/public_html/wp-content/plugins/meta-data/meta-data.php on line 321

Warning: in_array() expects parameter 2 to be array, boolean given in /home/nevewgha/public_html/wp-content/plugins/meta-data/meta-data.php on line 322

Warning: in_array() expects parameter 2 to be array, boolean given in /home/nevewgha/public_html/wp-content/plugins/meta-data/meta-data.php on line 313

Warning: in_array() expects parameter 2 to be array, boolean given in /home/nevewgha/public_html/wp-content/plugins/meta-data/meta-data.php on line 317

Warning: in_array() expects parameter 2 to be array, boolean given in /home/nevewgha/public_html/wp-content/plugins/meta-data/meta-data.php on line 321

Warning: in_array() expects parameter 2 to be array, boolean given in /home/nevewgha/public_html/wp-content/plugins/meta-data/meta-data.php on line 322

Warning: in_array() expects parameter 2 to be array, boolean given in /home/nevewgha/public_html/wp-content/plugins/meta-data/meta-data.php on line 313

Warning: in_array() expects parameter 2 to be array, boolean given in /home/nevewgha/public_html/wp-content/plugins/meta-data/meta-data.php on line 317

Warning: in_array() expects parameter 2 to be array, boolean given in /home/nevewgha/public_html/wp-content/plugins/meta-data/meta-data.php on line 321

Warning: in_array() expects parameter 2 to be array, boolean given in /home/nevewgha/public_html/wp-content/plugins/meta-data/meta-data.php on line 322

Warning: in_array() expects parameter 2 to be array, boolean given in /home/nevewgha/public_html/wp-content/plugins/meta-data/meta-data.php on line 313

Warning: in_array() expects parameter 2 to be array, boolean given in /home/nevewgha/public_html/wp-content/plugins/meta-data/meta-data.php on line 317

Warning: in_array() expects parameter 2 to be array, boolean given in /home/nevewgha/public_html/wp-content/plugins/meta-data/meta-data.php on line 321

Warning: in_array() expects parameter 2 to be array, boolean given in /home/nevewgha/public_html/wp-content/plugins/meta-data/meta-data.php on line 322

Warning: in_array() expects parameter 2 to be array, boolean given in /home/nevewgha/public_html/wp-content/plugins/meta-data/meta-data.php on line 313

Warning: in_array() expects parameter 2 to be array, boolean given in /home/nevewgha/public_html/wp-content/plugins/meta-data/meta-data.php on line 317

Warning: in_array() expects parameter 2 to be array, boolean given in /home/nevewgha/public_html/wp-content/plugins/meta-data/meta-data.php on line 321

Warning: in_array() expects parameter 2 to be array, boolean given in /home/nevewgha/public_html/wp-content/plugins/meta-data/meta-data.php on line 322

Warning: in_array() expects parameter 2 to be array, boolean given in /home/nevewgha/public_html/wp-content/plugins/meta-data/meta-data.php on line 313

Warning: in_array() expects parameter 2 to be array, boolean given in /home/nevewgha/public_html/wp-content/plugins/meta-data/meta-data.php on line 317

Warning: in_array() expects parameter 2 to be array, boolean given in /home/nevewgha/public_html/wp-content/plugins/meta-data/meta-data.php on line 321

Warning: in_array() expects parameter 2 to be array, boolean given in /home/nevewgha/public_html/wp-content/plugins/meta-data/meta-data.php on line 322

Warning: in_array() expects parameter 2 to be array, boolean given in /home/nevewgha/public_html/wp-content/plugins/meta-data/meta-data.php on line 313

Warning: in_array() expects parameter 2 to be array, boolean given in /home/nevewgha/public_html/wp-content/plugins/meta-data/meta-data.php on line 317

Warning: in_array() expects parameter 2 to be array, boolean given in /home/nevewgha/public_html/wp-content/plugins/meta-data/meta-data.php on line 321

Warning: in_array() expects parameter 2 to be array, boolean given in /home/nevewgha/public_html/wp-content/plugins/meta-data/meta-data.php on line 322

Warning: in_array() expects parameter 2 to be array, boolean given in /home/nevewgha/public_html/wp-content/plugins/meta-data/meta-data.php on line 313

Warning: in_array() expects parameter 2 to be array, boolean given in /home/nevewgha/public_html/wp-content/plugins/meta-data/meta-data.php on line 317

Warning: in_array() expects parameter 2 to be array, boolean given in /home/nevewgha/public_html/wp-content/plugins/meta-data/meta-data.php on line 321

Warning: in_array() expects parameter 2 to be array, boolean given in /home/nevewgha/public_html/wp-content/plugins/meta-data/meta-data.php on line 322

Warning: in_array() expects parameter 2 to be array, boolean given in /home/nevewgha/public_html/wp-content/plugins/meta-data/meta-data.php on line 313

Warning: in_array() expects parameter 2 to be array, boolean given in /home/nevewgha/public_html/wp-content/plugins/meta-data/meta-data.php on line 317

Warning: in_array() expects parameter 2 to be array, boolean given in /home/nevewgha/public_html/wp-content/plugins/meta-data/meta-data.php on line 321

Warning: in_array() expects parameter 2 to be array, boolean given in /home/nevewgha/public_html/wp-content/plugins/meta-data/meta-data.php on line 322

Warning: in_array() expects parameter 2 to be array, boolean given in /home/nevewgha/public_html/wp-content/plugins/meta-data/meta-data.php on line 313

Warning: in_array() expects parameter 2 to be array, boolean given in /home/nevewgha/public_html/wp-content/plugins/meta-data/meta-data.php on line 317

Warning: in_array() expects parameter 2 to be array, boolean given in /home/nevewgha/public_html/wp-content/plugins/meta-data/meta-data.php on line 321

Warning: in_array() expects parameter 2 to be array, boolean given in /home/nevewgha/public_html/wp-content/plugins/meta-data/meta-data.php on line 322

Warning: in_array() expects parameter 2 to be array, boolean given in /home/nevewgha/public_html/wp-content/plugins/meta-data/meta-data.php on line 313

Warning: in_array() expects parameter 2 to be array, boolean given in /home/nevewgha/public_html/wp-content/plugins/meta-data/meta-data.php on line 317

Warning: in_array() expects parameter 2 to be array, boolean given in /home/nevewgha/public_html/wp-content/plugins/meta-data/meta-data.php on line 321

Warning: in_array() expects parameter 2 to be array, boolean given in /home/nevewgha/public_html/wp-content/plugins/meta-data/meta-data.php on line 322

Warning: in_array() expects parameter 2 to be array, boolean given in /home/nevewgha/public_html/wp-content/plugins/meta-data/meta-data.php on line 313

Warning: in_array() expects parameter 2 to be array, boolean given in /home/nevewgha/public_html/wp-content/plugins/meta-data/meta-data.php on line 317

Warning: in_array() expects parameter 2 to be array, boolean given in /home/nevewgha/public_html/wp-content/plugins/meta-data/meta-data.php on line 321

Warning: in_array() expects parameter 2 to be array, boolean given in /home/nevewgha/public_html/wp-content/plugins/meta-data/meta-data.php on line 322

Warning: in_array() expects parameter 2 to be array, boolean given in /home/nevewgha/public_html/wp-content/plugins/meta-data/meta-data.php on line 313

Warning: in_array() expects parameter 2 to be array, boolean given in /home/nevewgha/public_html/wp-content/plugins/meta-data/meta-data.php on line 317

Warning: in_array() expects parameter 2 to be array, boolean given in /home/nevewgha/public_html/wp-content/plugins/meta-data/meta-data.php on line 321

Warning: in_array() expects parameter 2 to be array, boolean given in /home/nevewgha/public_html/wp-content/plugins/meta-data/meta-data.php on line 322

Warning: in_array() expects parameter 2 to be array, boolean given in /home/nevewgha/public_html/wp-content/plugins/meta-data/meta-data.php on line 313

Warning: in_array() expects parameter 2 to be array, boolean given in /home/nevewgha/public_html/wp-content/plugins/meta-data/meta-data.php on line 317

Warning: in_array() expects parameter 2 to be array, boolean given in /home/nevewgha/public_html/wp-content/plugins/meta-data/meta-data.php on line 321

Warning: in_array() expects parameter 2 to be array, boolean given in /home/nevewgha/public_html/wp-content/plugins/meta-data/meta-data.php on line 322

Warning: in_array() expects parameter 2 to be array, boolean given in /home/nevewgha/public_html/wp-content/plugins/meta-data/meta-data.php on line 313

Warning: in_array() expects parameter 2 to be array, boolean given in /home/nevewgha/public_html/wp-content/plugins/meta-data/meta-data.php on line 317

Warning: in_array() expects parameter 2 to be array, boolean given in /home/nevewgha/public_html/wp-content/plugins/meta-data/meta-data.php on line 321

Warning: in_array() expects parameter 2 to be array, boolean given in /home/nevewgha/public_html/wp-content/plugins/meta-data/meta-data.php on line 322

Warning: in_array() expects parameter 2 to be array, boolean given in /home/nevewgha/public_html/wp-content/plugins/meta-data/meta-data.php on line 313

Warning: in_array() expects parameter 2 to be array, boolean given in /home/nevewgha/public_html/wp-content/plugins/meta-data/meta-data.php on line 317

Warning: in_array() expects parameter 2 to be array, boolean given in /home/nevewgha/public_html/wp-content/plugins/meta-data/meta-data.php on line 321

Warning: in_array() expects parameter 2 to be array, boolean given in /home/nevewgha/public_html/wp-content/plugins/meta-data/meta-data.php on line 322

Warning: in_array() expects parameter 2 to be array, boolean given in /home/nevewgha/public_html/wp-content/plugins/meta-data/meta-data.php on line 313

Warning: in_array() expects parameter 2 to be array, boolean given in /home/nevewgha/public_html/wp-content/plugins/meta-data/meta-data.php on line 317

Warning: in_array() expects parameter 2 to be array, boolean given in /home/nevewgha/public_html/wp-content/plugins/meta-data/meta-data.php on line 321

Warning: in_array() expects parameter 2 to be array, boolean given in /home/nevewgha/public_html/wp-content/plugins/meta-data/meta-data.php on line 322

Warning: in_array() expects parameter 2 to be array, boolean given in /home/nevewgha/public_html/wp-content/plugins/meta-data/meta-data.php on line 313

Warning: in_array() expects parameter 2 to be array, boolean given in /home/nevewgha/public_html/wp-content/plugins/meta-data/meta-data.php on line 317

Warning: in_array() expects parameter 2 to be array, boolean given in /home/nevewgha/public_html/wp-content/plugins/meta-data/meta-data.php on line 321

Warning: in_array() expects parameter 2 to be array, boolean given in /home/nevewgha/public_html/wp-content/plugins/meta-data/meta-data.php on line 322

Warning: in_array() expects parameter 2 to be array, boolean given in /home/nevewgha/public_html/wp-content/plugins/meta-data/meta-data.php on line 313

Warning: in_array() expects parameter 2 to be array, boolean given in /home/nevewgha/public_html/wp-content/plugins/meta-data/meta-data.php on line 317

Warning: in_array() expects parameter 2 to be array, boolean given in /home/nevewgha/public_html/wp-content/plugins/meta-data/meta-data.php on line 321

Warning: in_array() expects parameter 2 to be array, boolean given in /home/nevewgha/public_html/wp-content/plugins/meta-data/meta-data.php on line 322

Warning: in_array() expects parameter 2 to be array, boolean given in /home/nevewgha/public_html/wp-content/plugins/meta-data/meta-data.php on line 313

Warning: in_array() expects parameter 2 to be array, boolean given in /home/nevewgha/public_html/wp-content/plugins/meta-data/meta-data.php on line 317

Warning: in_array() expects parameter 2 to be array, boolean given in /home/nevewgha/public_html/wp-content/plugins/meta-data/meta-data.php on line 321

Warning: in_array() expects parameter 2 to be array, boolean given in /home/nevewgha/public_html/wp-content/plugins/meta-data/meta-data.php on line 322

Warning: in_array() expects parameter 2 to be array, boolean given in /home/nevewgha/public_html/wp-content/plugins/meta-data/meta-data.php on line 313

Warning: in_array() expects parameter 2 to be array, boolean given in /home/nevewgha/public_html/wp-content/plugins/meta-data/meta-data.php on line 317

Warning: in_array() expects parameter 2 to be array, boolean given in /home/nevewgha/public_html/wp-content/plugins/meta-data/meta-data.php on line 321

Warning: in_array() expects parameter 2 to be array, boolean given in /home/nevewgha/public_html/wp-content/plugins/meta-data/meta-data.php on line 322

Warning: in_array() expects parameter 2 to be array, boolean given in /home/nevewgha/public_html/wp-content/plugins/meta-data/meta-data.php on line 313

Warning: in_array() expects parameter 2 to be array, boolean given in /home/nevewgha/public_html/wp-content/plugins/meta-data/meta-data.php on line 317

Warning: in_array() expects parameter 2 to be array, boolean given in /home/nevewgha/public_html/wp-content/plugins/meta-data/meta-data.php on line 321

Warning: in_array() expects parameter 2 to be array, boolean given in /home/nevewgha/public_html/wp-content/plugins/meta-data/meta-data.php on line 322

Warning: in_array() expects parameter 2 to be array, boolean given in /home/nevewgha/public_html/wp-content/plugins/meta-data/meta-data.php on line 313

Warning: in_array() expects parameter 2 to be array, boolean given in /home/nevewgha/public_html/wp-content/plugins/meta-data/meta-data.php on line 317

Warning: in_array() expects parameter 2 to be array, boolean given in /home/nevewgha/public_html/wp-content/plugins/meta-data/meta-data.php on line 321

Warning: in_array() expects parameter 2 to be array, boolean given in /home/nevewgha/public_html/wp-content/plugins/meta-data/meta-data.php on line 322

Warning: in_array() expects parameter 2 to be array, boolean given in /home/nevewgha/public_html/wp-content/plugins/meta-data/meta-data.php on line 313

Warning: in_array() expects parameter 2 to be array, boolean given in /home/nevewgha/public_html/wp-content/plugins/meta-data/meta-data.php on line 317

Warning: in_array() expects parameter 2 to be array, boolean given in /home/nevewgha/public_html/wp-content/plugins/meta-data/meta-data.php on line 321

Warning: in_array() expects parameter 2 to be array, boolean given in /home/nevewgha/public_html/wp-content/plugins/meta-data/meta-data.php on line 322

Warning: in_array() expects parameter 2 to be array, boolean given in /home/nevewgha/public_html/wp-content/plugins/meta-data/meta-data.php on line 313

Warning: in_array() expects parameter 2 to be array, boolean given in /home/nevewgha/public_html/wp-content/plugins/meta-data/meta-data.php on line 317

Warning: in_array() expects parameter 2 to be array, boolean given in /home/nevewgha/public_html/wp-content/plugins/meta-data/meta-data.php on line 321

Warning: in_array() expects parameter 2 to be array, boolean given in /home/nevewgha/public_html/wp-content/plugins/meta-data/meta-data.php on line 322

Warning: in_array() expects parameter 2 to be array, boolean given in /home/nevewgha/public_html/wp-content/plugins/meta-data/meta-data.php on line 313

Warning: in_array() expects parameter 2 to be array, boolean given in /home/nevewgha/public_html/wp-content/plugins/meta-data/meta-data.php on line 317

Warning: in_array() expects parameter 2 to be array, boolean given in /home/nevewgha/public_html/wp-content/plugins/meta-data/meta-data.php on line 321

Warning: in_array() expects parameter 2 to be array, boolean given in /home/nevewgha/public_html/wp-content/plugins/meta-data/meta-data.php on line 322

Warning: in_array() expects parameter 2 to be array, boolean given in /home/nevewgha/public_html/wp-content/plugins/meta-data/meta-data.php on line 313

Warning: in_array() expects parameter 2 to be array, boolean given in /home/nevewgha/public_html/wp-content/plugins/meta-data/meta-data.php on line 317

Warning: in_array() expects parameter 2 to be array, boolean given in /home/nevewgha/public_html/wp-content/plugins/meta-data/meta-data.php on line 321

Warning: in_array() expects parameter 2 to be array, boolean given in /home/nevewgha/public_html/wp-content/plugins/meta-data/meta-data.php on line 322

Warning: in_array() expects parameter 2 to be array, boolean given in /home/nevewgha/public_html/wp-content/plugins/meta-data/meta-data.php on line 313

Warning: in_array() expects parameter 2 to be array, boolean given in /home/nevewgha/public_html/wp-content/plugins/meta-data/meta-data.php on line 317

Warning: in_array() expects parameter 2 to be array, boolean given in /home/nevewgha/public_html/wp-content/plugins/meta-data/meta-data.php on line 321

Warning: in_array() expects parameter 2 to be array, boolean given in /home/nevewgha/public_html/wp-content/plugins/meta-data/meta-data.php on line 322

Warning: in_array() expects parameter 2 to be array, boolean given in /home/nevewgha/public_html/wp-content/plugins/meta-data/meta-data.php on line 313

Warning: in_array() expects parameter 2 to be array, boolean given in /home/nevewgha/public_html/wp-content/plugins/meta-data/meta-data.php on line 317

Warning: in_array() expects parameter 2 to be array, boolean given in /home/nevewgha/public_html/wp-content/plugins/meta-data/meta-data.php on line 321

Warning: in_array() expects parameter 2 to be array, boolean given in /home/nevewgha/public_html/wp-content/plugins/meta-data/meta-data.php on line 322

Warning: in_array() expects parameter 2 to be array, boolean given in /home/nevewgha/public_html/wp-content/plugins/meta-data/meta-data.php on line 313

Warning: in_array() expects parameter 2 to be array, boolean given in /home/nevewgha/public_html/wp-content/plugins/meta-data/meta-data.php on line 317

Warning: in_array() expects parameter 2 to be array, boolean given in /home/nevewgha/public_html/wp-content/plugins/meta-data/meta-data.php on line 321

Warning: in_array() expects parameter 2 to be array, boolean given in /home/nevewgha/public_html/wp-content/plugins/meta-data/meta-data.php on line 322

Warning: in_array() expects parameter 2 to be array, boolean given in /home/nevewgha/public_html/wp-content/plugins/meta-data/meta-data.php on line 313

Warning: in_array() expects parameter 2 to be array, boolean given in /home/nevewgha/public_html/wp-content/plugins/meta-data/meta-data.php on line 317

Warning: in_array() expects parameter 2 to be array, boolean given in /home/nevewgha/public_html/wp-content/plugins/meta-data/meta-data.php on line 321

Warning: in_array() expects parameter 2 to be array, boolean given in /home/nevewgha/public_html/wp-content/plugins/meta-data/meta-data.php on line 322

Warning: in_array() expects parameter 2 to be array, boolean given in /home/nevewgha/public_html/wp-content/plugins/meta-data/meta-data.php on line 313

Warning: in_array() expects parameter 2 to be array, boolean given in /home/nevewgha/public_html/wp-content/plugins/meta-data/meta-data.php on line 317

Warning: in_array() expects parameter 2 to be array, boolean given in /home/nevewgha/public_html/wp-content/plugins/meta-data/meta-data.php on line 321

Warning: in_array() expects parameter 2 to be array, boolean given in /home/nevewgha/public_html/wp-content/plugins/meta-data/meta-data.php on line 322

Warning: in_array() expects parameter 2 to be array, boolean given in /home/nevewgha/public_html/wp-content/plugins/meta-data/meta-data.php on line 313

Warning: in_array() expects parameter 2 to be array, boolean given in /home/nevewgha/public_html/wp-content/plugins/meta-data/meta-data.php on line 317

Warning: in_array() expects parameter 2 to be array, boolean given in /home/nevewgha/public_html/wp-content/plugins/meta-data/meta-data.php on line 321

Warning: in_array() expects parameter 2 to be array, boolean given in /home/nevewgha/public_html/wp-content/plugins/meta-data/meta-data.php on line 322

Warning: in_array() expects parameter 2 to be array, boolean given in /home/nevewgha/public_html/wp-content/plugins/meta-data/meta-data.php on line 313

Warning: in_array() expects parameter 2 to be array, boolean given in /home/nevewgha/public_html/wp-content/plugins/meta-data/meta-data.php on line 317

Warning: in_array() expects parameter 2 to be array, boolean given in /home/nevewgha/public_html/wp-content/plugins/meta-data/meta-data.php on line 321

Warning: in_array() expects parameter 2 to be array, boolean given in /home/nevewgha/public_html/wp-content/plugins/meta-data/meta-data.php on line 322

Warning: in_array() expects parameter 2 to be array, boolean given in /home/nevewgha/public_html/wp-content/plugins/meta-data/meta-data.php on line 313

Warning: in_array() expects parameter 2 to be array, boolean given in /home/nevewgha/public_html/wp-content/plugins/meta-data/meta-data.php on line 317

Warning: in_array() expects parameter 2 to be array, boolean given in /home/nevewgha/public_html/wp-content/plugins/meta-data/meta-data.php on line 321

Warning: in_array() expects parameter 2 to be array, boolean given in /home/nevewgha/public_html/wp-content/plugins/meta-data/meta-data.php on line 322

Warning: in_array() expects parameter 2 to be array, boolean given in /home/nevewgha/public_html/wp-content/plugins/meta-data/meta-data.php on line 313

Warning: in_array() expects parameter 2 to be array, boolean given in /home/nevewgha/public_html/wp-content/plugins/meta-data/meta-data.php on line 317

Warning: in_array() expects parameter 2 to be array, boolean given in /home/nevewgha/public_html/wp-content/plugins/meta-data/meta-data.php on line 321

Warning: in_array() expects parameter 2 to be array, boolean given in /home/nevewgha/public_html/wp-content/plugins/meta-data/meta-data.php on line 322

Warning: in_array() expects parameter 2 to be array, boolean given in /home/nevewgha/public_html/wp-content/plugins/meta-data/meta-data.php on line 313

Warning: in_array() expects parameter 2 to be array, boolean given in /home/nevewgha/public_html/wp-content/plugins/meta-data/meta-data.php on line 317

Warning: in_array() expects parameter 2 to be array, boolean given in /home/nevewgha/public_html/wp-content/plugins/meta-data/meta-data.php on line 321

Warning: in_array() expects parameter 2 to be array, boolean given in /home/nevewgha/public_html/wp-content/plugins/meta-data/meta-data.php on line 322

Warning: in_array() expects parameter 2 to be array, boolean given in /home/nevewgha/public_html/wp-content/plugins/meta-data/meta-data.php on line 313

Warning: in_array() expects parameter 2 to be array, boolean given in /home/nevewgha/public_html/wp-content/plugins/meta-data/meta-data.php on line 317

Warning: in_array() expects parameter 2 to be array, boolean given in /home/nevewgha/public_html/wp-content/plugins/meta-data/meta-data.php on line 321

Warning: in_array() expects parameter 2 to be array, boolean given in /home/nevewgha/public_html/wp-content/plugins/meta-data/meta-data.php on line 322

Warning: in_array() expects parameter 2 to be array, boolean given in /home/nevewgha/public_html/wp-content/plugins/meta-data/meta-data.php on line 313

Warning: in_array() expects parameter 2 to be array, boolean given in /home/nevewgha/public_html/wp-content/plugins/meta-data/meta-data.php on line 317

Warning: in_array() expects parameter 2 to be array, boolean given in /home/nevewgha/public_html/wp-content/plugins/meta-data/meta-data.php on line 321

Warning: in_array() expects parameter 2 to be array, boolean given in /home/nevewgha/public_html/wp-content/plugins/meta-data/meta-data.php on line 322

Warning: in_array() expects parameter 2 to be array, boolean given in /home/nevewgha/public_html/wp-content/plugins/meta-data/meta-data.php on line 313

Warning: in_array() expects parameter 2 to be array, boolean given in /home/nevewgha/public_html/wp-content/plugins/meta-data/meta-data.php on line 317

Warning: in_array() expects parameter 2 to be array, boolean given in /home/nevewgha/public_html/wp-content/plugins/meta-data/meta-data.php on line 321

Warning: in_array() expects parameter 2 to be array, boolean given in /home/nevewgha/public_html/wp-content/plugins/meta-data/meta-data.php on line 322

Warning: in_array() expects parameter 2 to be array, boolean given in /home/nevewgha/public_html/wp-content/plugins/meta-data/meta-data.php on line 313

Warning: in_array() expects parameter 2 to be array, boolean given in /home/nevewgha/public_html/wp-content/plugins/meta-data/meta-data.php on line 317

Warning: in_array() expects parameter 2 to be array, boolean given in /home/nevewgha/public_html/wp-content/plugins/meta-data/meta-data.php on line 321

Warning: in_array() expects parameter 2 to be array, boolean given in /home/nevewgha/public_html/wp-content/plugins/meta-data/meta-data.php on line 322

Warning: in_array() expects parameter 2 to be array, boolean given in /home/nevewgha/public_html/wp-content/plugins/meta-data/meta-data.php on line 313

Warning: in_array() expects parameter 2 to be array, boolean given in /home/nevewgha/public_html/wp-content/plugins/meta-data/meta-data.php on line 317

Warning: in_array() expects parameter 2 to be array, boolean given in /home/nevewgha/public_html/wp-content/plugins/meta-data/meta-data.php on line 321

Warning: in_array() expects parameter 2 to be array, boolean given in /home/nevewgha/public_html/wp-content/plugins/meta-data/meta-data.php on line 322

Warning: in_array() expects parameter 2 to be array, boolean given in /home/nevewgha/public_html/wp-content/plugins/meta-data/meta-data.php on line 313

Warning: in_array() expects parameter 2 to be array, boolean given in /home/nevewgha/public_html/wp-content/plugins/meta-data/meta-data.php on line 317

Warning: in_array() expects parameter 2 to be array, boolean given in /home/nevewgha/public_html/wp-content/plugins/meta-data/meta-data.php on line 321

Warning: in_array() expects parameter 2 to be array, boolean given in /home/nevewgha/public_html/wp-content/plugins/meta-data/meta-data.php on line 322

Warning: in_array() expects parameter 2 to be array, boolean given in /home/nevewgha/public_html/wp-content/plugins/meta-data/meta-data.php on line 313

Warning: in_array() expects parameter 2 to be array, boolean given in /home/nevewgha/public_html/wp-content/plugins/meta-data/meta-data.php on line 317

Warning: in_array() expects parameter 2 to be array, boolean given in /home/nevewgha/public_html/wp-content/plugins/meta-data/meta-data.php on line 321

Warning: in_array() expects parameter 2 to be array, boolean given in /home/nevewgha/public_html/wp-content/plugins/meta-data/meta-data.php on line 322

Warning: in_array() expects parameter 2 to be array, boolean given in /home/nevewgha/public_html/wp-content/plugins/meta-data/meta-data.php on line 313

Warning: in_array() expects parameter 2 to be array, boolean given in /home/nevewgha/public_html/wp-content/plugins/meta-data/meta-data.php on line 317

Warning: in_array() expects parameter 2 to be array, boolean given in /home/nevewgha/public_html/wp-content/plugins/meta-data/meta-data.php on line 321

Warning: in_array() expects parameter 2 to be array, boolean given in /home/nevewgha/public_html/wp-content/plugins/meta-data/meta-data.php on line 322

Warning: in_array() expects parameter 2 to be array, boolean given in /home/nevewgha/public_html/wp-content/plugins/meta-data/meta-data.php on line 313

Warning: in_array() expects parameter 2 to be array, boolean given in /home/nevewgha/public_html/wp-content/plugins/meta-data/meta-data.php on line 317

Warning: in_array() expects parameter 2 to be array, boolean given in /home/nevewgha/public_html/wp-content/plugins/meta-data/meta-data.php on line 321

Warning: in_array() expects parameter 2 to be array, boolean given in /home/nevewgha/public_html/wp-content/plugins/meta-data/meta-data.php on line 322

Warning: in_array() expects parameter 2 to be array, boolean given in /home/nevewgha/public_html/wp-content/plugins/meta-data/meta-data.php on line 313

Warning: in_array() expects parameter 2 to be array, boolean given in /home/nevewgha/public_html/wp-content/plugins/meta-data/meta-data.php on line 317

Warning: in_array() expects parameter 2 to be array, boolean given in /home/nevewgha/public_html/wp-content/plugins/meta-data/meta-data.php on line 321

Warning: in_array() expects parameter 2 to be array, boolean given in /home/nevewgha/public_html/wp-content/plugins/meta-data/meta-data.php on line 322

Warning: in_array() expects parameter 2 to be array, boolean given in /home/nevewgha/public_html/wp-content/plugins/meta-data/meta-data.php on line 313

Warning: in_array() expects parameter 2 to be array, boolean given in /home/nevewgha/public_html/wp-content/plugins/meta-data/meta-data.php on line 317

Warning: in_array() expects parameter 2 to be array, boolean given in /home/nevewgha/public_html/wp-content/plugins/meta-data/meta-data.php on line 321

Warning: in_array() expects parameter 2 to be array, boolean given in /home/nevewgha/public_html/wp-content/plugins/meta-data/meta-data.php on line 322

Warning: in_array() expects parameter 2 to be array, boolean given in /home/nevewgha/public_html/wp-content/plugins/meta-data/meta-data.php on line 313

Warning: in_array() expects parameter 2 to be array, boolean given in /home/nevewgha/public_html/wp-content/plugins/meta-data/meta-data.php on line 317

Warning: in_array() expects parameter 2 to be array, boolean given in /home/nevewgha/public_html/wp-content/plugins/meta-data/meta-data.php on line 321

Warning: in_array() expects parameter 2 to be array, boolean given in /home/nevewgha/public_html/wp-content/plugins/meta-data/meta-data.php on line 322

Warning: in_array() expects parameter 2 to be array, boolean given in /home/nevewgha/public_html/wp-content/plugins/meta-data/meta-data.php on line 313

Warning: in_array() expects parameter 2 to be array, boolean given in /home/nevewgha/public_html/wp-content/plugins/meta-data/meta-data.php on line 317

Warning: in_array() expects parameter 2 to be array, boolean given in /home/nevewgha/public_html/wp-content/plugins/meta-data/meta-data.php on line 321

Warning: in_array() expects parameter 2 to be array, boolean given in /home/nevewgha/public_html/wp-content/plugins/meta-data/meta-data.php on line 322

Warning: in_array() expects parameter 2 to be array, boolean given in /home/nevewgha/public_html/wp-content/plugins/meta-data/meta-data.php on line 313

Warning: in_array() expects parameter 2 to be array, boolean given in /home/nevewgha/public_html/wp-content/plugins/meta-data/meta-data.php on line 317

Warning: in_array() expects parameter 2 to be array, boolean given in /home/nevewgha/public_html/wp-content/plugins/meta-data/meta-data.php on line 321

Warning: in_array() expects parameter 2 to be array, boolean given in /home/nevewgha/public_html/wp-content/plugins/meta-data/meta-data.php on line 322

Warning: in_array() expects parameter 2 to be array, boolean given in /home/nevewgha/public_html/wp-content/plugins/meta-data/meta-data.php on line 313

Warning: in_array() expects parameter 2 to be array, boolean given in /home/nevewgha/public_html/wp-content/plugins/meta-data/meta-data.php on line 317

Warning: in_array() expects parameter 2 to be array, boolean given in /home/nevewgha/public_html/wp-content/plugins/meta-data/meta-data.php on line 321

Warning: in_array() expects parameter 2 to be array, boolean given in /home/nevewgha/public_html/wp-content/plugins/meta-data/meta-data.php on line 322

Warning: in_array() expects parameter 2 to be array, boolean given in /home/nevewgha/public_html/wp-content/plugins/meta-data/meta-data.php on line 313

Warning: in_array() expects parameter 2 to be array, boolean given in /home/nevewgha/public_html/wp-content/plugins/meta-data/meta-data.php on line 317

Warning: in_array() expects parameter 2 to be array, boolean given in /home/nevewgha/public_html/wp-content/plugins/meta-data/meta-data.php on line 321

Warning: in_array() expects parameter 2 to be array, boolean given in /home/nevewgha/public_html/wp-content/plugins/meta-data/meta-data.php on line 322

Warning: in_array() expects parameter 2 to be array, boolean given in /home/nevewgha/public_html/wp-content/plugins/meta-data/meta-data.php on line 313

Warning: in_array() expects parameter 2 to be array, boolean given in /home/nevewgha/public_html/wp-content/plugins/meta-data/meta-data.php on line 317

Warning: in_array() expects parameter 2 to be array, boolean given in /home/nevewgha/public_html/wp-content/plugins/meta-data/meta-data.php on line 321

Warning: in_array() expects parameter 2 to be array, boolean given in /home/nevewgha/public_html/wp-content/plugins/meta-data/meta-data.php on line 322

Warning: in_array() expects parameter 2 to be array, boolean given in /home/nevewgha/public_html/wp-content/plugins/meta-data/meta-data.php on line 313

Warning: in_array() expects parameter 2 to be array, boolean given in /home/nevewgha/public_html/wp-content/plugins/meta-data/meta-data.php on line 317

Warning: in_array() expects parameter 2 to be array, boolean given in /home/nevewgha/public_html/wp-content/plugins/meta-data/meta-data.php on line 321

Warning: in_array() expects parameter 2 to be array, boolean given in /home/nevewgha/public_html/wp-content/plugins/meta-data/meta-data.php on line 322

Warning: in_array() expects parameter 2 to be array, boolean given in /home/nevewgha/public_html/wp-content/plugins/meta-data/meta-data.php on line 313

Warning: in_array() expects parameter 2 to be array, boolean given in /home/nevewgha/public_html/wp-content/plugins/meta-data/meta-data.php on line 317

Warning: in_array() expects parameter 2 to be array, boolean given in /home/nevewgha/public_html/wp-content/plugins/meta-data/meta-data.php on line 321

Warning: in_array() expects parameter 2 to be array, boolean given in /home/nevewgha/public_html/wp-content/plugins/meta-data/meta-data.php on line 322

Warning: in_array() expects parameter 2 to be array, boolean given in /home/nevewgha/public_html/wp-content/plugins/meta-data/meta-data.php on line 313

Warning: in_array() expects parameter 2 to be array, boolean given in /home/nevewgha/public_html/wp-content/plugins/meta-data/meta-data.php on line 317

Warning: in_array() expects parameter 2 to be array, boolean given in /home/nevewgha/public_html/wp-content/plugins/meta-data/meta-data.php on line 321

Warning: in_array() expects parameter 2 to be array, boolean given in /home/nevewgha/public_html/wp-content/plugins/meta-data/meta-data.php on line 322

Warning: in_array() expects parameter 2 to be array, boolean given in /home/nevewgha/public_html/wp-content/plugins/meta-data/meta-data.php on line 313

Warning: in_array() expects parameter 2 to be array, boolean given in /home/nevewgha/public_html/wp-content/plugins/meta-data/meta-data.php on line 317

Warning: in_array() expects parameter 2 to be array, boolean given in /home/nevewgha/public_html/wp-content/plugins/meta-data/meta-data.php on line 321

Warning: in_array() expects parameter 2 to be array, boolean given in /home/nevewgha/public_html/wp-content/plugins/meta-data/meta-data.php on line 322

Warning: in_array() expects parameter 2 to be array, boolean given in /home/nevewgha/public_html/wp-content/plugins/meta-data/meta-data.php on line 313

Warning: in_array() expects parameter 2 to be array, boolean given in /home/nevewgha/public_html/wp-content/plugins/meta-data/meta-data.php on line 317

Warning: in_array() expects parameter 2 to be array, boolean given in /home/nevewgha/public_html/wp-content/plugins/meta-data/meta-data.php on line 321

Warning: in_array() expects parameter 2 to be array, boolean given in /home/nevewgha/public_html/wp-content/plugins/meta-data/meta-data.php on line 322

Warning: in_array() expects parameter 2 to be array, boolean given in /home/nevewgha/public_html/wp-content/plugins/meta-data/meta-data.php on line 313

Warning: in_array() expects parameter 2 to be array, boolean given in /home/nevewgha/public_html/wp-content/plugins/meta-data/meta-data.php on line 317

Warning: in_array() expects parameter 2 to be array, boolean given in /home/nevewgha/public_html/wp-content/plugins/meta-data/meta-data.php on line 321

Warning: in_array() expects parameter 2 to be array, boolean given in /home/nevewgha/public_html/wp-content/plugins/meta-data/meta-data.php on line 322

Warning: in_array() expects parameter 2 to be array, boolean given in /home/nevewgha/public_html/wp-content/plugins/meta-data/meta-data.php on line 313

Warning: in_array() expects parameter 2 to be array, boolean given in /home/nevewgha/public_html/wp-content/plugins/meta-data/meta-data.php on line 317

Warning: in_array() expects parameter 2 to be array, boolean given in /home/nevewgha/public_html/wp-content/plugins/meta-data/meta-data.php on line 321

Warning: in_array() expects parameter 2 to be array, boolean given in /home/nevewgha/public_html/wp-content/plugins/meta-data/meta-data.php on line 322

Warning: in_array() expects parameter 2 to be array, boolean given in /home/nevewgha/public_html/wp-content/plugins/meta-data/meta-data.php on line 313

Warning: in_array() expects parameter 2 to be array, boolean given in /home/nevewgha/public_html/wp-content/plugins/meta-data/meta-data.php on line 317

Warning: in_array() expects parameter 2 to be array, boolean given in /home/nevewgha/public_html/wp-content/plugins/meta-data/meta-data.php on line 321

Warning: in_array() expects parameter 2 to be array, boolean given in /home/nevewgha/public_html/wp-content/plugins/meta-data/meta-data.php on line 322

Warning: in_array() expects parameter 2 to be array, boolean given in /home/nevewgha/public_html/wp-content/plugins/meta-data/meta-data.php on line 313

Warning: in_array() expects parameter 2 to be array, boolean given in /home/nevewgha/public_html/wp-content/plugins/meta-data/meta-data.php on line 317

Warning: in_array() expects parameter 2 to be array, boolean given in /home/nevewgha/public_html/wp-content/plugins/meta-data/meta-data.php on line 321

Warning: in_array() expects parameter 2 to be array, boolean given in /home/nevewgha/public_html/wp-content/plugins/meta-data/meta-data.php on line 322

Warning: in_array() expects parameter 2 to be array, boolean given in /home/nevewgha/public_html/wp-content/plugins/meta-data/meta-data.php on line 313

Warning: in_array() expects parameter 2 to be array, boolean given in /home/nevewgha/public_html/wp-content/plugins/meta-data/meta-data.php on line 317

Warning: in_array() expects parameter 2 to be array, boolean given in /home/nevewgha/public_html/wp-content/plugins/meta-data/meta-data.php on line 321

Warning: in_array() expects parameter 2 to be array, boolean given in /home/nevewgha/public_html/wp-content/plugins/meta-data/meta-data.php on line 322

Warning: in_array() expects parameter 2 to be array, boolean given in /home/nevewgha/public_html/wp-content/plugins/meta-data/meta-data.php on line 313

Warning: in_array() expects parameter 2 to be array, boolean given in /home/nevewgha/public_html/wp-content/plugins/meta-data/meta-data.php on line 317

Warning: in_array() expects parameter 2 to be array, boolean given in /home/nevewgha/public_html/wp-content/plugins/meta-data/meta-data.php on line 321

Warning: in_array() expects parameter 2 to be array, boolean given in /home/nevewgha/public_html/wp-content/plugins/meta-data/meta-data.php on line 322

Warning: in_array() expects parameter 2 to be array, boolean given in /home/nevewgha/public_html/wp-content/plugins/meta-data/meta-data.php on line 313

Warning: in_array() expects parameter 2 to be array, boolean given in /home/nevewgha/public_html/wp-content/plugins/meta-data/meta-data.php on line 317

Warning: in_array() expects parameter 2 to be array, boolean given in /home/nevewgha/public_html/wp-content/plugins/meta-data/meta-data.php on line 321

Warning: in_array() expects parameter 2 to be array, boolean given in /home/nevewgha/public_html/wp-content/plugins/meta-data/meta-data.php on line 322

Warning: in_array() expects parameter 2 to be array, boolean given in /home/nevewgha/public_html/wp-content/plugins/meta-data/meta-data.php on line 313

Warning: in_array() expects parameter 2 to be array, boolean given in /home/nevewgha/public_html/wp-content/plugins/meta-data/meta-data.php on line 317

Warning: in_array() expects parameter 2 to be array, boolean given in /home/nevewgha/public_html/wp-content/plugins/meta-data/meta-data.php on line 321

Warning: in_array() expects parameter 2 to be array, boolean given in /home/nevewgha/public_html/wp-content/plugins/meta-data/meta-data.php on line 322

Warning: in_array() expects parameter 2 to be array, boolean given in /home/nevewgha/public_html/wp-content/plugins/meta-data/meta-data.php on line 313

Warning: in_array() expects parameter 2 to be array, boolean given in /home/nevewgha/public_html/wp-content/plugins/meta-data/meta-data.php on line 317

Warning: in_array() expects parameter 2 to be array, boolean given in /home/nevewgha/public_html/wp-content/plugins/meta-data/meta-data.php on line 321

Warning: in_array() expects parameter 2 to be array, boolean given in /home/nevewgha/public_html/wp-content/plugins/meta-data/meta-data.php on line 322

Warning: in_array() expects parameter 2 to be array, boolean given in /home/nevewgha/public_html/wp-content/plugins/meta-data/meta-data.php on line 313

Warning: in_array() expects parameter 2 to be array, boolean given in /home/nevewgha/public_html/wp-content/plugins/meta-data/meta-data.php on line 317

Warning: in_array() expects parameter 2 to be array, boolean given in /home/nevewgha/public_html/wp-content/plugins/meta-data/meta-data.php on line 321

Warning: in_array() expects parameter 2 to be array, boolean given in /home/nevewgha/public_html/wp-content/plugins/meta-data/meta-data.php on line 322

Warning: in_array() expects parameter 2 to be array, boolean given in /home/nevewgha/public_html/wp-content/plugins/meta-data/meta-data.php on line 313

Warning: in_array() expects parameter 2 to be array, boolean given in /home/nevewgha/public_html/wp-content/plugins/meta-data/meta-data.php on line 317

Warning: in_array() expects parameter 2 to be array, boolean given in /home/nevewgha/public_html/wp-content/plugins/meta-data/meta-data.php on line 321

Warning: in_array() expects parameter 2 to be array, boolean given in /home/nevewgha/public_html/wp-content/plugins/meta-data/meta-data.php on line 322

Warning: in_array() expects parameter 2 to be array, boolean given in /home/nevewgha/public_html/wp-content/plugins/meta-data/meta-data.php on line 313

Warning: in_array() expects parameter 2 to be array, boolean given in /home/nevewgha/public_html/wp-content/plugins/meta-data/meta-data.php on line 317

Warning: in_array() expects parameter 2 to be array, boolean given in /home/nevewgha/public_html/wp-content/plugins/meta-data/meta-data.php on line 321

Warning: in_array() expects parameter 2 to be array, boolean given in /home/nevewgha/public_html/wp-content/plugins/meta-data/meta-data.php on line 322

Warning: in_array() expects parameter 2 to be array, boolean given in /home/nevewgha/public_html/wp-content/plugins/meta-data/meta-data.php on line 313

Warning: in_array() expects parameter 2 to be array, boolean given in /home/nevewgha/public_html/wp-content/plugins/meta-data/meta-data.php on line 317

Warning: in_array() expects parameter 2 to be array, boolean given in /home/nevewgha/public_html/wp-content/plugins/meta-data/meta-data.php on line 321

Warning: in_array() expects parameter 2 to be array, boolean given in /home/nevewgha/public_html/wp-content/plugins/meta-data/meta-data.php on line 322

Warning: in_array() expects parameter 2 to be array, boolean given in /home/nevewgha/public_html/wp-content/plugins/meta-data/meta-data.php on line 313

Warning: in_array() expects parameter 2 to be array, boolean given in /home/nevewgha/public_html/wp-content/plugins/meta-data/meta-data.php on line 317

Warning: in_array() expects parameter 2 to be array, boolean given in /home/nevewgha/public_html/wp-content/plugins/meta-data/meta-data.php on line 321

Warning: in_array() expects parameter 2 to be array, boolean given in /home/nevewgha/public_html/wp-content/plugins/meta-data/meta-data.php on line 322

Warning: in_array() expects parameter 2 to be array, boolean given in /home/nevewgha/public_html/wp-content/plugins/meta-data/meta-data.php on line 313

Warning: in_array() expects parameter 2 to be array, boolean given in /home/nevewgha/public_html/wp-content/plugins/meta-data/meta-data.php on line 317

Warning: in_array() expects parameter 2 to be array, boolean given in /home/nevewgha/public_html/wp-content/plugins/meta-data/meta-data.php on line 321

Warning: in_array() expects parameter 2 to be array, boolean given in /home/nevewgha/public_html/wp-content/plugins/meta-data/meta-data.php on line 322

Warning: in_array() expects parameter 2 to be array, boolean given in /home/nevewgha/public_html/wp-content/plugins/meta-data/meta-data.php on line 313

Warning: in_array() expects parameter 2 to be array, boolean given in /home/nevewgha/public_html/wp-content/plugins/meta-data/meta-data.php on line 317

Warning: in_array() expects parameter 2 to be array, boolean given in /home/nevewgha/public_html/wp-content/plugins/meta-data/meta-data.php on line 321

Warning: in_array() expects parameter 2 to be array, boolean given in /home/nevewgha/public_html/wp-content/plugins/meta-data/meta-data.php on line 322

Warning: in_array() expects parameter 2 to be array, boolean given in /home/nevewgha/public_html/wp-content/plugins/meta-data/meta-data.php on line 313

Warning: in_array() expects parameter 2 to be array, boolean given in /home/nevewgha/public_html/wp-content/plugins/meta-data/meta-data.php on line 317

Warning: in_array() expects parameter 2 to be array, boolean given in /home/nevewgha/public_html/wp-content/plugins/meta-data/meta-data.php on line 321

Warning: in_array() expects parameter 2 to be array, boolean given in /home/nevewgha/public_html/wp-content/plugins/meta-data/meta-data.php on line 322

Warning: in_array() expects parameter 2 to be array, boolean given in /home/nevewgha/public_html/wp-content/plugins/meta-data/meta-data.php on line 313

Warning: in_array() expects parameter 2 to be array, boolean given in /home/nevewgha/public_html/wp-content/plugins/meta-data/meta-data.php on line 317

Warning: in_array() expects parameter 2 to be array, boolean given in /home/nevewgha/public_html/wp-content/plugins/meta-data/meta-data.php on line 321

Warning: in_array() expects parameter 2 to be array, boolean given in /home/nevewgha/public_html/wp-content/plugins/meta-data/meta-data.php on line 322

Warning: in_array() expects parameter 2 to be array, boolean given in /home/nevewgha/public_html/wp-content/plugins/meta-data/meta-data.php on line 313

Warning: in_array() expects parameter 2 to be array, boolean given in /home/nevewgha/public_html/wp-content/plugins/meta-data/meta-data.php on line 317

Warning: in_array() expects parameter 2 to be array, boolean given in /home/nevewgha/public_html/wp-content/plugins/meta-data/meta-data.php on line 321

Warning: in_array() expects parameter 2 to be array, boolean given in /home/nevewgha/public_html/wp-content/plugins/meta-data/meta-data.php on line 322

Warning: in_array() expects parameter 2 to be array, boolean given in /home/nevewgha/public_html/wp-content/plugins/meta-data/meta-data.php on line 313

Warning: in_array() expects parameter 2 to be array, boolean given in /home/nevewgha/public_html/wp-content/plugins/meta-data/meta-data.php on line 317

Warning: in_array() expects parameter 2 to be array, boolean given in /home/nevewgha/public_html/wp-content/plugins/meta-data/meta-data.php on line 321

Warning: in_array() expects parameter 2 to be array, boolean given in /home/nevewgha/public_html/wp-content/plugins/meta-data/meta-data.php on line 322

Warning: in_array() expects parameter 2 to be array, boolean given in /home/nevewgha/public_html/wp-content/plugins/meta-data/meta-data.php on line 313

Warning: in_array() expects parameter 2 to be array, boolean given in /home/nevewgha/public_html/wp-content/plugins/meta-data/meta-data.php on line 317

Warning: in_array() expects parameter 2 to be array, boolean given in /home/nevewgha/public_html/wp-content/plugins/meta-data/meta-data.php on line 321

Warning: in_array() expects parameter 2 to be array, boolean given in /home/nevewgha/public_html/wp-content/plugins/meta-data/meta-data.php on line 322

Warning: in_array() expects parameter 2 to be array, boolean given in /home/nevewgha/public_html/wp-content/plugins/meta-data/meta-data.php on line 313

Warning: in_array() expects parameter 2 to be array, boolean given in /home/nevewgha/public_html/wp-content/plugins/meta-data/meta-data.php on line 317

Warning: in_array() expects parameter 2 to be array, boolean given in /home/nevewgha/public_html/wp-content/plugins/meta-data/meta-data.php on line 321

Warning: in_array() expects parameter 2 to be array, boolean given in /home/nevewgha/public_html/wp-content/plugins/meta-data/meta-data.php on line 322

Warning: in_array() expects parameter 2 to be array, boolean given in /home/nevewgha/public_html/wp-content/plugins/meta-data/meta-data.php on line 313

Warning: in_array() expects parameter 2 to be array, boolean given in /home/nevewgha/public_html/wp-content/plugins/meta-data/meta-data.php on line 317

Warning: in_array() expects parameter 2 to be array, boolean given in /home/nevewgha/public_html/wp-content/plugins/meta-data/meta-data.php on line 321

Warning: in_array() expects parameter 2 to be array, boolean given in /home/nevewgha/public_html/wp-content/plugins/meta-data/meta-data.php on line 322

Warning: in_array() expects parameter 2 to be array, boolean given in /home/nevewgha/public_html/wp-content/plugins/meta-data/meta-data.php on line 313

Warning: in_array() expects parameter 2 to be array, boolean given in /home/nevewgha/public_html/wp-content/plugins/meta-data/meta-data.php on line 317

Warning: in_array() expects parameter 2 to be array, boolean given in /home/nevewgha/public_html/wp-content/plugins/meta-data/meta-data.php on line 321

Warning: in_array() expects parameter 2 to be array, boolean given in /home/nevewgha/public_html/wp-content/plugins/meta-data/meta-data.php on line 322

Warning: in_array() expects parameter 2 to be array, boolean given in /home/nevewgha/public_html/wp-content/plugins/meta-data/meta-data.php on line 313

Warning: in_array() expects parameter 2 to be array, boolean given in /home/nevewgha/public_html/wp-content/plugins/meta-data/meta-data.php on line 317

Warning: in_array() expects parameter 2 to be array, boolean given in /home/nevewgha/public_html/wp-content/plugins/meta-data/meta-data.php on line 321

Warning: in_array() expects parameter 2 to be array, boolean given in /home/nevewgha/public_html/wp-content/plugins/meta-data/meta-data.php on line 322

Warning: in_array() expects parameter 2 to be array, boolean given in /home/nevewgha/public_html/wp-content/plugins/meta-data/meta-data.php on line 313

Warning: in_array() expects parameter 2 to be array, boolean given in /home/nevewgha/public_html/wp-content/plugins/meta-data/meta-data.php on line 317

Warning: in_array() expects parameter 2 to be array, boolean given in /home/nevewgha/public_html/wp-content/plugins/meta-data/meta-data.php on line 321

Warning: in_array() expects parameter 2 to be array, boolean given in /home/nevewgha/public_html/wp-content/plugins/meta-data/meta-data.php on line 322

Warning: in_array() expects parameter 2 to be array, boolean given in /home/nevewgha/public_html/wp-content/plugins/meta-data/meta-data.php on line 313

Warning: in_array() expects parameter 2 to be array, boolean given in /home/nevewgha/public_html/wp-content/plugins/meta-data/meta-data.php on line 317

Warning: in_array() expects parameter 2 to be array, boolean given in /home/nevewgha/public_html/wp-content/plugins/meta-data/meta-data.php on line 321

Warning: in_array() expects parameter 2 to be array, boolean given in /home/nevewgha/public_html/wp-content/plugins/meta-data/meta-data.php on line 322

Warning: in_array() expects parameter 2 to be array, boolean given in /home/nevewgha/public_html/wp-content/plugins/meta-data/meta-data.php on line 313

Warning: in_array() expects parameter 2 to be array, boolean given in /home/nevewgha/public_html/wp-content/plugins/meta-data/meta-data.php on line 317

Warning: in_array() expects parameter 2 to be array, boolean given in /home/nevewgha/public_html/wp-content/plugins/meta-data/meta-data.php on line 321

Warning: in_array() expects parameter 2 to be array, boolean given in /home/nevewgha/public_html/wp-content/plugins/meta-data/meta-data.php on line 322

Warning: in_array() expects parameter 2 to be array, boolean given in /home/nevewgha/public_html/wp-content/plugins/meta-data/meta-data.php on line 313

Warning: in_array() expects parameter 2 to be array, boolean given in /home/nevewgha/public_html/wp-content/plugins/meta-data/meta-data.php on line 317

Warning: in_array() expects parameter 2 to be array, boolean given in /home/nevewgha/public_html/wp-content/plugins/meta-data/meta-data.php on line 321

Warning: in_array() expects parameter 2 to be array, boolean given in /home/nevewgha/public_html/wp-content/plugins/meta-data/meta-data.php on line 322

Warning: in_array() expects parameter 2 to be array, boolean given in /home/nevewgha/public_html/wp-content/plugins/meta-data/meta-data.php on line 313

Warning: in_array() expects parameter 2 to be array, boolean given in /home/nevewgha/public_html/wp-content/plugins/meta-data/meta-data.php on line 317

Warning: in_array() expects parameter 2 to be array, boolean given in /home/nevewgha/public_html/wp-content/plugins/meta-data/meta-data.php on line 321

Warning: in_array() expects parameter 2 to be array, boolean given in /home/nevewgha/public_html/wp-content/plugins/meta-data/meta-data.php on line 322

Warning: in_array() expects parameter 2 to be array, boolean given in /home/nevewgha/public_html/wp-content/plugins/meta-data/meta-data.php on line 313

Warning: in_array() expects parameter 2 to be array, boolean given in /home/nevewgha/public_html/wp-content/plugins/meta-data/meta-data.php on line 317

Warning: in_array() expects parameter 2 to be array, boolean given in /home/nevewgha/public_html/wp-content/plugins/meta-data/meta-data.php on line 321

Warning: in_array() expects parameter 2 to be array, boolean given in /home/nevewgha/public_html/wp-content/plugins/meta-data/meta-data.php on line 322

Warning: in_array() expects parameter 2 to be array, boolean given in /home/nevewgha/public_html/wp-content/plugins/meta-data/meta-data.php on line 313

Warning: in_array() expects parameter 2 to be array, boolean given in /home/nevewgha/public_html/wp-content/plugins/meta-data/meta-data.php on line 317

Warning: in_array() expects parameter 2 to be array, boolean given in /home/nevewgha/public_html/wp-content/plugins/meta-data/meta-data.php on line 321

Warning: in_array() expects parameter 2 to be array, boolean given in /home/nevewgha/public_html/wp-content/plugins/meta-data/meta-data.php on line 322

Warning: in_array() expects parameter 2 to be array, boolean given in /home/nevewgha/public_html/wp-content/plugins/meta-data/meta-data.php on line 313

Warning: in_array() expects parameter 2 to be array, boolean given in /home/nevewgha/public_html/wp-content/plugins/meta-data/meta-data.php on line 317

Warning: in_array() expects parameter 2 to be array, boolean given in /home/nevewgha/public_html/wp-content/plugins/meta-data/meta-data.php on line 321

Warning: in_array() expects parameter 2 to be array, boolean given in /home/nevewgha/public_html/wp-content/plugins/meta-data/meta-data.php on line 322

Warning: in_array() expects parameter 2 to be array, boolean given in /home/nevewgha/public_html/wp-content/plugins/meta-data/meta-data.php on line 313

Warning: in_array() expects parameter 2 to be array, boolean given in /home/nevewgha/public_html/wp-content/plugins/meta-data/meta-data.php on line 317

Warning: in_array() expects parameter 2 to be array, boolean given in /home/nevewgha/public_html/wp-content/plugins/meta-data/meta-data.php on line 321

Warning: in_array() expects parameter 2 to be array, boolean given in /home/nevewgha/public_html/wp-content/plugins/meta-data/meta-data.php on line 322

Warning: in_array() expects parameter 2 to be array, boolean given in /home/nevewgha/public_html/wp-content/plugins/meta-data/meta-data.php on line 313

Warning: in_array() expects parameter 2 to be array, boolean given in /home/nevewgha/public_html/wp-content/plugins/meta-data/meta-data.php on line 317

Warning: in_array() expects parameter 2 to be array, boolean given in /home/nevewgha/public_html/wp-content/plugins/meta-data/meta-data.php on line 321

Warning: in_array() expects parameter 2 to be array, boolean given in /home/nevewgha/public_html/wp-content/plugins/meta-data/meta-data.php on line 322

Warning: in_array() expects parameter 2 to be array, boolean given in /home/nevewgha/public_html/wp-content/plugins/meta-data/meta-data.php on line 313

Warning: in_array() expects parameter 2 to be array, boolean given in /home/nevewgha/public_html/wp-content/plugins/meta-data/meta-data.php on line 317

Warning: in_array() expects parameter 2 to be array, boolean given in /home/nevewgha/public_html/wp-content/plugins/meta-data/meta-data.php on line 321

Warning: in_array() expects parameter 2 to be array, boolean given in /home/nevewgha/public_html/wp-content/plugins/meta-data/meta-data.php on line 322

Warning: in_array() expects parameter 2 to be array, boolean given in /home/nevewgha/public_html/wp-content/plugins/meta-data/meta-data.php on line 313

Warning: in_array() expects parameter 2 to be array, boolean given in /home/nevewgha/public_html/wp-content/plugins/meta-data/meta-data.php on line 317

Warning: in_array() expects parameter 2 to be array, boolean given in /home/nevewgha/public_html/wp-content/plugins/meta-data/meta-data.php on line 321

Warning: in_array() expects parameter 2 to be array, boolean given in /home/nevewgha/public_html/wp-content/plugins/meta-data/meta-data.php on line 322

Warning: in_array() expects parameter 2 to be array, boolean given in /home/nevewgha/public_html/wp-content/plugins/meta-data/meta-data.php on line 313

Warning: in_array() expects parameter 2 to be array, boolean given in /home/nevewgha/public_html/wp-content/plugins/meta-data/meta-data.php on line 317

Warning: in_array() expects parameter 2 to be array, boolean given in /home/nevewgha/public_html/wp-content/plugins/meta-data/meta-data.php on line 321

Warning: in_array() expects parameter 2 to be array, boolean given in /home/nevewgha/public_html/wp-content/plugins/meta-data/meta-data.php on line 322

Warning: in_array() expects parameter 2 to be array, boolean given in /home/nevewgha/public_html/wp-content/plugins/meta-data/meta-data.php on line 313

Warning: in_array() expects parameter 2 to be array, boolean given in /home/nevewgha/public_html/wp-content/plugins/meta-data/meta-data.php on line 317

Warning: in_array() expects parameter 2 to be array, boolean given in /home/nevewgha/public_html/wp-content/plugins/meta-data/meta-data.php on line 321

Warning: in_array() expects parameter 2 to be array, boolean given in /home/nevewgha/public_html/wp-content/plugins/meta-data/meta-data.php on line 322

Warning: in_array() expects parameter 2 to be array, boolean given in /home/nevewgha/public_html/wp-content/plugins/meta-data/meta-data.php on line 313

Warning: in_array() expects parameter 2 to be array, boolean given in /home/nevewgha/public_html/wp-content/plugins/meta-data/meta-data.php on line 317

Warning: in_array() expects parameter 2 to be array, boolean given in /home/nevewgha/public_html/wp-content/plugins/meta-data/meta-data.php on line 321

Warning: in_array() expects parameter 2 to be array, boolean given in /home/nevewgha/public_html/wp-content/plugins/meta-data/meta-data.php on line 322

Warning: in_array() expects parameter 2 to be array, boolean given in /home/nevewgha/public_html/wp-content/plugins/meta-data/meta-data.php on line 313

Warning: in_array() expects parameter 2 to be array, boolean given in /home/nevewgha/public_html/wp-content/plugins/meta-data/meta-data.php on line 317

Warning: in_array() expects parameter 2 to be array, boolean given in /home/nevewgha/public_html/wp-content/plugins/meta-data/meta-data.php on line 321

Warning: in_array() expects parameter 2 to be array, boolean given in /home/nevewgha/public_html/wp-content/plugins/meta-data/meta-data.php on line 322

Warning: in_array() expects parameter 2 to be array, boolean given in /home/nevewgha/public_html/wp-content/plugins/meta-data/meta-data.php on line 313

Warning: in_array() expects parameter 2 to be array, boolean given in /home/nevewgha/public_html/wp-content/plugins/meta-data/meta-data.php on line 317

Warning: in_array() expects parameter 2 to be array, boolean given in /home/nevewgha/public_html/wp-content/plugins/meta-data/meta-data.php on line 321

Warning: in_array() expects parameter 2 to be array, boolean given in /home/nevewgha/public_html/wp-content/plugins/meta-data/meta-data.php on line 322

Warning: in_array() expects parameter 2 to be array, boolean given in /home/nevewgha/public_html/wp-content/plugins/meta-data/meta-data.php on line 313

Warning: in_array() expects parameter 2 to be array, boolean given in /home/nevewgha/public_html/wp-content/plugins/meta-data/meta-data.php on line 317

Warning: in_array() expects parameter 2 to be array, boolean given in /home/nevewgha/public_html/wp-content/plugins/meta-data/meta-data.php on line 321

Warning: in_array() expects parameter 2 to be array, boolean given in /home/nevewgha/public_html/wp-content/plugins/meta-data/meta-data.php on line 322

Warning: in_array() expects parameter 2 to be array, boolean given in /home/nevewgha/public_html/wp-content/plugins/meta-data/meta-data.php on line 313

Warning: in_array() expects parameter 2 to be array, boolean given in /home/nevewgha/public_html/wp-content/plugins/meta-data/meta-data.php on line 317

Warning: in_array() expects parameter 2 to be array, boolean given in /home/nevewgha/public_html/wp-content/plugins/meta-data/meta-data.php on line 321

Warning: in_array() expects parameter 2 to be array, boolean given in /home/nevewgha/public_html/wp-content/plugins/meta-data/meta-data.php on line 322

Warning: in_array() expects parameter 2 to be array, boolean given in /home/nevewgha/public_html/wp-content/plugins/meta-data/meta-data.php on line 313

Warning: in_array() expects parameter 2 to be array, boolean given in /home/nevewgha/public_html/wp-content/plugins/meta-data/meta-data.php on line 317

Warning: in_array() expects parameter 2 to be array, boolean given in /home/nevewgha/public_html/wp-content/plugins/meta-data/meta-data.php on line 321

Warning: in_array() expects parameter 2 to be array, boolean given in /home/nevewgha/public_html/wp-content/plugins/meta-data/meta-data.php on line 322

Warning: in_array() expects parameter 2 to be array, boolean given in /home/nevewgha/public_html/wp-content/plugins/meta-data/meta-data.php on line 313

Warning: in_array() expects parameter 2 to be array, boolean given in /home/nevewgha/public_html/wp-content/plugins/meta-data/meta-data.php on line 317

Warning: in_array() expects parameter 2 to be array, boolean given in /home/nevewgha/public_html/wp-content/plugins/meta-data/meta-data.php on line 321

Warning: in_array() expects parameter 2 to be array, boolean given in /home/nevewgha/public_html/wp-content/plugins/meta-data/meta-data.php on line 322

Warning: in_array() expects parameter 2 to be array, boolean given in /home/nevewgha/public_html/wp-content/plugins/meta-data/meta-data.php on line 313

Warning: in_array() expects parameter 2 to be array, boolean given in /home/nevewgha/public_html/wp-content/plugins/meta-data/meta-data.php on line 317

Warning: in_array() expects parameter 2 to be array, boolean given in /home/nevewgha/public_html/wp-content/plugins/meta-data/meta-data.php on line 321

Warning: in_array() expects parameter 2 to be array, boolean given in /home/nevewgha/public_html/wp-content/plugins/meta-data/meta-data.php on line 322

Warning: in_array() expects parameter 2 to be array, boolean given in /home/nevewgha/public_html/wp-content/plugins/meta-data/meta-data.php on line 313

Warning: in_array() expects parameter 2 to be array, boolean given in /home/nevewgha/public_html/wp-content/plugins/meta-data/meta-data.php on line 317

Warning: in_array() expects parameter 2 to be array, boolean given in /home/nevewgha/public_html/wp-content/plugins/meta-data/meta-data.php on line 321

Warning: in_array() expects parameter 2 to be array, boolean given in /home/nevewgha/public_html/wp-content/plugins/meta-data/meta-data.php on line 322

Warning: in_array() expects parameter 2 to be array, boolean given in /home/nevewgha/public_html/wp-content/plugins/meta-data/meta-data.php on line 313

Warning: in_array() expects parameter 2 to be array, boolean given in /home/nevewgha/public_html/wp-content/plugins/meta-data/meta-data.php on line 317

Warning: in_array() expects parameter 2 to be array, boolean given in /home/nevewgha/public_html/wp-content/plugins/meta-data/meta-data.php on line 321

Warning: in_array() expects parameter 2 to be array, boolean given in /home/nevewgha/public_html/wp-content/plugins/meta-data/meta-data.php on line 322

Warning: in_array() expects parameter 2 to be array, boolean given in /home/nevewgha/public_html/wp-content/plugins/meta-data/meta-data.php on line 313

Warning: in_array() expects parameter 2 to be array, boolean given in /home/nevewgha/public_html/wp-content/plugins/meta-data/meta-data.php on line 317

Warning: in_array() expects parameter 2 to be array, boolean given in /home/nevewgha/public_html/wp-content/plugins/meta-data/meta-data.php on line 321

Warning: in_array() expects parameter 2 to be array, boolean given in /home/nevewgha/public_html/wp-content/plugins/meta-data/meta-data.php on line 322

Warning: in_array() expects parameter 2 to be array, boolean given in /home/nevewgha/public_html/wp-content/plugins/meta-data/meta-data.php on line 313

Warning: in_array() expects parameter 2 to be array, boolean given in /home/nevewgha/public_html/wp-content/plugins/meta-data/meta-data.php on line 317

Warning: in_array() expects parameter 2 to be array, boolean given in /home/nevewgha/public_html/wp-content/plugins/meta-data/meta-data.php on line 321

Warning: in_array() expects parameter 2 to be array, boolean given in /home/nevewgha/public_html/wp-content/plugins/meta-data/meta-data.php on line 322

Warning: in_array() expects parameter 2 to be array, boolean given in /home/nevewgha/public_html/wp-content/plugins/meta-data/meta-data.php on line 313

Warning: in_array() expects parameter 2 to be array, boolean given in /home/nevewgha/public_html/wp-content/plugins/meta-data/meta-data.php on line 317

Warning: in_array() expects parameter 2 to be array, boolean given in /home/nevewgha/public_html/wp-content/plugins/meta-data/meta-data.php on line 321

Warning: in_array() expects parameter 2 to be array, boolean given in /home/nevewgha/public_html/wp-content/plugins/meta-data/meta-data.php on line 322

Warning: in_array() expects parameter 2 to be array, boolean given in /home/nevewgha/public_html/wp-content/plugins/meta-data/meta-data.php on line 313

Warning: in_array() expects parameter 2 to be array, boolean given in /home/nevewgha/public_html/wp-content/plugins/meta-data/meta-data.php on line 317

Warning: in_array() expects parameter 2 to be array, boolean given in /home/nevewgha/public_html/wp-content/plugins/meta-data/meta-data.php on line 321

Warning: in_array() expects parameter 2 to be array, boolean given in /home/nevewgha/public_html/wp-content/plugins/meta-data/meta-data.php on line 322

Warning: in_array() expects parameter 2 to be array, boolean given in /home/nevewgha/public_html/wp-content/plugins/meta-data/meta-data.php on line 313

Warning: in_array() expects parameter 2 to be array, boolean given in /home/nevewgha/public_html/wp-content/plugins/meta-data/meta-data.php on line 317

Warning: in_array() expects parameter 2 to be array, boolean given in /home/nevewgha/public_html/wp-content/plugins/meta-data/meta-data.php on line 321

Warning: in_array() expects parameter 2 to be array, boolean given in /home/nevewgha/public_html/wp-content/plugins/meta-data/meta-data.php on line 322

Warning: in_array() expects parameter 2 to be array, boolean given in /home/nevewgha/public_html/wp-content/plugins/meta-data/meta-data.php on line 313

Warning: in_array() expects parameter 2 to be array, boolean given in /home/nevewgha/public_html/wp-content/plugins/meta-data/meta-data.php on line 317

Warning: in_array() expects parameter 2 to be array, boolean given in /home/nevewgha/public_html/wp-content/plugins/meta-data/meta-data.php on line 321

Warning: in_array() expects parameter 2 to be array, boolean given in /home/nevewgha/public_html/wp-content/plugins/meta-data/meta-data.php on line 322

Warning: in_array() expects parameter 2 to be array, boolean given in /home/nevewgha/public_html/wp-content/plugins/meta-data/meta-data.php on line 313

Warning: in_array() expects parameter 2 to be array, boolean given in /home/nevewgha/public_html/wp-content/plugins/meta-data/meta-data.php on line 317

Warning: in_array() expects parameter 2 to be array, boolean given in /home/nevewgha/public_html/wp-content/plugins/meta-data/meta-data.php on line 321

Warning: in_array() expects parameter 2 to be array, boolean given in /home/nevewgha/public_html/wp-content/plugins/meta-data/meta-data.php on line 322

Warning: in_array() expects parameter 2 to be array, boolean given in /home/nevewgha/public_html/wp-content/plugins/meta-data/meta-data.php on line 313

Warning: in_array() expects parameter 2 to be array, boolean given in /home/nevewgha/public_html/wp-content/plugins/meta-data/meta-data.php on line 317

Warning: in_array() expects parameter 2 to be array, boolean given in /home/nevewgha/public_html/wp-content/plugins/meta-data/meta-data.php on line 321

Warning: in_array() expects parameter 2 to be array, boolean given in /home/nevewgha/public_html/wp-content/plugins/meta-data/meta-data.php on line 322

Warning: in_array() expects parameter 2 to be array, boolean given in /home/nevewgha/public_html/wp-content/plugins/meta-data/meta-data.php on line 313

Warning: in_array() expects parameter 2 to be array, boolean given in /home/nevewgha/public_html/wp-content/plugins/meta-data/meta-data.php on line 317

Warning: in_array() expects parameter 2 to be array, boolean given in /home/nevewgha/public_html/wp-content/plugins/meta-data/meta-data.php on line 321

Warning: in_array() expects parameter 2 to be array, boolean given in /home/nevewgha/public_html/wp-content/plugins/meta-data/meta-data.php on line 322

Warning: in_array() expects parameter 2 to be array, boolean given in /home/nevewgha/public_html/wp-content/plugins/meta-data/meta-data.php on line 313

Warning: in_array() expects parameter 2 to be array, boolean given in /home/nevewgha/public_html/wp-content/plugins/meta-data/meta-data.php on line 317

Warning: in_array() expects parameter 2 to be array, boolean given in /home/nevewgha/public_html/wp-content/plugins/meta-data/meta-data.php on line 321

Warning: in_array() expects parameter 2 to be array, boolean given in /home/nevewgha/public_html/wp-content/plugins/meta-data/meta-data.php on line 322

Warning: in_array() expects parameter 2 to be array, boolean given in /home/nevewgha/public_html/wp-content/plugins/meta-data/meta-data.php on line 313

Warning: in_array() expects parameter 2 to be array, boolean given in /home/nevewgha/public_html/wp-content/plugins/meta-data/meta-data.php on line 317

Warning: in_array() expects parameter 2 to be array, boolean given in /home/nevewgha/public_html/wp-content/plugins/meta-data/meta-data.php on line 321

Warning: in_array() expects parameter 2 to be array, boolean given in /home/nevewgha/public_html/wp-content/plugins/meta-data/meta-data.php on line 322

Warning: in_array() expects parameter 2 to be array, boolean given in /home/nevewgha/public_html/wp-content/plugins/meta-data/meta-data.php on line 313

Warning: in_array() expects parameter 2 to be array, boolean given in /home/nevewgha/public_html/wp-content/plugins/meta-data/meta-data.php on line 317

Warning: in_array() expects parameter 2 to be array, boolean given in /home/nevewgha/public_html/wp-content/plugins/meta-data/meta-data.php on line 321

Warning: in_array() expects parameter 2 to be array, boolean given in /home/nevewgha/public_html/wp-content/plugins/meta-data/meta-data.php on line 322

Warning: in_array() expects parameter 2 to be array, boolean given in /home/nevewgha/public_html/wp-content/plugins/meta-data/meta-data.php on line 313

Warning: in_array() expects parameter 2 to be array, boolean given in /home/nevewgha/public_html/wp-content/plugins/meta-data/meta-data.php on line 317

Warning: in_array() expects parameter 2 to be array, boolean given in /home/nevewgha/public_html/wp-content/plugins/meta-data/meta-data.php on line 321

Warning: in_array() expects parameter 2 to be array, boolean given in /home/nevewgha/public_html/wp-content/plugins/meta-data/meta-data.php on line 322

Warning: in_array() expects parameter 2 to be array, boolean given in /home/nevewgha/public_html/wp-content/plugins/meta-data/meta-data.php on line 313

Warning: in_array() expects parameter 2 to be array, boolean given in /home/nevewgha/public_html/wp-content/plugins/meta-data/meta-data.php on line 317

Warning: in_array() expects parameter 2 to be array, boolean given in /home/nevewgha/public_html/wp-content/plugins/meta-data/meta-data.php on line 321

Warning: in_array() expects parameter 2 to be array, boolean given in /home/nevewgha/public_html/wp-content/plugins/meta-data/meta-data.php on line 322

Warning: in_array() expects parameter 2 to be array, boolean given in /home/nevewgha/public_html/wp-content/plugins/meta-data/meta-data.php on line 313

Warning: in_array() expects parameter 2 to be array, boolean given in /home/nevewgha/public_html/wp-content/plugins/meta-data/meta-data.php on line 317

Warning: in_array() expects parameter 2 to be array, boolean given in /home/nevewgha/public_html/wp-content/plugins/meta-data/meta-data.php on line 321

Warning: in_array() expects parameter 2 to be array, boolean given in /home/nevewgha/public_html/wp-content/plugins/meta-data/meta-data.php on line 322

Warning: in_array() expects parameter 2 to be array, boolean given in /home/nevewgha/public_html/wp-content/plugins/meta-data/meta-data.php on line 313

Warning: in_array() expects parameter 2 to be array, boolean given in /home/nevewgha/public_html/wp-content/plugins/meta-data/meta-data.php on line 317

Warning: in_array() expects parameter 2 to be array, boolean given in /home/nevewgha/public_html/wp-content/plugins/meta-data/meta-data.php on line 321

Warning: in_array() expects parameter 2 to be array, boolean given in /home/nevewgha/public_html/wp-content/plugins/meta-data/meta-data.php on line 322

Warning: in_array() expects parameter 2 to be array, boolean given in /home/nevewgha/public_html/wp-content/plugins/meta-data/meta-data.php on line 313

Warning: in_array() expects parameter 2 to be array, boolean given in /home/nevewgha/public_html/wp-content/plugins/meta-data/meta-data.php on line 317

Warning: in_array() expects parameter 2 to be array, boolean given in /home/nevewgha/public_html/wp-content/plugins/meta-data/meta-data.php on line 321

Warning: in_array() expects parameter 2 to be array, boolean given in /home/nevewgha/public_html/wp-content/plugins/meta-data/meta-data.php on line 322

Warning: in_array() expects parameter 2 to be array, boolean given in /home/nevewgha/public_html/wp-content/plugins/meta-data/meta-data.php on line 313

Warning: in_array() expects parameter 2 to be array, boolean given in /home/nevewgha/public_html/wp-content/plugins/meta-data/meta-data.php on line 317

Warning: in_array() expects parameter 2 to be array, boolean given in /home/nevewgha/public_html/wp-content/plugins/meta-data/meta-data.php on line 321

Warning: in_array() expects parameter 2 to be array, boolean given in /home/nevewgha/public_html/wp-content/plugins/meta-data/meta-data.php on line 322

Warning: in_array() expects parameter 2 to be array, boolean given in /home/nevewgha/public_html/wp-content/plugins/meta-data/meta-data.php on line 313

Warning: in_array() expects parameter 2 to be array, boolean given in /home/nevewgha/public_html/wp-content/plugins/meta-data/meta-data.php on line 317

Warning: in_array() expects parameter 2 to be array, boolean given in /home/nevewgha/public_html/wp-content/plugins/meta-data/meta-data.php on line 321

Warning: in_array() expects parameter 2 to be array, boolean given in /home/nevewgha/public_html/wp-content/plugins/meta-data/meta-data.php on line 322

Warning: in_array() expects parameter 2 to be array, boolean given in /home/nevewgha/public_html/wp-content/plugins/meta-data/meta-data.php on line 313

Warning: in_array() expects parameter 2 to be array, boolean given in /home/nevewgha/public_html/wp-content/plugins/meta-data/meta-data.php on line 317

Warning: in_array() expects parameter 2 to be array, boolean given in /home/nevewgha/public_html/wp-content/plugins/meta-data/meta-data.php on line 321

Warning: in_array() expects parameter 2 to be array, boolean given in /home/nevewgha/public_html/wp-content/plugins/meta-data/meta-data.php on line 322

Warning: in_array() expects parameter 2 to be array, boolean given in /home/nevewgha/public_html/wp-content/plugins/meta-data/meta-data.php on line 313

Warning: in_array() expects parameter 2 to be array, boolean given in /home/nevewgha/public_html/wp-content/plugins/meta-data/meta-data.php on line 317

Warning: in_array() expects parameter 2 to be array, boolean given in /home/nevewgha/public_html/wp-content/plugins/meta-data/meta-data.php on line 321

Warning: in_array() expects parameter 2 to be array, boolean given in /home/nevewgha/public_html/wp-content/plugins/meta-data/meta-data.php on line 322

Warning: in_array() expects parameter 2 to be array, boolean given in /home/nevewgha/public_html/wp-content/plugins/meta-data/meta-data.php on line 313

Warning: in_array() expects parameter 2 to be array, boolean given in /home/nevewgha/public_html/wp-content/plugins/meta-data/meta-data.php on line 317

Warning: in_array() expects parameter 2 to be array, boolean given in /home/nevewgha/public_html/wp-content/plugins/meta-data/meta-data.php on line 321

Warning: in_array() expects parameter 2 to be array, boolean given in /home/nevewgha/public_html/wp-content/plugins/meta-data/meta-data.php on line 322

Warning: in_array() expects parameter 2 to be array, boolean given in /home/nevewgha/public_html/wp-content/plugins/meta-data/meta-data.php on line 313

Warning: in_array() expects parameter 2 to be array, boolean given in /home/nevewgha/public_html/wp-content/plugins/meta-data/meta-data.php on line 317

Warning: in_array() expects parameter 2 to be array, boolean given in /home/nevewgha/public_html/wp-content/plugins/meta-data/meta-data.php on line 321

Warning: in_array() expects parameter 2 to be array, boolean given in /home/nevewgha/public_html/wp-content/plugins/meta-data/meta-data.php on line 322

Warning: in_array() expects parameter 2 to be array, boolean given in /home/nevewgha/public_html/wp-content/plugins/meta-data/meta-data.php on line 313

Warning: in_array() expects parameter 2 to be array, boolean given in /home/nevewgha/public_html/wp-content/plugins/meta-data/meta-data.php on line 317

Warning: in_array() expects parameter 2 to be array, boolean given in /home/nevewgha/public_html/wp-content/plugins/meta-data/meta-data.php on line 321

Warning: in_array() expects parameter 2 to be array, boolean given in /home/nevewgha/public_html/wp-content/plugins/meta-data/meta-data.php on line 322

Warning: in_array() expects parameter 2 to be array, boolean given in /home/nevewgha/public_html/wp-content/plugins/meta-data/meta-data.php on line 313

Warning: in_array() expects parameter 2 to be array, boolean given in /home/nevewgha/public_html/wp-content/plugins/meta-data/meta-data.php on line 317

Warning: in_array() expects parameter 2 to be array, boolean given in /home/nevewgha/public_html/wp-content/plugins/meta-data/meta-data.php on line 321

Warning: in_array() expects parameter 2 to be array, boolean given in /home/nevewgha/public_html/wp-content/plugins/meta-data/meta-data.php on line 322

Warning: in_array() expects parameter 2 to be array, boolean given in /home/nevewgha/public_html/wp-content/plugins/meta-data/meta-data.php on line 313

Warning: in_array() expects parameter 2 to be array, boolean given in /home/nevewgha/public_html/wp-content/plugins/meta-data/meta-data.php on line 317

Warning: in_array() expects parameter 2 to be array, boolean given in /home/nevewgha/public_html/wp-content/plugins/meta-data/meta-data.php on line 321

Warning: in_array() expects parameter 2 to be array, boolean given in /home/nevewgha/public_html/wp-content/plugins/meta-data/meta-data.php on line 322

Warning: in_array() expects parameter 2 to be array, boolean given in /home/nevewgha/public_html/wp-content/plugins/meta-data/meta-data.php on line 313

Warning: in_array() expects parameter 2 to be array, boolean given in /home/nevewgha/public_html/wp-content/plugins/meta-data/meta-data.php on line 317

Warning: in_array() expects parameter 2 to be array, boolean given in /home/nevewgha/public_html/wp-content/plugins/meta-data/meta-data.php on line 321

Warning: in_array() expects parameter 2 to be array, boolean given in /home/nevewgha/public_html/wp-content/plugins/meta-data/meta-data.php on line 322

Warning: in_array() expects parameter 2 to be array, boolean given in /home/nevewgha/public_html/wp-content/plugins/meta-data/meta-data.php on line 313

Warning: in_array() expects parameter 2 to be array, boolean given in /home/nevewgha/public_html/wp-content/plugins/meta-data/meta-data.php on line 317

Warning: in_array() expects parameter 2 to be array, boolean given in /home/nevewgha/public_html/wp-content/plugins/meta-data/meta-data.php on line 321

Warning: in_array() expects parameter 2 to be array, boolean given in /home/nevewgha/public_html/wp-content/plugins/meta-data/meta-data.php on line 322

Warning: in_array() expects parameter 2 to be array, boolean given in /home/nevewgha/public_html/wp-content/plugins/meta-data/meta-data.php on line 313

Warning: in_array() expects parameter 2 to be array, boolean given in /home/nevewgha/public_html/wp-content/plugins/meta-data/meta-data.php on line 317

Warning: in_array() expects parameter 2 to be array, boolean given in /home/nevewgha/public_html/wp-content/plugins/meta-data/meta-data.php on line 321

Warning: in_array() expects parameter 2 to be array, boolean given in /home/nevewgha/public_html/wp-content/plugins/meta-data/meta-data.php on line 322

Warning: in_array() expects parameter 2 to be array, boolean given in /home/nevewgha/public_html/wp-content/plugins/meta-data/meta-data.php on line 313

Warning: in_array() expects parameter 2 to be array, boolean given in /home/nevewgha/public_html/wp-content/plugins/meta-data/meta-data.php on line 317

Warning: in_array() expects parameter 2 to be array, boolean given in /home/nevewgha/public_html/wp-content/plugins/meta-data/meta-data.php on line 321

Warning: in_array() expects parameter 2 to be array, boolean given in /home/nevewgha/public_html/wp-content/plugins/meta-data/meta-data.php on line 322

Warning: in_array() expects parameter 2 to be array, boolean given in /home/nevewgha/public_html/wp-content/plugins/meta-data/meta-data.php on line 313

Warning: in_array() expects parameter 2 to be array, boolean given in /home/nevewgha/public_html/wp-content/plugins/meta-data/meta-data.php on line 317

Warning: in_array() expects parameter 2 to be array, boolean given in /home/nevewgha/public_html/wp-content/plugins/meta-data/meta-data.php on line 321

Warning: in_array() expects parameter 2 to be array, boolean given in /home/nevewgha/public_html/wp-content/plugins/meta-data/meta-data.php on line 322

Warning: in_array() expects parameter 2 to be array, boolean given in /home/nevewgha/public_html/wp-content/plugins/meta-data/meta-data.php on line 313

Warning: in_array() expects parameter 2 to be array, boolean given in /home/nevewgha/public_html/wp-content/plugins/meta-data/meta-data.php on line 317

Warning: in_array() expects parameter 2 to be array, boolean given in /home/nevewgha/public_html/wp-content/plugins/meta-data/meta-data.php on line 321

Warning: in_array() expects parameter 2 to be array, boolean given in /home/nevewgha/public_html/wp-content/plugins/meta-data/meta-data.php on line 322

Warning: in_array() expects parameter 2 to be array, boolean given in /home/nevewgha/public_html/wp-content/plugins/meta-data/meta-data.php on line 313

Warning: in_array() expects parameter 2 to be array, boolean given in /home/nevewgha/public_html/wp-content/plugins/meta-data/meta-data.php on line 317

Warning: in_array() expects parameter 2 to be array, boolean given in /home/nevewgha/public_html/wp-content/plugins/meta-data/meta-data.php on line 321

Warning: in_array() expects parameter 2 to be array, boolean given in /home/nevewgha/public_html/wp-content/plugins/meta-data/meta-data.php on line 322

Warning: in_array() expects parameter 2 to be array, boolean given in /home/nevewgha/public_html/wp-content/plugins/meta-data/meta-data.php on line 313

Warning: in_array() expects parameter 2 to be array, boolean given in /home/nevewgha/public_html/wp-content/plugins/meta-data/meta-data.php on line 317

Warning: in_array() expects parameter 2 to be array, boolean given in /home/nevewgha/public_html/wp-content/plugins/meta-data/meta-data.php on line 321

Warning: in_array() expects parameter 2 to be array, boolean given in /home/nevewgha/public_html/wp-content/plugins/meta-data/meta-data.php on line 322

Warning: in_array() expects parameter 2 to be array, boolean given in /home/nevewgha/public_html/wp-content/plugins/meta-data/meta-data.php on line 313

Warning: in_array() expects parameter 2 to be array, boolean given in /home/nevewgha/public_html/wp-content/plugins/meta-data/meta-data.php on line 317

Warning: in_array() expects parameter 2 to be array, boolean given in /home/nevewgha/public_html/wp-content/plugins/meta-data/meta-data.php on line 321

Warning: in_array() expects parameter 2 to be array, boolean given in /home/nevewgha/public_html/wp-content/plugins/meta-data/meta-data.php on line 322

Warning: in_array() expects parameter 2 to be array, boolean given in /home/nevewgha/public_html/wp-content/plugins/meta-data/meta-data.php on line 313

Warning: in_array() expects parameter 2 to be array, boolean given in /home/nevewgha/public_html/wp-content/plugins/meta-data/meta-data.php on line 317

Warning: in_array() expects parameter 2 to be array, boolean given in /home/nevewgha/public_html/wp-content/plugins/meta-data/meta-data.php on line 321

Warning: in_array() expects parameter 2 to be array, boolean given in /home/nevewgha/public_html/wp-content/plugins/meta-data/meta-data.php on line 322

Warning: in_array() expects parameter 2 to be array, boolean given in /home/nevewgha/public_html/wp-content/plugins/meta-data/meta-data.php on line 313

Warning: in_array() expects parameter 2 to be array, boolean given in /home/nevewgha/public_html/wp-content/plugins/meta-data/meta-data.php on line 317

Warning: in_array() expects parameter 2 to be array, boolean given in /home/nevewgha/public_html/wp-content/plugins/meta-data/meta-data.php on line 321

Warning: in_array() expects parameter 2 to be array, boolean given in /home/nevewgha/public_html/wp-content/plugins/meta-data/meta-data.php on line 322

Warning: in_array() expects parameter 2 to be array, boolean given in /home/nevewgha/public_html/wp-content/plugins/meta-data/meta-data.php on line 313

Warning: in_array() expects parameter 2 to be array, boolean given in /home/nevewgha/public_html/wp-content/plugins/meta-data/meta-data.php on line 317

Warning: in_array() expects parameter 2 to be array, boolean given in /home/nevewgha/public_html/wp-content/plugins/meta-data/meta-data.php on line 321

Warning: in_array() expects parameter 2 to be array, boolean given in /home/nevewgha/public_html/wp-content/plugins/meta-data/meta-data.php on line 322

Warning: in_array() expects parameter 2 to be array, boolean given in /home/nevewgha/public_html/wp-content/plugins/meta-data/meta-data.php on line 313

Warning: in_array() expects parameter 2 to be array, boolean given in /home/nevewgha/public_html/wp-content/plugins/meta-data/meta-data.php on line 317

Warning: in_array() expects parameter 2 to be array, boolean given in /home/nevewgha/public_html/wp-content/plugins/meta-data/meta-data.php on line 321

Warning: in_array() expects parameter 2 to be array, boolean given in /home/nevewgha/public_html/wp-content/plugins/meta-data/meta-data.php on line 322

Warning: in_array() expects parameter 2 to be array, boolean given in /home/nevewgha/public_html/wp-content/plugins/meta-data/meta-data.php on line 313

Warning: in_array() expects parameter 2 to be array, boolean given in /home/nevewgha/public_html/wp-content/plugins/meta-data/meta-data.php on line 317

Warning: in_array() expects parameter 2 to be array, boolean given in /home/nevewgha/public_html/wp-content/plugins/meta-data/meta-data.php on line 321

Warning: in_array() expects parameter 2 to be array, boolean given in /home/nevewgha/public_html/wp-content/plugins/meta-data/meta-data.php on line 322

Warning: in_array() expects parameter 2 to be array, boolean given in /home/nevewgha/public_html/wp-content/plugins/meta-data/meta-data.php on line 313

Warning: in_array() expects parameter 2 to be array, boolean given in /home/nevewgha/public_html/wp-content/plugins/meta-data/meta-data.php on line 317

Warning: in_array() expects parameter 2 to be array, boolean given in /home/nevewgha/public_html/wp-content/plugins/meta-data/meta-data.php on line 321

Warning: in_array() expects parameter 2 to be array, boolean given in /home/nevewgha/public_html/wp-content/plugins/meta-data/meta-data.php on line 322

Warning: in_array() expects parameter 2 to be array, boolean given in /home/nevewgha/public_html/wp-content/plugins/meta-data/meta-data.php on line 313

Warning: in_array() expects parameter 2 to be array, boolean given in /home/nevewgha/public_html/wp-content/plugins/meta-data/meta-data.php on line 317

Warning: in_array() expects parameter 2 to be array, boolean given in /home/nevewgha/public_html/wp-content/plugins/meta-data/meta-data.php on line 321

Warning: in_array() expects parameter 2 to be array, boolean given in /home/nevewgha/public_html/wp-content/plugins/meta-data/meta-data.php on line 322

Warning: in_array() expects parameter 2 to be array, boolean given in /home/nevewgha/public_html/wp-content/plugins/meta-data/meta-data.php on line 313

Warning: in_array() expects parameter 2 to be array, boolean given in /home/nevewgha/public_html/wp-content/plugins/meta-data/meta-data.php on line 317

Warning: in_array() expects parameter 2 to be array, boolean given in /home/nevewgha/public_html/wp-content/plugins/meta-data/meta-data.php on line 321

Warning: in_array() expects parameter 2 to be array, boolean given in /home/nevewgha/public_html/wp-content/plugins/meta-data/meta-data.php on line 322

Warning: in_array() expects parameter 2 to be array, boolean given in /home/nevewgha/public_html/wp-content/plugins/meta-data/meta-data.php on line 313

Warning: in_array() expects parameter 2 to be array, boolean given in /home/nevewgha/public_html/wp-content/plugins/meta-data/meta-data.php on line 317

Warning: in_array() expects parameter 2 to be array, boolean given in /home/nevewgha/public_html/wp-content/plugins/meta-data/meta-data.php on line 321

Warning: in_array() expects parameter 2 to be array, boolean given in /home/nevewgha/public_html/wp-content/plugins/meta-data/meta-data.php on line 322

Warning: in_array() expects parameter 2 to be array, boolean given in /home/nevewgha/public_html/wp-content/plugins/meta-data/meta-data.php on line 313

Warning: in_array() expects parameter 2 to be array, boolean given in /home/nevewgha/public_html/wp-content/plugins/meta-data/meta-data.php on line 317

Warning: in_array() expects parameter 2 to be array, boolean given in /home/nevewgha/public_html/wp-content/plugins/meta-data/meta-data.php on line 321

Warning: in_array() expects parameter 2 to be array, boolean given in /home/nevewgha/public_html/wp-content/plugins/meta-data/meta-data.php on line 322

Warning: in_array() expects parameter 2 to be array, boolean given in /home/nevewgha/public_html/wp-content/plugins/meta-data/meta-data.php on line 313

Warning: in_array() expects parameter 2 to be array, boolean given in /home/nevewgha/public_html/wp-content/plugins/meta-data/meta-data.php on line 317

Warning: in_array() expects parameter 2 to be array, boolean given in /home/nevewgha/public_html/wp-content/plugins/meta-data/meta-data.php on line 321

Warning: in_array() expects parameter 2 to be array, boolean given in /home/nevewgha/public_html/wp-content/plugins/meta-data/meta-data.php on line 322

Warning: in_array() expects parameter 2 to be array, boolean given in /home/nevewgha/public_html/wp-content/plugins/meta-data/meta-data.php on line 313

Warning: in_array() expects parameter 2 to be array, boolean given in /home/nevewgha/public_html/wp-content/plugins/meta-data/meta-data.php on line 317

Warning: in_array() expects parameter 2 to be array, boolean given in /home/nevewgha/public_html/wp-content/plugins/meta-data/meta-data.php on line 321

Warning: in_array() expects parameter 2 to be array, boolean given in /home/nevewgha/public_html/wp-content/plugins/meta-data/meta-data.php on line 322

Warning: in_array() expects parameter 2 to be array, boolean given in /home/nevewgha/public_html/wp-content/plugins/meta-data/meta-data.php on line 313

Warning: in_array() expects parameter 2 to be array, boolean given in /home/nevewgha/public_html/wp-content/plugins/meta-data/meta-data.php on line 317

Warning: in_array() expects parameter 2 to be array, boolean given in /home/nevewgha/public_html/wp-content/plugins/meta-data/meta-data.php on line 321

Warning: in_array() expects parameter 2 to be array, boolean given in /home/nevewgha/public_html/wp-content/plugins/meta-data/meta-data.php on line 322

Warning: in_array() expects parameter 2 to be array, boolean given in /home/nevewgha/public_html/wp-content/plugins/meta-data/meta-data.php on line 313

Warning: in_array() expects parameter 2 to be array, boolean given in /home/nevewgha/public_html/wp-content/plugins/meta-data/meta-data.php on line 317

Warning: in_array() expects parameter 2 to be array, boolean given in /home/nevewgha/public_html/wp-content/plugins/meta-data/meta-data.php on line 321

Warning: in_array() expects parameter 2 to be array, boolean given in /home/nevewgha/public_html/wp-content/plugins/meta-data/meta-data.php on line 322

Warning: in_array() expects parameter 2 to be array, boolean given in /home/nevewgha/public_html/wp-content/plugins/meta-data/meta-data.php on line 313

Warning: in_array() expects parameter 2 to be array, boolean given in /home/nevewgha/public_html/wp-content/plugins/meta-data/meta-data.php on line 317

Warning: in_array() expects parameter 2 to be array, boolean given in /home/nevewgha/public_html/wp-content/plugins/meta-data/meta-data.php on line 321

Warning: in_array() expects parameter 2 to be array, boolean given in /home/nevewgha/public_html/wp-content/plugins/meta-data/meta-data.php on line 322

Warning: in_array() expects parameter 2 to be array, boolean given in /home/nevewgha/public_html/wp-content/plugins/meta-data/meta-data.php on line 313

Warning: in_array() expects parameter 2 to be array, boolean given in /home/nevewgha/public_html/wp-content/plugins/meta-data/meta-data.php on line 317

Warning: in_array() expects parameter 2 to be array, boolean given in /home/nevewgha/public_html/wp-content/plugins/meta-data/meta-data.php on line 321

Warning: in_array() expects parameter 2 to be array, boolean given in /home/nevewgha/public_html/wp-content/plugins/meta-data/meta-data.php on line 322

Warning: in_array() expects parameter 2 to be array, boolean given in /home/nevewgha/public_html/wp-content/plugins/meta-data/meta-data.php on line 313

Warning: in_array() expects parameter 2 to be array, boolean given in /home/nevewgha/public_html/wp-content/plugins/meta-data/meta-data.php on line 317

Warning: in_array() expects parameter 2 to be array, boolean given in /home/nevewgha/public_html/wp-content/plugins/meta-data/meta-data.php on line 321

Warning: in_array() expects parameter 2 to be array, boolean given in /home/nevewgha/public_html/wp-content/plugins/meta-data/meta-data.php on line 322

Warning: in_array() expects parameter 2 to be array, boolean given in /home/nevewgha/public_html/wp-content/plugins/meta-data/meta-data.php on line 313

Warning: in_array() expects parameter 2 to be array, boolean given in /home/nevewgha/public_html/wp-content/plugins/meta-data/meta-data.php on line 317

Warning: in_array() expects parameter 2 to be array, boolean given in /home/nevewgha/public_html/wp-content/plugins/meta-data/meta-data.php on line 321

Warning: in_array() expects parameter 2 to be array, boolean given in /home/nevewgha/public_html/wp-content/plugins/meta-data/meta-data.php on line 322

Warning: in_array() expects parameter 2 to be array, boolean given in /home/nevewgha/public_html/wp-content/plugins/meta-data/meta-data.php on line 313

Warning: in_array() expects parameter 2 to be array, boolean given in /home/nevewgha/public_html/wp-content/plugins/meta-data/meta-data.php on line 317

Warning: in_array() expects parameter 2 to be array, boolean given in /home/nevewgha/public_html/wp-content/plugins/meta-data/meta-data.php on line 321

Warning: in_array() expects parameter 2 to be array, boolean given in /home/nevewgha/public_html/wp-content/plugins/meta-data/meta-data.php on line 322

Warning: in_array() expects parameter 2 to be array, boolean given in /home/nevewgha/public_html/wp-content/plugins/meta-data/meta-data.php on line 313

Warning: in_array() expects parameter 2 to be array, boolean given in /home/nevewgha/public_html/wp-content/plugins/meta-data/meta-data.php on line 317

Warning: in_array() expects parameter 2 to be array, boolean given in /home/nevewgha/public_html/wp-content/plugins/meta-data/meta-data.php on line 321

Warning: in_array() expects parameter 2 to be array, boolean given in /home/nevewgha/public_html/wp-content/plugins/meta-data/meta-data.php on line 322

Warning: in_array() expects parameter 2 to be array, boolean given in /home/nevewgha/public_html/wp-content/plugins/meta-data/meta-data.php on line 313

Warning: in_array() expects parameter 2 to be array, boolean given in /home/nevewgha/public_html/wp-content/plugins/meta-data/meta-data.php on line 317

Warning: in_array() expects parameter 2 to be array, boolean given in /home/nevewgha/public_html/wp-content/plugins/meta-data/meta-data.php on line 321

Warning: in_array() expects parameter 2 to be array, boolean given in /home/nevewgha/public_html/wp-content/plugins/meta-data/meta-data.php on line 322

Warning: in_array() expects parameter 2 to be array, boolean given in /home/nevewgha/public_html/wp-content/plugins/meta-data/meta-data.php on line 313

Warning: in_array() expects parameter 2 to be array, boolean given in /home/nevewgha/public_html/wp-content/plugins/meta-data/meta-data.php on line 317

Warning: in_array() expects parameter 2 to be array, boolean given in /home/nevewgha/public_html/wp-content/plugins/meta-data/meta-data.php on line 321

Warning: in_array() expects parameter 2 to be array, boolean given in /home/nevewgha/public_html/wp-content/plugins/meta-data/meta-data.php on line 322

Warning: in_array() expects parameter 2 to be array, boolean given in /home/nevewgha/public_html/wp-content/plugins/meta-data/meta-data.php on line 313

Warning: in_array() expects parameter 2 to be array, boolean given in /home/nevewgha/public_html/wp-content/plugins/meta-data/meta-data.php on line 317

Warning: in_array() expects parameter 2 to be array, boolean given in /home/nevewgha/public_html/wp-content/plugins/meta-data/meta-data.php on line 321

Warning: in_array() expects parameter 2 to be array, boolean given in /home/nevewgha/public_html/wp-content/plugins/meta-data/meta-data.php on line 322

Warning: in_array() expects parameter 2 to be array, boolean given in /home/nevewgha/public_html/wp-content/plugins/meta-data/meta-data.php on line 313

Warning: in_array() expects parameter 2 to be array, boolean given in /home/nevewgha/public_html/wp-content/plugins/meta-data/meta-data.php on line 317

Warning: in_array() expects parameter 2 to be array, boolean given in /home/nevewgha/public_html/wp-content/plugins/meta-data/meta-data.php on line 321

Warning: in_array() expects parameter 2 to be array, boolean given in /home/nevewgha/public_html/wp-content/plugins/meta-data/meta-data.php on line 322

Warning: in_array() expects parameter 2 to be array, boolean given in /home/nevewgha/public_html/wp-content/plugins/meta-data/meta-data.php on line 313

Warning: in_array() expects parameter 2 to be array, boolean given in /home/nevewgha/public_html/wp-content/plugins/meta-data/meta-data.php on line 317

Warning: in_array() expects parameter 2 to be array, boolean given in /home/nevewgha/public_html/wp-content/plugins/meta-data/meta-data.php on line 321

Warning: in_array() expects parameter 2 to be array, boolean given in /home/nevewgha/public_html/wp-content/plugins/meta-data/meta-data.php on line 322

Warning: in_array() expects parameter 2 to be array, boolean given in /home/nevewgha/public_html/wp-content/plugins/meta-data/meta-data.php on line 313

Warning: in_array() expects parameter 2 to be array, boolean given in /home/nevewgha/public_html/wp-content/plugins/meta-data/meta-data.php on line 317

Warning: in_array() expects parameter 2 to be array, boolean given in /home/nevewgha/public_html/wp-content/plugins/meta-data/meta-data.php on line 321

Warning: in_array() expects parameter 2 to be array, boolean given in /home/nevewgha/public_html/wp-content/plugins/meta-data/meta-data.php on line 322

Warning: in_array() expects parameter 2 to be array, boolean given in /home/nevewgha/public_html/wp-content/plugins/meta-data/meta-data.php on line 313

Warning: in_array() expects parameter 2 to be array, boolean given in /home/nevewgha/public_html/wp-content/plugins/meta-data/meta-data.php on line 317

Warning: in_array() expects parameter 2 to be array, boolean given in /home/nevewgha/public_html/wp-content/plugins/meta-data/meta-data.php on line 321

Warning: in_array() expects parameter 2 to be array, boolean given in /home/nevewgha/public_html/wp-content/plugins/meta-data/meta-data.php on line 322

Warning: in_array() expects parameter 2 to be array, boolean given in /home/nevewgha/public_html/wp-content/plugins/meta-data/meta-data.php on line 313

Warning: in_array() expects parameter 2 to be array, boolean given in /home/nevewgha/public_html/wp-content/plugins/meta-data/meta-data.php on line 317

Warning: in_array() expects parameter 2 to be array, boolean given in /home/nevewgha/public_html/wp-content/plugins/meta-data/meta-data.php on line 321

Warning: in_array() expects parameter 2 to be array, boolean given in /home/nevewgha/public_html/wp-content/plugins/meta-data/meta-data.php on line 322

Warning: in_array() expects parameter 2 to be array, boolean given in /home/nevewgha/public_html/wp-content/plugins/meta-data/meta-data.php on line 313

Warning: in_array() expects parameter 2 to be array, boolean given in /home/nevewgha/public_html/wp-content/plugins/meta-data/meta-data.php on line 317

Warning: in_array() expects parameter 2 to be array, boolean given in /home/nevewgha/public_html/wp-content/plugins/meta-data/meta-data.php on line 321

Warning: in_array() expects parameter 2 to be array, boolean given in /home/nevewgha/public_html/wp-content/plugins/meta-data/meta-data.php on line 322

Warning: in_array() expects parameter 2 to be array, boolean given in /home/nevewgha/public_html/wp-content/plugins/meta-data/meta-data.php on line 313

Warning: in_array() expects parameter 2 to be array, boolean given in /home/nevewgha/public_html/wp-content/plugins/meta-data/meta-data.php on line 317

Warning: in_array() expects parameter 2 to be array, boolean given in /home/nevewgha/public_html/wp-content/plugins/meta-data/meta-data.php on line 321

Warning: in_array() expects parameter 2 to be array, boolean given in /home/nevewgha/public_html/wp-content/plugins/meta-data/meta-data.php on line 322

Warning: in_array() expects parameter 2 to be array, boolean given in /home/nevewgha/public_html/wp-content/plugins/meta-data/meta-data.php on line 313

Warning: in_array() expects parameter 2 to be array, boolean given in /home/nevewgha/public_html/wp-content/plugins/meta-data/meta-data.php on line 317

Warning: in_array() expects parameter 2 to be array, boolean given in /home/nevewgha/public_html/wp-content/plugins/meta-data/meta-data.php on line 321

Warning: in_array() expects parameter 2 to be array, boolean given in /home/nevewgha/public_html/wp-content/plugins/meta-data/meta-data.php on line 322

Warning: in_array() expects parameter 2 to be array, boolean given in /home/nevewgha/public_html/wp-content/plugins/meta-data/meta-data.php on line 313

Warning: in_array() expects parameter 2 to be array, boolean given in /home/nevewgha/public_html/wp-content/plugins/meta-data/meta-data.php on line 317

Warning: in_array() expects parameter 2 to be array, boolean given in /home/nevewgha/public_html/wp-content/plugins/meta-data/meta-data.php on line 321

Warning: in_array() expects parameter 2 to be array, boolean given in /home/nevewgha/public_html/wp-content/plugins/meta-data/meta-data.php on line 322

Warning: in_array() expects parameter 2 to be array, boolean given in /home/nevewgha/public_html/wp-content/plugins/meta-data/meta-data.php on line 313

Warning: in_array() expects parameter 2 to be array, boolean given in /home/nevewgha/public_html/wp-content/plugins/meta-data/meta-data.php on line 317

Warning: in_array() expects parameter 2 to be array, boolean given in /home/nevewgha/public_html/wp-content/plugins/meta-data/meta-data.php on line 321

Warning: in_array() expects parameter 2 to be array, boolean given in /home/nevewgha/public_html/wp-content/plugins/meta-data/meta-data.php on line 322

Warning: in_array() expects parameter 2 to be array, boolean given in /home/nevewgha/public_html/wp-content/plugins/meta-data/meta-data.php on line 313

Warning: in_array() expects parameter 2 to be array, boolean given in /home/nevewgha/public_html/wp-content/plugins/meta-data/meta-data.php on line 317

Warning: in_array() expects parameter 2 to be array, boolean given in /home/nevewgha/public_html/wp-content/plugins/meta-data/meta-data.php on line 321

Warning: in_array() expects parameter 2 to be array, boolean given in /home/nevewgha/public_html/wp-content/plugins/meta-data/meta-data.php on line 322

Warning: in_array() expects parameter 2 to be array, boolean given in /home/nevewgha/public_html/wp-content/plugins/meta-data/meta-data.php on line 313

Warning: in_array() expects parameter 2 to be array, boolean given in /home/nevewgha/public_html/wp-content/plugins/meta-data/meta-data.php on line 317

Warning: in_array() expects parameter 2 to be array, boolean given in /home/nevewgha/public_html/wp-content/plugins/meta-data/meta-data.php on line 321

Warning: in_array() expects parameter 2 to be array, boolean given in /home/nevewgha/public_html/wp-content/plugins/meta-data/meta-data.php on line 322

Warning: in_array() expects parameter 2 to be array, boolean given in /home/nevewgha/public_html/wp-content/plugins/meta-data/meta-data.php on line 313

Warning: in_array() expects parameter 2 to be array, boolean given in /home/nevewgha/public_html/wp-content/plugins/meta-data/meta-data.php on line 317

Warning: in_array() expects parameter 2 to be array, boolean given in /home/nevewgha/public_html/wp-content/plugins/meta-data/meta-data.php on line 321

Warning: in_array() expects parameter 2 to be array, boolean given in /home/nevewgha/public_html/wp-content/plugins/meta-data/meta-data.php on line 322

Warning: in_array() expects parameter 2 to be array, boolean given in /home/nevewgha/public_html/wp-content/plugins/meta-data/meta-data.php on line 313

Warning: in_array() expects parameter 2 to be array, boolean given in /home/nevewgha/public_html/wp-content/plugins/meta-data/meta-data.php on line 317

Warning: in_array() expects parameter 2 to be array, boolean given in /home/nevewgha/public_html/wp-content/plugins/meta-data/meta-data.php on line 321

Warning: in_array() expects parameter 2 to be array, boolean given in /home/nevewgha/public_html/wp-content/plugins/meta-data/meta-data.php on line 322

Warning: in_array() expects parameter 2 to be array, boolean given in /home/nevewgha/public_html/wp-content/plugins/meta-data/meta-data.php on line 313

Warning: in_array() expects parameter 2 to be array, boolean given in /home/nevewgha/public_html/wp-content/plugins/meta-data/meta-data.php on line 317

Warning: in_array() expects parameter 2 to be array, boolean given in /home/nevewgha/public_html/wp-content/plugins/meta-data/meta-data.php on line 321

Warning: in_array() expects parameter 2 to be array, boolean given in /home/nevewgha/public_html/wp-content/plugins/meta-data/meta-data.php on line 322

Warning: in_array() expects parameter 2 to be array, boolean given in /home/nevewgha/public_html/wp-content/plugins/meta-data/meta-data.php on line 313

Warning: in_array() expects parameter 2 to be array, boolean given in /home/nevewgha/public_html/wp-content/plugins/meta-data/meta-data.php on line 317

Warning: in_array() expects parameter 2 to be array, boolean given in /home/nevewgha/public_html/wp-content/plugins/meta-data/meta-data.php on line 321

Warning: in_array() expects parameter 2 to be array, boolean given in /home/nevewgha/public_html/wp-content/plugins/meta-data/meta-data.php on line 322

Warning: in_array() expects parameter 2 to be array, boolean given in /home/nevewgha/public_html/wp-content/plugins/meta-data/meta-data.php on line 313

Warning: in_array() expects parameter 2 to be array, boolean given in /home/nevewgha/public_html/wp-content/plugins/meta-data/meta-data.php on line 317

Warning: in_array() expects parameter 2 to be array, boolean given in /home/nevewgha/public_html/wp-content/plugins/meta-data/meta-data.php on line 321

Warning: in_array() expects parameter 2 to be array, boolean given in /home/nevewgha/public_html/wp-content/plugins/meta-data/meta-data.php on line 322

Warning: in_array() expects parameter 2 to be array, boolean given in /home/nevewgha/public_html/wp-content/plugins/meta-data/meta-data.php on line 313

Warning: in_array() expects parameter 2 to be array, boolean given in /home/nevewgha/public_html/wp-content/plugins/meta-data/meta-data.php on line 317

Warning: in_array() expects parameter 2 to be array, boolean given in /home/nevewgha/public_html/wp-content/plugins/meta-data/meta-data.php on line 321

Warning: in_array() expects parameter 2 to be array, boolean given in /home/nevewgha/public_html/wp-content/plugins/meta-data/meta-data.php on line 322

Warning: in_array() expects parameter 2 to be array, boolean given in /home/nevewgha/public_html/wp-content/plugins/meta-data/meta-data.php on line 313

Warning: in_array() expects parameter 2 to be array, boolean given in /home/nevewgha/public_html/wp-content/plugins/meta-data/meta-data.php on line 317

Warning: in_array() expects parameter 2 to be array, boolean given in /home/nevewgha/public_html/wp-content/plugins/meta-data/meta-data.php on line 321

Warning: in_array() expects parameter 2 to be array, boolean given in /home/nevewgha/public_html/wp-content/plugins/meta-data/meta-data.php on line 322

Warning: in_array() expects parameter 2 to be array, boolean given in /home/nevewgha/public_html/wp-content/plugins/meta-data/meta-data.php on line 313

Warning: in_array() expects parameter 2 to be array, boolean given in /home/nevewgha/public_html/wp-content/plugins/meta-data/meta-data.php on line 317

Warning: in_array() expects parameter 2 to be array, boolean given in /home/nevewgha/public_html/wp-content/plugins/meta-data/meta-data.php on line 321

Warning: in_array() expects parameter 2 to be array, boolean given in /home/nevewgha/public_html/wp-content/plugins/meta-data/meta-data.php on line 322

Warning: in_array() expects parameter 2 to be array, boolean given in /home/nevewgha/public_html/wp-content/plugins/meta-data/meta-data.php on line 313

Warning: in_array() expects parameter 2 to be array, boolean given in /home/nevewgha/public_html/wp-content/plugins/meta-data/meta-data.php on line 317

Warning: in_array() expects parameter 2 to be array, boolean given in /home/nevewgha/public_html/wp-content/plugins/meta-data/meta-data.php on line 321

Warning: in_array() expects parameter 2 to be array, boolean given in /home/nevewgha/public_html/wp-content/plugins/meta-data/meta-data.php on line 322

Warning: in_array() expects parameter 2 to be array, boolean given in /home/nevewgha/public_html/wp-content/plugins/meta-data/meta-data.php on line 313

Warning: in_array() expects parameter 2 to be array, boolean given in /home/nevewgha/public_html/wp-content/plugins/meta-data/meta-data.php on line 317

Warning: in_array() expects parameter 2 to be array, boolean given in /home/nevewgha/public_html/wp-content/plugins/meta-data/meta-data.php on line 321

Warning: in_array() expects parameter 2 to be array, boolean given in /home/nevewgha/public_html/wp-content/plugins/meta-data/meta-data.php on line 322

Warning: in_array() expects parameter 2 to be array, boolean given in /home/nevewgha/public_html/wp-content/plugins/meta-data/meta-data.php on line 313

Warning: in_array() expects parameter 2 to be array, boolean given in /home/nevewgha/public_html/wp-content/plugins/meta-data/meta-data.php on line 317

Warning: in_array() expects parameter 2 to be array, boolean given in /home/nevewgha/public_html/wp-content/plugins/meta-data/meta-data.php on line 321

Warning: in_array() expects parameter 2 to be array, boolean given in /home/nevewgha/public_html/wp-content/plugins/meta-data/meta-data.php on line 322

Warning: in_array() expects parameter 2 to be array, boolean given in /home/nevewgha/public_html/wp-content/plugins/meta-data/meta-data.php on line 313

Warning: in_array() expects parameter 2 to be array, boolean given in /home/nevewgha/public_html/wp-content/plugins/meta-data/meta-data.php on line 317

Warning: in_array() expects parameter 2 to be array, boolean given in /home/nevewgha/public_html/wp-content/plugins/meta-data/meta-data.php on line 321

Warning: in_array() expects parameter 2 to be array, boolean given in /home/nevewgha/public_html/wp-content/plugins/meta-data/meta-data.php on line 322

Warning: in_array() expects parameter 2 to be array, boolean given in /home/nevewgha/public_html/wp-content/plugins/meta-data/meta-data.php on line 313

Warning: in_array() expects parameter 2 to be array, boolean given in /home/nevewgha/public_html/wp-content/plugins/meta-data/meta-data.php on line 317

Warning: in_array() expects parameter 2 to be array, boolean given in /home/nevewgha/public_html/wp-content/plugins/meta-data/meta-data.php on line 321

Warning: in_array() expects parameter 2 to be array, boolean given in /home/nevewgha/public_html/wp-content/plugins/meta-data/meta-data.php on line 322

Warning: in_array() expects parameter 2 to be array, boolean given in /home/nevewgha/public_html/wp-content/plugins/meta-data/meta-data.php on line 313

Warning: in_array() expects parameter 2 to be array, boolean given in /home/nevewgha/public_html/wp-content/plugins/meta-data/meta-data.php on line 317

Warning: in_array() expects parameter 2 to be array, boolean given in /home/nevewgha/public_html/wp-content/plugins/meta-data/meta-data.php on line 321

Warning: in_array() expects parameter 2 to be array, boolean given in /home/nevewgha/public_html/wp-content/plugins/meta-data/meta-data.php on line 322

Warning: in_array() expects parameter 2 to be array, boolean given in /home/nevewgha/public_html/wp-content/plugins/meta-data/meta-data.php on line 313

Warning: in_array() expects parameter 2 to be array, boolean given in /home/nevewgha/public_html/wp-content/plugins/meta-data/meta-data.php on line 317

Warning: in_array() expects parameter 2 to be array, boolean given in /home/nevewgha/public_html/wp-content/plugins/meta-data/meta-data.php on line 321

Warning: in_array() expects parameter 2 to be array, boolean given in /home/nevewgha/public_html/wp-content/plugins/meta-data/meta-data.php on line 322

Warning: in_array() expects parameter 2 to be array, boolean given in /home/nevewgha/public_html/wp-content/plugins/meta-data/meta-data.php on line 313

Warning: in_array() expects parameter 2 to be array, boolean given in /home/nevewgha/public_html/wp-content/plugins/meta-data/meta-data.php on line 317

Warning: in_array() expects parameter 2 to be array, boolean given in /home/nevewgha/public_html/wp-content/plugins/meta-data/meta-data.php on line 321

Warning: in_array() expects parameter 2 to be array, boolean given in /home/nevewgha/public_html/wp-content/plugins/meta-data/meta-data.php on line 322

Warning: in_array() expects parameter 2 to be array, boolean given in /home/nevewgha/public_html/wp-content/plugins/meta-data/meta-data.php on line 313

Warning: in_array() expects parameter 2 to be array, boolean given in /home/nevewgha/public_html/wp-content/plugins/meta-data/meta-data.php on line 317

Warning: in_array() expects parameter 2 to be array, boolean given in /home/nevewgha/public_html/wp-content/plugins/meta-data/meta-data.php on line 321

Warning: in_array() expects parameter 2 to be array, boolean given in /home/nevewgha/public_html/wp-content/plugins/meta-data/meta-data.php on line 322

Warning: in_array() expects parameter 2 to be array, boolean given in /home/nevewgha/public_html/wp-content/plugins/meta-data/meta-data.php on line 313

Warning: in_array() expects parameter 2 to be array, boolean given in /home/nevewgha/public_html/wp-content/plugins/meta-data/meta-data.php on line 317

Warning: in_array() expects parameter 2 to be array, boolean given in /home/nevewgha/public_html/wp-content/plugins/meta-data/meta-data.php on line 321

Warning: in_array() expects parameter 2 to be array, boolean given in /home/nevewgha/public_html/wp-content/plugins/meta-data/meta-data.php on line 322

Warning: in_array() expects parameter 2 to be array, boolean given in /home/nevewgha/public_html/wp-content/plugins/meta-data/meta-data.php on line 313

Warning: in_array() expects parameter 2 to be array, boolean given in /home/nevewgha/public_html/wp-content/plugins/meta-data/meta-data.php on line 317

Warning: in_array() expects parameter 2 to be array, boolean given in /home/nevewgha/public_html/wp-content/plugins/meta-data/meta-data.php on line 321

Warning: in_array() expects parameter 2 to be array, boolean given in /home/nevewgha/public_html/wp-content/plugins/meta-data/meta-data.php on line 322

Warning: in_array() expects parameter 2 to be array, boolean given in /home/nevewgha/public_html/wp-content/plugins/meta-data/meta-data.php on line 313

Warning: in_array() expects parameter 2 to be array, boolean given in /home/nevewgha/public_html/wp-content/plugins/meta-data/meta-data.php on line 317

Warning: in_array() expects parameter 2 to be array, boolean given in /home/nevewgha/public_html/wp-content/plugins/meta-data/meta-data.php on line 321

Warning: in_array() expects parameter 2 to be array, boolean given in /home/nevewgha/public_html/wp-content/plugins/meta-data/meta-data.php on line 322

Warning: in_array() expects parameter 2 to be array, boolean given in /home/nevewgha/public_html/wp-content/plugins/meta-data/meta-data.php on line 313

Warning: in_array() expects parameter 2 to be array, boolean given in /home/nevewgha/public_html/wp-content/plugins/meta-data/meta-data.php on line 317

Warning: in_array() expects parameter 2 to be array, boolean given in /home/nevewgha/public_html/wp-content/plugins/meta-data/meta-data.php on line 321

Warning: in_array() expects parameter 2 to be array, boolean given in /home/nevewgha/public_html/wp-content/plugins/meta-data/meta-data.php on line 322

Warning: in_array() expects parameter 2 to be array, boolean given in /home/nevewgha/public_html/wp-content/plugins/meta-data/meta-data.php on line 313

Warning: in_array() expects parameter 2 to be array, boolean given in /home/nevewgha/public_html/wp-content/plugins/meta-data/meta-data.php on line 317

Warning: in_array() expects parameter 2 to be array, boolean given in /home/nevewgha/public_html/wp-content/plugins/meta-data/meta-data.php on line 321

Warning: in_array() expects parameter 2 to be array, boolean given in /home/nevewgha/public_html/wp-content/plugins/meta-data/meta-data.php on line 322

Warning: in_array() expects parameter 2 to be array, boolean given in /home/nevewgha/public_html/wp-content/plugins/meta-data/meta-data.php on line 313

Warning: in_array() expects parameter 2 to be array, boolean given in /home/nevewgha/public_html/wp-content/plugins/meta-data/meta-data.php on line 317

Warning: in_array() expects parameter 2 to be array, boolean given in /home/nevewgha/public_html/wp-content/plugins/meta-data/meta-data.php on line 321

Warning: in_array() expects parameter 2 to be array, boolean given in /home/nevewgha/public_html/wp-content/plugins/meta-data/meta-data.php on line 322

Warning: in_array() expects parameter 2 to be array, boolean given in /home/nevewgha/public_html/wp-content/plugins/meta-data/meta-data.php on line 313

Warning: in_array() expects parameter 2 to be array, boolean given in /home/nevewgha/public_html/wp-content/plugins/meta-data/meta-data.php on line 317

Warning: in_array() expects parameter 2 to be array, boolean given in /home/nevewgha/public_html/wp-content/plugins/meta-data/meta-data.php on line 321

Warning: in_array() expects parameter 2 to be array, boolean given in /home/nevewgha/public_html/wp-content/plugins/meta-data/meta-data.php on line 322

Warning: in_array() expects parameter 2 to be array, boolean given in /home/nevewgha/public_html/wp-content/plugins/meta-data/meta-data.php on line 313

Warning: in_array() expects parameter 2 to be array, boolean given in /home/nevewgha/public_html/wp-content/plugins/meta-data/meta-data.php on line 317

Warning: in_array() expects parameter 2 to be array, boolean given in /home/nevewgha/public_html/wp-content/plugins/meta-data/meta-data.php on line 321

Warning: in_array() expects parameter 2 to be array, boolean given in /home/nevewgha/public_html/wp-content/plugins/meta-data/meta-data.php on line 322

Warning: in_array() expects parameter 2 to be array, boolean given in /home/nevewgha/public_html/wp-content/plugins/meta-data/meta-data.php on line 313

Warning: in_array() expects parameter 2 to be array, boolean given in /home/nevewgha/public_html/wp-content/plugins/meta-data/meta-data.php on line 317

Warning: in_array() expects parameter 2 to be array, boolean given in /home/nevewgha/public_html/wp-content/plugins/meta-data/meta-data.php on line 321

Warning: in_array() expects parameter 2 to be array, boolean given in /home/nevewgha/public_html/wp-content/plugins/meta-data/meta-data.php on line 322

Warning: in_array() expects parameter 2 to be array, boolean given in /home/nevewgha/public_html/wp-content/plugins/meta-data/meta-data.php on line 313

Warning: in_array() expects parameter 2 to be array, boolean given in /home/nevewgha/public_html/wp-content/plugins/meta-data/meta-data.php on line 317

Warning: in_array() expects parameter 2 to be array, boolean given in /home/nevewgha/public_html/wp-content/plugins/meta-data/meta-data.php on line 321

Warning: in_array() expects parameter 2 to be array, boolean given in /home/nevewgha/public_html/wp-content/plugins/meta-data/meta-data.php on line 322

Warning: in_array() expects parameter 2 to be array, boolean given in /home/nevewgha/public_html/wp-content/plugins/meta-data/meta-data.php on line 313

Warning: in_array() expects parameter 2 to be array, boolean given in /home/nevewgha/public_html/wp-content/plugins/meta-data/meta-data.php on line 317

Warning: in_array() expects parameter 2 to be array, boolean given in /home/nevewgha/public_html/wp-content/plugins/meta-data/meta-data.php on line 321

Warning: in_array() expects parameter 2 to be array, boolean given in /home/nevewgha/public_html/wp-content/plugins/meta-data/meta-data.php on line 322

Warning: in_array() expects parameter 2 to be array, boolean given in /home/nevewgha/public_html/wp-content/plugins/meta-data/meta-data.php on line 313

Warning: in_array() expects parameter 2 to be array, boolean given in /home/nevewgha/public_html/wp-content/plugins/meta-data/meta-data.php on line 317

Warning: in_array() expects parameter 2 to be array, boolean given in /home/nevewgha/public_html/wp-content/plugins/meta-data/meta-data.php on line 321

Warning: in_array() expects parameter 2 to be array, boolean given in /home/nevewgha/public_html/wp-content/plugins/meta-data/meta-data.php on line 322

Warning: in_array() expects parameter 2 to be array, boolean given in /home/nevewgha/public_html/wp-content/plugins/meta-data/meta-data.php on line 313

Warning: in_array() expects parameter 2 to be array, boolean given in /home/nevewgha/public_html/wp-content/plugins/meta-data/meta-data.php on line 317

Warning: in_array() expects parameter 2 to be array, boolean given in /home/nevewgha/public_html/wp-content/plugins/meta-data/meta-data.php on line 321

Warning: in_array() expects parameter 2 to be array, boolean given in /home/nevewgha/public_html/wp-content/plugins/meta-data/meta-data.php on line 322

Warning: in_array() expects parameter 2 to be array, boolean given in /home/nevewgha/public_html/wp-content/plugins/meta-data/meta-data.php on line 313

Warning: in_array() expects parameter 2 to be array, boolean given in /home/nevewgha/public_html/wp-content/plugins/meta-data/meta-data.php on line 317

Warning: in_array() expects parameter 2 to be array, boolean given in /home/nevewgha/public_html/wp-content/plugins/meta-data/meta-data.php on line 321

Warning: in_array() expects parameter 2 to be array, boolean given in /home/nevewgha/public_html/wp-content/plugins/meta-data/meta-data.php on line 322

Warning: in_array() expects parameter 2 to be array, boolean given in /home/nevewgha/public_html/wp-content/plugins/meta-data/meta-data.php on line 313

Warning: in_array() expects parameter 2 to be array, boolean given in /home/nevewgha/public_html/wp-content/plugins/meta-data/meta-data.php on line 317

Warning: in_array() expects parameter 2 to be array, boolean given in /home/nevewgha/public_html/wp-content/plugins/meta-data/meta-data.php on line 321

Warning: in_array() expects parameter 2 to be array, boolean given in /home/nevewgha/public_html/wp-content/plugins/meta-data/meta-data.php on line 322

Warning: in_array() expects parameter 2 to be array, boolean given in /home/nevewgha/public_html/wp-content/plugins/meta-data/meta-data.php on line 313

Warning: in_array() expects parameter 2 to be array, boolean given in /home/nevewgha/public_html/wp-content/plugins/meta-data/meta-data.php on line 317

Warning: in_array() expects parameter 2 to be array, boolean given in /home/nevewgha/public_html/wp-content/plugins/meta-data/meta-data.php on line 321

Warning: in_array() expects parameter 2 to be array, boolean given in /home/nevewgha/public_html/wp-content/plugins/meta-data/meta-data.php on line 322

Warning: in_array() expects parameter 2 to be array, boolean given in /home/nevewgha/public_html/wp-content/plugins/meta-data/meta-data.php on line 313

Warning: in_array() expects parameter 2 to be array, boolean given in /home/nevewgha/public_html/wp-content/plugins/meta-data/meta-data.php on line 317

Warning: in_array() expects parameter 2 to be array, boolean given in /home/nevewgha/public_html/wp-content/plugins/meta-data/meta-data.php on line 321

Warning: in_array() expects parameter 2 to be array, boolean given in /home/nevewgha/public_html/wp-content/plugins/meta-data/meta-data.php on line 322

Warning: in_array() expects parameter 2 to be array, boolean given in /home/nevewgha/public_html/wp-content/plugins/meta-data/meta-data.php on line 313

Warning: in_array() expects parameter 2 to be array, boolean given in /home/nevewgha/public_html/wp-content/plugins/meta-data/meta-data.php on line 317

Warning: in_array() expects parameter 2 to be array, boolean given in /home/nevewgha/public_html/wp-content/plugins/meta-data/meta-data.php on line 321

Warning: in_array() expects parameter 2 to be array, boolean given in /home/nevewgha/public_html/wp-content/plugins/meta-data/meta-data.php on line 322

Warning: in_array() expects parameter 2 to be array, boolean given in /home/nevewgha/public_html/wp-content/plugins/meta-data/meta-data.php on line 313

Warning: in_array() expects parameter 2 to be array, boolean given in /home/nevewgha/public_html/wp-content/plugins/meta-data/meta-data.php on line 317

Warning: in_array() expects parameter 2 to be array, boolean given in /home/nevewgha/public_html/wp-content/plugins/meta-data/meta-data.php on line 321

Warning: in_array() expects parameter 2 to be array, boolean given in /home/nevewgha/public_html/wp-content/plugins/meta-data/meta-data.php on line 322

Warning: in_array() expects parameter 2 to be array, boolean given in /home/nevewgha/public_html/wp-content/plugins/meta-data/meta-data.php on line 313

Warning: in_array() expects parameter 2 to be array, boolean given in /home/nevewgha/public_html/wp-content/plugins/meta-data/meta-data.php on line 317

Warning: in_array() expects parameter 2 to be array, boolean given in /home/nevewgha/public_html/wp-content/plugins/meta-data/meta-data.php on line 321

Warning: in_array() expects parameter 2 to be array, boolean given in /home/nevewgha/public_html/wp-content/plugins/meta-data/meta-data.php on line 322

Warning: in_array() expects parameter 2 to be array, boolean given in /home/nevewgha/public_html/wp-content/plugins/meta-data/meta-data.php on line 313

Warning: in_array() expects parameter 2 to be array, boolean given in /home/nevewgha/public_html/wp-content/plugins/meta-data/meta-data.php on line 317

Warning: in_array() expects parameter 2 to be array, boolean given in /home/nevewgha/public_html/wp-content/plugins/meta-data/meta-data.php on line 321

Warning: in_array() expects parameter 2 to be array, boolean given in /home/nevewgha/public_html/wp-content/plugins/meta-data/meta-data.php on line 322

Warning: in_array() expects parameter 2 to be array, boolean given in /home/nevewgha/public_html/wp-content/plugins/meta-data/meta-data.php on line 313

Warning: in_array() expects parameter 2 to be array, boolean given in /home/nevewgha/public_html/wp-content/plugins/meta-data/meta-data.php on line 317

Warning: in_array() expects parameter 2 to be array, boolean given in /home/nevewgha/public_html/wp-content/plugins/meta-data/meta-data.php on line 321

Warning: in_array() expects parameter 2 to be array, boolean given in /home/nevewgha/public_html/wp-content/plugins/meta-data/meta-data.php on line 322

Warning: in_array() expects parameter 2 to be array, boolean given in /home/nevewgha/public_html/wp-content/plugins/meta-data/meta-data.php on line 313

Warning: in_array() expects parameter 2 to be array, boolean given in /home/nevewgha/public_html/wp-content/plugins/meta-data/meta-data.php on line 317

Warning: in_array() expects parameter 2 to be array, boolean given in /home/nevewgha/public_html/wp-content/plugins/meta-data/meta-data.php on line 321

Warning: in_array() expects parameter 2 to be array, boolean given in /home/nevewgha/public_html/wp-content/plugins/meta-data/meta-data.php on line 322

Warning: in_array() expects parameter 2 to be array, boolean given in /home/nevewgha/public_html/wp-content/plugins/meta-data/meta-data.php on line 313

Warning: in_array() expects parameter 2 to be array, boolean given in /home/nevewgha/public_html/wp-content/plugins/meta-data/meta-data.php on line 317

Warning: in_array() expects parameter 2 to be array, boolean given in /home/nevewgha/public_html/wp-content/plugins/meta-data/meta-data.php on line 321

Warning: in_array() expects parameter 2 to be array, boolean given in /home/nevewgha/public_html/wp-content/plugins/meta-data/meta-data.php on line 322

Warning: in_array() expects parameter 2 to be array, boolean given in /home/nevewgha/public_html/wp-content/plugins/meta-data/meta-data.php on line 313

Warning: in_array() expects parameter 2 to be array, boolean given in /home/nevewgha/public_html/wp-content/plugins/meta-data/meta-data.php on line 317

Warning: in_array() expects parameter 2 to be array, boolean given in /home/nevewgha/public_html/wp-content/plugins/meta-data/meta-data.php on line 321

Warning: in_array() expects parameter 2 to be array, boolean given in /home/nevewgha/public_html/wp-content/plugins/meta-data/meta-data.php on line 322

Warning: in_array() expects parameter 2 to be array, boolean given in /home/nevewgha/public_html/wp-content/plugins/meta-data/meta-data.php on line 313

Warning: in_array() expects parameter 2 to be array, boolean given in /home/nevewgha/public_html/wp-content/plugins/meta-data/meta-data.php on line 317

Warning: in_array() expects parameter 2 to be array, boolean given in /home/nevewgha/public_html/wp-content/plugins/meta-data/meta-data.php on line 321

Warning: in_array() expects parameter 2 to be array, boolean given in /home/nevewgha/public_html/wp-content/plugins/meta-data/meta-data.php on line 322

Warning: in_array() expects parameter 2 to be array, boolean given in /home/nevewgha/public_html/wp-content/plugins/meta-data/meta-data.php on line 313

Warning: in_array() expects parameter 2 to be array, boolean given in /home/nevewgha/public_html/wp-content/plugins/meta-data/meta-data.php on line 317

Warning: in_array() expects parameter 2 to be array, boolean given in /home/nevewgha/public_html/wp-content/plugins/meta-data/meta-data.php on line 321

Warning: in_array() expects parameter 2 to be array, boolean given in /home/nevewgha/public_html/wp-content/plugins/meta-data/meta-data.php on line 322

Warning: in_array() expects parameter 2 to be array, boolean given in /home/nevewgha/public_html/wp-content/plugins/meta-data/meta-data.php on line 313

Warning: in_array() expects parameter 2 to be array, boolean given in /home/nevewgha/public_html/wp-content/plugins/meta-data/meta-data.php on line 317

Warning: in_array() expects parameter 2 to be array, boolean given in /home/nevewgha/public_html/wp-content/plugins/meta-data/meta-data.php on line 321

Warning: in_array() expects parameter 2 to be array, boolean given in /home/nevewgha/public_html/wp-content/plugins/meta-data/meta-data.php on line 322

Warning: in_array() expects parameter 2 to be array, boolean given in /home/nevewgha/public_html/wp-content/plugins/meta-data/meta-data.php on line 313

Warning: in_array() expects parameter 2 to be array, boolean given in /home/nevewgha/public_html/wp-content/plugins/meta-data/meta-data.php on line 317

Warning: in_array() expects parameter 2 to be array, boolean given in /home/nevewgha/public_html/wp-content/plugins/meta-data/meta-data.php on line 321

Warning: in_array() expects parameter 2 to be array, boolean given in /home/nevewgha/public_html/wp-content/plugins/meta-data/meta-data.php on line 322

Warning: in_array() expects parameter 2 to be array, boolean given in /home/nevewgha/public_html/wp-content/plugins/meta-data/meta-data.php on line 313

Warning: in_array() expects parameter 2 to be array, boolean given in /home/nevewgha/public_html/wp-content/plugins/meta-data/meta-data.php on line 317

Warning: in_array() expects parameter 2 to be array, boolean given in /home/nevewgha/public_html/wp-content/plugins/meta-data/meta-data.php on line 321

Warning: in_array() expects parameter 2 to be array, boolean given in /home/nevewgha/public_html/wp-content/plugins/meta-data/meta-data.php on line 322

Warning: in_array() expects parameter 2 to be array, boolean given in /home/nevewgha/public_html/wp-content/plugins/meta-data/meta-data.php on line 313

Warning: in_array() expects parameter 2 to be array, boolean given in /home/nevewgha/public_html/wp-content/plugins/meta-data/meta-data.php on line 317

Warning: in_array() expects parameter 2 to be array, boolean given in /home/nevewgha/public_html/wp-content/plugins/meta-data/meta-data.php on line 321

Warning: in_array() expects parameter 2 to be array, boolean given in /home/nevewgha/public_html/wp-content/plugins/meta-data/meta-data.php on line 322

Warning: in_array() expects parameter 2 to be array, boolean given in /home/nevewgha/public_html/wp-content/plugins/meta-data/meta-data.php on line 313

Warning: in_array() expects parameter 2 to be array, boolean given in /home/nevewgha/public_html/wp-content/plugins/meta-data/meta-data.php on line 317

Warning: in_array() expects parameter 2 to be array, boolean given in /home/nevewgha/public_html/wp-content/plugins/meta-data/meta-data.php on line 321

Warning: in_array() expects parameter 2 to be array, boolean given in /home/nevewgha/public_html/wp-content/plugins/meta-data/meta-data.php on line 322

Warning: in_array() expects parameter 2 to be array, boolean given in /home/nevewgha/public_html/wp-content/plugins/meta-data/meta-data.php on line 313

Warning: in_array() expects parameter 2 to be array, boolean given in /home/nevewgha/public_html/wp-content/plugins/meta-data/meta-data.php on line 317

Warning: in_array() expects parameter 2 to be array, boolean given in /home/nevewgha/public_html/wp-content/plugins/meta-data/meta-data.php on line 321

Warning: in_array() expects parameter 2 to be array, boolean given in /home/nevewgha/public_html/wp-content/plugins/meta-data/meta-data.php on line 322

Warning: in_array() expects parameter 2 to be array, boolean given in /home/nevewgha/public_html/wp-content/plugins/meta-data/meta-data.php on line 313

Warning: in_array() expects parameter 2 to be array, boolean given in /home/nevewgha/public_html/wp-content/plugins/meta-data/meta-data.php on line 317

Warning: in_array() expects parameter 2 to be array, boolean given in /home/nevewgha/public_html/wp-content/plugins/meta-data/meta-data.php on line 321

Warning: in_array() expects parameter 2 to be array, boolean given in /home/nevewgha/public_html/wp-content/plugins/meta-data/meta-data.php on line 322

Warning: in_array() expects parameter 2 to be array, boolean given in /home/nevewgha/public_html/wp-content/plugins/meta-data/meta-data.php on line 313

Warning: in_array() expects parameter 2 to be array, boolean given in /home/nevewgha/public_html/wp-content/plugins/meta-data/meta-data.php on line 317

Warning: in_array() expects parameter 2 to be array, boolean given in /home/nevewgha/public_html/wp-content/plugins/meta-data/meta-data.php on line 321

Warning: in_array() expects parameter 2 to be array, boolean given in /home/nevewgha/public_html/wp-content/plugins/meta-data/meta-data.php on line 322

Warning: in_array() expects parameter 2 to be array, boolean given in /home/nevewgha/public_html/wp-content/plugins/meta-data/meta-data.php on line 313

Warning: in_array() expects parameter 2 to be array, boolean given in /home/nevewgha/public_html/wp-content/plugins/meta-data/meta-data.php on line 317

Warning: in_array() expects parameter 2 to be array, boolean given in /home/nevewgha/public_html/wp-content/plugins/meta-data/meta-data.php on line 321

Warning: in_array() expects parameter 2 to be array, boolean given in /home/nevewgha/public_html/wp-content/plugins/meta-data/meta-data.php on line 322

Warning: in_array() expects parameter 2 to be array, boolean given in /home/nevewgha/public_html/wp-content/plugins/meta-data/meta-data.php on line 313

Warning: in_array() expects parameter 2 to be array, boolean given in /home/nevewgha/public_html/wp-content/plugins/meta-data/meta-data.php on line 317

Warning: in_array() expects parameter 2 to be array, boolean given in /home/nevewgha/public_html/wp-content/plugins/meta-data/meta-data.php on line 321

Warning: in_array() expects parameter 2 to be array, boolean given in /home/nevewgha/public_html/wp-content/plugins/meta-data/meta-data.php on line 322

Warning: in_array() expects parameter 2 to be array, boolean given in /home/nevewgha/public_html/wp-content/plugins/meta-data/meta-data.php on line 313

Warning: in_array() expects parameter 2 to be array, boolean given in /home/nevewgha/public_html/wp-content/plugins/meta-data/meta-data.php on line 317

Warning: in_array() expects parameter 2 to be array, boolean given in /home/nevewgha/public_html/wp-content/plugins/meta-data/meta-data.php on line 321

Warning: in_array() expects parameter 2 to be array, boolean given in /home/nevewgha/public_html/wp-content/plugins/meta-data/meta-data.php on line 322

Warning: in_array() expects parameter 2 to be array, boolean given in /home/nevewgha/public_html/wp-content/plugins/meta-data/meta-data.php on line 313

Warning: in_array() expects parameter 2 to be array, boolean given in /home/nevewgha/public_html/wp-content/plugins/meta-data/meta-data.php on line 317

Warning: in_array() expects parameter 2 to be array, boolean given in /home/nevewgha/public_html/wp-content/plugins/meta-data/meta-data.php on line 321

Warning: in_array() expects parameter 2 to be array, boolean given in /home/nevewgha/public_html/wp-content/plugins/meta-data/meta-data.php on line 322

Warning: in_array() expects parameter 2 to be array, boolean given in /home/nevewgha/public_html/wp-content/plugins/meta-data/meta-data.php on line 313

Warning: in_array() expects parameter 2 to be array, boolean given in /home/nevewgha/public_html/wp-content/plugins/meta-data/meta-data.php on line 317

Warning: in_array() expects parameter 2 to be array, boolean given in /home/nevewgha/public_html/wp-content/plugins/meta-data/meta-data.php on line 321

Warning: in_array() expects parameter 2 to be array, boolean given in /home/nevewgha/public_html/wp-content/plugins/meta-data/meta-data.php on line 322

Warning: in_array() expects parameter 2 to be array, boolean given in /home/nevewgha/public_html/wp-content/plugins/meta-data/meta-data.php on line 313

Warning: in_array() expects parameter 2 to be array, boolean given in /home/nevewgha/public_html/wp-content/plugins/meta-data/meta-data.php on line 317

Warning: in_array() expects parameter 2 to be array, boolean given in /home/nevewgha/public_html/wp-content/plugins/meta-data/meta-data.php on line 321

Warning: in_array() expects parameter 2 to be array, boolean given in /home/nevewgha/public_html/wp-content/plugins/meta-data/meta-data.php on line 322

Warning: in_array() expects parameter 2 to be array, boolean given in /home/nevewgha/public_html/wp-content/plugins/meta-data/meta-data.php on line 313

Warning: in_array() expects parameter 2 to be array, boolean given in /home/nevewgha/public_html/wp-content/plugins/meta-data/meta-data.php on line 317

Warning: in_array() expects parameter 2 to be array, boolean given in /home/nevewgha/public_html/wp-content/plugins/meta-data/meta-data.php on line 321

Warning: in_array() expects parameter 2 to be array, boolean given in /home/nevewgha/public_html/wp-content/plugins/meta-data/meta-data.php on line 322

Warning: in_array() expects parameter 2 to be array, boolean given in /home/nevewgha/public_html/wp-content/plugins/meta-data/meta-data.php on line 313

Warning: in_array() expects parameter 2 to be array, boolean given in /home/nevewgha/public_html/wp-content/plugins/meta-data/meta-data.php on line 317

Warning: in_array() expects parameter 2 to be array, boolean given in /home/nevewgha/public_html/wp-content/plugins/meta-data/meta-data.php on line 321

Warning: in_array() expects parameter 2 to be array, boolean given in /home/nevewgha/public_html/wp-content/plugins/meta-data/meta-data.php on line 322

Warning: in_array() expects parameter 2 to be array, boolean given in /home/nevewgha/public_html/wp-content/plugins/meta-data/meta-data.php on line 313

Warning: in_array() expects parameter 2 to be array, boolean given in /home/nevewgha/public_html/wp-content/plugins/meta-data/meta-data.php on line 317

Warning: in_array() expects parameter 2 to be array, boolean given in /home/nevewgha/public_html/wp-content/plugins/meta-data/meta-data.php on line 321

Warning: in_array() expects parameter 2 to be array, boolean given in /home/nevewgha/public_html/wp-content/plugins/meta-data/meta-data.php on line 322

Warning: in_array() expects parameter 2 to be array, boolean given in /home/nevewgha/public_html/wp-content/plugins/meta-data/meta-data.php on line 313

Warning: in_array() expects parameter 2 to be array, boolean given in /home/nevewgha/public_html/wp-content/plugins/meta-data/meta-data.php on line 317

Warning: in_array() expects parameter 2 to be array, boolean given in /home/nevewgha/public_html/wp-content/plugins/meta-data/meta-data.php on line 321

Warning: in_array() expects parameter 2 to be array, boolean given in /home/nevewgha/public_html/wp-content/plugins/meta-data/meta-data.php on line 322

Warning: in_array() expects parameter 2 to be array, boolean given in /home/nevewgha/public_html/wp-content/plugins/meta-data/meta-data.php on line 313

Warning: in_array() expects parameter 2 to be array, boolean given in /home/nevewgha/public_html/wp-content/plugins/meta-data/meta-data.php on line 317

Warning: in_array() expects parameter 2 to be array, boolean given in /home/nevewgha/public_html/wp-content/plugins/meta-data/meta-data.php on line 321

Warning: in_array() expects parameter 2 to be array, boolean given in /home/nevewgha/public_html/wp-content/plugins/meta-data/meta-data.php on line 322

Warning: in_array() expects parameter 2 to be array, boolean given in /home/nevewgha/public_html/wp-content/plugins/meta-data/meta-data.php on line 313

Warning: in_array() expects parameter 2 to be array, boolean given in /home/nevewgha/public_html/wp-content/plugins/meta-data/meta-data.php on line 317

Warning: in_array() expects parameter 2 to be array, boolean given in /home/nevewgha/public_html/wp-content/plugins/meta-data/meta-data.php on line 321

Warning: in_array() expects parameter 2 to be array, boolean given in /home/nevewgha/public_html/wp-content/plugins/meta-data/meta-data.php on line 322

Warning: in_array() expects parameter 2 to be array, boolean given in /home/nevewgha/public_html/wp-content/plugins/meta-data/meta-data.php on line 313

Warning: in_array() expects parameter 2 to be array, boolean given in /home/nevewgha/public_html/wp-content/plugins/meta-data/meta-data.php on line 317

Warning: in_array() expects parameter 2 to be array, boolean given in /home/nevewgha/public_html/wp-content/plugins/meta-data/meta-data.php on line 321

Warning: in_array() expects parameter 2 to be array, boolean given in /home/nevewgha/public_html/wp-content/plugins/meta-data/meta-data.php on line 322

Warning: in_array() expects parameter 2 to be array, boolean given in /home/nevewgha/public_html/wp-content/plugins/meta-data/meta-data.php on line 313

Warning: in_array() expects parameter 2 to be array, boolean given in /home/nevewgha/public_html/wp-content/plugins/meta-data/meta-data.php on line 317

Warning: in_array() expects parameter 2 to be array, boolean given in /home/nevewgha/public_html/wp-content/plugins/meta-data/meta-data.php on line 321

Warning: in_array() expects parameter 2 to be array, boolean given in /home/nevewgha/public_html/wp-content/plugins/meta-data/meta-data.php on line 322

Warning: in_array() expects parameter 2 to be array, boolean given in /home/nevewgha/public_html/wp-content/plugins/meta-data/meta-data.php on line 313

Warning: in_array() expects parameter 2 to be array, boolean given in /home/nevewgha/public_html/wp-content/plugins/meta-data/meta-data.php on line 317

Warning: in_array() expects parameter 2 to be array, boolean given in /home/nevewgha/public_html/wp-content/plugins/meta-data/meta-data.php on line 321

Warning: in_array() expects parameter 2 to be array, boolean given in /home/nevewgha/public_html/wp-content/plugins/meta-data/meta-data.php on line 322

Warning: in_array() expects parameter 2 to be array, boolean given in /home/nevewgha/public_html/wp-content/plugins/meta-data/meta-data.php on line 313

Warning: in_array() expects parameter 2 to be array, boolean given in /home/nevewgha/public_html/wp-content/plugins/meta-data/meta-data.php on line 317

Warning: in_array() expects parameter 2 to be array, boolean given in /home/nevewgha/public_html/wp-content/plugins/meta-data/meta-data.php on line 321

Warning: in_array() expects parameter 2 to be array, boolean given in /home/nevewgha/public_html/wp-content/plugins/meta-data/meta-data.php on line 322

Warning: in_array() expects parameter 2 to be array, boolean given in /home/nevewgha/public_html/wp-content/plugins/meta-data/meta-data.php on line 313

Warning: in_array() expects parameter 2 to be array, boolean given in /home/nevewgha/public_html/wp-content/plugins/meta-data/meta-data.php on line 317

Warning: in_array() expects parameter 2 to be array, boolean given in /home/nevewgha/public_html/wp-content/plugins/meta-data/meta-data.php on line 321

Warning: in_array() expects parameter 2 to be array, boolean given in /home/nevewgha/public_html/wp-content/plugins/meta-data/meta-data.php on line 322

Warning: in_array() expects parameter 2 to be array, boolean given in /home/nevewgha/public_html/wp-content/plugins/meta-data/meta-data.php on line 313

Warning: in_array() expects parameter 2 to be array, boolean given in /home/nevewgha/public_html/wp-content/plugins/meta-data/meta-data.php on line 317

Warning: in_array() expects parameter 2 to be array, boolean given in /home/nevewgha/public_html/wp-content/plugins/meta-data/meta-data.php on line 321

Warning: in_array() expects parameter 2 to be array, boolean given in /home/nevewgha/public_html/wp-content/plugins/meta-data/meta-data.php on line 322

Warning: in_array() expects parameter 2 to be array, boolean given in /home/nevewgha/public_html/wp-content/plugins/meta-data/meta-data.php on line 313

Warning: in_array() expects parameter 2 to be array, boolean given in /home/nevewgha/public_html/wp-content/plugins/meta-data/meta-data.php on line 317

Warning: in_array() expects parameter 2 to be array, boolean given in /home/nevewgha/public_html/wp-content/plugins/meta-data/meta-data.php on line 321

Warning: in_array() expects parameter 2 to be array, boolean given in /home/nevewgha/public_html/wp-content/plugins/meta-data/meta-data.php on line 322

Warning: in_array() expects parameter 2 to be array, boolean given in /home/nevewgha/public_html/wp-content/plugins/meta-data/meta-data.php on line 313

Warning: in_array() expects parameter 2 to be array, boolean given in /home/nevewgha/public_html/wp-content/plugins/meta-data/meta-data.php on line 317

Warning: in_array() expects parameter 2 to be array, boolean given in /home/nevewgha/public_html/wp-content/plugins/meta-data/meta-data.php on line 321

Warning: in_array() expects parameter 2 to be array, boolean given in /home/nevewgha/public_html/wp-content/plugins/meta-data/meta-data.php on line 322

Warning: in_array() expects parameter 2 to be array, boolean given in /home/nevewgha/public_html/wp-content/plugins/meta-data/meta-data.php on line 313

Warning: in_array() expects parameter 2 to be array, boolean given in /home/nevewgha/public_html/wp-content/plugins/meta-data/meta-data.php on line 317

Warning: in_array() expects parameter 2 to be array, boolean given in /home/nevewgha/public_html/wp-content/plugins/meta-data/meta-data.php on line 321

Warning: in_array() expects parameter 2 to be array, boolean given in /home/nevewgha/public_html/wp-content/plugins/meta-data/meta-data.php on line 322

Warning: in_array() expects parameter 2 to be array, boolean given in /home/nevewgha/public_html/wp-content/plugins/meta-data/meta-data.php on line 313

Warning: in_array() expects parameter 2 to be array, boolean given in /home/nevewgha/public_html/wp-content/plugins/meta-data/meta-data.php on line 317

Warning: in_array() expects parameter 2 to be array, boolean given in /home/nevewgha/public_html/wp-content/plugins/meta-data/meta-data.php on line 321

Warning: in_array() expects parameter 2 to be array, boolean given in /home/nevewgha/public_html/wp-content/plugins/meta-data/meta-data.php on line 322

Warning: in_array() expects parameter 2 to be array, boolean given in /home/nevewgha/public_html/wp-content/plugins/meta-data/meta-data.php on line 313

Warning: in_array() expects parameter 2 to be array, boolean given in /home/nevewgha/public_html/wp-content/plugins/meta-data/meta-data.php on line 317

Warning: in_array() expects parameter 2 to be array, boolean given in /home/nevewgha/public_html/wp-content/plugins/meta-data/meta-data.php on line 321

Warning: in_array() expects parameter 2 to be array, boolean given in /home/nevewgha/public_html/wp-content/plugins/meta-data/meta-data.php on line 322

Warning: in_array() expects parameter 2 to be array, boolean given in /home/nevewgha/public_html/wp-content/plugins/meta-data/meta-data.php on line 313

Warning: in_array() expects parameter 2 to be array, boolean given in /home/nevewgha/public_html/wp-content/plugins/meta-data/meta-data.php on line 317

Warning: in_array() expects parameter 2 to be array, boolean given in /home/nevewgha/public_html/wp-content/plugins/meta-data/meta-data.php on line 321

Warning: in_array() expects parameter 2 to be array, boolean given in /home/nevewgha/public_html/wp-content/plugins/meta-data/meta-data.php on line 322

Warning: in_array() expects parameter 2 to be array, boolean given in /home/nevewgha/public_html/wp-content/plugins/meta-data/meta-data.php on line 313

Warning: in_array() expects parameter 2 to be array, boolean given in /home/nevewgha/public_html/wp-content/plugins/meta-data/meta-data.php on line 317

Warning: in_array() expects parameter 2 to be array, boolean given in /home/nevewgha/public_html/wp-content/plugins/meta-data/meta-data.php on line 321

Warning: in_array() expects parameter 2 to be array, boolean given in /home/nevewgha/public_html/wp-content/plugins/meta-data/meta-data.php on line 322

Warning: in_array() expects parameter 2 to be array, boolean given in /home/nevewgha/public_html/wp-content/plugins/meta-data/meta-data.php on line 313

Warning: in_array() expects parameter 2 to be array, boolean given in /home/nevewgha/public_html/wp-content/plugins/meta-data/meta-data.php on line 317

Warning: in_array() expects parameter 2 to be array, boolean given in /home/nevewgha/public_html/wp-content/plugins/meta-data/meta-data.php on line 321

Warning: in_array() expects parameter 2 to be array, boolean given in /home/nevewgha/public_html/wp-content/plugins/meta-data/meta-data.php on line 322

Warning: in_array() expects parameter 2 to be array, boolean given in /home/nevewgha/public_html/wp-content/plugins/meta-data/meta-data.php on line 313

Warning: in_array() expects parameter 2 to be array, boolean given in /home/nevewgha/public_html/wp-content/plugins/meta-data/meta-data.php on line 317

Warning: in_array() expects parameter 2 to be array, boolean given in /home/nevewgha/public_html/wp-content/plugins/meta-data/meta-data.php on line 321

Warning: in_array() expects parameter 2 to be array, boolean given in /home/nevewgha/public_html/wp-content/plugins/meta-data/meta-data.php on line 322

Warning: in_array() expects parameter 2 to be array, boolean given in /home/nevewgha/public_html/wp-content/plugins/meta-data/meta-data.php on line 313

Warning: in_array() expects parameter 2 to be array, boolean given in /home/nevewgha/public_html/wp-content/plugins/meta-data/meta-data.php on line 317

Warning: in_array() expects parameter 2 to be array, boolean given in /home/nevewgha/public_html/wp-content/plugins/meta-data/meta-data.php on line 321

Warning: in_array() expects parameter 2 to be array, boolean given in /home/nevewgha/public_html/wp-content/plugins/meta-data/meta-data.php on line 322

Warning: in_array() expects parameter 2 to be array, boolean given in /home/nevewgha/public_html/wp-content/plugins/meta-data/meta-data.php on line 313

Warning: in_array() expects parameter 2 to be array, boolean given in /home/nevewgha/public_html/wp-content/plugins/meta-data/meta-data.php on line 317

Warning: in_array() expects parameter 2 to be array, boolean given in /home/nevewgha/public_html/wp-content/plugins/meta-data/meta-data.php on line 321

Warning: in_array() expects parameter 2 to be array, boolean given in /home/nevewgha/public_html/wp-content/plugins/meta-data/meta-data.php on line 322

Warning: in_array() expects parameter 2 to be array, boolean given in /home/nevewgha/public_html/wp-content/plugins/meta-data/meta-data.php on line 313

Warning: in_array() expects parameter 2 to be array, boolean given in /home/nevewgha/public_html/wp-content/plugins/meta-data/meta-data.php on line 317

Warning: in_array() expects parameter 2 to be array, boolean given in /home/nevewgha/public_html/wp-content/plugins/meta-data/meta-data.php on line 321

Warning: in_array() expects parameter 2 to be array, boolean given in /home/nevewgha/public_html/wp-content/plugins/meta-data/meta-data.php on line 322

Warning: in_array() expects parameter 2 to be array, boolean given in /home/nevewgha/public_html/wp-content/plugins/meta-data/meta-data.php on line 313

Warning: in_array() expects parameter 2 to be array, boolean given in /home/nevewgha/public_html/wp-content/plugins/meta-data/meta-data.php on line 317

Warning: in_array() expects parameter 2 to be array, boolean given in /home/nevewgha/public_html/wp-content/plugins/meta-data/meta-data.php on line 321

Warning: in_array() expects parameter 2 to be array, boolean given in /home/nevewgha/public_html/wp-content/plugins/meta-data/meta-data.php on line 322

Warning: in_array() expects parameter 2 to be array, boolean given in /home/nevewgha/public_html/wp-content/plugins/meta-data/meta-data.php on line 313

Warning: in_array() expects parameter 2 to be array, boolean given in /home/nevewgha/public_html/wp-content/plugins/meta-data/meta-data.php on line 317

Warning: in_array() expects parameter 2 to be array, boolean given in /home/nevewgha/public_html/wp-content/plugins/meta-data/meta-data.php on line 321

Warning: in_array() expects parameter 2 to be array, boolean given in /home/nevewgha/public_html/wp-content/plugins/meta-data/meta-data.php on line 322

Warning: in_array() expects parameter 2 to be array, boolean given in /home/nevewgha/public_html/wp-content/plugins/meta-data/meta-data.php on line 313

Warning: in_array() expects parameter 2 to be array, boolean given in /home/nevewgha/public_html/wp-content/plugins/meta-data/meta-data.php on line 317

Warning: in_array() expects parameter 2 to be array, boolean given in /home/nevewgha/public_html/wp-content/plugins/meta-data/meta-data.php on line 321

Warning: in_array() expects parameter 2 to be array, boolean given in /home/nevewgha/public_html/wp-content/plugins/meta-data/meta-data.php on line 322

Warning: in_array() expects parameter 2 to be array, boolean given in /home/nevewgha/public_html/wp-content/plugins/meta-data/meta-data.php on line 313

Warning: in_array() expects parameter 2 to be array, boolean given in /home/nevewgha/public_html/wp-content/plugins/meta-data/meta-data.php on line 317

Warning: in_array() expects parameter 2 to be array, boolean given in /home/nevewgha/public_html/wp-content/plugins/meta-data/meta-data.php on line 321

Warning: in_array() expects parameter 2 to be array, boolean given in /home/nevewgha/public_html/wp-content/plugins/meta-data/meta-data.php on line 322

Warning: in_array() expects parameter 2 to be array, boolean given in /home/nevewgha/public_html/wp-content/plugins/meta-data/meta-data.php on line 313

Warning: in_array() expects parameter 2 to be array, boolean given in /home/nevewgha/public_html/wp-content/plugins/meta-data/meta-data.php on line 317

Warning: in_array() expects parameter 2 to be array, boolean given in /home/nevewgha/public_html/wp-content/plugins/meta-data/meta-data.php on line 321

Warning: in_array() expects parameter 2 to be array, boolean given in /home/nevewgha/public_html/wp-content/plugins/meta-data/meta-data.php on line 322

Warning: in_array() expects parameter 2 to be array, boolean given in /home/nevewgha/public_html/wp-content/plugins/meta-data/meta-data.php on line 313

Warning: in_array() expects parameter 2 to be array, boolean given in /home/nevewgha/public_html/wp-content/plugins/meta-data/meta-data.php on line 317

Warning: in_array() expects parameter 2 to be array, boolean given in /home/nevewgha/public_html/wp-content/plugins/meta-data/meta-data.php on line 321

Warning: in_array() expects parameter 2 to be array, boolean given in /home/nevewgha/public_html/wp-content/plugins/meta-data/meta-data.php on line 322

Warning: in_array() expects parameter 2 to be array, boolean given in /home/nevewgha/public_html/wp-content/plugins/meta-data/meta-data.php on line 313

Warning: in_array() expects parameter 2 to be array, boolean given in /home/nevewgha/public_html/wp-content/plugins/meta-data/meta-data.php on line 317

Warning: in_array() expects parameter 2 to be array, boolean given in /home/nevewgha/public_html/wp-content/plugins/meta-data/meta-data.php on line 321

Warning: in_array() expects parameter 2 to be array, boolean given in /home/nevewgha/public_html/wp-content/plugins/meta-data/meta-data.php on line 322

Warning: in_array() expects parameter 2 to be array, boolean given in /home/nevewgha/public_html/wp-content/plugins/meta-data/meta-data.php on line 313

Warning: in_array() expects parameter 2 to be array, boolean given in /home/nevewgha/public_html/wp-content/plugins/meta-data/meta-data.php on line 317

Warning: in_array() expects parameter 2 to be array, boolean given in /home/nevewgha/public_html/wp-content/plugins/meta-data/meta-data.php on line 321

Warning: in_array() expects parameter 2 to be array, boolean given in /home/nevewgha/public_html/wp-content/plugins/meta-data/meta-data.php on line 322

Warning: in_array() expects parameter 2 to be array, boolean given in /home/nevewgha/public_html/wp-content/plugins/meta-data/meta-data.php on line 313

Warning: in_array() expects parameter 2 to be array, boolean given in /home/nevewgha/public_html/wp-content/plugins/meta-data/meta-data.php on line 317

Warning: in_array() expects parameter 2 to be array, boolean given in /home/nevewgha/public_html/wp-content/plugins/meta-data/meta-data.php on line 321

Warning: in_array() expects parameter 2 to be array, boolean given in /home/nevewgha/public_html/wp-content/plugins/meta-data/meta-data.php on line 322

Warning: in_array() expects parameter 2 to be array, boolean given in /home/nevewgha/public_html/wp-content/plugins/meta-data/meta-data.php on line 313

Warning: in_array() expects parameter 2 to be array, boolean given in /home/nevewgha/public_html/wp-content/plugins/meta-data/meta-data.php on line 317

Warning: in_array() expects parameter 2 to be array, boolean given in /home/nevewgha/public_html/wp-content/plugins/meta-data/meta-data.php on line 321

Warning: in_array() expects parameter 2 to be array, boolean given in /home/nevewgha/public_html/wp-content/plugins/meta-data/meta-data.php on line 322

Warning: in_array() expects parameter 2 to be array, boolean given in /home/nevewgha/public_html/wp-content/plugins/meta-data/meta-data.php on line 313

Warning: in_array() expects parameter 2 to be array, boolean given in /home/nevewgha/public_html/wp-content/plugins/meta-data/meta-data.php on line 317

Warning: in_array() expects parameter 2 to be array, boolean given in /home/nevewgha/public_html/wp-content/plugins/meta-data/meta-data.php on line 321

Warning: in_array() expects parameter 2 to be array, boolean given in /home/nevewgha/public_html/wp-content/plugins/meta-data/meta-data.php on line 322

Warning: in_array() expects parameter 2 to be array, boolean given in /home/nevewgha/public_html/wp-content/plugins/meta-data/meta-data.php on line 313

Warning: in_array() expects parameter 2 to be array, boolean given in /home/nevewgha/public_html/wp-content/plugins/meta-data/meta-data.php on line 317

Warning: in_array() expects parameter 2 to be array, boolean given in /home/nevewgha/public_html/wp-content/plugins/meta-data/meta-data.php on line 321

Warning: in_array() expects parameter 2 to be array, boolean given in /home/nevewgha/public_html/wp-content/plugins/meta-data/meta-data.php on line 322

Warning: in_array() expects parameter 2 to be array, boolean given in /home/nevewgha/public_html/wp-content/plugins/meta-data/meta-data.php on line 313

Warning: in_array() expects parameter 2 to be array, boolean given in /home/nevewgha/public_html/wp-content/plugins/meta-data/meta-data.php on line 317

Warning: in_array() expects parameter 2 to be array, boolean given in /home/nevewgha/public_html/wp-content/plugins/meta-data/meta-data.php on line 321

Warning: in_array() expects parameter 2 to be array, boolean given in /home/nevewgha/public_html/wp-content/plugins/meta-data/meta-data.php on line 322

Warning: in_array() expects parameter 2 to be array, boolean given in /home/nevewgha/public_html/wp-content/plugins/meta-data/meta-data.php on line 313

Warning: in_array() expects parameter 2 to be array, boolean given in /home/nevewgha/public_html/wp-content/plugins/meta-data/meta-data.php on line 317

Warning: in_array() expects parameter 2 to be array, boolean given in /home/nevewgha/public_html/wp-content/plugins/meta-data/meta-data.php on line 321

Warning: in_array() expects parameter 2 to be array, boolean given in /home/nevewgha/public_html/wp-content/plugins/meta-data/meta-data.php on line 322

Warning: in_array() expects parameter 2 to be array, boolean given in /home/nevewgha/public_html/wp-content/plugins/meta-data/meta-data.php on line 313

Warning: in_array() expects parameter 2 to be array, boolean given in /home/nevewgha/public_html/wp-content/plugins/meta-data/meta-data.php on line 317

Warning: in_array() expects parameter 2 to be array, boolean given in /home/nevewgha/public_html/wp-content/plugins/meta-data/meta-data.php on line 321

Warning: in_array() expects parameter 2 to be array, boolean given in /home/nevewgha/public_html/wp-content/plugins/meta-data/meta-data.php on line 322

Warning: in_array() expects parameter 2 to be array, boolean given in /home/nevewgha/public_html/wp-content/plugins/meta-data/meta-data.php on line 313

Warning: in_array() expects parameter 2 to be array, boolean given in /home/nevewgha/public_html/wp-content/plugins/meta-data/meta-data.php on line 317

Warning: in_array() expects parameter 2 to be array, boolean given in /home/nevewgha/public_html/wp-content/plugins/meta-data/meta-data.php on line 321

Warning: in_array() expects parameter 2 to be array, boolean given in /home/nevewgha/public_html/wp-content/plugins/meta-data/meta-data.php on line 322

Warning: in_array() expects parameter 2 to be array, boolean given in /home/nevewgha/public_html/wp-content/plugins/meta-data/meta-data.php on line 313

Warning: in_array() expects parameter 2 to be array, boolean given in /home/nevewgha/public_html/wp-content/plugins/meta-data/meta-data.php on line 317

Warning: in_array() expects parameter 2 to be array, boolean given in /home/nevewgha/public_html/wp-content/plugins/meta-data/meta-data.php on line 321

Warning: in_array() expects parameter 2 to be array, boolean given in /home/nevewgha/public_html/wp-content/plugins/meta-data/meta-data.php on line 322

Warning: in_array() expects parameter 2 to be array, boolean given in /home/nevewgha/public_html/wp-content/plugins/meta-data/meta-data.php on line 313

Warning: in_array() expects parameter 2 to be array, boolean given in /home/nevewgha/public_html/wp-content/plugins/meta-data/meta-data.php on line 317

Warning: in_array() expects parameter 2 to be array, boolean given in /home/nevewgha/public_html/wp-content/plugins/meta-data/meta-data.php on line 321

Warning: in_array() expects parameter 2 to be array, boolean given in /home/nevewgha/public_html/wp-content/plugins/meta-data/meta-data.php on line 322

Warning: in_array() expects parameter 2 to be array, boolean given in /home/nevewgha/public_html/wp-content/plugins/meta-data/meta-data.php on line 313

Warning: in_array() expects parameter 2 to be array, boolean given in /home/nevewgha/public_html/wp-content/plugins/meta-data/meta-data.php on line 317

Warning: in_array() expects parameter 2 to be array, boolean given in /home/nevewgha/public_html/wp-content/plugins/meta-data/meta-data.php on line 321

Warning: in_array() expects parameter 2 to be array, boolean given in /home/nevewgha/public_html/wp-content/plugins/meta-data/meta-data.php on line 322

Warning: in_array() expects parameter 2 to be array, boolean given in /home/nevewgha/public_html/wp-content/plugins/meta-data/meta-data.php on line 313

Warning: in_array() expects parameter 2 to be array, boolean given in /home/nevewgha/public_html/wp-content/plugins/meta-data/meta-data.php on line 317

Warning: in_array() expects parameter 2 to be array, boolean given in /home/nevewgha/public_html/wp-content/plugins/meta-data/meta-data.php on line 321

Warning: in_array() expects parameter 2 to be array, boolean given in /home/nevewgha/public_html/wp-content/plugins/meta-data/meta-data.php on line 322

Warning: in_array() expects parameter 2 to be array, boolean given in /home/nevewgha/public_html/wp-content/plugins/meta-data/meta-data.php on line 313

Warning: in_array() expects parameter 2 to be array, boolean given in /home/nevewgha/public_html/wp-content/plugins/meta-data/meta-data.php on line 317

Warning: in_array() expects parameter 2 to be array, boolean given in /home/nevewgha/public_html/wp-content/plugins/meta-data/meta-data.php on line 321

Warning: in_array() expects parameter 2 to be array, boolean given in /home/nevewgha/public_html/wp-content/plugins/meta-data/meta-data.php on line 322

Warning: in_array() expects parameter 2 to be array, boolean given in /home/nevewgha/public_html/wp-content/plugins/meta-data/meta-data.php on line 313

Warning: in_array() expects parameter 2 to be array, boolean given in /home/nevewgha/public_html/wp-content/plugins/meta-data/meta-data.php on line 317

Warning: in_array() expects parameter 2 to be array, boolean given in /home/nevewgha/public_html/wp-content/plugins/meta-data/meta-data.php on line 321

Warning: in_array() expects parameter 2 to be array, boolean given in /home/nevewgha/public_html/wp-content/plugins/meta-data/meta-data.php on line 322

Warning: in_array() expects parameter 2 to be array, boolean given in /home/nevewgha/public_html/wp-content/plugins/meta-data/meta-data.php on line 313

Warning: in_array() expects parameter 2 to be array, boolean given in /home/nevewgha/public_html/wp-content/plugins/meta-data/meta-data.php on line 317

Warning: in_array() expects parameter 2 to be array, boolean given in /home/nevewgha/public_html/wp-content/plugins/meta-data/meta-data.php on line 321

Warning: in_array() expects parameter 2 to be array, boolean given in /home/nevewgha/public_html/wp-content/plugins/meta-data/meta-data.php on line 322

Warning: in_array() expects parameter 2 to be array, boolean given in /home/nevewgha/public_html/wp-content/plugins/meta-data/meta-data.php on line 313

Warning: in_array() expects parameter 2 to be array, boolean given in /home/nevewgha/public_html/wp-content/plugins/meta-data/meta-data.php on line 317

Warning: in_array() expects parameter 2 to be array, boolean given in /home/nevewgha/public_html/wp-content/plugins/meta-data/meta-data.php on line 321

Warning: in_array() expects parameter 2 to be array, boolean given in /home/nevewgha/public_html/wp-content/plugins/meta-data/meta-data.php on line 322

Warning: in_array() expects parameter 2 to be array, boolean given in /home/nevewgha/public_html/wp-content/plugins/meta-data/meta-data.php on line 313

Warning: in_array() expects parameter 2 to be array, boolean given in /home/nevewgha/public_html/wp-content/plugins/meta-data/meta-data.php on line 317

Warning: in_array() expects parameter 2 to be array, boolean given in /home/nevewgha/public_html/wp-content/plugins/meta-data/meta-data.php on line 321

Warning: in_array() expects parameter 2 to be array, boolean given in /home/nevewgha/public_html/wp-content/plugins/meta-data/meta-data.php on line 322

Warning: in_array() expects parameter 2 to be array, boolean given in /home/nevewgha/public_html/wp-content/plugins/meta-data/meta-data.php on line 313

Warning: in_array() expects parameter 2 to be array, boolean given in /home/nevewgha/public_html/wp-content/plugins/meta-data/meta-data.php on line 317

Warning: in_array() expects parameter 2 to be array, boolean given in /home/nevewgha/public_html/wp-content/plugins/meta-data/meta-data.php on line 321

Warning: in_array() expects parameter 2 to be array, boolean given in /home/nevewgha/public_html/wp-content/plugins/meta-data/meta-data.php on line 322

Warning: in_array() expects parameter 2 to be array, boolean given in /home/nevewgha/public_html/wp-content/plugins/meta-data/meta-data.php on line 313

Warning: in_array() expects parameter 2 to be array, boolean given in /home/nevewgha/public_html/wp-content/plugins/meta-data/meta-data.php on line 317

Warning: in_array() expects parameter 2 to be array, boolean given in /home/nevewgha/public_html/wp-content/plugins/meta-data/meta-data.php on line 321

Warning: in_array() expects parameter 2 to be array, boolean given in /home/nevewgha/public_html/wp-content/plugins/meta-data/meta-data.php on line 322

Warning: in_array() expects parameter 2 to be array, boolean given in /home/nevewgha/public_html/wp-content/plugins/meta-data/meta-data.php on line 313

Warning: in_array() expects parameter 2 to be array, boolean given in /home/nevewgha/public_html/wp-content/plugins/meta-data/meta-data.php on line 317

Warning: in_array() expects parameter 2 to be array, boolean given in /home/nevewgha/public_html/wp-content/plugins/meta-data/meta-data.php on line 321

Warning: in_array() expects parameter 2 to be array, boolean given in /home/nevewgha/public_html/wp-content/plugins/meta-data/meta-data.php on line 322

Warning: in_array() expects parameter 2 to be array, boolean given in /home/nevewgha/public_html/wp-content/plugins/meta-data/meta-data.php on line 313

Warning: in_array() expects parameter 2 to be array, boolean given in /home/nevewgha/public_html/wp-content/plugins/meta-data/meta-data.php on line 317

Warning: in_array() expects parameter 2 to be array, boolean given in /home/nevewgha/public_html/wp-content/plugins/meta-data/meta-data.php on line 321

Warning: in_array() expects parameter 2 to be array, boolean given in /home/nevewgha/public_html/wp-content/plugins/meta-data/meta-data.php on line 322

Warning: in_array() expects parameter 2 to be array, boolean given in /home/nevewgha/public_html/wp-content/plugins/meta-data/meta-data.php on line 313

Warning: in_array() expects parameter 2 to be array, boolean given in /home/nevewgha/public_html/wp-content/plugins/meta-data/meta-data.php on line 317

Warning: in_array() expects parameter 2 to be array, boolean given in /home/nevewgha/public_html/wp-content/plugins/meta-data/meta-data.php on line 321

Warning: in_array() expects parameter 2 to be array, boolean given in /home/nevewgha/public_html/wp-content/plugins/meta-data/meta-data.php on line 322

Warning: in_array() expects parameter 2 to be array, boolean given in /home/nevewgha/public_html/wp-content/plugins/meta-data/meta-data.php on line 313

Warning: in_array() expects parameter 2 to be array, boolean given in /home/nevewgha/public_html/wp-content/plugins/meta-data/meta-data.php on line 317

Warning: in_array() expects parameter 2 to be array, boolean given in /home/nevewgha/public_html/wp-content/plugins/meta-data/meta-data.php on line 321

Warning: in_array() expects parameter 2 to be array, boolean given in /home/nevewgha/public_html/wp-content/plugins/meta-data/meta-data.php on line 322

Warning: in_array() expects parameter 2 to be array, boolean given in /home/nevewgha/public_html/wp-content/plugins/meta-data/meta-data.php on line 313

Warning: in_array() expects parameter 2 to be array, boolean given in /home/nevewgha/public_html/wp-content/plugins/meta-data/meta-data.php on line 317

Warning: in_array() expects parameter 2 to be array, boolean given in /home/nevewgha/public_html/wp-content/plugins/meta-data/meta-data.php on line 321

Warning: in_array() expects parameter 2 to be array, boolean given in /home/nevewgha/public_html/wp-content/plugins/meta-data/meta-data.php on line 322

Warning: in_array() expects parameter 2 to be array, boolean given in /home/nevewgha/public_html/wp-content/plugins/meta-data/meta-data.php on line 313

Warning: in_array() expects parameter 2 to be array, boolean given in /home/nevewgha/public_html/wp-content/plugins/meta-data/meta-data.php on line 317

Warning: in_array() expects parameter 2 to be array, boolean given in /home/nevewgha/public_html/wp-content/plugins/meta-data/meta-data.php on line 321

Warning: in_array() expects parameter 2 to be array, boolean given in /home/nevewgha/public_html/wp-content/plugins/meta-data/meta-data.php on line 322

Warning: in_array() expects parameter 2 to be array, boolean given in /home/nevewgha/public_html/wp-content/plugins/meta-data/meta-data.php on line 313

Warning: in_array() expects parameter 2 to be array, boolean given in /home/nevewgha/public_html/wp-content/plugins/meta-data/meta-data.php on line 317

Warning: in_array() expects parameter 2 to be array, boolean given in /home/nevewgha/public_html/wp-content/plugins/meta-data/meta-data.php on line 321

Warning: in_array() expects parameter 2 to be array, boolean given in /home/nevewgha/public_html/wp-content/plugins/meta-data/meta-data.php on line 322

Warning: in_array() expects parameter 2 to be array, boolean given in /home/nevewgha/public_html/wp-content/plugins/meta-data/meta-data.php on line 313

Warning: in_array() expects parameter 2 to be array, boolean given in /home/nevewgha/public_html/wp-content/plugins/meta-data/meta-data.php on line 317

Warning: in_array() expects parameter 2 to be array, boolean given in /home/nevewgha/public_html/wp-content/plugins/meta-data/meta-data.php on line 321

Warning: in_array() expects parameter 2 to be array, boolean given in /home/nevewgha/public_html/wp-content/plugins/meta-data/meta-data.php on line 322

Warning: in_array() expects parameter 2 to be array, boolean given in /home/nevewgha/public_html/wp-content/plugins/meta-data/meta-data.php on line 313

Warning: in_array() expects parameter 2 to be array, boolean given in /home/nevewgha/public_html/wp-content/plugins/meta-data/meta-data.php on line 317

Warning: in_array() expects parameter 2 to be array, boolean given in /home/nevewgha/public_html/wp-content/plugins/meta-data/meta-data.php on line 321

Warning: in_array() expects parameter 2 to be array, boolean given in /home/nevewgha/public_html/wp-content/plugins/meta-data/meta-data.php on line 322

Warning: in_array() expects parameter 2 to be array, boolean given in /home/nevewgha/public_html/wp-content/plugins/meta-data/meta-data.php on line 313

Warning: in_array() expects parameter 2 to be array, boolean given in /home/nevewgha/public_html/wp-content/plugins/meta-data/meta-data.php on line 317

Warning: in_array() expects parameter 2 to be array, boolean given in /home/nevewgha/public_html/wp-content/plugins/meta-data/meta-data.php on line 321

Warning: in_array() expects parameter 2 to be array, boolean given in /home/nevewgha/public_html/wp-content/plugins/meta-data/meta-data.php on line 322

Warning: in_array() expects parameter 2 to be array, boolean given in /home/nevewgha/public_html/wp-content/plugins/meta-data/meta-data.php on line 313

Warning: in_array() expects parameter 2 to be array, boolean given in /home/nevewgha/public_html/wp-content/plugins/meta-data/meta-data.php on line 317

Warning: in_array() expects parameter 2 to be array, boolean given in /home/nevewgha/public_html/wp-content/plugins/meta-data/meta-data.php on line 321

Warning: in_array() expects parameter 2 to be array, boolean given in /home/nevewgha/public_html/wp-content/plugins/meta-data/meta-data.php on line 322

Warning: in_array() expects parameter 2 to be array, boolean given in /home/nevewgha/public_html/wp-content/plugins/meta-data/meta-data.php on line 313

Warning: in_array() expects parameter 2 to be array, boolean given in /home/nevewgha/public_html/wp-content/plugins/meta-data/meta-data.php on line 317

Warning: in_array() expects parameter 2 to be array, boolean given in /home/nevewgha/public_html/wp-content/plugins/meta-data/meta-data.php on line 321

Warning: in_array() expects parameter 2 to be array, boolean given in /home/nevewgha/public_html/wp-content/plugins/meta-data/meta-data.php on line 322

Warning: in_array() expects parameter 2 to be array, boolean given in /home/nevewgha/public_html/wp-content/plugins/meta-data/meta-data.php on line 313

Warning: in_array() expects parameter 2 to be array, boolean given in /home/nevewgha/public_html/wp-content/plugins/meta-data/meta-data.php on line 317

Warning: in_array() expects parameter 2 to be array, boolean given in /home/nevewgha/public_html/wp-content/plugins/meta-data/meta-data.php on line 321

Warning: in_array() expects parameter 2 to be array, boolean given in /home/nevewgha/public_html/wp-content/plugins/meta-data/meta-data.php on line 322

Warning: in_array() expects parameter 2 to be array, boolean given in /home/nevewgha/public_html/wp-content/plugins/meta-data/meta-data.php on line 313

Warning: in_array() expects parameter 2 to be array, boolean given in /home/nevewgha/public_html/wp-content/plugins/meta-data/meta-data.php on line 317

Warning: in_array() expects parameter 2 to be array, boolean given in /home/nevewgha/public_html/wp-content/plugins/meta-data/meta-data.php on line 321

Warning: in_array() expects parameter 2 to be array, boolean given in /home/nevewgha/public_html/wp-content/plugins/meta-data/meta-data.php on line 322

Warning: in_array() expects parameter 2 to be array, boolean given in /home/nevewgha/public_html/wp-content/plugins/meta-data/meta-data.php on line 313

Warning: in_array() expects parameter 2 to be array, boolean given in /home/nevewgha/public_html/wp-content/plugins/meta-data/meta-data.php on line 317

Warning: in_array() expects parameter 2 to be array, boolean given in /home/nevewgha/public_html/wp-content/plugins/meta-data/meta-data.php on line 321

Warning: in_array() expects parameter 2 to be array, boolean given in /home/nevewgha/public_html/wp-content/plugins/meta-data/meta-data.php on line 322

Warning: in_array() expects parameter 2 to be array, boolean given in /home/nevewgha/public_html/wp-content/plugins/meta-data/meta-data.php on line 313

Warning: in_array() expects parameter 2 to be array, boolean given in /home/nevewgha/public_html/wp-content/plugins/meta-data/meta-data.php on line 317

Warning: in_array() expects parameter 2 to be array, boolean given in /home/nevewgha/public_html/wp-content/plugins/meta-data/meta-data.php on line 321

Warning: in_array() expects parameter 2 to be array, boolean given in /home/nevewgha/public_html/wp-content/plugins/meta-data/meta-data.php on line 322

Warning: in_array() expects parameter 2 to be array, boolean given in /home/nevewgha/public_html/wp-content/plugins/meta-data/meta-data.php on line 313

Warning: in_array() expects parameter 2 to be array, boolean given in /home/nevewgha/public_html/wp-content/plugins/meta-data/meta-data.php on line 317

Warning: in_array() expects parameter 2 to be array, boolean given in /home/nevewgha/public_html/wp-content/plugins/meta-data/meta-data.php on line 321

Warning: in_array() expects parameter 2 to be array, boolean given in /home/nevewgha/public_html/wp-content/plugins/meta-data/meta-data.php on line 322

Warning: in_array() expects parameter 2 to be array, boolean given in /home/nevewgha/public_html/wp-content/plugins/meta-data/meta-data.php on line 313

Warning: in_array() expects parameter 2 to be array, boolean given in /home/nevewgha/public_html/wp-content/plugins/meta-data/meta-data.php on line 317

Warning: in_array() expects parameter 2 to be array, boolean given in /home/nevewgha/public_html/wp-content/plugins/meta-data/meta-data.php on line 321

Warning: in_array() expects parameter 2 to be array, boolean given in /home/nevewgha/public_html/wp-content/plugins/meta-data/meta-data.php on line 322

Warning: in_array() expects parameter 2 to be array, boolean given in /home/nevewgha/public_html/wp-content/plugins/meta-data/meta-data.php on line 313

Warning: in_array() expects parameter 2 to be array, boolean given in /home/nevewgha/public_html/wp-content/plugins/meta-data/meta-data.php on line 317

Warning: in_array() expects parameter 2 to be array, boolean given in /home/nevewgha/public_html/wp-content/plugins/meta-data/meta-data.php on line 321

Warning: in_array() expects parameter 2 to be array, boolean given in /home/nevewgha/public_html/wp-content/plugins/meta-data/meta-data.php on line 322

Warning: in_array() expects parameter 2 to be array, boolean given in /home/nevewgha/public_html/wp-content/plugins/meta-data/meta-data.php on line 313

Warning: in_array() expects parameter 2 to be array, boolean given in /home/nevewgha/public_html/wp-content/plugins/meta-data/meta-data.php on line 317

Warning: in_array() expects parameter 2 to be array, boolean given in /home/nevewgha/public_html/wp-content/plugins/meta-data/meta-data.php on line 321

Warning: in_array() expects parameter 2 to be array, boolean given in /home/nevewgha/public_html/wp-content/plugins/meta-data/meta-data.php on line 322

Warning: in_array() expects parameter 2 to be array, boolean given in /home/nevewgha/public_html/wp-content/plugins/meta-data/meta-data.php on line 313

Warning: in_array() expects parameter 2 to be array, boolean given in /home/nevewgha/public_html/wp-content/plugins/meta-data/meta-data.php on line 317

Warning: in_array() expects parameter 2 to be array, boolean given in /home/nevewgha/public_html/wp-content/plugins/meta-data/meta-data.php on line 321

Warning: in_array() expects parameter 2 to be array, boolean given in /home/nevewgha/public_html/wp-content/plugins/meta-data/meta-data.php on line 322

Warning: in_array() expects parameter 2 to be array, boolean given in /home/nevewgha/public_html/wp-content/plugins/meta-data/meta-data.php on line 313

Warning: in_array() expects parameter 2 to be array, boolean given in /home/nevewgha/public_html/wp-content/plugins/meta-data/meta-data.php on line 317

Warning: in_array() expects parameter 2 to be array, boolean given in /home/nevewgha/public_html/wp-content/plugins/meta-data/meta-data.php on line 321

Warning: in_array() expects parameter 2 to be array, boolean given in /home/nevewgha/public_html/wp-content/plugins/meta-data/meta-data.php on line 322

Warning: in_array() expects parameter 2 to be array, boolean given in /home/nevewgha/public_html/wp-content/plugins/meta-data/meta-data.php on line 313

Warning: in_array() expects parameter 2 to be array, boolean given in /home/nevewgha/public_html/wp-content/plugins/meta-data/meta-data.php on line 317

Warning: in_array() expects parameter 2 to be array, boolean given in /home/nevewgha/public_html/wp-content/plugins/meta-data/meta-data.php on line 321

Warning: in_array() expects parameter 2 to be array, boolean given in /home/nevewgha/public_html/wp-content/plugins/meta-data/meta-data.php on line 322

Warning: in_array() expects parameter 2 to be array, boolean given in /home/nevewgha/public_html/wp-content/plugins/meta-data/meta-data.php on line 313

Warning: in_array() expects parameter 2 to be array, boolean given in /home/nevewgha/public_html/wp-content/plugins/meta-data/meta-data.php on line 317

Warning: in_array() expects parameter 2 to be array, boolean given in /home/nevewgha/public_html/wp-content/plugins/meta-data/meta-data.php on line 321

Warning: in_array() expects parameter 2 to be array, boolean given in /home/nevewgha/public_html/wp-content/plugins/meta-data/meta-data.php on line 322

Warning: in_array() expects parameter 2 to be array, boolean given in /home/nevewgha/public_html/wp-content/plugins/meta-data/meta-data.php on line 313

Warning: in_array() expects parameter 2 to be array, boolean given in /home/nevewgha/public_html/wp-content/plugins/meta-data/meta-data.php on line 317

Warning: in_array() expects parameter 2 to be array, boolean given in /home/nevewgha/public_html/wp-content/plugins/meta-data/meta-data.php on line 321

Warning: in_array() expects parameter 2 to be array, boolean given in /home/nevewgha/public_html/wp-content/plugins/meta-data/meta-data.php on line 322

Warning: in_array() expects parameter 2 to be array, boolean given in /home/nevewgha/public_html/wp-content/plugins/meta-data/meta-data.php on line 313

Warning: in_array() expects parameter 2 to be array, boolean given in /home/nevewgha/public_html/wp-content/plugins/meta-data/meta-data.php on line 317

Warning: in_array() expects parameter 2 to be array, boolean given in /home/nevewgha/public_html/wp-content/plugins/meta-data/meta-data.php on line 321

Warning: in_array() expects parameter 2 to be array, boolean given in /home/nevewgha/public_html/wp-content/plugins/meta-data/meta-data.php on line 322

Warning: in_array() expects parameter 2 to be array, boolean given in /home/nevewgha/public_html/wp-content/plugins/meta-data/meta-data.php on line 313

Warning: in_array() expects parameter 2 to be array, boolean given in /home/nevewgha/public_html/wp-content/plugins/meta-data/meta-data.php on line 317

Warning: in_array() expects parameter 2 to be array, boolean given in /home/nevewgha/public_html/wp-content/plugins/meta-data/meta-data.php on line 321

Warning: in_array() expects parameter 2 to be array, boolean given in /home/nevewgha/public_html/wp-content/plugins/meta-data/meta-data.php on line 322

Warning: in_array() expects parameter 2 to be array, boolean given in /home/nevewgha/public_html/wp-content/plugins/meta-data/meta-data.php on line 313

Warning: in_array() expects parameter 2 to be array, boolean given in /home/nevewgha/public_html/wp-content/plugins/meta-data/meta-data.php on line 317

Warning: in_array() expects parameter 2 to be array, boolean given in /home/nevewgha/public_html/wp-content/plugins/meta-data/meta-data.php on line 321

Warning: in_array() expects parameter 2 to be array, boolean given in /home/nevewgha/public_html/wp-content/plugins/meta-data/meta-data.php on line 322

Warning: in_array() expects parameter 2 to be array, boolean given in /home/nevewgha/public_html/wp-content/plugins/meta-data/meta-data.php on line 313

Warning: in_array() expects parameter 2 to be array, boolean given in /home/nevewgha/public_html/wp-content/plugins/meta-data/meta-data.php on line 317

Warning: in_array() expects parameter 2 to be array, boolean given in /home/nevewgha/public_html/wp-content/plugins/meta-data/meta-data.php on line 321

Warning: in_array() expects parameter 2 to be array, boolean given in /home/nevewgha/public_html/wp-content/plugins/meta-data/meta-data.php on line 322

Warning: in_array() expects parameter 2 to be array, boolean given in /home/nevewgha/public_html/wp-content/plugins/meta-data/meta-data.php on line 313

Warning: in_array() expects parameter 2 to be array, boolean given in /home/nevewgha/public_html/wp-content/plugins/meta-data/meta-data.php on line 317

Warning: in_array() expects parameter 2 to be array, boolean given in /home/nevewgha/public_html/wp-content/plugins/meta-data/meta-data.php on line 321

Warning: in_array() expects parameter 2 to be array, boolean given in /home/nevewgha/public_html/wp-content/plugins/meta-data/meta-data.php on line 322

Warning: in_array() expects parameter 2 to be array, boolean given in /home/nevewgha/public_html/wp-content/plugins/meta-data/meta-data.php on line 313

Warning: in_array() expects parameter 2 to be array, boolean given in /home/nevewgha/public_html/wp-content/plugins/meta-data/meta-data.php on line 317

Warning: in_array() expects parameter 2 to be array, boolean given in /home/nevewgha/public_html/wp-content/plugins/meta-data/meta-data.php on line 321

Warning: in_array() expects parameter 2 to be array, boolean given in /home/nevewgha/public_html/wp-content/plugins/meta-data/meta-data.php on line 322

Warning: in_array() expects parameter 2 to be array, boolean given in /home/nevewgha/public_html/wp-content/plugins/meta-data/meta-data.php on line 313

Warning: in_array() expects parameter 2 to be array, boolean given in /home/nevewgha/public_html/wp-content/plugins/meta-data/meta-data.php on line 317

Warning: in_array() expects parameter 2 to be array, boolean given in /home/nevewgha/public_html/wp-content/plugins/meta-data/meta-data.php on line 321

Warning: in_array() expects parameter 2 to be array, boolean given in /home/nevewgha/public_html/wp-content/plugins/meta-data/meta-data.php on line 322

Warning: in_array() expects parameter 2 to be array, boolean given in /home/nevewgha/public_html/wp-content/plugins/meta-data/meta-data.php on line 313

Warning: in_array() expects parameter 2 to be array, boolean given in /home/nevewgha/public_html/wp-content/plugins/meta-data/meta-data.php on line 317

Warning: in_array() expects parameter 2 to be array, boolean given in /home/nevewgha/public_html/wp-content/plugins/meta-data/meta-data.php on line 321

Warning: in_array() expects parameter 2 to be array, boolean given in /home/nevewgha/public_html/wp-content/plugins/meta-data/meta-data.php on line 322

Warning: in_array() expects parameter 2 to be array, boolean given in /home/nevewgha/public_html/wp-content/plugins/meta-data/meta-data.php on line 313

Warning: in_array() expects parameter 2 to be array, boolean given in /home/nevewgha/public_html/wp-content/plugins/meta-data/meta-data.php on line 317

Warning: in_array() expects parameter 2 to be array, boolean given in /home/nevewgha/public_html/wp-content/plugins/meta-data/meta-data.php on line 321

Warning: in_array() expects parameter 2 to be array, boolean given in /home/nevewgha/public_html/wp-content/plugins/meta-data/meta-data.php on line 322

Warning: in_array() expects parameter 2 to be array, boolean given in /home/nevewgha/public_html/wp-content/plugins/meta-data/meta-data.php on line 313

Warning: in_array() expects parameter 2 to be array, boolean given in /home/nevewgha/public_html/wp-content/plugins/meta-data/meta-data.php on line 317

Warning: in_array() expects parameter 2 to be array, boolean given in /home/nevewgha/public_html/wp-content/plugins/meta-data/meta-data.php on line 321

Warning: in_array() expects parameter 2 to be array, boolean given in /home/nevewgha/public_html/wp-content/plugins/meta-data/meta-data.php on line 322

Warning: in_array() expects parameter 2 to be array, boolean given in /home/nevewgha/public_html/wp-content/plugins/meta-data/meta-data.php on line 313

Warning: in_array() expects parameter 2 to be array, boolean given in /home/nevewgha/public_html/wp-content/plugins/meta-data/meta-data.php on line 317

Warning: in_array() expects parameter 2 to be array, boolean given in /home/nevewgha/public_html/wp-content/plugins/meta-data/meta-data.php on line 321

Warning: in_array() expects parameter 2 to be array, boolean given in /home/nevewgha/public_html/wp-content/plugins/meta-data/meta-data.php on line 322

Warning: in_array() expects parameter 2 to be array, boolean given in /home/nevewgha/public_html/wp-content/plugins/meta-data/meta-data.php on line 313

Warning: in_array() expects parameter 2 to be array, boolean given in /home/nevewgha/public_html/wp-content/plugins/meta-data/meta-data.php on line 317

Warning: in_array() expects parameter 2 to be array, boolean given in /home/nevewgha/public_html/wp-content/plugins/meta-data/meta-data.php on line 321

Warning: in_array() expects parameter 2 to be array, boolean given in /home/nevewgha/public_html/wp-content/plugins/meta-data/meta-data.php on line 322

Warning: in_array() expects parameter 2 to be array, boolean given in /home/nevewgha/public_html/wp-content/plugins/meta-data/meta-data.php on line 313

Warning: in_array() expects parameter 2 to be array, boolean given in /home/nevewgha/public_html/wp-content/plugins/meta-data/meta-data.php on line 317

Warning: in_array() expects parameter 2 to be array, boolean given in /home/nevewgha/public_html/wp-content/plugins/meta-data/meta-data.php on line 321

Warning: in_array() expects parameter 2 to be array, boolean given in /home/nevewgha/public_html/wp-content/plugins/meta-data/meta-data.php on line 322

Warning: in_array() expects parameter 2 to be array, boolean given in /home/nevewgha/public_html/wp-content/plugins/meta-data/meta-data.php on line 313

Warning: in_array() expects parameter 2 to be array, boolean given in /home/nevewgha/public_html/wp-content/plugins/meta-data/meta-data.php on line 317

Warning: in_array() expects parameter 2 to be array, boolean given in /home/nevewgha/public_html/wp-content/plugins/meta-data/meta-data.php on line 321

Warning: in_array() expects parameter 2 to be array, boolean given in /home/nevewgha/public_html/wp-content/plugins/meta-data/meta-data.php on line 322

Warning: in_array() expects parameter 2 to be array, boolean given in /home/nevewgha/public_html/wp-content/plugins/meta-data/meta-data.php on line 313

Warning: in_array() expects parameter 2 to be array, boolean given in /home/nevewgha/public_html/wp-content/plugins/meta-data/meta-data.php on line 317

Warning: in_array() expects parameter 2 to be array, boolean given in /home/nevewgha/public_html/wp-content/plugins/meta-data/meta-data.php on line 321

Warning: in_array() expects parameter 2 to be array, boolean given in /home/nevewgha/public_html/wp-content/plugins/meta-data/meta-data.php on line 322

Warning: in_array() expects parameter 2 to be array, boolean given in /home/nevewgha/public_html/wp-content/plugins/meta-data/meta-data.php on line 313

Warning: in_array() expects parameter 2 to be array, boolean given in /home/nevewgha/public_html/wp-content/plugins/meta-data/meta-data.php on line 317

Warning: in_array() expects parameter 2 to be array, boolean given in /home/nevewgha/public_html/wp-content/plugins/meta-data/meta-data.php on line 321

Warning: in_array() expects parameter 2 to be array, boolean given in /home/nevewgha/public_html/wp-content/plugins/meta-data/meta-data.php on line 322

Warning: in_array() expects parameter 2 to be array, boolean given in /home/nevewgha/public_html/wp-content/plugins/meta-data/meta-data.php on line 313

Warning: in_array() expects parameter 2 to be array, boolean given in /home/nevewgha/public_html/wp-content/plugins/meta-data/meta-data.php on line 317

Warning: in_array() expects parameter 2 to be array, boolean given in /home/nevewgha/public_html/wp-content/plugins/meta-data/meta-data.php on line 321

Warning: in_array() expects parameter 2 to be array, boolean given in /home/nevewgha/public_html/wp-content/plugins/meta-data/meta-data.php on line 322

Warning: in_array() expects parameter 2 to be array, boolean given in /home/nevewgha/public_html/wp-content/plugins/meta-data/meta-data.php on line 313

Warning: in_array() expects parameter 2 to be array, boolean given in /home/nevewgha/public_html/wp-content/plugins/meta-data/meta-data.php on line 317

Warning: in_array() expects parameter 2 to be array, boolean given in /home/nevewgha/public_html/wp-content/plugins/meta-data/meta-data.php on line 321

Warning: in_array() expects parameter 2 to be array, boolean given in /home/nevewgha/public_html/wp-content/plugins/meta-data/meta-data.php on line 322

Warning: in_array() expects parameter 2 to be array, boolean given in /home/nevewgha/public_html/wp-content/plugins/meta-data/meta-data.php on line 313

Warning: in_array() expects parameter 2 to be array, boolean given in /home/nevewgha/public_html/wp-content/plugins/meta-data/meta-data.php on line 317

Warning: in_array() expects parameter 2 to be array, boolean given in /home/nevewgha/public_html/wp-content/plugins/meta-data/meta-data.php on line 321

Warning: in_array() expects parameter 2 to be array, boolean given in /home/nevewgha/public_html/wp-content/plugins/meta-data/meta-data.php on line 322

Warning: in_array() expects parameter 2 to be array, boolean given in /home/nevewgha/public_html/wp-content/plugins/meta-data/meta-data.php on line 313

Warning: in_array() expects parameter 2 to be array, boolean given in /home/nevewgha/public_html/wp-content/plugins/meta-data/meta-data.php on line 317

Warning: in_array() expects parameter 2 to be array, boolean given in /home/nevewgha/public_html/wp-content/plugins/meta-data/meta-data.php on line 321

Warning: in_array() expects parameter 2 to be array, boolean given in /home/nevewgha/public_html/wp-content/plugins/meta-data/meta-data.php on line 322

Warning: in_array() expects parameter 2 to be array, boolean given in /home/nevewgha/public_html/wp-content/plugins/meta-data/meta-data.php on line 313

Warning: in_array() expects parameter 2 to be array, boolean given in /home/nevewgha/public_html/wp-content/plugins/meta-data/meta-data.php on line 317

Warning: in_array() expects parameter 2 to be array, boolean given in /home/nevewgha/public_html/wp-content/plugins/meta-data/meta-data.php on line 321

Warning: in_array() expects parameter 2 to be array, boolean given in /home/nevewgha/public_html/wp-content/plugins/meta-data/meta-data.php on line 322

Warning: in_array() expects parameter 2 to be array, boolean given in /home/nevewgha/public_html/wp-content/plugins/meta-data/meta-data.php on line 313

Warning: in_array() expects parameter 2 to be array, boolean given in /home/nevewgha/public_html/wp-content/plugins/meta-data/meta-data.php on line 317

Warning: in_array() expects parameter 2 to be array, boolean given in /home/nevewgha/public_html/wp-content/plugins/meta-data/meta-data.php on line 321

Warning: in_array() expects parameter 2 to be array, boolean given in /home/nevewgha/public_html/wp-content/plugins/meta-data/meta-data.php on line 322

Warning: in_array() expects parameter 2 to be array, boolean given in /home/nevewgha/public_html/wp-content/plugins/meta-data/meta-data.php on line 313

Warning: in_array() expects parameter 2 to be array, boolean given in /home/nevewgha/public_html/wp-content/plugins/meta-data/meta-data.php on line 317

Warning: in_array() expects parameter 2 to be array, boolean given in /home/nevewgha/public_html/wp-content/plugins/meta-data/meta-data.php on line 321

Warning: in_array() expects parameter 2 to be array, boolean given in /home/nevewgha/public_html/wp-content/plugins/meta-data/meta-data.php on line 322

Warning: in_array() expects parameter 2 to be array, boolean given in /home/nevewgha/public_html/wp-content/plugins/meta-data/meta-data.php on line 313

Warning: in_array() expects parameter 2 to be array, boolean given in /home/nevewgha/public_html/wp-content/plugins/meta-data/meta-data.php on line 317

Warning: in_array() expects parameter 2 to be array, boolean given in /home/nevewgha/public_html/wp-content/plugins/meta-data/meta-data.php on line 321

Warning: in_array() expects parameter 2 to be array, boolean given in /home/nevewgha/public_html/wp-content/plugins/meta-data/meta-data.php on line 322

Warning: in_array() expects parameter 2 to be array, boolean given in /home/nevewgha/public_html/wp-content/plugins/meta-data/meta-data.php on line 313

Warning: in_array() expects parameter 2 to be array, boolean given in /home/nevewgha/public_html/wp-content/plugins/meta-data/meta-data.php on line 317

Warning: in_array() expects parameter 2 to be array, boolean given in /home/nevewgha/public_html/wp-content/plugins/meta-data/meta-data.php on line 321

Warning: in_array() expects parameter 2 to be array, boolean given in /home/nevewgha/public_html/wp-content/plugins/meta-data/meta-data.php on line 322

Warning: in_array() expects parameter 2 to be array, boolean given in /home/nevewgha/public_html/wp-content/plugins/meta-data/meta-data.php on line 313

Warning: in_array() expects parameter 2 to be array, boolean given in /home/nevewgha/public_html/wp-content/plugins/meta-data/meta-data.php on line 317

Warning: in_array() expects parameter 2 to be array, boolean given in /home/nevewgha/public_html/wp-content/plugins/meta-data/meta-data.php on line 321

Warning: in_array() expects parameter 2 to be array, boolean given in /home/nevewgha/public_html/wp-content/plugins/meta-data/meta-data.php on line 322

Warning: in_array() expects parameter 2 to be array, boolean given in /home/nevewgha/public_html/wp-content/plugins/meta-data/meta-data.php on line 313

Warning: in_array() expects parameter 2 to be array, boolean given in /home/nevewgha/public_html/wp-content/plugins/meta-data/meta-data.php on line 317

Warning: in_array() expects parameter 2 to be array, boolean given in /home/nevewgha/public_html/wp-content/plugins/meta-data/meta-data.php on line 321

Warning: in_array() expects parameter 2 to be array, boolean given in /home/nevewgha/public_html/wp-content/plugins/meta-data/meta-data.php on line 322

Warning: in_array() expects parameter 2 to be array, boolean given in /home/nevewgha/public_html/wp-content/plugins/meta-data/meta-data.php on line 313

Warning: in_array() expects parameter 2 to be array, boolean given in /home/nevewgha/public_html/wp-content/plugins/meta-data/meta-data.php on line 317

Warning: in_array() expects parameter 2 to be array, boolean given in /home/nevewgha/public_html/wp-content/plugins/meta-data/meta-data.php on line 321

Warning: in_array() expects parameter 2 to be array, boolean given in /home/nevewgha/public_html/wp-content/plugins/meta-data/meta-data.php on line 322

Warning: in_array() expects parameter 2 to be array, boolean given in /home/nevewgha/public_html/wp-content/plugins/meta-data/meta-data.php on line 313

Warning: in_array() expects parameter 2 to be array, boolean given in /home/nevewgha/public_html/wp-content/plugins/meta-data/meta-data.php on line 317

Warning: in_array() expects parameter 2 to be array, boolean given in /home/nevewgha/public_html/wp-content/plugins/meta-data/meta-data.php on line 321

Warning: in_array() expects parameter 2 to be array, boolean given in /home/nevewgha/public_html/wp-content/plugins/meta-data/meta-data.php on line 322

Warning: in_array() expects parameter 2 to be array, boolean given in /home/nevewgha/public_html/wp-content/plugins/meta-data/meta-data.php on line 313

Warning: in_array() expects parameter 2 to be array, boolean given in /home/nevewgha/public_html/wp-content/plugins/meta-data/meta-data.php on line 317

Warning: in_array() expects parameter 2 to be array, boolean given in /home/nevewgha/public_html/wp-content/plugins/meta-data/meta-data.php on line 321

Warning: in_array() expects parameter 2 to be array, boolean given in /home/nevewgha/public_html/wp-content/plugins/meta-data/meta-data.php on line 322

Warning: in_array() expects parameter 2 to be array, boolean given in /home/nevewgha/public_html/wp-content/plugins/meta-data/meta-data.php on line 313

Warning: in_array() expects parameter 2 to be array, boolean given in /home/nevewgha/public_html/wp-content/plugins/meta-data/meta-data.php on line 317

Warning: in_array() expects parameter 2 to be array, boolean given in /home/nevewgha/public_html/wp-content/plugins/meta-data/meta-data.php on line 321

Warning: in_array() expects parameter 2 to be array, boolean given in /home/nevewgha/public_html/wp-content/plugins/meta-data/meta-data.php on line 322

Warning: in_array() expects parameter 2 to be array, boolean given in /home/nevewgha/public_html/wp-content/plugins/meta-data/meta-data.php on line 313

Warning: in_array() expects parameter 2 to be array, boolean given in /home/nevewgha/public_html/wp-content/plugins/meta-data/meta-data.php on line 317

Warning: in_array() expects parameter 2 to be array, boolean given in /home/nevewgha/public_html/wp-content/plugins/meta-data/meta-data.php on line 321

Warning: in_array() expects parameter 2 to be array, boolean given in /home/nevewgha/public_html/wp-content/plugins/meta-data/meta-data.php on line 322

Warning: in_array() expects parameter 2 to be array, boolean given in /home/nevewgha/public_html/wp-content/plugins/meta-data/meta-data.php on line 313

Warning: in_array() expects parameter 2 to be array, boolean given in /home/nevewgha/public_html/wp-content/plugins/meta-data/meta-data.php on line 317

Warning: in_array() expects parameter 2 to be array, boolean given in /home/nevewgha/public_html/wp-content/plugins/meta-data/meta-data.php on line 321

Warning: in_array() expects parameter 2 to be array, boolean given in /home/nevewgha/public_html/wp-content/plugins/meta-data/meta-data.php on line 322

Warning: in_array() expects parameter 2 to be array, boolean given in /home/nevewgha/public_html/wp-content/plugins/meta-data/meta-data.php on line 313

Warning: in_array() expects parameter 2 to be array, boolean given in /home/nevewgha/public_html/wp-content/plugins/meta-data/meta-data.php on line 317

Warning: in_array() expects parameter 2 to be array, boolean given in /home/nevewgha/public_html/wp-content/plugins/meta-data/meta-data.php on line 321

Warning: in_array() expects parameter 2 to be array, boolean given in /home/nevewgha/public_html/wp-content/plugins/meta-data/meta-data.php on line 322

Warning: in_array() expects parameter 2 to be array, boolean given in /home/nevewgha/public_html/wp-content/plugins/meta-data/meta-data.php on line 313

Warning: in_array() expects parameter 2 to be array, boolean given in /home/nevewgha/public_html/wp-content/plugins/meta-data/meta-data.php on line 317

Warning: in_array() expects parameter 2 to be array, boolean given in /home/nevewgha/public_html/wp-content/plugins/meta-data/meta-data.php on line 321

Warning: in_array() expects parameter 2 to be array, boolean given in /home/nevewgha/public_html/wp-content/plugins/meta-data/meta-data.php on line 322

Warning: in_array() expects parameter 2 to be array, boolean given in /home/nevewgha/public_html/wp-content/plugins/meta-data/meta-data.php on line 313

Warning: in_array() expects parameter 2 to be array, boolean given in /home/nevewgha/public_html/wp-content/plugins/meta-data/meta-data.php on line 317

Warning: in_array() expects parameter 2 to be array, boolean given in /home/nevewgha/public_html/wp-content/plugins/meta-data/meta-data.php on line 321

Warning: in_array() expects parameter 2 to be array, boolean given in /home/nevewgha/public_html/wp-content/plugins/meta-data/meta-data.php on line 322

Warning: in_array() expects parameter 2 to be array, boolean given in /home/nevewgha/public_html/wp-content/plugins/meta-data/meta-data.php on line 313

Warning: in_array() expects parameter 2 to be array, boolean given in /home/nevewgha/public_html/wp-content/plugins/meta-data/meta-data.php on line 317

Warning: in_array() expects parameter 2 to be array, boolean given in /home/nevewgha/public_html/wp-content/plugins/meta-data/meta-data.php on line 321

Warning: in_array() expects parameter 2 to be array, boolean given in /home/nevewgha/public_html/wp-content/plugins/meta-data/meta-data.php on line 322

Warning: in_array() expects parameter 2 to be array, boolean given in /home/nevewgha/public_html/wp-content/plugins/meta-data/meta-data.php on line 313

Warning: in_array() expects parameter 2 to be array, boolean given in /home/nevewgha/public_html/wp-content/plugins/meta-data/meta-data.php on line 317

Warning: in_array() expects parameter 2 to be array, boolean given in /home/nevewgha/public_html/wp-content/plugins/meta-data/meta-data.php on line 321

Warning: in_array() expects parameter 2 to be array, boolean given in /home/nevewgha/public_html/wp-content/plugins/meta-data/meta-data.php on line 322

Warning: in_array() expects parameter 2 to be array, boolean given in /home/nevewgha/public_html/wp-content/plugins/meta-data/meta-data.php on line 313

Warning: in_array() expects parameter 2 to be array, boolean given in /home/nevewgha/public_html/wp-content/plugins/meta-data/meta-data.php on line 317

Warning: in_array() expects parameter 2 to be array, boolean given in /home/nevewgha/public_html/wp-content/plugins/meta-data/meta-data.php on line 321

Warning: in_array() expects parameter 2 to be array, boolean given in /home/nevewgha/public_html/wp-content/plugins/meta-data/meta-data.php on line 322

Warning: in_array() expects parameter 2 to be array, boolean given in /home/nevewgha/public_html/wp-content/plugins/meta-data/meta-data.php on line 313

Warning: in_array() expects parameter 2 to be array, boolean given in /home/nevewgha/public_html/wp-content/plugins/meta-data/meta-data.php on line 317

Warning: in_array() expects parameter 2 to be array, boolean given in /home/nevewgha/public_html/wp-content/plugins/meta-data/meta-data.php on line 321

Warning: in_array() expects parameter 2 to be array, boolean given in /home/nevewgha/public_html/wp-content/plugins/meta-data/meta-data.php on line 322

Warning: in_array() expects parameter 2 to be array, boolean given in /home/nevewgha/public_html/wp-content/plugins/meta-data/meta-data.php on line 313

Warning: in_array() expects parameter 2 to be array, boolean given in /home/nevewgha/public_html/wp-content/plugins/meta-data/meta-data.php on line 317

Warning: in_array() expects parameter 2 to be array, boolean given in /home/nevewgha/public_html/wp-content/plugins/meta-data/meta-data.php on line 321

Warning: in_array() expects parameter 2 to be array, boolean given in /home/nevewgha/public_html/wp-content/plugins/meta-data/meta-data.php on line 322

Warning: in_array() expects parameter 2 to be array, boolean given in /home/nevewgha/public_html/wp-content/plugins/meta-data/meta-data.php on line 313

Warning: in_array() expects parameter 2 to be array, boolean given in /home/nevewgha/public_html/wp-content/plugins/meta-data/meta-data.php on line 317

Warning: in_array() expects parameter 2 to be array, boolean given in /home/nevewgha/public_html/wp-content/plugins/meta-data/meta-data.php on line 321

Warning: in_array() expects parameter 2 to be array, boolean given in /home/nevewgha/public_html/wp-content/plugins/meta-data/meta-data.php on line 322

Warning: in_array() expects parameter 2 to be array, boolean given in /home/nevewgha/public_html/wp-content/plugins/meta-data/meta-data.php on line 313

Warning: in_array() expects parameter 2 to be array, boolean given in /home/nevewgha/public_html/wp-content/plugins/meta-data/meta-data.php on line 317

Warning: in_array() expects parameter 2 to be array, boolean given in /home/nevewgha/public_html/wp-content/plugins/meta-data/meta-data.php on line 321

Warning: in_array() expects parameter 2 to be array, boolean given in /home/nevewgha/public_html/wp-content/plugins/meta-data/meta-data.php on line 322

Warning: in_array() expects parameter 2 to be array, boolean given in /home/nevewgha/public_html/wp-content/plugins/meta-data/meta-data.php on line 313

Warning: in_array() expects parameter 2 to be array, boolean given in /home/nevewgha/public_html/wp-content/plugins/meta-data/meta-data.php on line 317

Warning: in_array() expects parameter 2 to be array, boolean given in /home/nevewgha/public_html/wp-content/plugins/meta-data/meta-data.php on line 321

Warning: in_array() expects parameter 2 to be array, boolean given in /home/nevewgha/public_html/wp-content/plugins/meta-data/meta-data.php on line 322

Warning: in_array() expects parameter 2 to be array, boolean given in /home/nevewgha/public_html/wp-content/plugins/meta-data/meta-data.php on line 313

Warning: in_array() expects parameter 2 to be array, boolean given in /home/nevewgha/public_html/wp-content/plugins/meta-data/meta-data.php on line 317

Warning: in_array() expects parameter 2 to be array, boolean given in /home/nevewgha/public_html/wp-content/plugins/meta-data/meta-data.php on line 321

Warning: in_array() expects parameter 2 to be array, boolean given in /home/nevewgha/public_html/wp-content/plugins/meta-data/meta-data.php on line 322

Warning: in_array() expects parameter 2 to be array, boolean given in /home/nevewgha/public_html/wp-content/plugins/meta-data/meta-data.php on line 313

Warning: in_array() expects parameter 2 to be array, boolean given in /home/nevewgha/public_html/wp-content/plugins/meta-data/meta-data.php on line 317

Warning: in_array() expects parameter 2 to be array, boolean given in /home/nevewgha/public_html/wp-content/plugins/meta-data/meta-data.php on line 321

Warning: in_array() expects parameter 2 to be array, boolean given in /home/nevewgha/public_html/wp-content/plugins/meta-data/meta-data.php on line 322

Warning: in_array() expects parameter 2 to be array, boolean given in /home/nevewgha/public_html/wp-content/plugins/meta-data/meta-data.php on line 313

Warning: in_array() expects parameter 2 to be array, boolean given in /home/nevewgha/public_html/wp-content/plugins/meta-data/meta-data.php on line 317

Warning: in_array() expects parameter 2 to be array, boolean given in /home/nevewgha/public_html/wp-content/plugins/meta-data/meta-data.php on line 321

Warning: in_array() expects parameter 2 to be array, boolean given in /home/nevewgha/public_html/wp-content/plugins/meta-data/meta-data.php on line 322

Warning: in_array() expects parameter 2 to be array, boolean given in /home/nevewgha/public_html/wp-content/plugins/meta-data/meta-data.php on line 313

Warning: in_array() expects parameter 2 to be array, boolean given in /home/nevewgha/public_html/wp-content/plugins/meta-data/meta-data.php on line 317

Warning: in_array() expects parameter 2 to be array, boolean given in /home/nevewgha/public_html/wp-content/plugins/meta-data/meta-data.php on line 321

Warning: in_array() expects parameter 2 to be array, boolean given in /home/nevewgha/public_html/wp-content/plugins/meta-data/meta-data.php on line 322

Warning: in_array() expects parameter 2 to be array, boolean given in /home/nevewgha/public_html/wp-content/plugins/meta-data/meta-data.php on line 313

Warning: in_array() expects parameter 2 to be array, boolean given in /home/nevewgha/public_html/wp-content/plugins/meta-data/meta-data.php on line 317

Warning: in_array() expects parameter 2 to be array, boolean given in /home/nevewgha/public_html/wp-content/plugins/meta-data/meta-data.php on line 321

Warning: in_array() expects parameter 2 to be array, boolean given in /home/nevewgha/public_html/wp-content/plugins/meta-data/meta-data.php on line 322

Warning: in_array() expects parameter 2 to be array, boolean given in /home/nevewgha/public_html/wp-content/plugins/meta-data/meta-data.php on line 313

Warning: in_array() expects parameter 2 to be array, boolean given in /home/nevewgha/public_html/wp-content/plugins/meta-data/meta-data.php on line 317

Warning: in_array() expects parameter 2 to be array, boolean given in /home/nevewgha/public_html/wp-content/plugins/meta-data/meta-data.php on line 321

Warning: in_array() expects parameter 2 to be array, boolean given in /home/nevewgha/public_html/wp-content/plugins/meta-data/meta-data.php on line 322

Warning: in_array() expects parameter 2 to be array, boolean given in /home/nevewgha/public_html/wp-content/plugins/meta-data/meta-data.php on line 313

Warning: in_array() expects parameter 2 to be array, boolean given in /home/nevewgha/public_html/wp-content/plugins/meta-data/meta-data.php on line 317

Warning: in_array() expects parameter 2 to be array, boolean given in /home/nevewgha/public_html/wp-content/plugins/meta-data/meta-data.php on line 321

Warning: in_array() expects parameter 2 to be array, boolean given in /home/nevewgha/public_html/wp-content/plugins/meta-data/meta-data.php on line 322

Warning: in_array() expects parameter 2 to be array, boolean given in /home/nevewgha/public_html/wp-content/plugins/meta-data/meta-data.php on line 313

Warning: in_array() expects parameter 2 to be array, boolean given in /home/nevewgha/public_html/wp-content/plugins/meta-data/meta-data.php on line 317

Warning: in_array() expects parameter 2 to be array, boolean given in /home/nevewgha/public_html/wp-content/plugins/meta-data/meta-data.php on line 321

Warning: in_array() expects parameter 2 to be array, boolean given in /home/nevewgha/public_html/wp-content/plugins/meta-data/meta-data.php on line 322

Warning: in_array() expects parameter 2 to be array, boolean given in /home/nevewgha/public_html/wp-content/plugins/meta-data/meta-data.php on line 313

Warning: in_array() expects parameter 2 to be array, boolean given in /home/nevewgha/public_html/wp-content/plugins/meta-data/meta-data.php on line 317

Warning: in_array() expects parameter 2 to be array, boolean given in /home/nevewgha/public_html/wp-content/plugins/meta-data/meta-data.php on line 321

Warning: in_array() expects parameter 2 to be array, boolean given in /home/nevewgha/public_html/wp-content/plugins/meta-data/meta-data.php on line 322

Warning: in_array() expects parameter 2 to be array, boolean given in /home/nevewgha/public_html/wp-content/plugins/meta-data/meta-data.php on line 313

Warning: in_array() expects parameter 2 to be array, boolean given in /home/nevewgha/public_html/wp-content/plugins/meta-data/meta-data.php on line 317

Warning: in_array() expects parameter 2 to be array, boolean given in /home/nevewgha/public_html/wp-content/plugins/meta-data/meta-data.php on line 321

Warning: in_array() expects parameter 2 to be array, boolean given in /home/nevewgha/public_html/wp-content/plugins/meta-data/meta-data.php on line 322

Warning: in_array() expects parameter 2 to be array, boolean given in /home/nevewgha/public_html/wp-content/plugins/meta-data/meta-data.php on line 313

Warning: in_array() expects parameter 2 to be array, boolean given in /home/nevewgha/public_html/wp-content/plugins/meta-data/meta-data.php on line 317

Warning: in_array() expects parameter 2 to be array, boolean given in /home/nevewgha/public_html/wp-content/plugins/meta-data/meta-data.php on line 321

Warning: in_array() expects parameter 2 to be array, boolean given in /home/nevewgha/public_html/wp-content/plugins/meta-data/meta-data.php on line 322

Warning: in_array() expects parameter 2 to be array, boolean given in /home/nevewgha/public_html/wp-content/plugins/meta-data/meta-data.php on line 313

Warning: in_array() expects parameter 2 to be array, boolean given in /home/nevewgha/public_html/wp-content/plugins/meta-data/meta-data.php on line 317

Warning: in_array() expects parameter 2 to be array, boolean given in /home/nevewgha/public_html/wp-content/plugins/meta-data/meta-data.php on line 321

Warning: in_array() expects parameter 2 to be array, boolean given in /home/nevewgha/public_html/wp-content/plugins/meta-data/meta-data.php on line 322

Warning: in_array() expects parameter 2 to be array, boolean given in /home/nevewgha/public_html/wp-content/plugins/meta-data/meta-data.php on line 313

Warning: in_array() expects parameter 2 to be array, boolean given in /home/nevewgha/public_html/wp-content/plugins/meta-data/meta-data.php on line 317

Warning: in_array() expects parameter 2 to be array, boolean given in /home/nevewgha/public_html/wp-content/plugins/meta-data/meta-data.php on line 321

Warning: in_array() expects parameter 2 to be array, boolean given in /home/nevewgha/public_html/wp-content/plugins/meta-data/meta-data.php on line 322

Warning: in_array() expects parameter 2 to be array, boolean given in /home/nevewgha/public_html/wp-content/plugins/meta-data/meta-data.php on line 313

Warning: in_array() expects parameter 2 to be array, boolean given in /home/nevewgha/public_html/wp-content/plugins/meta-data/meta-data.php on line 317

Warning: in_array() expects parameter 2 to be array, boolean given in /home/nevewgha/public_html/wp-content/plugins/meta-data/meta-data.php on line 321

Warning: in_array() expects parameter 2 to be array, boolean given in /home/nevewgha/public_html/wp-content/plugins/meta-data/meta-data.php on line 322

Warning: in_array() expects parameter 2 to be array, boolean given in /home/nevewgha/public_html/wp-content/plugins/meta-data/meta-data.php on line 313

Warning: in_array() expects parameter 2 to be array, boolean given in /home/nevewgha/public_html/wp-content/plugins/meta-data/meta-data.php on line 317

Warning: in_array() expects parameter 2 to be array, boolean given in /home/nevewgha/public_html/wp-content/plugins/meta-data/meta-data.php on line 321

Warning: in_array() expects parameter 2 to be array, boolean given in /home/nevewgha/public_html/wp-content/plugins/meta-data/meta-data.php on line 322

Warning: in_array() expects parameter 2 to be array, boolean given in /home/nevewgha/public_html/wp-content/plugins/meta-data/meta-data.php on line 313

Warning: in_array() expects parameter 2 to be array, boolean given in /home/nevewgha/public_html/wp-content/plugins/meta-data/meta-data.php on line 317

Warning: in_array() expects parameter 2 to be array, boolean given in /home/nevewgha/public_html/wp-content/plugins/meta-data/meta-data.php on line 321

Warning: in_array() expects parameter 2 to be array, boolean given in /home/nevewgha/public_html/wp-content/plugins/meta-data/meta-data.php on line 322

Warning: in_array() expects parameter 2 to be array, boolean given in /home/nevewgha/public_html/wp-content/plugins/meta-data/meta-data.php on line 313

Warning: in_array() expects parameter 2 to be array, boolean given in /home/nevewgha/public_html/wp-content/plugins/meta-data/meta-data.php on line 317

Warning: in_array() expects parameter 2 to be array, boolean given in /home/nevewgha/public_html/wp-content/plugins/meta-data/meta-data.php on line 321

Warning: in_array() expects parameter 2 to be array, boolean given in /home/nevewgha/public_html/wp-content/plugins/meta-data/meta-data.php on line 322

Warning: in_array() expects parameter 2 to be array, boolean given in /home/nevewgha/public_html/wp-content/plugins/meta-data/meta-data.php on line 313

Warning: in_array() expects parameter 2 to be array, boolean given in /home/nevewgha/public_html/wp-content/plugins/meta-data/meta-data.php on line 317

Warning: in_array() expects parameter 2 to be array, boolean given in /home/nevewgha/public_html/wp-content/plugins/meta-data/meta-data.php on line 321

Warning: in_array() expects parameter 2 to be array, boolean given in /home/nevewgha/public_html/wp-content/plugins/meta-data/meta-data.php on line 322

Warning: in_array() expects parameter 2 to be array, boolean given in /home/nevewgha/public_html/wp-content/plugins/meta-data/meta-data.php on line 313

Warning: in_array() expects parameter 2 to be array, boolean given in /home/nevewgha/public_html/wp-content/plugins/meta-data/meta-data.php on line 317

Warning: in_array() expects parameter 2 to be array, boolean given in /home/nevewgha/public_html/wp-content/plugins/meta-data/meta-data.php on line 321

Warning: in_array() expects parameter 2 to be array, boolean given in /home/nevewgha/public_html/wp-content/plugins/meta-data/meta-data.php on line 322

Warning: in_array() expects parameter 2 to be array, boolean given in /home/nevewgha/public_html/wp-content/plugins/meta-data/meta-data.php on line 313

Warning: in_array() expects parameter 2 to be array, boolean given in /home/nevewgha/public_html/wp-content/plugins/meta-data/meta-data.php on line 317

Warning: in_array() expects parameter 2 to be array, boolean given in /home/nevewgha/public_html/wp-content/plugins/meta-data/meta-data.php on line 321

Warning: in_array() expects parameter 2 to be array, boolean given in /home/nevewgha/public_html/wp-content/plugins/meta-data/meta-data.php on line 322

Warning: in_array() expects parameter 2 to be array, boolean given in /home/nevewgha/public_html/wp-content/plugins/meta-data/meta-data.php on line 313

Warning: in_array() expects parameter 2 to be array, boolean given in /home/nevewgha/public_html/wp-content/plugins/meta-data/meta-data.php on line 317

Warning: in_array() expects parameter 2 to be array, boolean given in /home/nevewgha/public_html/wp-content/plugins/meta-data/meta-data.php on line 321

Warning: in_array() expects parameter 2 to be array, boolean given in /home/nevewgha/public_html/wp-content/plugins/meta-data/meta-data.php on line 322

Warning: in_array() expects parameter 2 to be array, boolean given in /home/nevewgha/public_html/wp-content/plugins/meta-data/meta-data.php on line 313

Warning: in_array() expects parameter 2 to be array, boolean given in /home/nevewgha/public_html/wp-content/plugins/meta-data/meta-data.php on line 317

Warning: in_array() expects parameter 2 to be array, boolean given in /home/nevewgha/public_html/wp-content/plugins/meta-data/meta-data.php on line 321

Warning: in_array() expects parameter 2 to be array, boolean given in /home/nevewgha/public_html/wp-content/plugins/meta-data/meta-data.php on line 322

Warning: in_array() expects parameter 2 to be array, boolean given in /home/nevewgha/public_html/wp-content/plugins/meta-data/meta-data.php on line 313

Warning: in_array() expects parameter 2 to be array, boolean given in /home/nevewgha/public_html/wp-content/plugins/meta-data/meta-data.php on line 317

Warning: in_array() expects parameter 2 to be array, boolean given in /home/nevewgha/public_html/wp-content/plugins/meta-data/meta-data.php on line 321

Warning: in_array() expects parameter 2 to be array, boolean given in /home/nevewgha/public_html/wp-content/plugins/meta-data/meta-data.php on line 322

Warning: in_array() expects parameter 2 to be array, boolean given in /home/nevewgha/public_html/wp-content/plugins/meta-data/meta-data.php on line 313

Warning: in_array() expects parameter 2 to be array, boolean given in /home/nevewgha/public_html/wp-content/plugins/meta-data/meta-data.php on line 317

Warning: in_array() expects parameter 2 to be array, boolean given in /home/nevewgha/public_html/wp-content/plugins/meta-data/meta-data.php on line 321

Warning: in_array() expects parameter 2 to be array, boolean given in /home/nevewgha/public_html/wp-content/plugins/meta-data/meta-data.php on line 322

Warning: in_array() expects parameter 2 to be array, boolean given in /home/nevewgha/public_html/wp-content/plugins/meta-data/meta-data.php on line 313

Warning: in_array() expects parameter 2 to be array, boolean given in /home/nevewgha/public_html/wp-content/plugins/meta-data/meta-data.php on line 317

Warning: in_array() expects parameter 2 to be array, boolean given in /home/nevewgha/public_html/wp-content/plugins/meta-data/meta-data.php on line 321

Warning: in_array() expects parameter 2 to be array, boolean given in /home/nevewgha/public_html/wp-content/plugins/meta-data/meta-data.php on line 322

Warning: in_array() expects parameter 2 to be array, boolean given in /home/nevewgha/public_html/wp-content/plugins/meta-data/meta-data.php on line 313

Warning: in_array() expects parameter 2 to be array, boolean given in /home/nevewgha/public_html/wp-content/plugins/meta-data/meta-data.php on line 317

Warning: in_array() expects parameter 2 to be array, boolean given in /home/nevewgha/public_html/wp-content/plugins/meta-data/meta-data.php on line 321

Warning: in_array() expects parameter 2 to be array, boolean given in /home/nevewgha/public_html/wp-content/plugins/meta-data/meta-data.php on line 322

Warning: in_array() expects parameter 2 to be array, boolean given in /home/nevewgha/public_html/wp-content/plugins/meta-data/meta-data.php on line 313

Warning: in_array() expects parameter 2 to be array, boolean given in /home/nevewgha/public_html/wp-content/plugins/meta-data/meta-data.php on line 317

Warning: in_array() expects parameter 2 to be array, boolean given in /home/nevewgha/public_html/wp-content/plugins/meta-data/meta-data.php on line 321

Warning: in_array() expects parameter 2 to be array, boolean given in /home/nevewgha/public_html/wp-content/plugins/meta-data/meta-data.php on line 322

Warning: in_array() expects parameter 2 to be array, boolean given in /home/nevewgha/public_html/wp-content/plugins/meta-data/meta-data.php on line 313

Warning: in_array() expects parameter 2 to be array, boolean given in /home/nevewgha/public_html/wp-content/plugins/meta-data/meta-data.php on line 317

Warning: in_array() expects parameter 2 to be array, boolean given in /home/nevewgha/public_html/wp-content/plugins/meta-data/meta-data.php on line 321

Warning: in_array() expects parameter 2 to be array, boolean given in /home/nevewgha/public_html/wp-content/plugins/meta-data/meta-data.php on line 322

Warning: in_array() expects parameter 2 to be array, boolean given in /home/nevewgha/public_html/wp-content/plugins/meta-data/meta-data.php on line 313

Warning: in_array() expects parameter 2 to be array, boolean given in /home/nevewgha/public_html/wp-content/plugins/meta-data/meta-data.php on line 317

Warning: in_array() expects parameter 2 to be array, boolean given in /home/nevewgha/public_html/wp-content/plugins/meta-data/meta-data.php on line 321

Warning: in_array() expects parameter 2 to be array, boolean given in /home/nevewgha/public_html/wp-content/plugins/meta-data/meta-data.php on line 322

Warning: in_array() expects parameter 2 to be array, boolean given in /home/nevewgha/public_html/wp-content/plugins/meta-data/meta-data.php on line 313

Warning: in_array() expects parameter 2 to be array, boolean given in /home/nevewgha/public_html/wp-content/plugins/meta-data/meta-data.php on line 317

Warning: in_array() expects parameter 2 to be array, boolean given in /home/nevewgha/public_html/wp-content/plugins/meta-data/meta-data.php on line 321

Warning: in_array() expects parameter 2 to be array, boolean given in /home/nevewgha/public_html/wp-content/plugins/meta-data/meta-data.php on line 322

Warning: in_array() expects parameter 2 to be array, boolean given in /home/nevewgha/public_html/wp-content/plugins/meta-data/meta-data.php on line 313

Warning: in_array() expects parameter 2 to be array, boolean given in /home/nevewgha/public_html/wp-content/plugins/meta-data/meta-data.php on line 317

Warning: in_array() expects parameter 2 to be array, boolean given in /home/nevewgha/public_html/wp-content/plugins/meta-data/meta-data.php on line 321

Warning: in_array() expects parameter 2 to be array, boolean given in /home/nevewgha/public_html/wp-content/plugins/meta-data/meta-data.php on line 322

Warning: in_array() expects parameter 2 to be array, boolean given in /home/nevewgha/public_html/wp-content/plugins/meta-data/meta-data.php on line 313

Warning: in_array() expects parameter 2 to be array, boolean given in /home/nevewgha/public_html/wp-content/plugins/meta-data/meta-data.php on line 317

Warning: in_array() expects parameter 2 to be array, boolean given in /home/nevewgha/public_html/wp-content/plugins/meta-data/meta-data.php on line 321

Warning: in_array() expects parameter 2 to be array, boolean given in /home/nevewgha/public_html/wp-content/plugins/meta-data/meta-data.php on line 322

Warning: in_array() expects parameter 2 to be array, boolean given in /home/nevewgha/public_html/wp-content/plugins/meta-data/meta-data.php on line 313

Warning: in_array() expects parameter 2 to be array, boolean given in /home/nevewgha/public_html/wp-content/plugins/meta-data/meta-data.php on line 317

Warning: in_array() expects parameter 2 to be array, boolean given in /home/nevewgha/public_html/wp-content/plugins/meta-data/meta-data.php on line 321

Warning: in_array() expects parameter 2 to be array, boolean given in /home/nevewgha/public_html/wp-content/plugins/meta-data/meta-data.php on line 322

Warning: in_array() expects parameter 2 to be array, boolean given in /home/nevewgha/public_html/wp-content/plugins/meta-data/meta-data.php on line 313

Warning: in_array() expects parameter 2 to be array, boolean given in /home/nevewgha/public_html/wp-content/plugins/meta-data/meta-data.php on line 317

Warning: in_array() expects parameter 2 to be array, boolean given in /home/nevewgha/public_html/wp-content/plugins/meta-data/meta-data.php on line 321

Warning: in_array() expects parameter 2 to be array, boolean given in /home/nevewgha/public_html/wp-content/plugins/meta-data/meta-data.php on line 322

Warning: in_array() expects parameter 2 to be array, boolean given in /home/nevewgha/public_html/wp-content/plugins/meta-data/meta-data.php on line 313

Warning: in_array() expects parameter 2 to be array, boolean given in /home/nevewgha/public_html/wp-content/plugins/meta-data/meta-data.php on line 317

Warning: in_array() expects parameter 2 to be array, boolean given in /home/nevewgha/public_html/wp-content/plugins/meta-data/meta-data.php on line 321

Warning: in_array() expects parameter 2 to be array, boolean given in /home/nevewgha/public_html/wp-content/plugins/meta-data/meta-data.php on line 322

Warning: in_array() expects parameter 2 to be array, boolean given in /home/nevewgha/public_html/wp-content/plugins/meta-data/meta-data.php on line 313

Warning: in_array() expects parameter 2 to be array, boolean given in /home/nevewgha/public_html/wp-content/plugins/meta-data/meta-data.php on line 317

Warning: in_array() expects parameter 2 to be array, boolean given in /home/nevewgha/public_html/wp-content/plugins/meta-data/meta-data.php on line 321

Warning: in_array() expects parameter 2 to be array, boolean given in /home/nevewgha/public_html/wp-content/plugins/meta-data/meta-data.php on line 322

Warning: in_array() expects parameter 2 to be array, boolean given in /home/nevewgha/public_html/wp-content/plugins/meta-data/meta-data.php on line 313

Warning: in_array() expects parameter 2 to be array, boolean given in /home/nevewgha/public_html/wp-content/plugins/meta-data/meta-data.php on line 317

Warning: in_array() expects parameter 2 to be array, boolean given in /home/nevewgha/public_html/wp-content/plugins/meta-data/meta-data.php on line 321

Warning: in_array() expects parameter 2 to be array, boolean given in /home/nevewgha/public_html/wp-content/plugins/meta-data/meta-data.php on line 322

Warning: in_array() expects parameter 2 to be array, boolean given in /home/nevewgha/public_html/wp-content/plugins/meta-data/meta-data.php on line 313

Warning: in_array() expects parameter 2 to be array, boolean given in /home/nevewgha/public_html/wp-content/plugins/meta-data/meta-data.php on line 317

Warning: in_array() expects parameter 2 to be array, boolean given in /home/nevewgha/public_html/wp-content/plugins/meta-data/meta-data.php on line 321

Warning: in_array() expects parameter 2 to be array, boolean given in /home/nevewgha/public_html/wp-content/plugins/meta-data/meta-data.php on line 322

Warning: in_array() expects parameter 2 to be array, boolean given in /home/nevewgha/public_html/wp-content/plugins/meta-data/meta-data.php on line 313

Warning: in_array() expects parameter 2 to be array, boolean given in /home/nevewgha/public_html/wp-content/plugins/meta-data/meta-data.php on line 317

Warning: in_array() expects parameter 2 to be array, boolean given in /home/nevewgha/public_html/wp-content/plugins/meta-data/meta-data.php on line 321

Warning: in_array() expects parameter 2 to be array, boolean given in /home/nevewgha/public_html/wp-content/plugins/meta-data/meta-data.php on line 322

Warning: in_array() expects parameter 2 to be array, boolean given in /home/nevewgha/public_html/wp-content/plugins/meta-data/meta-data.php on line 313

Warning: in_array() expects parameter 2 to be array, boolean given in /home/nevewgha/public_html/wp-content/plugins/meta-data/meta-data.php on line 317

Warning: in_array() expects parameter 2 to be array, boolean given in /home/nevewgha/public_html/wp-content/plugins/meta-data/meta-data.php on line 321

Warning: in_array() expects parameter 2 to be array, boolean given in /home/nevewgha/public_html/wp-content/plugins/meta-data/meta-data.php on line 322

Warning: in_array() expects parameter 2 to be array, boolean given in /home/nevewgha/public_html/wp-content/plugins/meta-data/meta-data.php on line 313

Warning: in_array() expects parameter 2 to be array, boolean given in /home/nevewgha/public_html/wp-content/plugins/meta-data/meta-data.php on line 317

Warning: in_array() expects parameter 2 to be array, boolean given in /home/nevewgha/public_html/wp-content/plugins/meta-data/meta-data.php on line 321

Warning: in_array() expects parameter 2 to be array, boolean given in /home/nevewgha/public_html/wp-content/plugins/meta-data/meta-data.php on line 322

Warning: in_array() expects parameter 2 to be array, boolean given in /home/nevewgha/public_html/wp-content/plugins/meta-data/meta-data.php on line 313

Warning: in_array() expects parameter 2 to be array, boolean given in /home/nevewgha/public_html/wp-content/plugins/meta-data/meta-data.php on line 317

Warning: in_array() expects parameter 2 to be array, boolean given in /home/nevewgha/public_html/wp-content/plugins/meta-data/meta-data.php on line 321

Warning: in_array() expects parameter 2 to be array, boolean given in /home/nevewgha/public_html/wp-content/plugins/meta-data/meta-data.php on line 322

Warning: in_array() expects parameter 2 to be array, boolean given in /home/nevewgha/public_html/wp-content/plugins/meta-data/meta-data.php on line 313

Warning: in_array() expects parameter 2 to be array, boolean given in /home/nevewgha/public_html/wp-content/plugins/meta-data/meta-data.php on line 317

Warning: in_array() expects parameter 2 to be array, boolean given in /home/nevewgha/public_html/wp-content/plugins/meta-data/meta-data.php on line 321

Warning: in_array() expects parameter 2 to be array, boolean given in /home/nevewgha/public_html/wp-content/plugins/meta-data/meta-data.php on line 322

Warning: in_array() expects parameter 2 to be array, boolean given in /home/nevewgha/public_html/wp-content/plugins/meta-data/meta-data.php on line 313

Warning: in_array() expects parameter 2 to be array, boolean given in /home/nevewgha/public_html/wp-content/plugins/meta-data/meta-data.php on line 317

Warning: in_array() expects parameter 2 to be array, boolean given in /home/nevewgha/public_html/wp-content/plugins/meta-data/meta-data.php on line 321

Warning: in_array() expects parameter 2 to be array, boolean given in /home/nevewgha/public_html/wp-content/plugins/meta-data/meta-data.php on line 322

Warning: in_array() expects parameter 2 to be array, boolean given in /home/nevewgha/public_html/wp-content/plugins/meta-data/meta-data.php on line 313

Warning: in_array() expects parameter 2 to be array, boolean given in /home/nevewgha/public_html/wp-content/plugins/meta-data/meta-data.php on line 317

Warning: in_array() expects parameter 2 to be array, boolean given in /home/nevewgha/public_html/wp-content/plugins/meta-data/meta-data.php on line 321

Warning: in_array() expects parameter 2 to be array, boolean given in /home/nevewgha/public_html/wp-content/plugins/meta-data/meta-data.php on line 322

Warning: in_array() expects parameter 2 to be array, boolean given in /home/nevewgha/public_html/wp-content/plugins/meta-data/meta-data.php on line 313

Warning: in_array() expects parameter 2 to be array, boolean given in /home/nevewgha/public_html/wp-content/plugins/meta-data/meta-data.php on line 317

Warning: in_array() expects parameter 2 to be array, boolean given in /home/nevewgha/public_html/wp-content/plugins/meta-data/meta-data.php on line 321

Warning: in_array() expects parameter 2 to be array, boolean given in /home/nevewgha/public_html/wp-content/plugins/meta-data/meta-data.php on line 322

Warning: in_array() expects parameter 2 to be array, boolean given in /home/nevewgha/public_html/wp-content/plugins/meta-data/meta-data.php on line 313

Warning: in_array() expects parameter 2 to be array, boolean given in /home/nevewgha/public_html/wp-content/plugins/meta-data/meta-data.php on line 317

Warning: in_array() expects parameter 2 to be array, boolean given in /home/nevewgha/public_html/wp-content/plugins/meta-data/meta-data.php on line 321

Warning: in_array() expects parameter 2 to be array, boolean given in /home/nevewgha/public_html/wp-content/plugins/meta-data/meta-data.php on line 322

Warning: in_array() expects parameter 2 to be array, boolean given in /home/nevewgha/public_html/wp-content/plugins/meta-data/meta-data.php on line 313

Warning: in_array() expects parameter 2 to be array, boolean given in /home/nevewgha/public_html/wp-content/plugins/meta-data/meta-data.php on line 317

Warning: in_array() expects parameter 2 to be array, boolean given in /home/nevewgha/public_html/wp-content/plugins/meta-data/meta-data.php on line 321

Warning: in_array() expects parameter 2 to be array, boolean given in /home/nevewgha/public_html/wp-content/plugins/meta-data/meta-data.php on line 322

Warning: in_array() expects parameter 2 to be array, boolean given in /home/nevewgha/public_html/wp-content/plugins/meta-data/meta-data.php on line 313

Warning: in_array() expects parameter 2 to be array, boolean given in /home/nevewgha/public_html/wp-content/plugins/meta-data/meta-data.php on line 317

Warning: in_array() expects parameter 2 to be array, boolean given in /home/nevewgha/public_html/wp-content/plugins/meta-data/meta-data.php on line 321

Warning: in_array() expects parameter 2 to be array, boolean given in /home/nevewgha/public_html/wp-content/plugins/meta-data/meta-data.php on line 322

Warning: in_array() expects parameter 2 to be array, boolean given in /home/nevewgha/public_html/wp-content/plugins/meta-data/meta-data.php on line 313

Warning: in_array() expects parameter 2 to be array, boolean given in /home/nevewgha/public_html/wp-content/plugins/meta-data/meta-data.php on line 317

Warning: in_array() expects parameter 2 to be array, boolean given in /home/nevewgha/public_html/wp-content/plugins/meta-data/meta-data.php on line 321

Warning: in_array() expects parameter 2 to be array, boolean given in /home/nevewgha/public_html/wp-content/plugins/meta-data/meta-data.php on line 322

Warning: in_array() expects parameter 2 to be array, boolean given in /home/nevewgha/public_html/wp-content/plugins/meta-data/meta-data.php on line 313

Warning: in_array() expects parameter 2 to be array, boolean given in /home/nevewgha/public_html/wp-content/plugins/meta-data/meta-data.php on line 317

Warning: in_array() expects parameter 2 to be array, boolean given in /home/nevewgha/public_html/wp-content/plugins/meta-data/meta-data.php on line 321

Warning: in_array() expects parameter 2 to be array, boolean given in /home/nevewgha/public_html/wp-content/plugins/meta-data/meta-data.php on line 322

Warning: in_array() expects parameter 2 to be array, boolean given in /home/nevewgha/public_html/wp-content/plugins/meta-data/meta-data.php on line 313

Warning: in_array() expects parameter 2 to be array, boolean given in /home/nevewgha/public_html/wp-content/plugins/meta-data/meta-data.php on line 317

Warning: in_array() expects parameter 2 to be array, boolean given in /home/nevewgha/public_html/wp-content/plugins/meta-data/meta-data.php on line 321

Warning: in_array() expects parameter 2 to be array, boolean given in /home/nevewgha/public_html/wp-content/plugins/meta-data/meta-data.php on line 322

Warning: in_array() expects parameter 2 to be array, boolean given in /home/nevewgha/public_html/wp-content/plugins/meta-data/meta-data.php on line 313

Warning: in_array() expects parameter 2 to be array, boolean given in /home/nevewgha/public_html/wp-content/plugins/meta-data/meta-data.php on line 317

Warning: in_array() expects parameter 2 to be array, boolean given in /home/nevewgha/public_html/wp-content/plugins/meta-data/meta-data.php on line 321

Warning: in_array() expects parameter 2 to be array, boolean given in /home/nevewgha/public_html/wp-content/plugins/meta-data/meta-data.php on line 322

Warning: in_array() expects parameter 2 to be array, boolean given in /home/nevewgha/public_html/wp-content/plugins/meta-data/meta-data.php on line 313

Warning: in_array() expects parameter 2 to be array, boolean given in /home/nevewgha/public_html/wp-content/plugins/meta-data/meta-data.php on line 317

Warning: in_array() expects parameter 2 to be array, boolean given in /home/nevewgha/public_html/wp-content/plugins/meta-data/meta-data.php on line 321

Warning: in_array() expects parameter 2 to be array, boolean given in /home/nevewgha/public_html/wp-content/plugins/meta-data/meta-data.php on line 322

Warning: in_array() expects parameter 2 to be array, boolean given in /home/nevewgha/public_html/wp-content/plugins/meta-data/meta-data.php on line 313

Warning: in_array() expects parameter 2 to be array, boolean given in /home/nevewgha/public_html/wp-content/plugins/meta-data/meta-data.php on line 317

Warning: in_array() expects parameter 2 to be array, boolean given in /home/nevewgha/public_html/wp-content/plugins/meta-data/meta-data.php on line 321

Warning: in_array() expects parameter 2 to be array, boolean given in /home/nevewgha/public_html/wp-content/plugins/meta-data/meta-data.php on line 322

Warning: in_array() expects parameter 2 to be array, boolean given in /home/nevewgha/public_html/wp-content/plugins/meta-data/meta-data.php on line 313

Warning: in_array() expects parameter 2 to be array, boolean given in /home/nevewgha/public_html/wp-content/plugins/meta-data/meta-data.php on line 317

Warning: in_array() expects parameter 2 to be array, boolean given in /home/nevewgha/public_html/wp-content/plugins/meta-data/meta-data.php on line 321

Warning: in_array() expects parameter 2 to be array, boolean given in /home/nevewgha/public_html/wp-content/plugins/meta-data/meta-data.php on line 322

Warning: in_array() expects parameter 2 to be array, boolean given in /home/nevewgha/public_html/wp-content/plugins/meta-data/meta-data.php on line 313

Warning: in_array() expects parameter 2 to be array, boolean given in /home/nevewgha/public_html/wp-content/plugins/meta-data/meta-data.php on line 317

Warning: in_array() expects parameter 2 to be array, boolean given in /home/nevewgha/public_html/wp-content/plugins/meta-data/meta-data.php on line 321

Warning: in_array() expects parameter 2 to be array, boolean given in /home/nevewgha/public_html/wp-content/plugins/meta-data/meta-data.php on line 322

Warning: in_array() expects parameter 2 to be array, boolean given in /home/nevewgha/public_html/wp-content/plugins/meta-data/meta-data.php on line 313

Warning: in_array() expects parameter 2 to be array, boolean given in /home/nevewgha/public_html/wp-content/plugins/meta-data/meta-data.php on line 317

Warning: in_array() expects parameter 2 to be array, boolean given in /home/nevewgha/public_html/wp-content/plugins/meta-data/meta-data.php on line 321

Warning: in_array() expects parameter 2 to be array, boolean given in /home/nevewgha/public_html/wp-content/plugins/meta-data/meta-data.php on line 322

Warning: in_array() expects parameter 2 to be array, boolean given in /home/nevewgha/public_html/wp-content/plugins/meta-data/meta-data.php on line 313

Warning: in_array() expects parameter 2 to be array, boolean given in /home/nevewgha/public_html/wp-content/plugins/meta-data/meta-data.php on line 317

Warning: in_array() expects parameter 2 to be array, boolean given in /home/nevewgha/public_html/wp-content/plugins/meta-data/meta-data.php on line 321

Warning: in_array() expects parameter 2 to be array, boolean given in /home/nevewgha/public_html/wp-content/plugins/meta-data/meta-data.php on line 322

Warning: in_array() expects parameter 2 to be array, boolean given in /home/nevewgha/public_html/wp-content/plugins/meta-data/meta-data.php on line 313

Warning: in_array() expects parameter 2 to be array, boolean given in /home/nevewgha/public_html/wp-content/plugins/meta-data/meta-data.php on line 317

Warning: in_array() expects parameter 2 to be array, boolean given in /home/nevewgha/public_html/wp-content/plugins/meta-data/meta-data.php on line 321

Warning: in_array() expects parameter 2 to be array, boolean given in /home/nevewgha/public_html/wp-content/plugins/meta-data/meta-data.php on line 322

Warning: in_array() expects parameter 2 to be array, boolean given in /home/nevewgha/public_html/wp-content/plugins/meta-data/meta-data.php on line 313

Warning: in_array() expects parameter 2 to be array, boolean given in /home/nevewgha/public_html/wp-content/plugins/meta-data/meta-data.php on line 317

Warning: in_array() expects parameter 2 to be array, boolean given in /home/nevewgha/public_html/wp-content/plugins/meta-data/meta-data.php on line 321

Warning: in_array() expects parameter 2 to be array, boolean given in /home/nevewgha/public_html/wp-content/plugins/meta-data/meta-data.php on line 322

Warning: in_array() expects parameter 2 to be array, boolean given in /home/nevewgha/public_html/wp-content/plugins/meta-data/meta-data.php on line 313

Warning: in_array() expects parameter 2 to be array, boolean given in /home/nevewgha/public_html/wp-content/plugins/meta-data/meta-data.php on line 317

Warning: in_array() expects parameter 2 to be array, boolean given in /home/nevewgha/public_html/wp-content/plugins/meta-data/meta-data.php on line 321

Warning: in_array() expects parameter 2 to be array, boolean given in /home/nevewgha/public_html/wp-content/plugins/meta-data/meta-data.php on line 322

Warning: in_array() expects parameter 2 to be array, boolean given in /home/nevewgha/public_html/wp-content/plugins/meta-data/meta-data.php on line 313

Warning: in_array() expects parameter 2 to be array, boolean given in /home/nevewgha/public_html/wp-content/plugins/meta-data/meta-data.php on line 317

Warning: in_array() expects parameter 2 to be array, boolean given in /home/nevewgha/public_html/wp-content/plugins/meta-data/meta-data.php on line 321

Warning: in_array() expects parameter 2 to be array, boolean given in /home/nevewgha/public_html/wp-content/plugins/meta-data/meta-data.php on line 322

Warning: in_array() expects parameter 2 to be array, boolean given in /home/nevewgha/public_html/wp-content/plugins/meta-data/meta-data.php on line 313

Warning: in_array() expects parameter 2 to be array, boolean given in /home/nevewgha/public_html/wp-content/plugins/meta-data/meta-data.php on line 317

Warning: in_array() expects parameter 2 to be array, boolean given in /home/nevewgha/public_html/wp-content/plugins/meta-data/meta-data.php on line 321

Warning: in_array() expects parameter 2 to be array, boolean given in /home/nevewgha/public_html/wp-content/plugins/meta-data/meta-data.php on line 322

Warning: in_array() expects parameter 2 to be array, boolean given in /home/nevewgha/public_html/wp-content/plugins/meta-data/meta-data.php on line 313

Warning: in_array() expects parameter 2 to be array, boolean given in /home/nevewgha/public_html/wp-content/plugins/meta-data/meta-data.php on line 317

Warning: in_array() expects parameter 2 to be array, boolean given in /home/nevewgha/public_html/wp-content/plugins/meta-data/meta-data.php on line 321

Warning: in_array() expects parameter 2 to be array, boolean given in /home/nevewgha/public_html/wp-content/plugins/meta-data/meta-data.php on line 322

Warning: in_array() expects parameter 2 to be array, boolean given in /home/nevewgha/public_html/wp-content/plugins/meta-data/meta-data.php on line 313

Warning: in_array() expects parameter 2 to be array, boolean given in /home/nevewgha/public_html/wp-content/plugins/meta-data/meta-data.php on line 317

Warning: in_array() expects parameter 2 to be array, boolean given in /home/nevewgha/public_html/wp-content/plugins/meta-data/meta-data.php on line 321

Warning: in_array() expects parameter 2 to be array, boolean given in /home/nevewgha/public_html/wp-content/plugins/meta-data/meta-data.php on line 322

Warning: in_array() expects parameter 2 to be array, boolean given in /home/nevewgha/public_html/wp-content/plugins/meta-data/meta-data.php on line 313

Warning: in_array() expects parameter 2 to be array, boolean given in /home/nevewgha/public_html/wp-content/plugins/meta-data/meta-data.php on line 317

Warning: in_array() expects parameter 2 to be array, boolean given in /home/nevewgha/public_html/wp-content/plugins/meta-data/meta-data.php on line 321

Warning: in_array() expects parameter 2 to be array, boolean given in /home/nevewgha/public_html/wp-content/plugins/meta-data/meta-data.php on line 322

Warning: in_array() expects parameter 2 to be array, boolean given in /home/nevewgha/public_html/wp-content/plugins/meta-data/meta-data.php on line 313

Warning: in_array() expects parameter 2 to be array, boolean given in /home/nevewgha/public_html/wp-content/plugins/meta-data/meta-data.php on line 317

Warning: in_array() expects parameter 2 to be array, boolean given in /home/nevewgha/public_html/wp-content/plugins/meta-data/meta-data.php on line 321

Warning: in_array() expects parameter 2 to be array, boolean given in /home/nevewgha/public_html/wp-content/plugins/meta-data/meta-data.php on line 322

Warning: in_array() expects parameter 2 to be array, boolean given in /home/nevewgha/public_html/wp-content/plugins/meta-data/meta-data.php on line 313

Warning: in_array() expects parameter 2 to be array, boolean given in /home/nevewgha/public_html/wp-content/plugins/meta-data/meta-data.php on line 317

Warning: in_array() expects parameter 2 to be array, boolean given in /home/nevewgha/public_html/wp-content/plugins/meta-data/meta-data.php on line 321

Warning: in_array() expects parameter 2 to be array, boolean given in /home/nevewgha/public_html/wp-content/plugins/meta-data/meta-data.php on line 322

Warning: in_array() expects parameter 2 to be array, boolean given in /home/nevewgha/public_html/wp-content/plugins/meta-data/meta-data.php on line 313

Warning: in_array() expects parameter 2 to be array, boolean given in /home/nevewgha/public_html/wp-content/plugins/meta-data/meta-data.php on line 317

Warning: in_array() expects parameter 2 to be array, boolean given in /home/nevewgha/public_html/wp-content/plugins/meta-data/meta-data.php on line 321

Warning: in_array() expects parameter 2 to be array, boolean given in /home/nevewgha/public_html/wp-content/plugins/meta-data/meta-data.php on line 322

Warning: in_array() expects parameter 2 to be array, boolean given in /home/nevewgha/public_html/wp-content/plugins/meta-data/meta-data.php on line 313

Warning: in_array() expects parameter 2 to be array, boolean given in /home/nevewgha/public_html/wp-content/plugins/meta-data/meta-data.php on line 317

Warning: in_array() expects parameter 2 to be array, boolean given in /home/nevewgha/public_html/wp-content/plugins/meta-data/meta-data.php on line 321

Warning: in_array() expects parameter 2 to be array, boolean given in /home/nevewgha/public_html/wp-content/plugins/meta-data/meta-data.php on line 322

Warning: in_array() expects parameter 2 to be array, boolean given in /home/nevewgha/public_html/wp-content/plugins/meta-data/meta-data.php on line 313

Warning: in_array() expects parameter 2 to be array, boolean given in /home/nevewgha/public_html/wp-content/plugins/meta-data/meta-data.php on line 317

Warning: in_array() expects parameter 2 to be array, boolean given in /home/nevewgha/public_html/wp-content/plugins/meta-data/meta-data.php on line 321

Warning: in_array() expects parameter 2 to be array, boolean given in /home/nevewgha/public_html/wp-content/plugins/meta-data/meta-data.php on line 322

Warning: in_array() expects parameter 2 to be array, boolean given in /home/nevewgha/public_html/wp-content/plugins/meta-data/meta-data.php on line 313

Warning: in_array() expects parameter 2 to be array, boolean given in /home/nevewgha/public_html/wp-content/plugins/meta-data/meta-data.php on line 317

Warning: in_array() expects parameter 2 to be array, boolean given in /home/nevewgha/public_html/wp-content/plugins/meta-data/meta-data.php on line 321

Warning: in_array() expects parameter 2 to be array, boolean given in /home/nevewgha/public_html/wp-content/plugins/meta-data/meta-data.php on line 322

Warning: in_array() expects parameter 2 to be array, boolean given in /home/nevewgha/public_html/wp-content/plugins/meta-data/meta-data.php on line 313

Warning: in_array() expects parameter 2 to be array, boolean given in /home/nevewgha/public_html/wp-content/plugins/meta-data/meta-data.php on line 317

Warning: in_array() expects parameter 2 to be array, boolean given in /home/nevewgha/public_html/wp-content/plugins/meta-data/meta-data.php on line 321

Warning: in_array() expects parameter 2 to be array, boolean given in /home/nevewgha/public_html/wp-content/plugins/meta-data/meta-data.php on line 322

Warning: in_array() expects parameter 2 to be array, boolean given in /home/nevewgha/public_html/wp-content/plugins/meta-data/meta-data.php on line 313

Warning: in_array() expects parameter 2 to be array, boolean given in /home/nevewgha/public_html/wp-content/plugins/meta-data/meta-data.php on line 317

Warning: in_array() expects parameter 2 to be array, boolean given in /home/nevewgha/public_html/wp-content/plugins/meta-data/meta-data.php on line 321

Warning: in_array() expects parameter 2 to be array, boolean given in /home/nevewgha/public_html/wp-content/plugins/meta-data/meta-data.php on line 322

Warning: in_array() expects parameter 2 to be array, boolean given in /home/nevewgha/public_html/wp-content/plugins/meta-data/meta-data.php on line 313

Warning: in_array() expects parameter 2 to be array, boolean given in /home/nevewgha/public_html/wp-content/plugins/meta-data/meta-data.php on line 317

Warning: in_array() expects parameter 2 to be array, boolean given in /home/nevewgha/public_html/wp-content/plugins/meta-data/meta-data.php on line 321

Warning: in_array() expects parameter 2 to be array, boolean given in /home/nevewgha/public_html/wp-content/plugins/meta-data/meta-data.php on line 322

Warning: in_array() expects parameter 2 to be array, boolean given in /home/nevewgha/public_html/wp-content/plugins/meta-data/meta-data.php on line 313

Warning: in_array() expects parameter 2 to be array, boolean given in /home/nevewgha/public_html/wp-content/plugins/meta-data/meta-data.php on line 317

Warning: in_array() expects parameter 2 to be array, boolean given in /home/nevewgha/public_html/wp-content/plugins/meta-data/meta-data.php on line 321

Warning: in_array() expects parameter 2 to be array, boolean given in /home/nevewgha/public_html/wp-content/plugins/meta-data/meta-data.php on line 322

Warning: in_array() expects parameter 2 to be array, boolean given in /home/nevewgha/public_html/wp-content/plugins/meta-data/meta-data.php on line 313

Warning: in_array() expects parameter 2 to be array, boolean given in /home/nevewgha/public_html/wp-content/plugins/meta-data/meta-data.php on line 317

Warning: in_array() expects parameter 2 to be array, boolean given in /home/nevewgha/public_html/wp-content/plugins/meta-data/meta-data.php on line 321

Warning: in_array() expects parameter 2 to be array, boolean given in /home/nevewgha/public_html/wp-content/plugins/meta-data/meta-data.php on line 322

Warning: in_array() expects parameter 2 to be array, boolean given in /home/nevewgha/public_html/wp-content/plugins/meta-data/meta-data.php on line 313

Warning: in_array() expects parameter 2 to be array, boolean given in /home/nevewgha/public_html/wp-content/plugins/meta-data/meta-data.php on line 317

Warning: in_array() expects parameter 2 to be array, boolean given in /home/nevewgha/public_html/wp-content/plugins/meta-data/meta-data.php on line 321

Warning: in_array() expects parameter 2 to be array, boolean given in /home/nevewgha/public_html/wp-content/plugins/meta-data/meta-data.php on line 322

Warning: in_array() expects parameter 2 to be array, boolean given in /home/nevewgha/public_html/wp-content/plugins/meta-data/meta-data.php on line 313

Warning: in_array() expects parameter 2 to be array, boolean given in /home/nevewgha/public_html/wp-content/plugins/meta-data/meta-data.php on line 317

Warning: in_array() expects parameter 2 to be array, boolean given in /home/nevewgha/public_html/wp-content/plugins/meta-data/meta-data.php on line 321

Warning: in_array() expects parameter 2 to be array, boolean given in /home/nevewgha/public_html/wp-content/plugins/meta-data/meta-data.php on line 322

Warning: in_array() expects parameter 2 to be array, boolean given in /home/nevewgha/public_html/wp-content/plugins/meta-data/meta-data.php on line 313

Warning: in_array() expects parameter 2 to be array, boolean given in /home/nevewgha/public_html/wp-content/plugins/meta-data/meta-data.php on line 317

Warning: in_array() expects parameter 2 to be array, boolean given in /home/nevewgha/public_html/wp-content/plugins/meta-data/meta-data.php on line 321

Warning: in_array() expects parameter 2 to be array, boolean given in /home/nevewgha/public_html/wp-content/plugins/meta-data/meta-data.php on line 322

Warning: in_array() expects parameter 2 to be array, boolean given in /home/nevewgha/public_html/wp-content/plugins/meta-data/meta-data.php on line 313

Warning: in_array() expects parameter 2 to be array, boolean given in /home/nevewgha/public_html/wp-content/plugins/meta-data/meta-data.php on line 317

Warning: in_array() expects parameter 2 to be array, boolean given in /home/nevewgha/public_html/wp-content/plugins/meta-data/meta-data.php on line 321

Warning: in_array() expects parameter 2 to be array, boolean given in /home/nevewgha/public_html/wp-content/plugins/meta-data/meta-data.php on line 322

Warning: in_array() expects parameter 2 to be array, boolean given in /home/nevewgha/public_html/wp-content/plugins/meta-data/meta-data.php on line 313

Warning: in_array() expects parameter 2 to be array, boolean given in /home/nevewgha/public_html/wp-content/plugins/meta-data/meta-data.php on line 317

Warning: in_array() expects parameter 2 to be array, boolean given in /home/nevewgha/public_html/wp-content/plugins/meta-data/meta-data.php on line 321

Warning: in_array() expects parameter 2 to be array, boolean given in /home/nevewgha/public_html/wp-content/plugins/meta-data/meta-data.php on line 322

Warning: in_array() expects parameter 2 to be array, boolean given in /home/nevewgha/public_html/wp-content/plugins/meta-data/meta-data.php on line 313

Warning: in_array() expects parameter 2 to be array, boolean given in /home/nevewgha/public_html/wp-content/plugins/meta-data/meta-data.php on line 317

Warning: in_array() expects parameter 2 to be array, boolean given in /home/nevewgha/public_html/wp-content/plugins/meta-data/meta-data.php on line 321

Warning: in_array() expects parameter 2 to be array, boolean given in /home/nevewgha/public_html/wp-content/plugins/meta-data/meta-data.php on line 322

Warning: in_array() expects parameter 2 to be array, boolean given in /home/nevewgha/public_html/wp-content/plugins/meta-data/meta-data.php on line 313

Warning: in_array() expects parameter 2 to be array, boolean given in /home/nevewgha/public_html/wp-content/plugins/meta-data/meta-data.php on line 317

Warning: in_array() expects parameter 2 to be array, boolean given in /home/nevewgha/public_html/wp-content/plugins/meta-data/meta-data.php on line 321

Warning: in_array() expects parameter 2 to be array, boolean given in /home/nevewgha/public_html/wp-content/plugins/meta-data/meta-data.php on line 322

Warning: in_array() expects parameter 2 to be array, boolean given in /home/nevewgha/public_html/wp-content/plugins/meta-data/meta-data.php on line 313

Warning: in_array() expects parameter 2 to be array, boolean given in /home/nevewgha/public_html/wp-content/plugins/meta-data/meta-data.php on line 317

Warning: in_array() expects parameter 2 to be array, boolean given in /home/nevewgha/public_html/wp-content/plugins/meta-data/meta-data.php on line 321

Warning: in_array() expects parameter 2 to be array, boolean given in /home/nevewgha/public_html/wp-content/plugins/meta-data/meta-data.php on line 322

Warning: in_array() expects parameter 2 to be array, boolean given in /home/nevewgha/public_html/wp-content/plugins/meta-data/meta-data.php on line 313

Warning: in_array() expects parameter 2 to be array, boolean given in /home/nevewgha/public_html/wp-content/plugins/meta-data/meta-data.php on line 317

Warning: in_array() expects parameter 2 to be array, boolean given in /home/nevewgha/public_html/wp-content/plugins/meta-data/meta-data.php on line 321

Warning: in_array() expects parameter 2 to be array, boolean given in /home/nevewgha/public_html/wp-content/plugins/meta-data/meta-data.php on line 322

Warning: in_array() expects parameter 2 to be array, boolean given in /home/nevewgha/public_html/wp-content/plugins/meta-data/meta-data.php on line 313

Warning: in_array() expects parameter 2 to be array, boolean given in /home/nevewgha/public_html/wp-content/plugins/meta-data/meta-data.php on line 317

Warning: in_array() expects parameter 2 to be array, boolean given in /home/nevewgha/public_html/wp-content/plugins/meta-data/meta-data.php on line 321

Warning: in_array() expects parameter 2 to be array, boolean given in /home/nevewgha/public_html/wp-content/plugins/meta-data/meta-data.php on line 322

Warning: in_array() expects parameter 2 to be array, boolean given in /home/nevewgha/public_html/wp-content/plugins/meta-data/meta-data.php on line 313

Warning: in_array() expects parameter 2 to be array, boolean given in /home/nevewgha/public_html/wp-content/plugins/meta-data/meta-data.php on line 317

Warning: in_array() expects parameter 2 to be array, boolean given in /home/nevewgha/public_html/wp-content/plugins/meta-data/meta-data.php on line 321

Warning: in_array() expects parameter 2 to be array, boolean given in /home/nevewgha/public_html/wp-content/plugins/meta-data/meta-data.php on line 322

Warning: in_array() expects parameter 2 to be array, boolean given in /home/nevewgha/public_html/wp-content/plugins/meta-data/meta-data.php on line 313

Warning: in_array() expects parameter 2 to be array, boolean given in /home/nevewgha/public_html/wp-content/plugins/meta-data/meta-data.php on line 317

Warning: in_array() expects parameter 2 to be array, boolean given in /home/nevewgha/public_html/wp-content/plugins/meta-data/meta-data.php on line 321

Warning: in_array() expects parameter 2 to be array, boolean given in /home/nevewgha/public_html/wp-content/plugins/meta-data/meta-data.php on line 322

Warning: in_array() expects parameter 2 to be array, boolean given in /home/nevewgha/public_html/wp-content/plugins/meta-data/meta-data.php on line 313

Warning: in_array() expects parameter 2 to be array, boolean given in /home/nevewgha/public_html/wp-content/plugins/meta-data/meta-data.php on line 317

Warning: in_array() expects parameter 2 to be array, boolean given in /home/nevewgha/public_html/wp-content/plugins/meta-data/meta-data.php on line 321

Warning: in_array() expects parameter 2 to be array, boolean given in /home/nevewgha/public_html/wp-content/plugins/meta-data/meta-data.php on line 322

Warning: in_array() expects parameter 2 to be array, boolean given in /home/nevewgha/public_html/wp-content/plugins/meta-data/meta-data.php on line 313

Warning: in_array() expects parameter 2 to be array, boolean given in /home/nevewgha/public_html/wp-content/plugins/meta-data/meta-data.php on line 317

Warning: in_array() expects parameter 2 to be array, boolean given in /home/nevewgha/public_html/wp-content/plugins/meta-data/meta-data.php on line 321

Warning: in_array() expects parameter 2 to be array, boolean given in /home/nevewgha/public_html/wp-content/plugins/meta-data/meta-data.php on line 322

Warning: in_array() expects parameter 2 to be array, boolean given in /home/nevewgha/public_html/wp-content/plugins/meta-data/meta-data.php on line 313

Warning: in_array() expects parameter 2 to be array, boolean given in /home/nevewgha/public_html/wp-content/plugins/meta-data/meta-data.php on line 317

Warning: in_array() expects parameter 2 to be array, boolean given in /home/nevewgha/public_html/wp-content/plugins/meta-data/meta-data.php on line 321

Warning: in_array() expects parameter 2 to be array, boolean given in /home/nevewgha/public_html/wp-content/plugins/meta-data/meta-data.php on line 322

Warning: in_array() expects parameter 2 to be array, boolean given in /home/nevewgha/public_html/wp-content/plugins/meta-data/meta-data.php on line 313

Warning: in_array() expects parameter 2 to be array, boolean given in /home/nevewgha/public_html/wp-content/plugins/meta-data/meta-data.php on line 317

Warning: in_array() expects parameter 2 to be array, boolean given in /home/nevewgha/public_html/wp-content/plugins/meta-data/meta-data.php on line 321

Warning: in_array() expects parameter 2 to be array, boolean given in /home/nevewgha/public_html/wp-content/plugins/meta-data/meta-data.php on line 322

Warning: in_array() expects parameter 2 to be array, boolean given in /home/nevewgha/public_html/wp-content/plugins/meta-data/meta-data.php on line 313

Warning: in_array() expects parameter 2 to be array, boolean given in /home/nevewgha/public_html/wp-content/plugins/meta-data/meta-data.php on line 317

Warning: in_array() expects parameter 2 to be array, boolean given in /home/nevewgha/public_html/wp-content/plugins/meta-data/meta-data.php on line 321

Warning: in_array() expects parameter 2 to be array, boolean given in /home/nevewgha/public_html/wp-content/plugins/meta-data/meta-data.php on line 322

Warning: in_array() expects parameter 2 to be array, boolean given in /home/nevewgha/public_html/wp-content/plugins/meta-data/meta-data.php on line 313

Warning: in_array() expects parameter 2 to be array, boolean given in /home/nevewgha/public_html/wp-content/plugins/meta-data/meta-data.php on line 317

Warning: in_array() expects parameter 2 to be array, boolean given in /home/nevewgha/public_html/wp-content/plugins/meta-data/meta-data.php on line 321

Warning: in_array() expects parameter 2 to be array, boolean given in /home/nevewgha/public_html/wp-content/plugins/meta-data/meta-data.php on line 322

Warning: in_array() expects parameter 2 to be array, boolean given in /home/nevewgha/public_html/wp-content/plugins/meta-data/meta-data.php on line 313

Warning: in_array() expects parameter 2 to be array, boolean given in /home/nevewgha/public_html/wp-content/plugins/meta-data/meta-data.php on line 317

Warning: in_array() expects parameter 2 to be array, boolean given in /home/nevewgha/public_html/wp-content/plugins/meta-data/meta-data.php on line 321

Warning: in_array() expects parameter 2 to be array, boolean given in /home/nevewgha/public_html/wp-content/plugins/meta-data/meta-data.php on line 322

Warning: in_array() expects parameter 2 to be array, boolean given in /home/nevewgha/public_html/wp-content/plugins/meta-data/meta-data.php on line 313

Warning: in_array() expects parameter 2 to be array, boolean given in /home/nevewgha/public_html/wp-content/plugins/meta-data/meta-data.php on line 317

Warning: in_array() expects parameter 2 to be array, boolean given in /home/nevewgha/public_html/wp-content/plugins/meta-data/meta-data.php on line 321

Warning: in_array() expects parameter 2 to be array, boolean given in /home/nevewgha/public_html/wp-content/plugins/meta-data/meta-data.php on line 322

Warning: in_array() expects parameter 2 to be array, boolean given in /home/nevewgha/public_html/wp-content/plugins/meta-data/meta-data.php on line 313

Warning: in_array() expects parameter 2 to be array, boolean given in /home/nevewgha/public_html/wp-content/plugins/meta-data/meta-data.php on line 317

Warning: in_array() expects parameter 2 to be array, boolean given in /home/nevewgha/public_html/wp-content/plugins/meta-data/meta-data.php on line 321

Warning: in_array() expects parameter 2 to be array, boolean given in /home/nevewgha/public_html/wp-content/plugins/meta-data/meta-data.php on line 322

Warning: in_array() expects parameter 2 to be array, boolean given in /home/nevewgha/public_html/wp-content/plugins/meta-data/meta-data.php on line 313

Warning: in_array() expects parameter 2 to be array, boolean given in /home/nevewgha/public_html/wp-content/plugins/meta-data/meta-data.php on line 317

Warning: in_array() expects parameter 2 to be array, boolean given in /home/nevewgha/public_html/wp-content/plugins/meta-data/meta-data.php on line 321

Warning: in_array() expects parameter 2 to be array, boolean given in /home/nevewgha/public_html/wp-content/plugins/meta-data/meta-data.php on line 322

Warning: in_array() expects parameter 2 to be array, boolean given in /home/nevewgha/public_html/wp-content/plugins/meta-data/meta-data.php on line 313

Warning: in_array() expects parameter 2 to be array, boolean given in /home/nevewgha/public_html/wp-content/plugins/meta-data/meta-data.php on line 317

Warning: in_array() expects parameter 2 to be array, boolean given in /home/nevewgha/public_html/wp-content/plugins/meta-data/meta-data.php on line 321

Warning: in_array() expects parameter 2 to be array, boolean given in /home/nevewgha/public_html/wp-content/plugins/meta-data/meta-data.php on line 322

Warning: in_array() expects parameter 2 to be array, boolean given in /home/nevewgha/public_html/wp-content/plugins/meta-data/meta-data.php on line 313

Warning: in_array() expects parameter 2 to be array, boolean given in /home/nevewgha/public_html/wp-content/plugins/meta-data/meta-data.php on line 317

Warning: in_array() expects parameter 2 to be array, boolean given in /home/nevewgha/public_html/wp-content/plugins/meta-data/meta-data.php on line 321

Warning: in_array() expects parameter 2 to be array, boolean given in /home/nevewgha/public_html/wp-content/plugins/meta-data/meta-data.php on line 322

Warning: in_array() expects parameter 2 to be array, boolean given in /home/nevewgha/public_html/wp-content/plugins/meta-data/meta-data.php on line 313

Warning: in_array() expects parameter 2 to be array, boolean given in /home/nevewgha/public_html/wp-content/plugins/meta-data/meta-data.php on line 317

Warning: in_array() expects parameter 2 to be array, boolean given in /home/nevewgha/public_html/wp-content/plugins/meta-data/meta-data.php on line 321

Warning: in_array() expects parameter 2 to be array, boolean given in /home/nevewgha/public_html/wp-content/plugins/meta-data/meta-data.php on line 322

Warning: in_array() expects parameter 2 to be array, boolean given in /home/nevewgha/public_html/wp-content/plugins/meta-data/meta-data.php on line 313

Warning: in_array() expects parameter 2 to be array, boolean given in /home/nevewgha/public_html/wp-content/plugins/meta-data/meta-data.php on line 317

Warning: in_array() expects parameter 2 to be array, boolean given in /home/nevewgha/public_html/wp-content/plugins/meta-data/meta-data.php on line 321

Warning: in_array() expects parameter 2 to be array, boolean given in /home/nevewgha/public_html/wp-content/plugins/meta-data/meta-data.php on line 322

Warning: in_array() expects parameter 2 to be array, boolean given in /home/nevewgha/public_html/wp-content/plugins/meta-data/meta-data.php on line 313

Warning: in_array() expects parameter 2 to be array, boolean given in /home/nevewgha/public_html/wp-content/plugins/meta-data/meta-data.php on line 317

Warning: in_array() expects parameter 2 to be array, boolean given in /home/nevewgha/public_html/wp-content/plugins/meta-data/meta-data.php on line 321

Warning: in_array() expects parameter 2 to be array, boolean given in /home/nevewgha/public_html/wp-content/plugins/meta-data/meta-data.php on line 322

Warning: in_array() expects parameter 2 to be array, boolean given in /home/nevewgha/public_html/wp-content/plugins/meta-data/meta-data.php on line 313

Warning: in_array() expects parameter 2 to be array, boolean given in /home/nevewgha/public_html/wp-content/plugins/meta-data/meta-data.php on line 317

Warning: in_array() expects parameter 2 to be array, boolean given in /home/nevewgha/public_html/wp-content/plugins/meta-data/meta-data.php on line 321

Warning: in_array() expects parameter 2 to be array, boolean given in /home/nevewgha/public_html/wp-content/plugins/meta-data/meta-data.php on line 322

Warning: in_array() expects parameter 2 to be array, boolean given in /home/nevewgha/public_html/wp-content/plugins/meta-data/meta-data.php on line 313

Warning: in_array() expects parameter 2 to be array, boolean given in /home/nevewgha/public_html/wp-content/plugins/meta-data/meta-data.php on line 317

Warning: in_array() expects parameter 2 to be array, boolean given in /home/nevewgha/public_html/wp-content/plugins/meta-data/meta-data.php on line 321

Warning: in_array() expects parameter 2 to be array, boolean given in /home/nevewgha/public_html/wp-content/plugins/meta-data/meta-data.php on line 322

Warning: in_array() expects parameter 2 to be array, boolean given in /home/nevewgha/public_html/wp-content/plugins/meta-data/meta-data.php on line 313

Warning: in_array() expects parameter 2 to be array, boolean given in /home/nevewgha/public_html/wp-content/plugins/meta-data/meta-data.php on line 317

Warning: in_array() expects parameter 2 to be array, boolean given in /home/nevewgha/public_html/wp-content/plugins/meta-data/meta-data.php on line 321

Warning: in_array() expects parameter 2 to be array, boolean given in /home/nevewgha/public_html/wp-content/plugins/meta-data/meta-data.php on line 322

Warning: in_array() expects parameter 2 to be array, boolean given in /home/nevewgha/public_html/wp-content/plugins/meta-data/meta-data.php on line 313

Warning: in_array() expects parameter 2 to be array, boolean given in /home/nevewgha/public_html/wp-content/plugins/meta-data/meta-data.php on line 317

Warning: in_array() expects parameter 2 to be array, boolean given in /home/nevewgha/public_html/wp-content/plugins/meta-data/meta-data.php on line 321

Warning: in_array() expects parameter 2 to be array, boolean given in /home/nevewgha/public_html/wp-content/plugins/meta-data/meta-data.php on line 322

Warning: in_array() expects parameter 2 to be array, boolean given in /home/nevewgha/public_html/wp-content/plugins/meta-data/meta-data.php on line 313

Warning: in_array() expects parameter 2 to be array, boolean given in /home/nevewgha/public_html/wp-content/plugins/meta-data/meta-data.php on line 317

Warning: in_array() expects parameter 2 to be array, boolean given in /home/nevewgha/public_html/wp-content/plugins/meta-data/meta-data.php on line 321

Warning: in_array() expects parameter 2 to be array, boolean given in /home/nevewgha/public_html/wp-content/plugins/meta-data/meta-data.php on line 322

Warning: in_array() expects parameter 2 to be array, boolean given in /home/nevewgha/public_html/wp-content/plugins/meta-data/meta-data.php on line 313

Warning: in_array() expects parameter 2 to be array, boolean given in /home/nevewgha/public_html/wp-content/plugins/meta-data/meta-data.php on line 317

Warning: in_array() expects parameter 2 to be array, boolean given in /home/nevewgha/public_html/wp-content/plugins/meta-data/meta-data.php on line 321

Warning: in_array() expects parameter 2 to be array, boolean given in /home/nevewgha/public_html/wp-content/plugins/meta-data/meta-data.php on line 322

Warning: in_array() expects parameter 2 to be array, boolean given in /home/nevewgha/public_html/wp-content/plugins/meta-data/meta-data.php on line 313

Warning: in_array() expects parameter 2 to be array, boolean given in /home/nevewgha/public_html/wp-content/plugins/meta-data/meta-data.php on line 317

Warning: in_array() expects parameter 2 to be array, boolean given in /home/nevewgha/public_html/wp-content/plugins/meta-data/meta-data.php on line 321

Warning: in_array() expects parameter 2 to be array, boolean given in /home/nevewgha/public_html/wp-content/plugins/meta-data/meta-data.php on line 322

Warning: in_array() expects parameter 2 to be array, boolean given in /home/nevewgha/public_html/wp-content/plugins/meta-data/meta-data.php on line 313

Warning: in_array() expects parameter 2 to be array, boolean given in /home/nevewgha/public_html/wp-content/plugins/meta-data/meta-data.php on line 317

Warning: in_array() expects parameter 2 to be array, boolean given in /home/nevewgha/public_html/wp-content/plugins/meta-data/meta-data.php on line 321

Warning: in_array() expects parameter 2 to be array, boolean given in /home/nevewgha/public_html/wp-content/plugins/meta-data/meta-data.php on line 322

Warning: in_array() expects parameter 2 to be array, boolean given in /home/nevewgha/public_html/wp-content/plugins/meta-data/meta-data.php on line 313

Warning: in_array() expects parameter 2 to be array, boolean given in /home/nevewgha/public_html/wp-content/plugins/meta-data/meta-data.php on line 317

Warning: in_array() expects parameter 2 to be array, boolean given in /home/nevewgha/public_html/wp-content/plugins/meta-data/meta-data.php on line 321

Warning: in_array() expects parameter 2 to be array, boolean given in /home/nevewgha/public_html/wp-content/plugins/meta-data/meta-data.php on line 322

Warning: in_array() expects parameter 2 to be array, boolean given in /home/nevewgha/public_html/wp-content/plugins/meta-data/meta-data.php on line 313

Warning: in_array() expects parameter 2 to be array, boolean given in /home/nevewgha/public_html/wp-content/plugins/meta-data/meta-data.php on line 317

Warning: in_array() expects parameter 2 to be array, boolean given in /home/nevewgha/public_html/wp-content/plugins/meta-data/meta-data.php on line 321

Warning: in_array() expects parameter 2 to be array, boolean given in /home/nevewgha/public_html/wp-content/plugins/meta-data/meta-data.php on line 322

Warning: in_array() expects parameter 2 to be array, boolean given in /home/nevewgha/public_html/wp-content/plugins/meta-data/meta-data.php on line 313

Warning: in_array() expects parameter 2 to be array, boolean given in /home/nevewgha/public_html/wp-content/plugins/meta-data/meta-data.php on line 317

Warning: in_array() expects parameter 2 to be array, boolean given in /home/nevewgha/public_html/wp-content/plugins/meta-data/meta-data.php on line 321

Warning: in_array() expects parameter 2 to be array, boolean given in /home/nevewgha/public_html/wp-content/plugins/meta-data/meta-data.php on line 322

Warning: in_array() expects parameter 2 to be array, boolean given in /home/nevewgha/public_html/wp-content/plugins/meta-data/meta-data.php on line 313

Warning: in_array() expects parameter 2 to be array, boolean given in /home/nevewgha/public_html/wp-content/plugins/meta-data/meta-data.php on line 317

Warning: in_array() expects parameter 2 to be array, boolean given in /home/nevewgha/public_html/wp-content/plugins/meta-data/meta-data.php on line 321

Warning: in_array() expects parameter 2 to be array, boolean given in /home/nevewgha/public_html/wp-content/plugins/meta-data/meta-data.php on line 322

Warning: in_array() expects parameter 2 to be array, boolean given in /home/nevewgha/public_html/wp-content/plugins/meta-data/meta-data.php on line 313

Warning: in_array() expects parameter 2 to be array, boolean given in /home/nevewgha/public_html/wp-content/plugins/meta-data/meta-data.php on line 317

Warning: in_array() expects parameter 2 to be array, boolean given in /home/nevewgha/public_html/wp-content/plugins/meta-data/meta-data.php on line 321

Warning: in_array() expects parameter 2 to be array, boolean given in /home/nevewgha/public_html/wp-content/plugins/meta-data/meta-data.php on line 322

Warning: in_array() expects parameter 2 to be array, boolean given in /home/nevewgha/public_html/wp-content/plugins/meta-data/meta-data.php on line 313

Warning: in_array() expects parameter 2 to be array, boolean given in /home/nevewgha/public_html/wp-content/plugins/meta-data/meta-data.php on line 317

Warning: in_array() expects parameter 2 to be array, boolean given in /home/nevewgha/public_html/wp-content/plugins/meta-data/meta-data.php on line 321

Warning: in_array() expects parameter 2 to be array, boolean given in /home/nevewgha/public_html/wp-content/plugins/meta-data/meta-data.php on line 322

Warning: in_array() expects parameter 2 to be array, boolean given in /home/nevewgha/public_html/wp-content/plugins/meta-data/meta-data.php on line 313

Warning: in_array() expects parameter 2 to be array, boolean given in /home/nevewgha/public_html/wp-content/plugins/meta-data/meta-data.php on line 317

Warning: in_array() expects parameter 2 to be array, boolean given in /home/nevewgha/public_html/wp-content/plugins/meta-data/meta-data.php on line 321

Warning: in_array() expects parameter 2 to be array, boolean given in /home/nevewgha/public_html/wp-content/plugins/meta-data/meta-data.php on line 322

Warning: in_array() expects parameter 2 to be array, boolean given in /home/nevewgha/public_html/wp-content/plugins/meta-data/meta-data.php on line 313

Warning: in_array() expects parameter 2 to be array, boolean given in /home/nevewgha/public_html/wp-content/plugins/meta-data/meta-data.php on line 317

Warning: in_array() expects parameter 2 to be array, boolean given in /home/nevewgha/public_html/wp-content/plugins/meta-data/meta-data.php on line 321

Warning: in_array() expects parameter 2 to be array, boolean given in /home/nevewgha/public_html/wp-content/plugins/meta-data/meta-data.php on line 322

Warning: in_array() expects parameter 2 to be array, boolean given in /home/nevewgha/public_html/wp-content/plugins/meta-data/meta-data.php on line 313

Warning: in_array() expects parameter 2 to be array, boolean given in /home/nevewgha/public_html/wp-content/plugins/meta-data/meta-data.php on line 317

Warning: in_array() expects parameter 2 to be array, boolean given in /home/nevewgha/public_html/wp-content/plugins/meta-data/meta-data.php on line 321

Warning: in_array() expects parameter 2 to be array, boolean given in /home/nevewgha/public_html/wp-content/plugins/meta-data/meta-data.php on line 322

Warning: in_array() expects parameter 2 to be array, boolean given in /home/nevewgha/public_html/wp-content/plugins/meta-data/meta-data.php on line 313

Warning: in_array() expects parameter 2 to be array, boolean given in /home/nevewgha/public_html/wp-content/plugins/meta-data/meta-data.php on line 317

Warning: in_array() expects parameter 2 to be array, boolean given in /home/nevewgha/public_html/wp-content/plugins/meta-data/meta-data.php on line 321

Warning: in_array() expects parameter 2 to be array, boolean given in /home/nevewgha/public_html/wp-content/plugins/meta-data/meta-data.php on line 322

Warning: in_array() expects parameter 2 to be array, boolean given in /home/nevewgha/public_html/wp-content/plugins/meta-data/meta-data.php on line 313

Warning: in_array() expects parameter 2 to be array, boolean given in /home/nevewgha/public_html/wp-content/plugins/meta-data/meta-data.php on line 317

Warning: in_array() expects parameter 2 to be array, boolean given in /home/nevewgha/public_html/wp-content/plugins/meta-data/meta-data.php on line 321

Warning: in_array() expects parameter 2 to be array, boolean given in /home/nevewgha/public_html/wp-content/plugins/meta-data/meta-data.php on line 322

Warning: in_array() expects parameter 2 to be array, boolean given in /home/nevewgha/public_html/wp-content/plugins/meta-data/meta-data.php on line 313

Warning: in_array() expects parameter 2 to be array, boolean given in /home/nevewgha/public_html/wp-content/plugins/meta-data/meta-data.php on line 317

Warning: in_array() expects parameter 2 to be array, boolean given in /home/nevewgha/public_html/wp-content/plugins/meta-data/meta-data.php on line 321

Warning: in_array() expects parameter 2 to be array, boolean given in /home/nevewgha/public_html/wp-content/plugins/meta-data/meta-data.php on line 322

Warning: in_array() expects parameter 2 to be array, boolean given in /home/nevewgha/public_html/wp-content/plugins/meta-data/meta-data.php on line 313

Warning: in_array() expects parameter 2 to be array, boolean given in /home/nevewgha/public_html/wp-content/plugins/meta-data/meta-data.php on line 317

Warning: in_array() expects parameter 2 to be array, boolean given in /home/nevewgha/public_html/wp-content/plugins/meta-data/meta-data.php on line 321

Warning: in_array() expects parameter 2 to be array, boolean given in /home/nevewgha/public_html/wp-content/plugins/meta-data/meta-data.php on line 322

Warning: in_array() expects parameter 2 to be array, boolean given in /home/nevewgha/public_html/wp-content/plugins/meta-data/meta-data.php on line 313

Warning: in_array() expects parameter 2 to be array, boolean given in /home/nevewgha/public_html/wp-content/plugins/meta-data/meta-data.php on line 317

Warning: in_array() expects parameter 2 to be array, boolean given in /home/nevewgha/public_html/wp-content/plugins/meta-data/meta-data.php on line 321

Warning: in_array() expects parameter 2 to be array, boolean given in /home/nevewgha/public_html/wp-content/plugins/meta-data/meta-data.php on line 322

Warning: in_array() expects parameter 2 to be array, boolean given in /home/nevewgha/public_html/wp-content/plugins/meta-data/meta-data.php on line 313

Warning: in_array() expects parameter 2 to be array, boolean given in /home/nevewgha/public_html/wp-content/plugins/meta-data/meta-data.php on line 317

Warning: in_array() expects parameter 2 to be array, boolean given in /home/nevewgha/public_html/wp-content/plugins/meta-data/meta-data.php on line 321

Warning: in_array() expects parameter 2 to be array, boolean given in /home/nevewgha/public_html/wp-content/plugins/meta-data/meta-data.php on line 322

Warning: in_array() expects parameter 2 to be array, boolean given in /home/nevewgha/public_html/wp-content/plugins/meta-data/meta-data.php on line 313

Warning: in_array() expects parameter 2 to be array, boolean given in /home/nevewgha/public_html/wp-content/plugins/meta-data/meta-data.php on line 317

Warning: in_array() expects parameter 2 to be array, boolean given in /home/nevewgha/public_html/wp-content/plugins/meta-data/meta-data.php on line 321

Warning: in_array() expects parameter 2 to be array, boolean given in /home/nevewgha/public_html/wp-content/plugins/meta-data/meta-data.php on line 322

Warning: in_array() expects parameter 2 to be array, boolean given in /home/nevewgha/public_html/wp-content/plugins/meta-data/meta-data.php on line 313

Warning: in_array() expects parameter 2 to be array, boolean given in /home/nevewgha/public_html/wp-content/plugins/meta-data/meta-data.php on line 317

Warning: in_array() expects parameter 2 to be array, boolean given in /home/nevewgha/public_html/wp-content/plugins/meta-data/meta-data.php on line 321

Warning: in_array() expects parameter 2 to be array, boolean given in /home/nevewgha/public_html/wp-content/plugins/meta-data/meta-data.php on line 322

Warning: in_array() expects parameter 2 to be array, boolean given in /home/nevewgha/public_html/wp-content/plugins/meta-data/meta-data.php on line 313

Warning: in_array() expects parameter 2 to be array, boolean given in /home/nevewgha/public_html/wp-content/plugins/meta-data/meta-data.php on line 317

Warning: in_array() expects parameter 2 to be array, boolean given in /home/nevewgha/public_html/wp-content/plugins/meta-data/meta-data.php on line 321

Warning: in_array() expects parameter 2 to be array, boolean given in /home/nevewgha/public_html/wp-content/plugins/meta-data/meta-data.php on line 322

Warning: in_array() expects parameter 2 to be array, boolean given in /home/nevewgha/public_html/wp-content/plugins/meta-data/meta-data.php on line 313

Warning: in_array() expects parameter 2 to be array, boolean given in /home/nevewgha/public_html/wp-content/plugins/meta-data/meta-data.php on line 317

Warning: in_array() expects parameter 2 to be array, boolean given in /home/nevewgha/public_html/wp-content/plugins/meta-data/meta-data.php on line 321

Warning: in_array() expects parameter 2 to be array, boolean given in /home/nevewgha/public_html/wp-content/plugins/meta-data/meta-data.php on line 322

Warning: in_array() expects parameter 2 to be array, boolean given in /home/nevewgha/public_html/wp-content/plugins/meta-data/meta-data.php on line 313

Warning: in_array() expects parameter 2 to be array, boolean given in /home/nevewgha/public_html/wp-content/plugins/meta-data/meta-data.php on line 317

Warning: in_array() expects parameter 2 to be array, boolean given in /home/nevewgha/public_html/wp-content/plugins/meta-data/meta-data.php on line 321

Warning: in_array() expects parameter 2 to be array, boolean given in /home/nevewgha/public_html/wp-content/plugins/meta-data/meta-data.php on line 322

Warning: in_array() expects parameter 2 to be array, boolean given in /home/nevewgha/public_html/wp-content/plugins/meta-data/meta-data.php on line 313

Warning: in_array() expects parameter 2 to be array, boolean given in /home/nevewgha/public_html/wp-content/plugins/meta-data/meta-data.php on line 317

Warning: in_array() expects parameter 2 to be array, boolean given in /home/nevewgha/public_html/wp-content/plugins/meta-data/meta-data.php on line 321

Warning: in_array() expects parameter 2 to be array, boolean given in /home/nevewgha/public_html/wp-content/plugins/meta-data/meta-data.php on line 322

Warning: in_array() expects parameter 2 to be array, boolean given in /home/nevewgha/public_html/wp-content/plugins/meta-data/meta-data.php on line 313

Warning: in_array() expects parameter 2 to be array, boolean given in /home/nevewgha/public_html/wp-content/plugins/meta-data/meta-data.php on line 317

Warning: in_array() expects parameter 2 to be array, boolean given in /home/nevewgha/public_html/wp-content/plugins/meta-data/meta-data.php on line 321

Warning: in_array() expects parameter 2 to be array, boolean given in /home/nevewgha/public_html/wp-content/plugins/meta-data/meta-data.php on line 322

Warning: in_array() expects parameter 2 to be array, boolean given in /home/nevewgha/public_html/wp-content/plugins/meta-data/meta-data.php on line 313

Warning: in_array() expects parameter 2 to be array, boolean given in /home/nevewgha/public_html/wp-content/plugins/meta-data/meta-data.php on line 317

Warning: in_array() expects parameter 2 to be array, boolean given in /home/nevewgha/public_html/wp-content/plugins/meta-data/meta-data.php on line 321

Warning: in_array() expects parameter 2 to be array, boolean given in /home/nevewgha/public_html/wp-content/plugins/meta-data/meta-data.php on line 322

Warning: in_array() expects parameter 2 to be array, boolean given in /home/nevewgha/public_html/wp-content/plugins/meta-data/meta-data.php on line 313

Warning: in_array() expects parameter 2 to be array, boolean given in /home/nevewgha/public_html/wp-content/plugins/meta-data/meta-data.php on line 317

Warning: in_array() expects parameter 2 to be array, boolean given in /home/nevewgha/public_html/wp-content/plugins/meta-data/meta-data.php on line 321

Warning: in_array() expects parameter 2 to be array, boolean given in /home/nevewgha/public_html/wp-content/plugins/meta-data/meta-data.php on line 322

Warning: in_array() expects parameter 2 to be array, boolean given in /home/nevewgha/public_html/wp-content/plugins/meta-data/meta-data.php on line 313

Warning: in_array() expects parameter 2 to be array, boolean given in /home/nevewgha/public_html/wp-content/plugins/meta-data/meta-data.php on line 317

Warning: in_array() expects parameter 2 to be array, boolean given in /home/nevewgha/public_html/wp-content/plugins/meta-data/meta-data.php on line 321

Warning: in_array() expects parameter 2 to be array, boolean given in /home/nevewgha/public_html/wp-content/plugins/meta-data/meta-data.php on line 322

Warning: in_array() expects parameter 2 to be array, boolean given in /home/nevewgha/public_html/wp-content/plugins/meta-data/meta-data.php on line 313

Warning: in_array() expects parameter 2 to be array, boolean given in /home/nevewgha/public_html/wp-content/plugins/meta-data/meta-data.php on line 317

Warning: in_array() expects parameter 2 to be array, boolean given in /home/nevewgha/public_html/wp-content/plugins/meta-data/meta-data.php on line 321

Warning: in_array() expects parameter 2 to be array, boolean given in /home/nevewgha/public_html/wp-content/plugins/meta-data/meta-data.php on line 322

Warning: in_array() expects parameter 2 to be array, boolean given in /home/nevewgha/public_html/wp-content/plugins/meta-data/meta-data.php on line 313

Warning: in_array() expects parameter 2 to be array, boolean given in /home/nevewgha/public_html/wp-content/plugins/meta-data/meta-data.php on line 317

Warning: in_array() expects parameter 2 to be array, boolean given in /home/nevewgha/public_html/wp-content/plugins/meta-data/meta-data.php on line 321

Warning: in_array() expects parameter 2 to be array, boolean given in /home/nevewgha/public_html/wp-content/plugins/meta-data/meta-data.php on line 322

Warning: in_array() expects parameter 2 to be array, boolean given in /home/nevewgha/public_html/wp-content/plugins/meta-data/meta-data.php on line 313

Warning: in_array() expects parameter 2 to be array, boolean given in /home/nevewgha/public_html/wp-content/plugins/meta-data/meta-data.php on line 317

Warning: in_array() expects parameter 2 to be array, boolean given in /home/nevewgha/public_html/wp-content/plugins/meta-data/meta-data.php on line 321

Warning: in_array() expects parameter 2 to be array, boolean given in /home/nevewgha/public_html/wp-content/plugins/meta-data/meta-data.php on line 322

Warning: in_array() expects parameter 2 to be array, boolean given in /home/nevewgha/public_html/wp-content/plugins/meta-data/meta-data.php on line 313

Warning: in_array() expects parameter 2 to be array, boolean given in /home/nevewgha/public_html/wp-content/plugins/meta-data/meta-data.php on line 317

Warning: in_array() expects parameter 2 to be array, boolean given in /home/nevewgha/public_html/wp-content/plugins/meta-data/meta-data.php on line 321

Warning: in_array() expects parameter 2 to be array, boolean given in /home/nevewgha/public_html/wp-content/plugins/meta-data/meta-data.php on line 322

Warning: in_array() expects parameter 2 to be array, boolean given in /home/nevewgha/public_html/wp-content/plugins/meta-data/meta-data.php on line 313

Warning: in_array() expects parameter 2 to be array, boolean given in /home/nevewgha/public_html/wp-content/plugins/meta-data/meta-data.php on line 317

Warning: in_array() expects parameter 2 to be array, boolean given in /home/nevewgha/public_html/wp-content/plugins/meta-data/meta-data.php on line 321

Warning: in_array() expects parameter 2 to be array, boolean given in /home/nevewgha/public_html/wp-content/plugins/meta-data/meta-data.php on line 322

Warning: in_array() expects parameter 2 to be array, boolean given in /home/nevewgha/public_html/wp-content/plugins/meta-data/meta-data.php on line 313

Warning: in_array() expects parameter 2 to be array, boolean given in /home/nevewgha/public_html/wp-content/plugins/meta-data/meta-data.php on line 317

Warning: in_array() expects parameter 2 to be array, boolean given in /home/nevewgha/public_html/wp-content/plugins/meta-data/meta-data.php on line 321

Warning: in_array() expects parameter 2 to be array, boolean given in /home/nevewgha/public_html/wp-content/plugins/meta-data/meta-data.php on line 322

Warning: in_array() expects parameter 2 to be array, boolean given in /home/nevewgha/public_html/wp-content/plugins/meta-data/meta-data.php on line 313

Warning: in_array() expects parameter 2 to be array, boolean given in /home/nevewgha/public_html/wp-content/plugins/meta-data/meta-data.php on line 317

Warning: in_array() expects parameter 2 to be array, boolean given in /home/nevewgha/public_html/wp-content/plugins/meta-data/meta-data.php on line 321

Warning: in_array() expects parameter 2 to be array, boolean given in /home/nevewgha/public_html/wp-content/plugins/meta-data/meta-data.php on line 322

Warning: in_array() expects parameter 2 to be array, boolean given in /home/nevewgha/public_html/wp-content/plugins/meta-data/meta-data.php on line 313

Warning: in_array() expects parameter 2 to be array, boolean given in /home/nevewgha/public_html/wp-content/plugins/meta-data/meta-data.php on line 317

Warning: in_array() expects parameter 2 to be array, boolean given in /home/nevewgha/public_html/wp-content/plugins/meta-data/meta-data.php on line 321

Warning: in_array() expects parameter 2 to be array, boolean given in /home/nevewgha/public_html/wp-content/plugins/meta-data/meta-data.php on line 322

Warning: in_array() expects parameter 2 to be array, boolean given in /home/nevewgha/public_html/wp-content/plugins/meta-data/meta-data.php on line 313

Warning: in_array() expects parameter 2 to be array, boolean given in /home/nevewgha/public_html/wp-content/plugins/meta-data/meta-data.php on line 317

Warning: in_array() expects parameter 2 to be array, boolean given in /home/nevewgha/public_html/wp-content/plugins/meta-data/meta-data.php on line 321

Warning: in_array() expects parameter 2 to be array, boolean given in /home/nevewgha/public_html/wp-content/plugins/meta-data/meta-data.php on line 322

Warning: in_array() expects parameter 2 to be array, boolean given in /home/nevewgha/public_html/wp-content/plugins/meta-data/meta-data.php on line 313

Warning: in_array() expects parameter 2 to be array, boolean given in /home/nevewgha/public_html/wp-content/plugins/meta-data/meta-data.php on line 317

Warning: in_array() expects parameter 2 to be array, boolean given in /home/nevewgha/public_html/wp-content/plugins/meta-data/meta-data.php on line 321

Warning: in_array() expects parameter 2 to be array, boolean given in /home/nevewgha/public_html/wp-content/plugins/meta-data/meta-data.php on line 322

Warning: in_array() expects parameter 2 to be array, boolean given in /home/nevewgha/public_html/wp-content/plugins/meta-data/meta-data.php on line 313

Warning: in_array() expects parameter 2 to be array, boolean given in /home/nevewgha/public_html/wp-content/plugins/meta-data/meta-data.php on line 317

Warning: in_array() expects parameter 2 to be array, boolean given in /home/nevewgha/public_html/wp-content/plugins/meta-data/meta-data.php on line 321

Warning: in_array() expects parameter 2 to be array, boolean given in /home/nevewgha/public_html/wp-content/plugins/meta-data/meta-data.php on line 322

Warning: in_array() expects parameter 2 to be array, boolean given in /home/nevewgha/public_html/wp-content/plugins/meta-data/meta-data.php on line 313

Warning: in_array() expects parameter 2 to be array, boolean given in /home/nevewgha/public_html/wp-content/plugins/meta-data/meta-data.php on line 317

Warning: in_array() expects parameter 2 to be array, boolean given in /home/nevewgha/public_html/wp-content/plugins/meta-data/meta-data.php on line 321

Warning: in_array() expects parameter 2 to be array, boolean given in /home/nevewgha/public_html/wp-content/plugins/meta-data/meta-data.php on line 322

Warning: in_array() expects parameter 2 to be array, boolean given in /home/nevewgha/public_html/wp-content/plugins/meta-data/meta-data.php on line 313

Warning: in_array() expects parameter 2 to be array, boolean given in /home/nevewgha/public_html/wp-content/plugins/meta-data/meta-data.php on line 317

Warning: in_array() expects parameter 2 to be array, boolean given in /home/nevewgha/public_html/wp-content/plugins/meta-data/meta-data.php on line 321

Warning: in_array() expects parameter 2 to be array, boolean given in /home/nevewgha/public_html/wp-content/plugins/meta-data/meta-data.php on line 322

Warning: in_array() expects parameter 2 to be array, boolean given in /home/nevewgha/public_html/wp-content/plugins/meta-data/meta-data.php on line 313

Warning: in_array() expects parameter 2 to be array, boolean given in /home/nevewgha/public_html/wp-content/plugins/meta-data/meta-data.php on line 317

Warning: in_array() expects parameter 2 to be array, boolean given in /home/nevewgha/public_html/wp-content/plugins/meta-data/meta-data.php on line 321

Warning: in_array() expects parameter 2 to be array, boolean given in /home/nevewgha/public_html/wp-content/plugins/meta-data/meta-data.php on line 322

Warning: in_array() expects parameter 2 to be array, boolean given in /home/nevewgha/public_html/wp-content/plugins/meta-data/meta-data.php on line 313

Warning: in_array() expects parameter 2 to be array, boolean given in /home/nevewgha/public_html/wp-content/plugins/meta-data/meta-data.php on line 317

Warning: in_array() expects parameter 2 to be array, boolean given in /home/nevewgha/public_html/wp-content/plugins/meta-data/meta-data.php on line 321

Warning: in_array() expects parameter 2 to be array, boolean given in /home/nevewgha/public_html/wp-content/plugins/meta-data/meta-data.php on line 322

Warning: in_array() expects parameter 2 to be array, boolean given in /home/nevewgha/public_html/wp-content/plugins/meta-data/meta-data.php on line 313

Warning: in_array() expects parameter 2 to be array, boolean given in /home/nevewgha/public_html/wp-content/plugins/meta-data/meta-data.php on line 317

Warning: in_array() expects parameter 2 to be array, boolean given in /home/nevewgha/public_html/wp-content/plugins/meta-data/meta-data.php on line 321

Warning: in_array() expects parameter 2 to be array, boolean given in /home/nevewgha/public_html/wp-content/plugins/meta-data/meta-data.php on line 322

Warning: in_array() expects parameter 2 to be array, boolean given in /home/nevewgha/public_html/wp-content/plugins/meta-data/meta-data.php on line 313

Warning: in_array() expects parameter 2 to be array, boolean given in /home/nevewgha/public_html/wp-content/plugins/meta-data/meta-data.php on line 317

Warning: in_array() expects parameter 2 to be array, boolean given in /home/nevewgha/public_html/wp-content/plugins/meta-data/meta-data.php on line 321

Warning: in_array() expects parameter 2 to be array, boolean given in /home/nevewgha/public_html/wp-content/plugins/meta-data/meta-data.php on line 322

Warning: in_array() expects parameter 2 to be array, boolean given in /home/nevewgha/public_html/wp-content/plugins/meta-data/meta-data.php on line 313

Warning: in_array() expects parameter 2 to be array, boolean given in /home/nevewgha/public_html/wp-content/plugins/meta-data/meta-data.php on line 317

Warning: in_array() expects parameter 2 to be array, boolean given in /home/nevewgha/public_html/wp-content/plugins/meta-data/meta-data.php on line 321

Warning: in_array() expects parameter 2 to be array, boolean given in /home/nevewgha/public_html/wp-content/plugins/meta-data/meta-data.php on line 322

Warning: in_array() expects parameter 2 to be array, boolean given in /home/nevewgha/public_html/wp-content/plugins/meta-data/meta-data.php on line 313

Warning: in_array() expects parameter 2 to be array, boolean given in /home/nevewgha/public_html/wp-content/plugins/meta-data/meta-data.php on line 317

Warning: in_array() expects parameter 2 to be array, boolean given in /home/nevewgha/public_html/wp-content/plugins/meta-data/meta-data.php on line 321

Warning: in_array() expects parameter 2 to be array, boolean given in /home/nevewgha/public_html/wp-content/plugins/meta-data/meta-data.php on line 322

Warning: in_array() expects parameter 2 to be array, boolean given in /home/nevewgha/public_html/wp-content/plugins/meta-data/meta-data.php on line 313

Warning: in_array() expects parameter 2 to be array, boolean given in /home/nevewgha/public_html/wp-content/plugins/meta-data/meta-data.php on line 317

Warning: in_array() expects parameter 2 to be array, boolean given in /home/nevewgha/public_html/wp-content/plugins/meta-data/meta-data.php on line 321

Warning: in_array() expects parameter 2 to be array, boolean given in /home/nevewgha/public_html/wp-content/plugins/meta-data/meta-data.php on line 322

Warning: in_array() expects parameter 2 to be array, boolean given in /home/nevewgha/public_html/wp-content/plugins/meta-data/meta-data.php on line 313

Warning: in_array() expects parameter 2 to be array, boolean given in /home/nevewgha/public_html/wp-content/plugins/meta-data/meta-data.php on line 317

Warning: in_array() expects parameter 2 to be array, boolean given in /home/nevewgha/public_html/wp-content/plugins/meta-data/meta-data.php on line 321

Warning: in_array() expects parameter 2 to be array, boolean given in /home/nevewgha/public_html/wp-content/plugins/meta-data/meta-data.php on line 322

Warning: in_array() expects parameter 2 to be array, boolean given in /home/nevewgha/public_html/wp-content/plugins/meta-data/meta-data.php on line 313

Warning: in_array() expects parameter 2 to be array, boolean given in /home/nevewgha/public_html/wp-content/plugins/meta-data/meta-data.php on line 317

Warning: in_array() expects parameter 2 to be array, boolean given in /home/nevewgha/public_html/wp-content/plugins/meta-data/meta-data.php on line 321

Warning: in_array() expects parameter 2 to be array, boolean given in /home/nevewgha/public_html/wp-content/plugins/meta-data/meta-data.php on line 322

Warning: in_array() expects parameter 2 to be array, boolean given in /home/nevewgha/public_html/wp-content/plugins/meta-data/meta-data.php on line 313

Warning: in_array() expects parameter 2 to be array, boolean given in /home/nevewgha/public_html/wp-content/plugins/meta-data/meta-data.php on line 317

Warning: in_array() expects parameter 2 to be array, boolean given in /home/nevewgha/public_html/wp-content/plugins/meta-data/meta-data.php on line 321

Warning: in_array() expects parameter 2 to be array, boolean given in /home/nevewgha/public_html/wp-content/plugins/meta-data/meta-data.php on line 322

Warning: in_array() expects parameter 2 to be array, boolean given in /home/nevewgha/public_html/wp-content/plugins/meta-data/meta-data.php on line 313

Warning: in_array() expects parameter 2 to be array, boolean given in /home/nevewgha/public_html/wp-content/plugins/meta-data/meta-data.php on line 317

Warning: in_array() expects parameter 2 to be array, boolean given in /home/nevewgha/public_html/wp-content/plugins/meta-data/meta-data.php on line 321

Warning: in_array() expects parameter 2 to be array, boolean given in /home/nevewgha/public_html/wp-content/plugins/meta-data/meta-data.php on line 322

Warning: in_array() expects parameter 2 to be array, boolean given in /home/nevewgha/public_html/wp-content/plugins/meta-data/meta-data.php on line 313

Warning: in_array() expects parameter 2 to be array, boolean given in /home/nevewgha/public_html/wp-content/plugins/meta-data/meta-data.php on line 317

Warning: in_array() expects parameter 2 to be array, boolean given in /home/nevewgha/public_html/wp-content/plugins/meta-data/meta-data.php on line 321

Warning: in_array() expects parameter 2 to be array, boolean given in /home/nevewgha/public_html/wp-content/plugins/meta-data/meta-data.php on line 322

Warning: in_array() expects parameter 2 to be array, boolean given in /home/nevewgha/public_html/wp-content/plugins/meta-data/meta-data.php on line 313

Warning: in_array() expects parameter 2 to be array, boolean given in /home/nevewgha/public_html/wp-content/plugins/meta-data/meta-data.php on line 317

Warning: in_array() expects parameter 2 to be array, boolean given in /home/nevewgha/public_html/wp-content/plugins/meta-data/meta-data.php on line 321

Warning: in_array() expects parameter 2 to be array, boolean given in /home/nevewgha/public_html/wp-content/plugins/meta-data/meta-data.php on line 322

Warning: in_array() expects parameter 2 to be array, boolean given in /home/nevewgha/public_html/wp-content/plugins/meta-data/meta-data.php on line 313

Warning: in_array() expects parameter 2 to be array, boolean given in /home/nevewgha/public_html/wp-content/plugins/meta-data/meta-data.php on line 317

Warning: in_array() expects parameter 2 to be array, boolean given in /home/nevewgha/public_html/wp-content/plugins/meta-data/meta-data.php on line 321

Warning: in_array() expects parameter 2 to be array, boolean given in /home/nevewgha/public_html/wp-content/plugins/meta-data/meta-data.php on line 322

Warning: in_array() expects parameter 2 to be array, boolean given in /home/nevewgha/public_html/wp-content/plugins/meta-data/meta-data.php on line 313

Warning: in_array() expects parameter 2 to be array, boolean given in /home/nevewgha/public_html/wp-content/plugins/meta-data/meta-data.php on line 317

Warning: in_array() expects parameter 2 to be array, boolean given in /home/nevewgha/public_html/wp-content/plugins/meta-data/meta-data.php on line 321

Warning: in_array() expects parameter 2 to be array, boolean given in /home/nevewgha/public_html/wp-content/plugins/meta-data/meta-data.php on line 322

Warning: in_array() expects parameter 2 to be array, boolean given in /home/nevewgha/public_html/wp-content/plugins/meta-data/meta-data.php on line 313

Warning: in_array() expects parameter 2 to be array, boolean given in /home/nevewgha/public_html/wp-content/plugins/meta-data/meta-data.php on line 317

Warning: in_array() expects parameter 2 to be array, boolean given in /home/nevewgha/public_html/wp-content/plugins/meta-data/meta-data.php on line 321

Warning: in_array() expects parameter 2 to be array, boolean given in /home/nevewgha/public_html/wp-content/plugins/meta-data/meta-data.php on line 322

Warning: in_array() expects parameter 2 to be array, boolean given in /home/nevewgha/public_html/wp-content/plugins/meta-data/meta-data.php on line 313

Warning: in_array() expects parameter 2 to be array, boolean given in /home/nevewgha/public_html/wp-content/plugins/meta-data/meta-data.php on line 317

Warning: in_array() expects parameter 2 to be array, boolean given in /home/nevewgha/public_html/wp-content/plugins/meta-data/meta-data.php on line 321

Warning: in_array() expects parameter 2 to be array, boolean given in /home/nevewgha/public_html/wp-content/plugins/meta-data/meta-data.php on line 322

Warning: in_array() expects parameter 2 to be array, boolean given in /home/nevewgha/public_html/wp-content/plugins/meta-data/meta-data.php on line 313

Warning: in_array() expects parameter 2 to be array, boolean given in /home/nevewgha/public_html/wp-content/plugins/meta-data/meta-data.php on line 317

Warning: in_array() expects parameter 2 to be array, boolean given in /home/nevewgha/public_html/wp-content/plugins/meta-data/meta-data.php on line 321

Warning: in_array() expects parameter 2 to be array, boolean given in /home/nevewgha/public_html/wp-content/plugins/meta-data/meta-data.php on line 322

Warning: in_array() expects parameter 2 to be array, boolean given in /home/nevewgha/public_html/wp-content/plugins/meta-data/meta-data.php on line 313

Warning: in_array() expects parameter 2 to be array, boolean given in /home/nevewgha/public_html/wp-content/plugins/meta-data/meta-data.php on line 317

Warning: in_array() expects parameter 2 to be array, boolean given in /home/nevewgha/public_html/wp-content/plugins/meta-data/meta-data.php on line 321

Warning: in_array() expects parameter 2 to be array, boolean given in /home/nevewgha/public_html/wp-content/plugins/meta-data/meta-data.php on line 322

Warning: in_array() expects parameter 2 to be array, boolean given in /home/nevewgha/public_html/wp-content/plugins/meta-data/meta-data.php on line 313

Warning: in_array() expects parameter 2 to be array, boolean given in /home/nevewgha/public_html/wp-content/plugins/meta-data/meta-data.php on line 317

Warning: in_array() expects parameter 2 to be array, boolean given in /home/nevewgha/public_html/wp-content/plugins/meta-data/meta-data.php on line 321

Warning: in_array() expects parameter 2 to be array, boolean given in /home/nevewgha/public_html/wp-content/plugins/meta-data/meta-data.php on line 322

Warning: in_array() expects parameter 2 to be array, boolean given in /home/nevewgha/public_html/wp-content/plugins/meta-data/meta-data.php on line 313

Warning: in_array() expects parameter 2 to be array, boolean given in /home/nevewgha/public_html/wp-content/plugins/meta-data/meta-data.php on line 317

Warning: in_array() expects parameter 2 to be array, boolean given in /home/nevewgha/public_html/wp-content/plugins/meta-data/meta-data.php on line 321

Warning: in_array() expects parameter 2 to be array, boolean given in /home/nevewgha/public_html/wp-content/plugins/meta-data/meta-data.php on line 322

Warning: in_array() expects parameter 2 to be array, boolean given in /home/nevewgha/public_html/wp-content/plugins/meta-data/meta-data.php on line 313

Warning: in_array() expects parameter 2 to be array, boolean given in /home/nevewgha/public_html/wp-content/plugins/meta-data/meta-data.php on line 317

Warning: in_array() expects parameter 2 to be array, boolean given in /home/nevewgha/public_html/wp-content/plugins/meta-data/meta-data.php on line 321

Warning: in_array() expects parameter 2 to be array, boolean given in /home/nevewgha/public_html/wp-content/plugins/meta-data/meta-data.php on line 322

Warning: in_array() expects parameter 2 to be array, boolean given in /home/nevewgha/public_html/wp-content/plugins/meta-data/meta-data.php on line 313

Warning: in_array() expects parameter 2 to be array, boolean given in /home/nevewgha/public_html/wp-content/plugins/meta-data/meta-data.php on line 317

Warning: in_array() expects parameter 2 to be array, boolean given in /home/nevewgha/public_html/wp-content/plugins/meta-data/meta-data.php on line 321

Warning: in_array() expects parameter 2 to be array, boolean given in /home/nevewgha/public_html/wp-content/plugins/meta-data/meta-data.php on line 322

Warning: in_array() expects parameter 2 to be array, boolean given in /home/nevewgha/public_html/wp-content/plugins/meta-data/meta-data.php on line 313

Warning: in_array() expects parameter 2 to be array, boolean given in /home/nevewgha/public_html/wp-content/plugins/meta-data/meta-data.php on line 317

Warning: in_array() expects parameter 2 to be array, boolean given in /home/nevewgha/public_html/wp-content/plugins/meta-data/meta-data.php on line 321

Warning: in_array() expects parameter 2 to be array, boolean given in /home/nevewgha/public_html/wp-content/plugins/meta-data/meta-data.php on line 322

Warning: in_array() expects parameter 2 to be array, boolean given in /home/nevewgha/public_html/wp-content/plugins/meta-data/meta-data.php on line 313

Warning: in_array() expects parameter 2 to be array, boolean given in /home/nevewgha/public_html/wp-content/plugins/meta-data/meta-data.php on line 317

Warning: in_array() expects parameter 2 to be array, boolean given in /home/nevewgha/public_html/wp-content/plugins/meta-data/meta-data.php on line 321

Warning: in_array() expects parameter 2 to be array, boolean given in /home/nevewgha/public_html/wp-content/plugins/meta-data/meta-data.php on line 322

Warning: in_array() expects parameter 2 to be array, boolean given in /home/nevewgha/public_html/wp-content/plugins/meta-data/meta-data.php on line 313

Warning: in_array() expects parameter 2 to be array, boolean given in /home/nevewgha/public_html/wp-content/plugins/meta-data/meta-data.php on line 317

Warning: in_array() expects parameter 2 to be array, boolean given in /home/nevewgha/public_html/wp-content/plugins/meta-data/meta-data.php on line 321

Warning: in_array() expects parameter 2 to be array, boolean given in /home/nevewgha/public_html/wp-content/plugins/meta-data/meta-data.php on line 322

Warning: in_array() expects parameter 2 to be array, boolean given in /home/nevewgha/public_html/wp-content/plugins/meta-data/meta-data.php on line 313

Warning: in_array() expects parameter 2 to be array, boolean given in /home/nevewgha/public_html/wp-content/plugins/meta-data/meta-data.php on line 317

Warning: in_array() expects parameter 2 to be array, boolean given in /home/nevewgha/public_html/wp-content/plugins/meta-data/meta-data.php on line 321

Warning: in_array() expects parameter 2 to be array, boolean given in /home/nevewgha/public_html/wp-content/plugins/meta-data/meta-data.php on line 322

Warning: in_array() expects parameter 2 to be array, boolean given in /home/nevewgha/public_html/wp-content/plugins/meta-data/meta-data.php on line 313

Warning: in_array() expects parameter 2 to be array, boolean given in /home/nevewgha/public_html/wp-content/plugins/meta-data/meta-data.php on line 317

Warning: in_array() expects parameter 2 to be array, boolean given in /home/nevewgha/public_html/wp-content/plugins/meta-data/meta-data.php on line 321

Warning: in_array() expects parameter 2 to be array, boolean given in /home/nevewgha/public_html/wp-content/plugins/meta-data/meta-data.php on line 322

Warning: in_array() expects parameter 2 to be array, boolean given in /home/nevewgha/public_html/wp-content/plugins/meta-data/meta-data.php on line 313

Warning: in_array() expects parameter 2 to be array, boolean given in /home/nevewgha/public_html/wp-content/plugins/meta-data/meta-data.php on line 317

Warning: in_array() expects parameter 2 to be array, boolean given in /home/nevewgha/public_html/wp-content/plugins/meta-data/meta-data.php on line 321

Warning: in_array() expects parameter 2 to be array, boolean given in /home/nevewgha/public_html/wp-content/plugins/meta-data/meta-data.php on line 322

Warning: in_array() expects parameter 2 to be array, boolean given in /home/nevewgha/public_html/wp-content/plugins/meta-data/meta-data.php on line 313

Warning: in_array() expects parameter 2 to be array, boolean given in /home/nevewgha/public_html/wp-content/plugins/meta-data/meta-data.php on line 317

Warning: in_array() expects parameter 2 to be array, boolean given in /home/nevewgha/public_html/wp-content/plugins/meta-data/meta-data.php on line 321

Warning: in_array() expects parameter 2 to be array, boolean given in /home/nevewgha/public_html/wp-content/plugins/meta-data/meta-data.php on line 322

Warning: in_array() expects parameter 2 to be array, boolean given in /home/nevewgha/public_html/wp-content/plugins/meta-data/meta-data.php on line 313

Warning: in_array() expects parameter 2 to be array, boolean given in /home/nevewgha/public_html/wp-content/plugins/meta-data/meta-data.php on line 317

Warning: in_array() expects parameter 2 to be array, boolean given in /home/nevewgha/public_html/wp-content/plugins/meta-data/meta-data.php on line 321

Warning: in_array() expects parameter 2 to be array, boolean given in /home/nevewgha/public_html/wp-content/plugins/meta-data/meta-data.php on line 322

Warning: in_array() expects parameter 2 to be array, boolean given in /home/nevewgha/public_html/wp-content/plugins/meta-data/meta-data.php on line 313

Warning: in_array() expects parameter 2 to be array, boolean given in /home/nevewgha/public_html/wp-content/plugins/meta-data/meta-data.php on line 317

Warning: in_array() expects parameter 2 to be array, boolean given in /home/nevewgha/public_html/wp-content/plugins/meta-data/meta-data.php on line 321

Warning: in_array() expects parameter 2 to be array, boolean given in /home/nevewgha/public_html/wp-content/plugins/meta-data/meta-data.php on line 322

Warning: in_array() expects parameter 2 to be array, boolean given in /home/nevewgha/public_html/wp-content/plugins/meta-data/meta-data.php on line 313

Warning: in_array() expects parameter 2 to be array, boolean given in /home/nevewgha/public_html/wp-content/plugins/meta-data/meta-data.php on line 317

Warning: in_array() expects parameter 2 to be array, boolean given in /home/nevewgha/public_html/wp-content/plugins/meta-data/meta-data.php on line 321

Warning: in_array() expects parameter 2 to be array, boolean given in /home/nevewgha/public_html/wp-content/plugins/meta-data/meta-data.php on line 322

Warning: in_array() expects parameter 2 to be array, boolean given in /home/nevewgha/public_html/wp-content/plugins/meta-data/meta-data.php on line 313

Warning: in_array() expects parameter 2 to be array, boolean given in /home/nevewgha/public_html/wp-content/plugins/meta-data/meta-data.php on line 317

Warning: in_array() expects parameter 2 to be array, boolean given in /home/nevewgha/public_html/wp-content/plugins/meta-data/meta-data.php on line 321

Warning: in_array() expects parameter 2 to be array, boolean given in /home/nevewgha/public_html/wp-content/plugins/meta-data/meta-data.php on line 322

Warning: in_array() expects parameter 2 to be array, boolean given in /home/nevewgha/public_html/wp-content/plugins/meta-data/meta-data.php on line 313

Warning: in_array() expects parameter 2 to be array, boolean given in /home/nevewgha/public_html/wp-content/plugins/meta-data/meta-data.php on line 317

Warning: in_array() expects parameter 2 to be array, boolean given in /home/nevewgha/public_html/wp-content/plugins/meta-data/meta-data.php on line 321

Warning: in_array() expects parameter 2 to be array, boolean given in /home/nevewgha/public_html/wp-content/plugins/meta-data/meta-data.php on line 322

Warning: in_array() expects parameter 2 to be array, boolean given in /home/nevewgha/public_html/wp-content/plugins/meta-data/meta-data.php on line 313

Warning: in_array() expects parameter 2 to be array, boolean given in /home/nevewgha/public_html/wp-content/plugins/meta-data/meta-data.php on line 317

Warning: in_array() expects parameter 2 to be array, boolean given in /home/nevewgha/public_html/wp-content/plugins/meta-data/meta-data.php on line 321

Warning: in_array() expects parameter 2 to be array, boolean given in /home/nevewgha/public_html/wp-content/plugins/meta-data/meta-data.php on line 322

Warning: in_array() expects parameter 2 to be array, boolean given in /home/nevewgha/public_html/wp-content/plugins/meta-data/meta-data.php on line 313

Warning: in_array() expects parameter 2 to be array, boolean given in /home/nevewgha/public_html/wp-content/plugins/meta-data/meta-data.php on line 317

Warning: in_array() expects parameter 2 to be array, boolean given in /home/nevewgha/public_html/wp-content/plugins/meta-data/meta-data.php on line 321

Warning: in_array() expects parameter 2 to be array, boolean given in /home/nevewgha/public_html/wp-content/plugins/meta-data/meta-data.php on line 322

Warning: in_array() expects parameter 2 to be array, boolean given in /home/nevewgha/public_html/wp-content/plugins/meta-data/meta-data.php on line 313

Warning: in_array() expects parameter 2 to be array, boolean given in /home/nevewgha/public_html/wp-content/plugins/meta-data/meta-data.php on line 317

Warning: in_array() expects parameter 2 to be array, boolean given in /home/nevewgha/public_html/wp-content/plugins/meta-data/meta-data.php on line 321

Warning: in_array() expects parameter 2 to be array, boolean given in /home/nevewgha/public_html/wp-content/plugins/meta-data/meta-data.php on line 322

Warning: in_array() expects parameter 2 to be array, boolean given in /home/nevewgha/public_html/wp-content/plugins/meta-data/meta-data.php on line 313

Warning: in_array() expects parameter 2 to be array, boolean given in /home/nevewgha/public_html/wp-content/plugins/meta-data/meta-data.php on line 317

Warning: in_array() expects parameter 2 to be array, boolean given in /home/nevewgha/public_html/wp-content/plugins/meta-data/meta-data.php on line 321

Warning: in_array() expects parameter 2 to be array, boolean given in /home/nevewgha/public_html/wp-content/plugins/meta-data/meta-data.php on line 322

Warning: in_array() expects parameter 2 to be array, boolean given in /home/nevewgha/public_html/wp-content/plugins/meta-data/meta-data.php on line 313

Warning: in_array() expects parameter 2 to be array, boolean given in /home/nevewgha/public_html/wp-content/plugins/meta-data/meta-data.php on line 317

Warning: in_array() expects parameter 2 to be array, boolean given in /home/nevewgha/public_html/wp-content/plugins/meta-data/meta-data.php on line 321

Warning: in_array() expects parameter 2 to be array, boolean given in /home/nevewgha/public_html/wp-content/plugins/meta-data/meta-data.php on line 322

Warning: in_array() expects parameter 2 to be array, boolean given in /home/nevewgha/public_html/wp-content/plugins/meta-data/meta-data.php on line 313

Warning: in_array() expects parameter 2 to be array, boolean given in /home/nevewgha/public_html/wp-content/plugins/meta-data/meta-data.php on line 317

Warning: in_array() expects parameter 2 to be array, boolean given in /home/nevewgha/public_html/wp-content/plugins/meta-data/meta-data.php on line 321

Warning: in_array() expects parameter 2 to be array, boolean given in /home/nevewgha/public_html/wp-content/plugins/meta-data/meta-data.php on line 322

Warning: in_array() expects parameter 2 to be array, boolean given in /home/nevewgha/public_html/wp-content/plugins/meta-data/meta-data.php on line 313

Warning: in_array() expects parameter 2 to be array, boolean given in /home/nevewgha/public_html/wp-content/plugins/meta-data/meta-data.php on line 317

Warning: in_array() expects parameter 2 to be array, boolean given in /home/nevewgha/public_html/wp-content/plugins/meta-data/meta-data.php on line 321

Warning: in_array() expects parameter 2 to be array, boolean given in /home/nevewgha/public_html/wp-content/plugins/meta-data/meta-data.php on line 322

Warning: in_array() expects parameter 2 to be array, boolean given in /home/nevewgha/public_html/wp-content/plugins/meta-data/meta-data.php on line 313

Warning: in_array() expects parameter 2 to be array, boolean given in /home/nevewgha/public_html/wp-content/plugins/meta-data/meta-data.php on line 317

Warning: in_array() expects parameter 2 to be array, boolean given in /home/nevewgha/public_html/wp-content/plugins/meta-data/meta-data.php on line 321

Warning: in_array() expects parameter 2 to be array, boolean given in /home/nevewgha/public_html/wp-content/plugins/meta-data/meta-data.php on line 322

Warning: in_array() expects parameter 2 to be array, boolean given in /home/nevewgha/public_html/wp-content/plugins/meta-data/meta-data.php on line 313

Warning: in_array() expects parameter 2 to be array, boolean given in /home/nevewgha/public_html/wp-content/plugins/meta-data/meta-data.php on line 317

Warning: in_array() expects parameter 2 to be array, boolean given in /home/nevewgha/public_html/wp-content/plugins/meta-data/meta-data.php on line 321

Warning: in_array() expects parameter 2 to be array, boolean given in /home/nevewgha/public_html/wp-content/plugins/meta-data/meta-data.php on line 322

Warning: in_array() expects parameter 2 to be array, boolean given in /home/nevewgha/public_html/wp-content/plugins/meta-data/meta-data.php on line 313

Warning: in_array() expects parameter 2 to be array, boolean given in /home/nevewgha/public_html/wp-content/plugins/meta-data/meta-data.php on line 317

Warning: in_array() expects parameter 2 to be array, boolean given in /home/nevewgha/public_html/wp-content/plugins/meta-data/meta-data.php on line 321

Warning: in_array() expects parameter 2 to be array, boolean given in /home/nevewgha/public_html/wp-content/plugins/meta-data/meta-data.php on line 322

Warning: in_array() expects parameter 2 to be array, boolean given in /home/nevewgha/public_html/wp-content/plugins/meta-data/meta-data.php on line 313

Warning: in_array() expects parameter 2 to be array, boolean given in /home/nevewgha/public_html/wp-content/plugins/meta-data/meta-data.php on line 317

Warning: in_array() expects parameter 2 to be array, boolean given in /home/nevewgha/public_html/wp-content/plugins/meta-data/meta-data.php on line 321

Warning: in_array() expects parameter 2 to be array, boolean given in /home/nevewgha/public_html/wp-content/plugins/meta-data/meta-data.php on line 322

Warning: in_array() expects parameter 2 to be array, boolean given in /home/nevewgha/public_html/wp-content/plugins/meta-data/meta-data.php on line 313

Warning: in_array() expects parameter 2 to be array, boolean given in /home/nevewgha/public_html/wp-content/plugins/meta-data/meta-data.php on line 317

Warning: in_array() expects parameter 2 to be array, boolean given in /home/nevewgha/public_html/wp-content/plugins/meta-data/meta-data.php on line 321

Warning: in_array() expects parameter 2 to be array, boolean given in /home/nevewgha/public_html/wp-content/plugins/meta-data/meta-data.php on line 322

Warning: in_array() expects parameter 2 to be array, boolean given in /home/nevewgha/public_html/wp-content/plugins/meta-data/meta-data.php on line 313

Warning: in_array() expects parameter 2 to be array, boolean given in /home/nevewgha/public_html/wp-content/plugins/meta-data/meta-data.php on line 317

Warning: in_array() expects parameter 2 to be array, boolean given in /home/nevewgha/public_html/wp-content/plugins/meta-data/meta-data.php on line 321

Warning: in_array() expects parameter 2 to be array, boolean given in /home/nevewgha/public_html/wp-content/plugins/meta-data/meta-data.php on line 322

Warning: in_array() expects parameter 2 to be array, boolean given in /home/nevewgha/public_html/wp-content/plugins/meta-data/meta-data.php on line 313

Warning: in_array() expects parameter 2 to be array, boolean given in /home/nevewgha/public_html/wp-content/plugins/meta-data/meta-data.php on line 317

Warning: in_array() expects parameter 2 to be array, boolean given in /home/nevewgha/public_html/wp-content/plugins/meta-data/meta-data.php on line 321

Warning: in_array() expects parameter 2 to be array, boolean given in /home/nevewgha/public_html/wp-content/plugins/meta-data/meta-data.php on line 322

Warning: in_array() expects parameter 2 to be array, boolean given in /home/nevewgha/public_html/wp-content/plugins/meta-data/meta-data.php on line 313

Warning: in_array() expects parameter 2 to be array, boolean given in /home/nevewgha/public_html/wp-content/plugins/meta-data/meta-data.php on line 317

Warning: in_array() expects parameter 2 to be array, boolean given in /home/nevewgha/public_html/wp-content/plugins/meta-data/meta-data.php on line 321

Warning: in_array() expects parameter 2 to be array, boolean given in /home/nevewgha/public_html/wp-content/plugins/meta-data/meta-data.php on line 322

Warning: in_array() expects parameter 2 to be array, boolean given in /home/nevewgha/public_html/wp-content/plugins/meta-data/meta-data.php on line 313

Warning: in_array() expects parameter 2 to be array, boolean given in /home/nevewgha/public_html/wp-content/plugins/meta-data/meta-data.php on line 317

Warning: in_array() expects parameter 2 to be array, boolean given in /home/nevewgha/public_html/wp-content/plugins/meta-data/meta-data.php on line 321

Warning: in_array() expects parameter 2 to be array, boolean given in /home/nevewgha/public_html/wp-content/plugins/meta-data/meta-data.php on line 322

Warning: in_array() expects parameter 2 to be array, boolean given in /home/nevewgha/public_html/wp-content/plugins/meta-data/meta-data.php on line 313

Warning: in_array() expects parameter 2 to be array, boolean given in /home/nevewgha/public_html/wp-content/plugins/meta-data/meta-data.php on line 317

Warning: in_array() expects parameter 2 to be array, boolean given in /home/nevewgha/public_html/wp-content/plugins/meta-data/meta-data.php on line 321

Warning: in_array() expects parameter 2 to be array, boolean given in /home/nevewgha/public_html/wp-content/plugins/meta-data/meta-data.php on line 322

Warning: in_array() expects parameter 2 to be array, boolean given in /home/nevewgha/public_html/wp-content/plugins/meta-data/meta-data.php on line 313

Warning: in_array() expects parameter 2 to be array, boolean given in /home/nevewgha/public_html/wp-content/plugins/meta-data/meta-data.php on line 317

Warning: in_array() expects parameter 2 to be array, boolean given in /home/nevewgha/public_html/wp-content/plugins/meta-data/meta-data.php on line 321

Warning: in_array() expects parameter 2 to be array, boolean given in /home/nevewgha/public_html/wp-content/plugins/meta-data/meta-data.php on line 322

Warning: in_array() expects parameter 2 to be array, boolean given in /home/nevewgha/public_html/wp-content/plugins/meta-data/meta-data.php on line 313

Warning: in_array() expects parameter 2 to be array, boolean given in /home/nevewgha/public_html/wp-content/plugins/meta-data/meta-data.php on line 317

Warning: in_array() expects parameter 2 to be array, boolean given in /home/nevewgha/public_html/wp-content/plugins/meta-data/meta-data.php on line 321

Warning: in_array() expects parameter 2 to be array, boolean given in /home/nevewgha/public_html/wp-content/plugins/meta-data/meta-data.php on line 322

Warning: in_array() expects parameter 2 to be array, boolean given in /home/nevewgha/public_html/wp-content/plugins/meta-data/meta-data.php on line 313

Warning: in_array() expects parameter 2 to be array, boolean given in /home/nevewgha/public_html/wp-content/plugins/meta-data/meta-data.php on line 317

Warning: in_array() expects parameter 2 to be array, boolean given in /home/nevewgha/public_html/wp-content/plugins/meta-data/meta-data.php on line 321

Warning: in_array() expects parameter 2 to be array, boolean given in /home/nevewgha/public_html/wp-content/plugins/meta-data/meta-data.php on line 322

Warning: in_array() expects parameter 2 to be array, boolean given in /home/nevewgha/public_html/wp-content/plugins/meta-data/meta-data.php on line 313

Warning: in_array() expects parameter 2 to be array, boolean given in /home/nevewgha/public_html/wp-content/plugins/meta-data/meta-data.php on line 317

Warning: in_array() expects parameter 2 to be array, boolean given in /home/nevewgha/public_html/wp-content/plugins/meta-data/meta-data.php on line 321

Warning: in_array() expects parameter 2 to be array, boolean given in /home/nevewgha/public_html/wp-content/plugins/meta-data/meta-data.php on line 322

Warning: in_array() expects parameter 2 to be array, boolean given in /home/nevewgha/public_html/wp-content/plugins/meta-data/meta-data.php on line 313

Warning: in_array() expects parameter 2 to be array, boolean given in /home/nevewgha/public_html/wp-content/plugins/meta-data/meta-data.php on line 317

Warning: in_array() expects parameter 2 to be array, boolean given in /home/nevewgha/public_html/wp-content/plugins/meta-data/meta-data.php on line 321

Warning: in_array() expects parameter 2 to be array, boolean given in /home/nevewgha/public_html/wp-content/plugins/meta-data/meta-data.php on line 322

Warning: in_array() expects parameter 2 to be array, boolean given in /home/nevewgha/public_html/wp-content/plugins/meta-data/meta-data.php on line 313

Warning: in_array() expects parameter 2 to be array, boolean given in /home/nevewgha/public_html/wp-content/plugins/meta-data/meta-data.php on line 317

Warning: in_array() expects parameter 2 to be array, boolean given in /home/nevewgha/public_html/wp-content/plugins/meta-data/meta-data.php on line 321

Warning: in_array() expects parameter 2 to be array, boolean given in /home/nevewgha/public_html/wp-content/plugins/meta-data/meta-data.php on line 322

Warning: in_array() expects parameter 2 to be array, boolean given in /home/nevewgha/public_html/wp-content/plugins/meta-data/meta-data.php on line 313

Warning: in_array() expects parameter 2 to be array, boolean given in /home/nevewgha/public_html/wp-content/plugins/meta-data/meta-data.php on line 317

Warning: in_array() expects parameter 2 to be array, boolean given in /home/nevewgha/public_html/wp-content/plugins/meta-data/meta-data.php on line 321

Warning: in_array() expects parameter 2 to be array, boolean given in /home/nevewgha/public_html/wp-content/plugins/meta-data/meta-data.php on line 322

Warning: in_array() expects parameter 2 to be array, boolean given in /home/nevewgha/public_html/wp-content/plugins/meta-data/meta-data.php on line 313

Warning: in_array() expects parameter 2 to be array, boolean given in /home/nevewgha/public_html/wp-content/plugins/meta-data/meta-data.php on line 317

Warning: in_array() expects parameter 2 to be array, boolean given in /home/nevewgha/public_html/wp-content/plugins/meta-data/meta-data.php on line 321

Warning: in_array() expects parameter 2 to be array, boolean given in /home/nevewgha/public_html/wp-content/plugins/meta-data/meta-data.php on line 322

Warning: in_array() expects parameter 2 to be array, boolean given in /home/nevewgha/public_html/wp-content/plugins/meta-data/meta-data.php on line 313

Warning: in_array() expects parameter 2 to be array, boolean given in /home/nevewgha/public_html/wp-content/plugins/meta-data/meta-data.php on line 317

Warning: in_array() expects parameter 2 to be array, boolean given in /home/nevewgha/public_html/wp-content/plugins/meta-data/meta-data.php on line 321

Warning: in_array() expects parameter 2 to be array, boolean given in /home/nevewgha/public_html/wp-content/plugins/meta-data/meta-data.php on line 322

Warning: in_array() expects parameter 2 to be array, boolean given in /home/nevewgha/public_html/wp-content/plugins/meta-data/meta-data.php on line 313

Warning: in_array() expects parameter 2 to be array, boolean given in /home/nevewgha/public_html/wp-content/plugins/meta-data/meta-data.php on line 317

Warning: in_array() expects parameter 2 to be array, boolean given in /home/nevewgha/public_html/wp-content/plugins/meta-data/meta-data.php on line 321

Warning: in_array() expects parameter 2 to be array, boolean given in /home/nevewgha/public_html/wp-content/plugins/meta-data/meta-data.php on line 322

Warning: in_array() expects parameter 2 to be array, boolean given in /home/nevewgha/public_html/wp-content/plugins/meta-data/meta-data.php on line 313

Warning: in_array() expects parameter 2 to be array, boolean given in /home/nevewgha/public_html/wp-content/plugins/meta-data/meta-data.php on line 317

Warning: in_array() expects parameter 2 to be array, boolean given in /home/nevewgha/public_html/wp-content/plugins/meta-data/meta-data.php on line 321

Warning: in_array() expects parameter 2 to be array, boolean given in /home/nevewgha/public_html/wp-content/plugins/meta-data/meta-data.php on line 322

Warning: in_array() expects parameter 2 to be array, boolean given in /home/nevewgha/public_html/wp-content/plugins/meta-data/meta-data.php on line 313

Warning: in_array() expects parameter 2 to be array, boolean given in /home/nevewgha/public_html/wp-content/plugins/meta-data/meta-data.php on line 317

Warning: in_array() expects parameter 2 to be array, boolean given in /home/nevewgha/public_html/wp-content/plugins/meta-data/meta-data.php on line 321

Warning: in_array() expects parameter 2 to be array, boolean given in /home/nevewgha/public_html/wp-content/plugins/meta-data/meta-data.php on line 322

Warning: in_array() expects parameter 2 to be array, boolean given in /home/nevewgha/public_html/wp-content/plugins/meta-data/meta-data.php on line 313

Warning: in_array() expects parameter 2 to be array, boolean given in /home/nevewgha/public_html/wp-content/plugins/meta-data/meta-data.php on line 317

Warning: in_array() expects parameter 2 to be array, boolean given in /home/nevewgha/public_html/wp-content/plugins/meta-data/meta-data.php on line 321

Warning: in_array() expects parameter 2 to be array, boolean given in /home/nevewgha/public_html/wp-content/plugins/meta-data/meta-data.php on line 322

Warning: in_array() expects parameter 2 to be array, boolean given in /home/nevewgha/public_html/wp-content/plugins/meta-data/meta-data.php on line 313

Warning: in_array() expects parameter 2 to be array, boolean given in /home/nevewgha/public_html/wp-content/plugins/meta-data/meta-data.php on line 317

Warning: in_array() expects parameter 2 to be array, boolean given in /home/nevewgha/public_html/wp-content/plugins/meta-data/meta-data.php on line 321

Warning: in_array() expects parameter 2 to be array, boolean given in /home/nevewgha/public_html/wp-content/plugins/meta-data/meta-data.php on line 322

Warning: in_array() expects parameter 2 to be array, boolean given in /home/nevewgha/public_html/wp-content/plugins/meta-data/meta-data.php on line 313

Warning: in_array() expects parameter 2 to be array, boolean given in /home/nevewgha/public_html/wp-content/plugins/meta-data/meta-data.php on line 317

Warning: in_array() expects parameter 2 to be array, boolean given in /home/nevewgha/public_html/wp-content/plugins/meta-data/meta-data.php on line 321

Warning: in_array() expects parameter 2 to be array, boolean given in /home/nevewgha/public_html/wp-content/plugins/meta-data/meta-data.php on line 322

Warning: in_array() expects parameter 2 to be array, boolean given in /home/nevewgha/public_html/wp-content/plugins/meta-data/meta-data.php on line 313

Warning: in_array() expects parameter 2 to be array, boolean given in /home/nevewgha/public_html/wp-content/plugins/meta-data/meta-data.php on line 317

Warning: in_array() expects parameter 2 to be array, boolean given in /home/nevewgha/public_html/wp-content/plugins/meta-data/meta-data.php on line 321

Warning: in_array() expects parameter 2 to be array, boolean given in /home/nevewgha/public_html/wp-content/plugins/meta-data/meta-data.php on line 322

Warning: in_array() expects parameter 2 to be array, boolean given in /home/nevewgha/public_html/wp-content/plugins/meta-data/meta-data.php on line 313

Warning: in_array() expects parameter 2 to be array, boolean given in /home/nevewgha/public_html/wp-content/plugins/meta-data/meta-data.php on line 317

Warning: in_array() expects parameter 2 to be array, boolean given in /home/nevewgha/public_html/wp-content/plugins/meta-data/meta-data.php on line 321

Warning: in_array() expects parameter 2 to be array, boolean given in /home/nevewgha/public_html/wp-content/plugins/meta-data/meta-data.php on line 322

Warning: in_array() expects parameter 2 to be array, boolean given in /home/nevewgha/public_html/wp-content/plugins/meta-data/meta-data.php on line 313

Warning: in_array() expects parameter 2 to be array, boolean given in /home/nevewgha/public_html/wp-content/plugins/meta-data/meta-data.php on line 317

Warning: in_array() expects parameter 2 to be array, boolean given in /home/nevewgha/public_html/wp-content/plugins/meta-data/meta-data.php on line 321

Warning: in_array() expects parameter 2 to be array, boolean given in /home/nevewgha/public_html/wp-content/plugins/meta-data/meta-data.php on line 322

Warning: in_array() expects parameter 2 to be array, boolean given in /home/nevewgha/public_html/wp-content/plugins/meta-data/meta-data.php on line 313

Warning: in_array() expects parameter 2 to be array, boolean given in /home/nevewgha/public_html/wp-content/plugins/meta-data/meta-data.php on line 317

Warning: in_array() expects parameter 2 to be array, boolean given in /home/nevewgha/public_html/wp-content/plugins/meta-data/meta-data.php on line 321

Warning: in_array() expects parameter 2 to be array, boolean given in /home/nevewgha/public_html/wp-content/plugins/meta-data/meta-data.php on line 322

Warning: in_array() expects parameter 2 to be array, boolean given in /home/nevewgha/public_html/wp-content/plugins/meta-data/meta-data.php on line 313

Warning: in_array() expects parameter 2 to be array, boolean given in /home/nevewgha/public_html/wp-content/plugins/meta-data/meta-data.php on line 317

Warning: in_array() expects parameter 2 to be array, boolean given in /home/nevewgha/public_html/wp-content/plugins/meta-data/meta-data.php on line 321

Warning: in_array() expects parameter 2 to be array, boolean given in /home/nevewgha/public_html/wp-content/plugins/meta-data/meta-data.php on line 322

Warning: in_array() expects parameter 2 to be array, boolean given in /home/nevewgha/public_html/wp-content/plugins/meta-data/meta-data.php on line 313

Warning: in_array() expects parameter 2 to be array, boolean given in /home/nevewgha/public_html/wp-content/plugins/meta-data/meta-data.php on line 317

Warning: in_array() expects parameter 2 to be array, boolean given in /home/nevewgha/public_html/wp-content/plugins/meta-data/meta-data.php on line 321

Warning: in_array() expects parameter 2 to be array, boolean given in /home/nevewgha/public_html/wp-content/plugins/meta-data/meta-data.php on line 322

Warning: in_array() expects parameter 2 to be array, boolean given in /home/nevewgha/public_html/wp-content/plugins/meta-data/meta-data.php on line 313

Warning: in_array() expects parameter 2 to be array, boolean given in /home/nevewgha/public_html/wp-content/plugins/meta-data/meta-data.php on line 317

Warning: in_array() expects parameter 2 to be array, boolean given in /home/nevewgha/public_html/wp-content/plugins/meta-data/meta-data.php on line 321

Warning: in_array() expects parameter 2 to be array, boolean given in /home/nevewgha/public_html/wp-content/plugins/meta-data/meta-data.php on line 322

Warning: in_array() expects parameter 2 to be array, boolean given in /home/nevewgha/public_html/wp-content/plugins/meta-data/meta-data.php on line 313

Warning: in_array() expects parameter 2 to be array, boolean given in /home/nevewgha/public_html/wp-content/plugins/meta-data/meta-data.php on line 317

Warning: in_array() expects parameter 2 to be array, boolean given in /home/nevewgha/public_html/wp-content/plugins/meta-data/meta-data.php on line 321

Warning: in_array() expects parameter 2 to be array, boolean given in /home/nevewgha/public_html/wp-content/plugins/meta-data/meta-data.php on line 322

Warning: in_array() expects parameter 2 to be array, boolean given in /home/nevewgha/public_html/wp-content/plugins/meta-data/meta-data.php on line 313

Warning: in_array() expects parameter 2 to be array, boolean given in /home/nevewgha/public_html/wp-content/plugins/meta-data/meta-data.php on line 317

Warning: in_array() expects parameter 2 to be array, boolean given in /home/nevewgha/public_html/wp-content/plugins/meta-data/meta-data.php on line 321

Warning: in_array() expects parameter 2 to be array, boolean given in /home/nevewgha/public_html/wp-content/plugins/meta-data/meta-data.php on line 322

Warning: in_array() expects parameter 2 to be array, boolean given in /home/nevewgha/public_html/wp-content/plugins/meta-data/meta-data.php on line 313

Warning: in_array() expects parameter 2 to be array, boolean given in /home/nevewgha/public_html/wp-content/plugins/meta-data/meta-data.php on line 317

Warning: in_array() expects parameter 2 to be array, boolean given in /home/nevewgha/public_html/wp-content/plugins/meta-data/meta-data.php on line 321

Warning: in_array() expects parameter 2 to be array, boolean given in /home/nevewgha/public_html/wp-content/plugins/meta-data/meta-data.php on line 322

Warning: in_array() expects parameter 2 to be array, boolean given in /home/nevewgha/public_html/wp-content/plugins/meta-data/meta-data.php on line 313

Warning: in_array() expects parameter 2 to be array, boolean given in /home/nevewgha/public_html/wp-content/plugins/meta-data/meta-data.php on line 317

Warning: in_array() expects parameter 2 to be array, boolean given in /home/nevewgha/public_html/wp-content/plugins/meta-data/meta-data.php on line 321

Warning: in_array() expects parameter 2 to be array, boolean given in /home/nevewgha/public_html/wp-content/plugins/meta-data/meta-data.php on line 322

Warning: in_array() expects parameter 2 to be array, boolean given in /home/nevewgha/public_html/wp-content/plugins/meta-data/meta-data.php on line 313

Warning: in_array() expects parameter 2 to be array, boolean given in /home/nevewgha/public_html/wp-content/plugins/meta-data/meta-data.php on line 317

Warning: in_array() expects parameter 2 to be array, boolean given in /home/nevewgha/public_html/wp-content/plugins/meta-data/meta-data.php on line 321

Warning: in_array() expects parameter 2 to be array, boolean given in /home/nevewgha/public_html/wp-content/plugins/meta-data/meta-data.php on line 322

Warning: in_array() expects parameter 2 to be array, boolean given in /home/nevewgha/public_html/wp-content/plugins/meta-data/meta-data.php on line 313

Warning: in_array() expects parameter 2 to be array, boolean given in /home/nevewgha/public_html/wp-content/plugins/meta-data/meta-data.php on line 317

Warning: in_array() expects parameter 2 to be array, boolean given in /home/nevewgha/public_html/wp-content/plugins/meta-data/meta-data.php on line 321

Warning: in_array() expects parameter 2 to be array, boolean given in /home/nevewgha/public_html/wp-content/plugins/meta-data/meta-data.php on line 322

Warning: in_array() expects parameter 2 to be array, boolean given in /home/nevewgha/public_html/wp-content/plugins/meta-data/meta-data.php on line 313

Warning: in_array() expects parameter 2 to be array, boolean given in /home/nevewgha/public_html/wp-content/plugins/meta-data/meta-data.php on line 317

Warning: in_array() expects parameter 2 to be array, boolean given in /home/nevewgha/public_html/wp-content/plugins/meta-data/meta-data.php on line 321

Warning: in_array() expects parameter 2 to be array, boolean given in /home/nevewgha/public_html/wp-content/plugins/meta-data/meta-data.php on line 322

Warning: in_array() expects parameter 2 to be array, boolean given in /home/nevewgha/public_html/wp-content/plugins/meta-data/meta-data.php on line 313

Warning: in_array() expects parameter 2 to be array, boolean given in /home/nevewgha/public_html/wp-content/plugins/meta-data/meta-data.php on line 317

Warning: in_array() expects parameter 2 to be array, boolean given in /home/nevewgha/public_html/wp-content/plugins/meta-data/meta-data.php on line 321

Warning: in_array() expects parameter 2 to be array, boolean given in /home/nevewgha/public_html/wp-content/plugins/meta-data/meta-data.php on line 322

Warning: in_array() expects parameter 2 to be array, boolean given in /home/nevewgha/public_html/wp-content/plugins/meta-data/meta-data.php on line 313

Warning: in_array() expects parameter 2 to be array, boolean given in /home/nevewgha/public_html/wp-content/plugins/meta-data/meta-data.php on line 317

Warning: in_array() expects parameter 2 to be array, boolean given in /home/nevewgha/public_html/wp-content/plugins/meta-data/meta-data.php on line 321

Warning: in_array() expects parameter 2 to be array, boolean given in /home/nevewgha/public_html/wp-content/plugins/meta-data/meta-data.php on line 322

Warning: in_array() expects parameter 2 to be array, boolean given in /home/nevewgha/public_html/wp-content/plugins/meta-data/meta-data.php on line 313

Warning: in_array() expects parameter 2 to be array, boolean given in /home/nevewgha/public_html/wp-content/plugins/meta-data/meta-data.php on line 317

Warning: in_array() expects parameter 2 to be array, boolean given in /home/nevewgha/public_html/wp-content/plugins/meta-data/meta-data.php on line 321

Warning: in_array() expects parameter 2 to be array, boolean given in /home/nevewgha/public_html/wp-content/plugins/meta-data/meta-data.php on line 322

Warning: in_array() expects parameter 2 to be array, boolean given in /home/nevewgha/public_html/wp-content/plugins/meta-data/meta-data.php on line 313

Warning: in_array() expects parameter 2 to be array, boolean given in /home/nevewgha/public_html/wp-content/plugins/meta-data/meta-data.php on line 317

Warning: in_array() expects parameter 2 to be array, boolean given in /home/nevewgha/public_html/wp-content/plugins/meta-data/meta-data.php on line 321

Warning: in_array() expects parameter 2 to be array, boolean given in /home/nevewgha/public_html/wp-content/plugins/meta-data/meta-data.php on line 322

Warning: in_array() expects parameter 2 to be array, boolean given in /home/nevewgha/public_html/wp-content/plugins/meta-data/meta-data.php on line 313

Warning: in_array() expects parameter 2 to be array, boolean given in /home/nevewgha/public_html/wp-content/plugins/meta-data/meta-data.php on line 317

Warning: in_array() expects parameter 2 to be array, boolean given in /home/nevewgha/public_html/wp-content/plugins/meta-data/meta-data.php on line 321

Warning: in_array() expects parameter 2 to be array, boolean given in /home/nevewgha/public_html/wp-content/plugins/meta-data/meta-data.php on line 322

Warning: in_array() expects parameter 2 to be array, boolean given in /home/nevewgha/public_html/wp-content/plugins/meta-data/meta-data.php on line 313

Warning: in_array() expects parameter 2 to be array, boolean given in /home/nevewgha/public_html/wp-content/plugins/meta-data/meta-data.php on line 317

Warning: in_array() expects parameter 2 to be array, boolean given in /home/nevewgha/public_html/wp-content/plugins/meta-data/meta-data.php on line 321

Warning: in_array() expects parameter 2 to be array, boolean given in /home/nevewgha/public_html/wp-content/plugins/meta-data/meta-data.php on line 322

Warning: in_array() expects parameter 2 to be array, boolean given in /home/nevewgha/public_html/wp-content/plugins/meta-data/meta-data.php on line 313

Warning: in_array() expects parameter 2 to be array, boolean given in /home/nevewgha/public_html/wp-content/plugins/meta-data/meta-data.php on line 317

Warning: in_array() expects parameter 2 to be array, boolean given in /home/nevewgha/public_html/wp-content/plugins/meta-data/meta-data.php on line 321

Warning: in_array() expects parameter 2 to be array, boolean given in /home/nevewgha/public_html/wp-content/plugins/meta-data/meta-data.php on line 322

Warning: in_array() expects parameter 2 to be array, boolean given in /home/nevewgha/public_html/wp-content/plugins/meta-data/meta-data.php on line 313

Warning: in_array() expects parameter 2 to be array, boolean given in /home/nevewgha/public_html/wp-content/plugins/meta-data/meta-data.php on line 317

Warning: in_array() expects parameter 2 to be array, boolean given in /home/nevewgha/public_html/wp-content/plugins/meta-data/meta-data.php on line 321

Warning: in_array() expects parameter 2 to be array, boolean given in /home/nevewgha/public_html/wp-content/plugins/meta-data/meta-data.php on line 322

Warning: in_array() expects parameter 2 to be array, boolean given in /home/nevewgha/public_html/wp-content/plugins/meta-data/meta-data.php on line 313

Warning: in_array() expects parameter 2 to be array, boolean given in /home/nevewgha/public_html/wp-content/plugins/meta-data/meta-data.php on line 317

Warning: in_array() expects parameter 2 to be array, boolean given in /home/nevewgha/public_html/wp-content/plugins/meta-data/meta-data.php on line 321

Warning: in_array() expects parameter 2 to be array, boolean given in /home/nevewgha/public_html/wp-content/plugins/meta-data/meta-data.php on line 322

Warning: in_array() expects parameter 2 to be array, boolean given in /home/nevewgha/public_html/wp-content/plugins/meta-data/meta-data.php on line 313

Warning: in_array() expects parameter 2 to be array, boolean given in /home/nevewgha/public_html/wp-content/plugins/meta-data/meta-data.php on line 317

Warning: in_array() expects parameter 2 to be array, boolean given in /home/nevewgha/public_html/wp-content/plugins/meta-data/meta-data.php on line 321

Warning: in_array() expects parameter 2 to be array, boolean given in /home/nevewgha/public_html/wp-content/plugins/meta-data/meta-data.php on line 322

Warning: in_array() expects parameter 2 to be array, boolean given in /home/nevewgha/public_html/wp-content/plugins/meta-data/meta-data.php on line 313

Warning: in_array() expects parameter 2 to be array, boolean given in /home/nevewgha/public_html/wp-content/plugins/meta-data/meta-data.php on line 317

Warning: in_array() expects parameter 2 to be array, boolean given in /home/nevewgha/public_html/wp-content/plugins/meta-data/meta-data.php on line 321

Warning: in_array() expects parameter 2 to be array, boolean given in /home/nevewgha/public_html/wp-content/plugins/meta-data/meta-data.php on line 322

Warning: in_array() expects parameter 2 to be array, boolean given in /home/nevewgha/public_html/wp-content/plugins/meta-data/meta-data.php on line 313

Warning: in_array() expects parameter 2 to be array, boolean given in /home/nevewgha/public_html/wp-content/plugins/meta-data/meta-data.php on line 317

Warning: in_array() expects parameter 2 to be array, boolean given in /home/nevewgha/public_html/wp-content/plugins/meta-data/meta-data.php on line 321

Warning: in_array() expects parameter 2 to be array, boolean given in /home/nevewgha/public_html/wp-content/plugins/meta-data/meta-data.php on line 322

Warning: in_array() expects parameter 2 to be array, boolean given in /home/nevewgha/public_html/wp-content/plugins/meta-data/meta-data.php on line 313

Warning: in_array() expects parameter 2 to be array, boolean given in /home/nevewgha/public_html/wp-content/plugins/meta-data/meta-data.php on line 317

Warning: in_array() expects parameter 2 to be array, boolean given in /home/nevewgha/public_html/wp-content/plugins/meta-data/meta-data.php on line 321

Warning: in_array() expects parameter 2 to be array, boolean given in /home/nevewgha/public_html/wp-content/plugins/meta-data/meta-data.php on line 322

Warning: in_array() expects parameter 2 to be array, boolean given in /home/nevewgha/public_html/wp-content/plugins/meta-data/meta-data.php on line 313

Warning: in_array() expects parameter 2 to be array, boolean given in /home/nevewgha/public_html/wp-content/plugins/meta-data/meta-data.php on line 317

Warning: in_array() expects parameter 2 to be array, boolean given in /home/nevewgha/public_html/wp-content/plugins/meta-data/meta-data.php on line 321

Warning: in_array() expects parameter 2 to be array, boolean given in /home/nevewgha/public_html/wp-content/plugins/meta-data/meta-data.php on line 322

Warning: in_array() expects parameter 2 to be array, boolean given in /home/nevewgha/public_html/wp-content/plugins/meta-data/meta-data.php on line 313

Warning: in_array() expects parameter 2 to be array, boolean given in /home/nevewgha/public_html/wp-content/plugins/meta-data/meta-data.php on line 317

Warning: in_array() expects parameter 2 to be array, boolean given in /home/nevewgha/public_html/wp-content/plugins/meta-data/meta-data.php on line 321

Warning: in_array() expects parameter 2 to be array, boolean given in /home/nevewgha/public_html/wp-content/plugins/meta-data/meta-data.php on line 322

Warning: in_array() expects parameter 2 to be array, boolean given in /home/nevewgha/public_html/wp-content/plugins/meta-data/meta-data.php on line 313

Warning: in_array() expects parameter 2 to be array, boolean given in /home/nevewgha/public_html/wp-content/plugins/meta-data/meta-data.php on line 317

Warning: in_array() expects parameter 2 to be array, boolean given in /home/nevewgha/public_html/wp-content/plugins/meta-data/meta-data.php on line 321

Warning: in_array() expects parameter 2 to be array, boolean given in /home/nevewgha/public_html/wp-content/plugins/meta-data/meta-data.php on line 322

Warning: in_array() expects parameter 2 to be array, boolean given in /home/nevewgha/public_html/wp-content/plugins/meta-data/meta-data.php on line 313

Warning: in_array() expects parameter 2 to be array, boolean given in /home/nevewgha/public_html/wp-content/plugins/meta-data/meta-data.php on line 317

Warning: in_array() expects parameter 2 to be array, boolean given in /home/nevewgha/public_html/wp-content/plugins/meta-data/meta-data.php on line 321

Warning: in_array() expects parameter 2 to be array, boolean given in /home/nevewgha/public_html/wp-content/plugins/meta-data/meta-data.php on line 322

Warning: in_array() expects parameter 2 to be array, boolean given in /home/nevewgha/public_html/wp-content/plugins/meta-data/meta-data.php on line 313

Warning: in_array() expects parameter 2 to be array, boolean given in /home/nevewgha/public_html/wp-content/plugins/meta-data/meta-data.php on line 317

Warning: in_array() expects parameter 2 to be array, boolean given in /home/nevewgha/public_html/wp-content/plugins/meta-data/meta-data.php on line 321

Warning: in_array() expects parameter 2 to be array, boolean given in /home/nevewgha/public_html/wp-content/plugins/meta-data/meta-data.php on line 322

Warning: in_array() expects parameter 2 to be array, boolean given in /home/nevewgha/public_html/wp-content/plugins/meta-data/meta-data.php on line 313

Warning: in_array() expects parameter 2 to be array, boolean given in /home/nevewgha/public_html/wp-content/plugins/meta-data/meta-data.php on line 317

Warning: in_array() expects parameter 2 to be array, boolean given in /home/nevewgha/public_html/wp-content/plugins/meta-data/meta-data.php on line 321

Warning: in_array() expects parameter 2 to be array, boolean given in /home/nevewgha/public_html/wp-content/plugins/meta-data/meta-data.php on line 322

Warning: in_array() expects parameter 2 to be array, boolean given in /home/nevewgha/public_html/wp-content/plugins/meta-data/meta-data.php on line 313

Warning: in_array() expects parameter 2 to be array, boolean given in /home/nevewgha/public_html/wp-content/plugins/meta-data/meta-data.php on line 317

Warning: in_array() expects parameter 2 to be array, boolean given in /home/nevewgha/public_html/wp-content/plugins/meta-data/meta-data.php on line 321

Warning: in_array() expects parameter 2 to be array, boolean given in /home/nevewgha/public_html/wp-content/plugins/meta-data/meta-data.php on line 322

Warning: in_array() expects parameter 2 to be array, boolean given in /home/nevewgha/public_html/wp-content/plugins/meta-data/meta-data.php on line 313

Warning: in_array() expects parameter 2 to be array, boolean given in /home/nevewgha/public_html/wp-content/plugins/meta-data/meta-data.php on line 317

Warning: in_array() expects parameter 2 to be array, boolean given in /home/nevewgha/public_html/wp-content/plugins/meta-data/meta-data.php on line 321

Warning: in_array() expects parameter 2 to be array, boolean given in /home/nevewgha/public_html/wp-content/plugins/meta-data/meta-data.php on line 322

Warning: in_array() expects parameter 2 to be array, boolean given in /home/nevewgha/public_html/wp-content/plugins/meta-data/meta-data.php on line 313

Warning: in_array() expects parameter 2 to be array, boolean given in /home/nevewgha/public_html/wp-content/plugins/meta-data/meta-data.php on line 317

Warning: in_array() expects parameter 2 to be array, boolean given in /home/nevewgha/public_html/wp-content/plugins/meta-data/meta-data.php on line 321

Warning: in_array() expects parameter 2 to be array, boolean given in /home/nevewgha/public_html/wp-content/plugins/meta-data/meta-data.php on line 322

Warning: in_array() expects parameter 2 to be array, boolean given in /home/nevewgha/public_html/wp-content/plugins/meta-data/meta-data.php on line 313

Warning: in_array() expects parameter 2 to be array, boolean given in /home/nevewgha/public_html/wp-content/plugins/meta-data/meta-data.php on line 317

Warning: in_array() expects parameter 2 to be array, boolean given in /home/nevewgha/public_html/wp-content/plugins/meta-data/meta-data.php on line 321

Warning: in_array() expects parameter 2 to be array, boolean given in /home/nevewgha/public_html/wp-content/plugins/meta-data/meta-data.php on line 322

Warning: in_array() expects parameter 2 to be array, boolean given in /home/nevewgha/public_html/wp-content/plugins/meta-data/meta-data.php on line 313

Warning: in_array() expects parameter 2 to be array, boolean given in /home/nevewgha/public_html/wp-content/plugins/meta-data/meta-data.php on line 317

Warning: in_array() expects parameter 2 to be array, boolean given in /home/nevewgha/public_html/wp-content/plugins/meta-data/meta-data.php on line 321

Warning: in_array() expects parameter 2 to be array, boolean given in /home/nevewgha/public_html/wp-content/plugins/meta-data/meta-data.php on line 322

Warning: in_array() expects parameter 2 to be array, boolean given in /home/nevewgha/public_html/wp-content/plugins/meta-data/meta-data.php on line 313

Warning: in_array() expects parameter 2 to be array, boolean given in /home/nevewgha/public_html/wp-content/plugins/meta-data/meta-data.php on line 317

Warning: in_array() expects parameter 2 to be array, boolean given in /home/nevewgha/public_html/wp-content/plugins/meta-data/meta-data.php on line 321

Warning: in_array() expects parameter 2 to be array, boolean given in /home/nevewgha/public_html/wp-content/plugins/meta-data/meta-data.php on line 322

Warning: in_array() expects parameter 2 to be array, boolean given in /home/nevewgha/public_html/wp-content/plugins/meta-data/meta-data.php on line 313

Warning: in_array() expects parameter 2 to be array, boolean given in /home/nevewgha/public_html/wp-content/plugins/meta-data/meta-data.php on line 317

Warning: in_array() expects parameter 2 to be array, boolean given in /home/nevewgha/public_html/wp-content/plugins/meta-data/meta-data.php on line 321

Warning: in_array() expects parameter 2 to be array, boolean given in /home/nevewgha/public_html/wp-content/plugins/meta-data/meta-data.php on line 322

Warning: in_array() expects parameter 2 to be array, boolean given in /home/nevewgha/public_html/wp-content/plugins/meta-data/meta-data.php on line 313

Warning: in_array() expects parameter 2 to be array, boolean given in /home/nevewgha/public_html/wp-content/plugins/meta-data/meta-data.php on line 317

Warning: in_array() expects parameter 2 to be array, boolean given in /home/nevewgha/public_html/wp-content/plugins/meta-data/meta-data.php on line 321

Warning: in_array() expects parameter 2 to be array, boolean given in /home/nevewgha/public_html/wp-content/plugins/meta-data/meta-data.php on line 322

Warning: in_array() expects parameter 2 to be array, boolean given in /home/nevewgha/public_html/wp-content/plugins/meta-data/meta-data.php on line 313

Warning: in_array() expects parameter 2 to be array, boolean given in /home/nevewgha/public_html/wp-content/plugins/meta-data/meta-data.php on line 317

Warning: in_array() expects parameter 2 to be array, boolean given in /home/nevewgha/public_html/wp-content/plugins/meta-data/meta-data.php on line 321

Warning: in_array() expects parameter 2 to be array, boolean given in /home/nevewgha/public_html/wp-content/plugins/meta-data/meta-data.php on line 322

Warning: in_array() expects parameter 2 to be array, boolean given in /home/nevewgha/public_html/wp-content/plugins/meta-data/meta-data.php on line 313

Warning: in_array() expects parameter 2 to be array, boolean given in /home/nevewgha/public_html/wp-content/plugins/meta-data/meta-data.php on line 317

Warning: in_array() expects parameter 2 to be array, boolean given in /home/nevewgha/public_html/wp-content/plugins/meta-data/meta-data.php on line 321

Warning: in_array() expects parameter 2 to be array, boolean given in /home/nevewgha/public_html/wp-content/plugins/meta-data/meta-data.php on line 322

Warning: in_array() expects parameter 2 to be array, boolean given in /home/nevewgha/public_html/wp-content/plugins/meta-data/meta-data.php on line 313

Warning: in_array() expects parameter 2 to be array, boolean given in /home/nevewgha/public_html/wp-content/plugins/meta-data/meta-data.php on line 317

Warning: in_array() expects parameter 2 to be array, boolean given in /home/nevewgha/public_html/wp-content/plugins/meta-data/meta-data.php on line 321

Warning: in_array() expects parameter 2 to be array, boolean given in /home/nevewgha/public_html/wp-content/plugins/meta-data/meta-data.php on line 322

Warning: in_array() expects parameter 2 to be array, boolean given in /home/nevewgha/public_html/wp-content/plugins/meta-data/meta-data.php on line 313

Warning: in_array() expects parameter 2 to be array, boolean given in /home/nevewgha/public_html/wp-content/plugins/meta-data/meta-data.php on line 317

Warning: in_array() expects parameter 2 to be array, boolean given in /home/nevewgha/public_html/wp-content/plugins/meta-data/meta-data.php on line 321

Warning: in_array() expects parameter 2 to be array, boolean given in /home/nevewgha/public_html/wp-content/plugins/meta-data/meta-data.php on line 322

Warning: in_array() expects parameter 2 to be array, boolean given in /home/nevewgha/public_html/wp-content/plugins/meta-data/meta-data.php on line 313

Warning: in_array() expects parameter 2 to be array, boolean given in /home/nevewgha/public_html/wp-content/plugins/meta-data/meta-data.php on line 317

Warning: in_array() expects parameter 2 to be array, boolean given in /home/nevewgha/public_html/wp-content/plugins/meta-data/meta-data.php on line 321

Warning: in_array() expects parameter 2 to be array, boolean given in /home/nevewgha/public_html/wp-content/plugins/meta-data/meta-data.php on line 322

Warning: in_array() expects parameter 2 to be array, boolean given in /home/nevewgha/public_html/wp-content/plugins/meta-data/meta-data.php on line 313

Warning: in_array() expects parameter 2 to be array, boolean given in /home/nevewgha/public_html/wp-content/plugins/meta-data/meta-data.php on line 317

Warning: in_array() expects parameter 2 to be array, boolean given in /home/nevewgha/public_html/wp-content/plugins/meta-data/meta-data.php on line 321

Warning: in_array() expects parameter 2 to be array, boolean given in /home/nevewgha/public_html/wp-content/plugins/meta-data/meta-data.php on line 322

Warning: in_array() expects parameter 2 to be array, boolean given in /home/nevewgha/public_html/wp-content/plugins/meta-data/meta-data.php on line 313

Warning: in_array() expects parameter 2 to be array, boolean given in /home/nevewgha/public_html/wp-content/plugins/meta-data/meta-data.php on line 317

Warning: in_array() expects parameter 2 to be array, boolean given in /home/nevewgha/public_html/wp-content/plugins/meta-data/meta-data.php on line 321

Warning: in_array() expects parameter 2 to be array, boolean given in /home/nevewgha/public_html/wp-content/plugins/meta-data/meta-data.php on line 322

Warning: in_array() expects parameter 2 to be array, boolean given in /home/nevewgha/public_html/wp-content/plugins/meta-data/meta-data.php on line 313

Warning: in_array() expects parameter 2 to be array, boolean given in /home/nevewgha/public_html/wp-content/plugins/meta-data/meta-data.php on line 317

Warning: in_array() expects parameter 2 to be array, boolean given in /home/nevewgha/public_html/wp-content/plugins/meta-data/meta-data.php on line 321

Warning: in_array() expects parameter 2 to be array, boolean given in /home/nevewgha/public_html/wp-content/plugins/meta-data/meta-data.php on line 322

Warning: in_array() expects parameter 2 to be array, boolean given in /home/nevewgha/public_html/wp-content/plugins/meta-data/meta-data.php on line 313

Warning: in_array() expects parameter 2 to be array, boolean given in /home/nevewgha/public_html/wp-content/plugins/meta-data/meta-data.php on line 317

Warning: in_array() expects parameter 2 to be array, boolean given in /home/nevewgha/public_html/wp-content/plugins/meta-data/meta-data.php on line 321

Warning: in_array() expects parameter 2 to be array, boolean given in /home/nevewgha/public_html/wp-content/plugins/meta-data/meta-data.php on line 322

Warning: in_array() expects parameter 2 to be array, boolean given in /home/nevewgha/public_html/wp-content/plugins/meta-data/meta-data.php on line 313

Warning: in_array() expects parameter 2 to be array, boolean given in /home/nevewgha/public_html/wp-content/plugins/meta-data/meta-data.php on line 317

Warning: in_array() expects parameter 2 to be array, boolean given in /home/nevewgha/public_html/wp-content/plugins/meta-data/meta-data.php on line 321

Warning: in_array() expects parameter 2 to be array, boolean given in /home/nevewgha/public_html/wp-content/plugins/meta-data/meta-data.php on line 322

Warning: in_array() expects parameter 2 to be array, boolean given in /home/nevewgha/public_html/wp-content/plugins/meta-data/meta-data.php on line 313

Warning: in_array() expects parameter 2 to be array, boolean given in /home/nevewgha/public_html/wp-content/plugins/meta-data/meta-data.php on line 317

Warning: in_array() expects parameter 2 to be array, boolean given in /home/nevewgha/public_html/wp-content/plugins/meta-data/meta-data.php on line 321

Warning: in_array() expects parameter 2 to be array, boolean given in /home/nevewgha/public_html/wp-content/plugins/meta-data/meta-data.php on line 322

Warning: in_array() expects parameter 2 to be array, boolean given in /home/nevewgha/public_html/wp-content/plugins/meta-data/meta-data.php on line 313

Warning: in_array() expects parameter 2 to be array, boolean given in /home/nevewgha/public_html/wp-content/plugins/meta-data/meta-data.php on line 317

Warning: in_array() expects parameter 2 to be array, boolean given in /home/nevewgha/public_html/wp-content/plugins/meta-data/meta-data.php on line 321

Warning: in_array() expects parameter 2 to be array, boolean given in /home/nevewgha/public_html/wp-content/plugins/meta-data/meta-data.php on line 322

Warning: in_array() expects parameter 2 to be array, boolean given in /home/nevewgha/public_html/wp-content/plugins/meta-data/meta-data.php on line 313

Warning: in_array() expects parameter 2 to be array, boolean given in /home/nevewgha/public_html/wp-content/plugins/meta-data/meta-data.php on line 317

Warning: in_array() expects parameter 2 to be array, boolean given in /home/nevewgha/public_html/wp-content/plugins/meta-data/meta-data.php on line 321

Warning: in_array() expects parameter 2 to be array, boolean given in /home/nevewgha/public_html/wp-content/plugins/meta-data/meta-data.php on line 322

Warning: in_array() expects parameter 2 to be array, boolean given in /home/nevewgha/public_html/wp-content/plugins/meta-data/meta-data.php on line 313

Warning: in_array() expects parameter 2 to be array, boolean given in /home/nevewgha/public_html/wp-content/plugins/meta-data/meta-data.php on line 317

Warning: in_array() expects parameter 2 to be array, boolean given in /home/nevewgha/public_html/wp-content/plugins/meta-data/meta-data.php on line 321

Warning: in_array() expects parameter 2 to be array, boolean given in /home/nevewgha/public_html/wp-content/plugins/meta-data/meta-data.php on line 322

Warning: in_array() expects parameter 2 to be array, boolean given in /home/nevewgha/public_html/wp-content/plugins/meta-data/meta-data.php on line 313

Warning: in_array() expects parameter 2 to be array, boolean given in /home/nevewgha/public_html/wp-content/plugins/meta-data/meta-data.php on line 317

Warning: in_array() expects parameter 2 to be array, boolean given in /home/nevewgha/public_html/wp-content/plugins/meta-data/meta-data.php on line 321

Warning: in_array() expects parameter 2 to be array, boolean given in /home/nevewgha/public_html/wp-content/plugins/meta-data/meta-data.php on line 322

Warning: in_array() expects parameter 2 to be array, boolean given in /home/nevewgha/public_html/wp-content/plugins/meta-data/meta-data.php on line 313

Warning: in_array() expects parameter 2 to be array, boolean given in /home/nevewgha/public_html/wp-content/plugins/meta-data/meta-data.php on line 317

Warning: in_array() expects parameter 2 to be array, boolean given in /home/nevewgha/public_html/wp-content/plugins/meta-data/meta-data.php on line 321

Warning: in_array() expects parameter 2 to be array, boolean given in /home/nevewgha/public_html/wp-content/plugins/meta-data/meta-data.php on line 322

Warning: in_array() expects parameter 2 to be array, boolean given in /home/nevewgha/public_html/wp-content/plugins/meta-data/meta-data.php on line 313

Warning: in_array() expects parameter 2 to be array, boolean given in /home/nevewgha/public_html/wp-content/plugins/meta-data/meta-data.php on line 317

Warning: in_array() expects parameter 2 to be array, boolean given in /home/nevewgha/public_html/wp-content/plugins/meta-data/meta-data.php on line 321

Warning: in_array() expects parameter 2 to be array, boolean given in /home/nevewgha/public_html/wp-content/plugins/meta-data/meta-data.php on line 322

Warning: in_array() expects parameter 2 to be array, boolean given in /home/nevewgha/public_html/wp-content/plugins/meta-data/meta-data.php on line 313

Warning: in_array() expects parameter 2 to be array, boolean given in /home/nevewgha/public_html/wp-content/plugins/meta-data/meta-data.php on line 317

Warning: in_array() expects parameter 2 to be array, boolean given in /home/nevewgha/public_html/wp-content/plugins/meta-data/meta-data.php on line 321

Warning: in_array() expects parameter 2 to be array, boolean given in /home/nevewgha/public_html/wp-content/plugins/meta-data/meta-data.php on line 322

Warning: in_array() expects parameter 2 to be array, boolean given in /home/nevewgha/public_html/wp-content/plugins/meta-data/meta-data.php on line 313

Warning: in_array() expects parameter 2 to be array, boolean given in /home/nevewgha/public_html/wp-content/plugins/meta-data/meta-data.php on line 317

Warning: in_array() expects parameter 2 to be array, boolean given in /home/nevewgha/public_html/wp-content/plugins/meta-data/meta-data.php on line 321

Warning: in_array() expects parameter 2 to be array, boolean given in /home/nevewgha/public_html/wp-content/plugins/meta-data/meta-data.php on line 322

Warning: in_array() expects parameter 2 to be array, boolean given in /home/nevewgha/public_html/wp-content/plugins/meta-data/meta-data.php on line 313

Warning: in_array() expects parameter 2 to be array, boolean given in /home/nevewgha/public_html/wp-content/plugins/meta-data/meta-data.php on line 317

Warning: in_array() expects parameter 2 to be array, boolean given in /home/nevewgha/public_html/wp-content/plugins/meta-data/meta-data.php on line 321

Warning: in_array() expects parameter 2 to be array, boolean given in /home/nevewgha/public_html/wp-content/plugins/meta-data/meta-data.php on line 322

Warning: in_array() expects parameter 2 to be array, boolean given in /home/nevewgha/public_html/wp-content/plugins/meta-data/meta-data.php on line 313

Warning: in_array() expects parameter 2 to be array, boolean given in /home/nevewgha/public_html/wp-content/plugins/meta-data/meta-data.php on line 317

Warning: in_array() expects parameter 2 to be array, boolean given in /home/nevewgha/public_html/wp-content/plugins/meta-data/meta-data.php on line 321

Warning: in_array() expects parameter 2 to be array, boolean given in /home/nevewgha/public_html/wp-content/plugins/meta-data/meta-data.php on line 322

Warning: in_array() expects parameter 2 to be array, boolean given in /home/nevewgha/public_html/wp-content/plugins/meta-data/meta-data.php on line 313

Warning: in_array() expects parameter 2 to be array, boolean given in /home/nevewgha/public_html/wp-content/plugins/meta-data/meta-data.php on line 317

Warning: in_array() expects parameter 2 to be array, boolean given in /home/nevewgha/public_html/wp-content/plugins/meta-data/meta-data.php on line 321

Warning: in_array() expects parameter 2 to be array, boolean given in /home/nevewgha/public_html/wp-content/plugins/meta-data/meta-data.php on line 322

Warning: in_array() expects parameter 2 to be array, boolean given in /home/nevewgha/public_html/wp-content/plugins/meta-data/meta-data.php on line 313

Warning: in_array() expects parameter 2 to be array, boolean given in /home/nevewgha/public_html/wp-content/plugins/meta-data/meta-data.php on line 317

Warning: in_array() expects parameter 2 to be array, boolean given in /home/nevewgha/public_html/wp-content/plugins/meta-data/meta-data.php on line 321

Warning: in_array() expects parameter 2 to be array, boolean given in /home/nevewgha/public_html/wp-content/plugins/meta-data/meta-data.php on line 322

Warning: in_array() expects parameter 2 to be array, boolean given in /home/nevewgha/public_html/wp-content/plugins/meta-data/meta-data.php on line 313

Warning: in_array() expects parameter 2 to be array, boolean given in /home/nevewgha/public_html/wp-content/plugins/meta-data/meta-data.php on line 317

Warning: in_array() expects parameter 2 to be array, boolean given in /home/nevewgha/public_html/wp-content/plugins/meta-data/meta-data.php on line 321

Warning: in_array() expects parameter 2 to be array, boolean given in /home/nevewgha/public_html/wp-content/plugins/meta-data/meta-data.php on line 322

Warning: in_array() expects parameter 2 to be array, boolean given in /home/nevewgha/public_html/wp-content/plugins/meta-data/meta-data.php on line 313

Warning: in_array() expects parameter 2 to be array, boolean given in /home/nevewgha/public_html/wp-content/plugins/meta-data/meta-data.php on line 317

Warning: in_array() expects parameter 2 to be array, boolean given in /home/nevewgha/public_html/wp-content/plugins/meta-data/meta-data.php on line 321

Warning: in_array() expects parameter 2 to be array, boolean given in /home/nevewgha/public_html/wp-content/plugins/meta-data/meta-data.php on line 322

Warning: in_array() expects parameter 2 to be array, boolean given in /home/nevewgha/public_html/wp-content/plugins/meta-data/meta-data.php on line 313

Warning: in_array() expects parameter 2 to be array, boolean given in /home/nevewgha/public_html/wp-content/plugins/meta-data/meta-data.php on line 317

Warning: in_array() expects parameter 2 to be array, boolean given in /home/nevewgha/public_html/wp-content/plugins/meta-data/meta-data.php on line 321

Warning: in_array() expects parameter 2 to be array, boolean given in /home/nevewgha/public_html/wp-content/plugins/meta-data/meta-data.php on line 322

Warning: in_array() expects parameter 2 to be array, boolean given in /home/nevewgha/public_html/wp-content/plugins/meta-data/meta-data.php on line 313

Warning: in_array() expects parameter 2 to be array, boolean given in /home/nevewgha/public_html/wp-content/plugins/meta-data/meta-data.php on line 317

Warning: in_array() expects parameter 2 to be array, boolean given in /home/nevewgha/public_html/wp-content/plugins/meta-data/meta-data.php on line 321

Warning: in_array() expects parameter 2 to be array, boolean given in /home/nevewgha/public_html/wp-content/plugins/meta-data/meta-data.php on line 322

Warning: in_array() expects parameter 2 to be array, boolean given in /home/nevewgha/public_html/wp-content/plugins/meta-data/meta-data.php on line 313

Warning: in_array() expects parameter 2 to be array, boolean given in /home/nevewgha/public_html/wp-content/plugins/meta-data/meta-data.php on line 317

Warning: in_array() expects parameter 2 to be array, boolean given in /home/nevewgha/public_html/wp-content/plugins/meta-data/meta-data.php on line 321

Warning: in_array() expects parameter 2 to be array, boolean given in /home/nevewgha/public_html/wp-content/plugins/meta-data/meta-data.php on line 322

Warning: in_array() expects parameter 2 to be array, boolean given in /home/nevewgha/public_html/wp-content/plugins/meta-data/meta-data.php on line 313

Warning: in_array() expects parameter 2 to be array, boolean given in /home/nevewgha/public_html/wp-content/plugins/meta-data/meta-data.php on line 317

Warning: in_array() expects parameter 2 to be array, boolean given in /home/nevewgha/public_html/wp-content/plugins/meta-data/meta-data.php on line 321

Warning: in_array() expects parameter 2 to be array, boolean given in /home/nevewgha/public_html/wp-content/plugins/meta-data/meta-data.php on line 322

Warning: in_array() expects parameter 2 to be array, boolean given in /home/nevewgha/public_html/wp-content/plugins/meta-data/meta-data.php on line 313

Warning: in_array() expects parameter 2 to be array, boolean given in /home/nevewgha/public_html/wp-content/plugins/meta-data/meta-data.php on line 317

Warning: in_array() expects parameter 2 to be array, boolean given in /home/nevewgha/public_html/wp-content/plugins/meta-data/meta-data.php on line 321

Warning: in_array() expects parameter 2 to be array, boolean given in /home/nevewgha/public_html/wp-content/plugins/meta-data/meta-data.php on line 322

Warning: in_array() expects parameter 2 to be array, boolean given in /home/nevewgha/public_html/wp-content/plugins/meta-data/meta-data.php on line 313

Warning: in_array() expects parameter 2 to be array, boolean given in /home/nevewgha/public_html/wp-content/plugins/meta-data/meta-data.php on line 317

Warning: in_array() expects parameter 2 to be array, boolean given in /home/nevewgha/public_html/wp-content/plugins/meta-data/meta-data.php on line 321

Warning: in_array() expects parameter 2 to be array, boolean given in /home/nevewgha/public_html/wp-content/plugins/meta-data/meta-data.php on line 322

Warning: in_array() expects parameter 2 to be array, boolean given in /home/nevewgha/public_html/wp-content/plugins/meta-data/meta-data.php on line 313

Warning: in_array() expects parameter 2 to be array, boolean given in /home/nevewgha/public_html/wp-content/plugins/meta-data/meta-data.php on line 317

Warning: in_array() expects parameter 2 to be array, boolean given in /home/nevewgha/public_html/wp-content/plugins/meta-data/meta-data.php on line 321

Warning: in_array() expects parameter 2 to be array, boolean given in /home/nevewgha/public_html/wp-content/plugins/meta-data/meta-data.php on line 322

Warning: in_array() expects parameter 2 to be array, boolean given in /home/nevewgha/public_html/wp-content/plugins/meta-data/meta-data.php on line 313

Warning: in_array() expects parameter 2 to be array, boolean given in /home/nevewgha/public_html/wp-content/plugins/meta-data/meta-data.php on line 317

Warning: in_array() expects parameter 2 to be array, boolean given in /home/nevewgha/public_html/wp-content/plugins/meta-data/meta-data.php on line 321

Warning: in_array() expects parameter 2 to be array, boolean given in /home/nevewgha/public_html/wp-content/plugins/meta-data/meta-data.php on line 322

Warning: in_array() expects parameter 2 to be array, boolean given in /home/nevewgha/public_html/wp-content/plugins/meta-data/meta-data.php on line 313

Warning: in_array() expects parameter 2 to be array, boolean given in /home/nevewgha/public_html/wp-content/plugins/meta-data/meta-data.php on line 317

Warning: in_array() expects parameter 2 to be array, boolean given in /home/nevewgha/public_html/wp-content/plugins/meta-data/meta-data.php on line 321

Warning: in_array() expects parameter 2 to be array, boolean given in /home/nevewgha/public_html/wp-content/plugins/meta-data/meta-data.php on line 322

Warning: in_array() expects parameter 2 to be array, boolean given in /home/nevewgha/public_html/wp-content/plugins/meta-data/meta-data.php on line 313

Warning: in_array() expects parameter 2 to be array, boolean given in /home/nevewgha/public_html/wp-content/plugins/meta-data/meta-data.php on line 317

Warning: in_array() expects parameter 2 to be array, boolean given in /home/nevewgha/public_html/wp-content/plugins/meta-data/meta-data.php on line 321

Warning: in_array() expects parameter 2 to be array, boolean given in /home/nevewgha/public_html/wp-content/plugins/meta-data/meta-data.php on line 322

Warning: in_array() expects parameter 2 to be array, boolean given in /home/nevewgha/public_html/wp-content/plugins/meta-data/meta-data.php on line 313

Warning: in_array() expects parameter 2 to be array, boolean given in /home/nevewgha/public_html/wp-content/plugins/meta-data/meta-data.php on line 317

Warning: in_array() expects parameter 2 to be array, boolean given in /home/nevewgha/public_html/wp-content/plugins/meta-data/meta-data.php on line 321

Warning: in_array() expects parameter 2 to be array, boolean given in /home/nevewgha/public_html/wp-content/plugins/meta-data/meta-data.php on line 322

---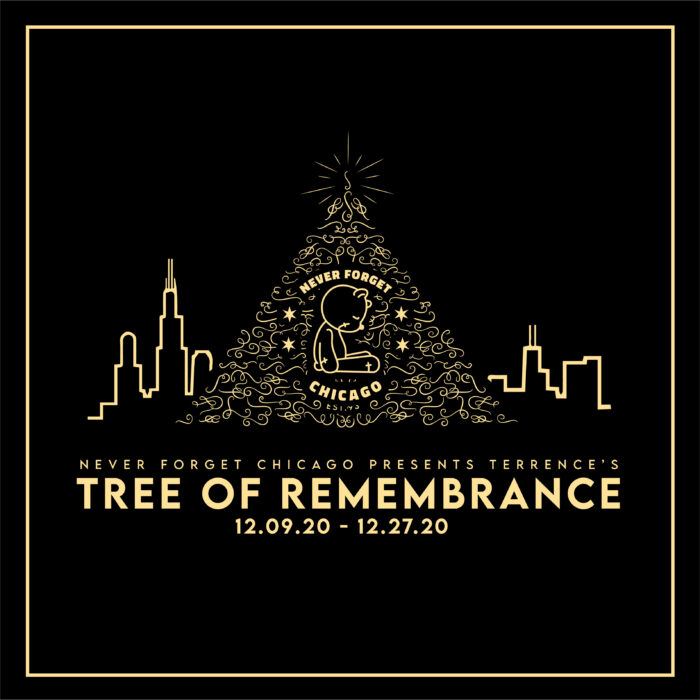 PRESS PLAY

---
NEVER FORGET CHICAGO PRESENTS TERRENCE'S
TREE OF REMEMBRANCE
---
The Tree of Remembrance was up from December 9th through December 27th at the Daley Center. The tree honored 2020 victims of Chicago violence (homicides / murder) and RSVP families with ornaments all across the tree.
---
---
2020 VICTIMS OF CHICAGO VIOLENCE 773
These victims will be featured on the Tree of Remembrance as well as other registered families. Please take a moment to honor 2020 victims below. Click on their pages and leave your positive thoughts and prayers.
It starts with remembrance, and ends with change.
Registered families will also be featured below starting Dec. 9th.
---
JANUARY 2020
---
---
---
FEBUARY 2020
---
MARCH 2020
---
APRIL 2020
---
MAY 2020
---
JUNE 2020
---
JULY 2020
---
AUGUST 2020
---
SEPTEMBER 2020
---
OCTOBER 2020
---
NOVEMBER 2020
---
DECEMBER 2020